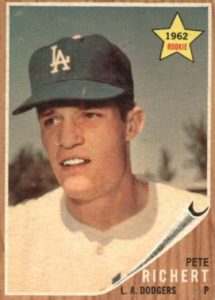 Fifty-five  years ago today, Dodgers' pitcher Pete Richert made one of the most auspicious MLB debuts ever – setting a couple or records in the process.  In fact, it reminds of one of my favorite lines from the "Rocky" movies – in Rocky III, when Rocky Balboa tells Clubber Lang, "You ain't so bad!"  That may be how Richert felt after his first couple of innings facing major league "clubbers."
Richert – a 5' 11", 165-pound southpaw – at 22-years-old was already in his fifth pro-season.  He was what every team looked for – a left-hander who could bring some heat. In four full minor league seasons, Richert had gone 44-40, 3.71, with 742 strikeouts in 721 innings.
On April 12, 1962, the rookie came to the mound in the top of the second inning (in relief of starter Stan Williams) with the Dodgers trailing 4-0 and the Reds' SS Eddie Kasko on second base.  Richert proceeded to fan the first MLB batter he ever faced (CF Vada Pinson) swinging.
Richert came out for the third inning and fanned the next four MLB batters he faced. (Richert remains the only pitcher with a rare four-strikeout inning in his MLB debut.)  It went like this: Reds' RF Frank Robinson goes down swinging; 1B Gordy Coleman fans swinging, but reaches first on a passed ball; CF Wally Post strikes out swinging; C Johnny Edwards ends the inning by swinging at strike three.  But, Richert wasn't done yet. 
In the top of the fourth, Richert got the sixth major leaguer to step in against jhim – Reds' 3B Tommy Harper – on a called third strike. Ironically, it was Reds' pitcher Joey Jay who ended Richert's career-opening, MLB-record six straight strikeouts by grounding out to first base. Richert got the final out of the inning on another grounder, 2B Don Blasingame retired second to first.
The top of the fifth was uneventful, although it did include Richert's seventh strikeout. The rookie hurler got Kasko on a fly to center; Pinson on a foul pop; Robinson reached on an outfield error; and Coleman fanned looking. The Dodgers then scored seven times in the bottom of the inning (during the rally Duke Snider pinch hit for Richert) and Joe Moeller replaced Richert on the mound in the sixth.
Richert's final line – 3 1/3 innings pitched, no hits, no walks, no runs and seven strikeouts. He faced 12 batters, with two getting on via a passed ball and an error.  He threw 40 pitches – 33 strikes. He set a record for consecutive batters fanned to start a career and became the first (still only) MLB pitcher with a four-strikeout inning in his MLB debut.
Richert went on to finish the season 5-4, 3.87 (19 appearances, 12 starts), with 75 strikeouts in 81 1/3 innings. The southpaw had a 13-season MLB career – 80-73, 3.19, 51 saves and 925 whiffs in 1,165 2/3 innings.  He was primarily a starter from 1962 to 1967 and had his best years (making the All Star team) were with the Washington Senator in 1965 and 1966.  In 1966, he went 15-12, 2.60 for a Senators' squad that finished eighth at 70-92.
In 1968, his second season with the Orioles, Richert was moved to the bullpen and did not make another start over his final seven seasons. His best year as a reliever was with the O's in 1970, when he appeared in 50 games, won seven and lost two, racked up 13 saves and had a 1.98 ERA. That season, Richert fanned 66 batters in 54 2/3 innings. From 1968 through his final season (1974), Richert had a 30-21 record in relief, with a 2.68 ERA and 49 saves.
I tweet baseball @DavidBBRT
Follow and like the Baseball Roundtable FaceBook page here.   More baseball and notification and links to new baseballroundtable.com blog posts.  There will also be some baseball-related give-aways as the season progresses.
Member: Society for American Baseball Research (SABR); The Baseball Reliquary; The Negro Leagues Museum; Baseball Bloggers Alliance.