Just some musing from the BBRT "We can be pretty sure that'll never happen again" file.
On August 29, 1926, Cleveland Indians' right-hander Emil "Dutch" Levsen had one remarkable day on the mound:
He started both games of a doubleheader against the Red Sox;
He went the full nine-innings in both contests;
He won both games – by scores of 6-1 and 5-1 – tossing two four-hitters;
He did it all without striking out a single Boston batter.
Dutch Levsen was the last pitcher to record two complete-game victories in a doubleheader – a feat which has been accomplished 52 times (by a total of 42 pitchers) in MLB history. (National League – 35 times/26 pitchers; American League – nine times/nine pitchers; American Association – five times/four pitchers; Players League – three times/three pitchers).
It's not likely we'll see anything like Levsen's performance again.  Let's face it, we now seldom see:  1) Doubleheaders (particularly single-admission twin bills); 2) Complete games (2017 saw a total of 59 MLB compete games – 1.97 per team);  3) Games in which a team does not record a single strikeout (2017 saw 8.25 strikeouts per team/per game); and, of course, teams sending the same pitcher out to start both ends of a double dip.
Unfortunately, for Levsen, there are indications that tossing both ends of a doubleheader was not such a great idea. The rookie righty (he had been in just 11 games in three previous call-ups) ended that August 28 twin bill with a record of 14-11 and a 2.96 earned run average. He made five more starts that season – picking up two wins and two losses, but also pitching to a 6.21 ERA. His final line on the 1926 campaign was 16-13, 3.41.  Levsen pitched two more seasons for the Indians, going 3-10, 5.47.
Someone has to be first …

The first MLB pitcher to earn two complete-game victories in a single day was William "Candy" Cummings of the National League's Hartford Dark Blues. Cummings picked up a pair of complete-game wins against the Cincinnati Reds on September 9, 1876. The Hall of Famer – credited with inventing the curveball –  went 145-94, with a 2.42 ERA in six MLB seasons. 
Researching Levsen's unique doubleheader accomplishment, led me deeper into twin bill history (much like examining MLB's only all .400-hitting outfield … click here for that post … led me to a look at MLB's .300-hitting teams … click here for that post.)  Here's bit of what I discovered about hurlers who earned two complete-game wins in a single day.
___________________________
FEWEST RUNS GIVEN UP BY A PITCHER THROWING
TWO COMPLETE GAMES WINS IN A SINGLE DAY … ZERO
On September 26, 1908, Chicago Cubs' right-handed hurler Ed Reulbach started both games of a doubleheader (versus Brooklyn).   Reulbach won both games of that twin bill, went the distance in both contests AND did not give up a single run.  He remains the only MLB pitcher to throw two complete game SHUTOUTS on the same day.
The Cubs were involved in a heated pennant race and the pitching staff was reportedly growing arm weary.  So, Cubs' player-manager Frank Chance called on Reulbach to toe the rubber in both contests against the Brooklyn Superbas (Dodgers). The high-kicking right-hander responded by shutting down the Brooklyn squad 5-0 in game one and 3-0 in game two – giving up just eight hits in 18 innings on the day.  The extra work didn't seem to bother Reulbach, as he came back after four days rest to shut out the Reds in his next start.  Just how critical were Reulbach's two September 26 wins? The Cubs won the 1908 pennant with a 99-55 record – just one game ahead of both the Pirates and the Giants.
We interrupt this story for …

On July 4, 1882, there were plenty of fireworks as Pud Galvin of the National League Buffalo Bisons picked up a pair complete game wins versus the Worcester Ruby Legs – by scores of 9-5 and 18-8.  The 13 runs Galvin surrendered remain the most ever by a pitcher notching a pair of complete games wins in a single day.
Reulbach's accomplishment should not have been a surprise.  "Big Ed" was on the way to a 24-7, 2.03 season in which he would lead the NL in winning percentage for the third consecutive year.  Reulbach's final major league tally, over 13 seasons, was 182 wins, 106 losses and a 2.28 ERA. (Over his first four seasons, Reulbach went 78-29, with a 1.70 ERA.)
Now, that's a bad day at the office … 

While Ed Reulbach managed to toss a pair of shutouts when starting both ends of a doubleheader (see story above). Elon "Chief" Hogsett may have had the worst day ever for a pitcher starting both ends of a double dip. On August 18, 1936 – with his St. Louis Browns facing the Detroit Tigers in St. Louis  (Note:  The 32-year-old southpaw had started the season with the Tigers and had been traded to the Browns – after seven seasons with Detroit – in late April.)  The southpaw submariner started Game One of the doubleheader by giving up six straight hits (one out was recorded on the base paths) before being pulled from a game Browns eventually won 10-7.  

Browns' manager Rogers Hornsby sent Hogsett out to start the second game and he fared even worse in that tilt, giving up five hits and five runs and, again, recording only one out.  His line for the day:  2/3 of an inning pitched, ten hits, nine earned runs and one loss.  Hogsett, who came into the day 10-10 on the year with a 5.64 ERA, finished the day at 10-11, 6.12.   Hogsett pitched in 11 major league seasons, going 63-87, 5.05 ERA – starting 114 games and relieving in 116.
MOST TIMES DELIVERING TWO COMPLETE GAME VICTORIES
IN A SINGLE DAY – THREE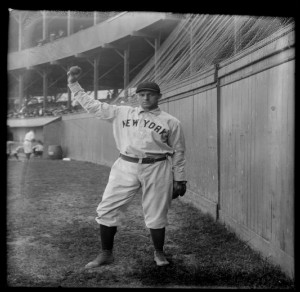 Joe "Iron Man" McGinnity earned his nickname because of his offseason work in an iron foundry, but it was also a pretty apt descriptor of his presence on the mound.  McGinnity started both ends of a doubleheader an MLB record five times in his career, and three times in a single month.  Notably, in August 1903, McGinnity not only started both ends of a doubleheader three times, he also won all six games and completed all six.
Pitching for the New York Giants on August 1, 1903, McGinnity won the first game of a doubleheader against the Braves 4-1 and came back to win the second game 5-2. Just a week later (August 8), he repeated the feat, beating Brooklyn by scores of 6-1 and 4-3. Then, on August 31, he topped the Phillies 4-1 and 9-2.  McGinnity finished the season 31-20, 2.43 and recorded 246 wins, 142 losses and a 2.66 ERA in ten MLB seasons, during which he led the NL in wins five times.  The Hall of Famer led his league in wins five times, winning percentage twice and earned run average once. A workhorse, he also led the National League in games pitched six times.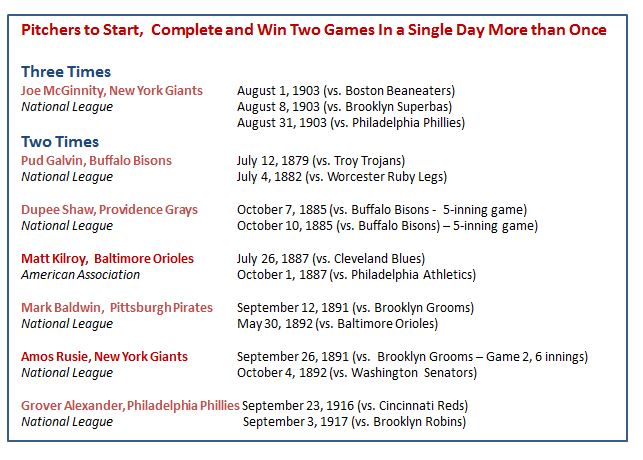 PITCHERS WHO WORKED OVERTIME IN WINNING
TWO COMPLETE GAMES IN A DOUBLEHEADER
On July 12, 2017, Pud Galvin of the Buffalo Bisons threw a pair of complete games as Buffalo swept the Troy Trojans by scores of 4-3 and 5-4, with the second game going 12 innings – giving Galvin the high-water mark for most innings pitched in achieving complete games victories in both ends of a twin bill. Others to include an extra inning game in single-handedly completing a doubleheader sweep on the mound are:
Jack Stivetts, whose Boston Beaneaters – on September 5, 1892 – topped the Louisville Colonels 2-1 (11 innings) in Game One and 5-2 (nine innings) in Game Two;
Detroit Tigers' hurler Ed Summers, who – on September 25, 1908 – topped the Philadelphia Athletics 10-5 in Game One and 1-0 in Game Two (ten innings). Summers, by the way, was in his rookie season and went 24-12, 1.64 on the year, with 301 innings pitched.
Put me in coach, I'm ready to play …

Knuckleballer Wilbur Wood is the last pitcher to start both ends of a twin bill – although that was not the original plan.

On July 20, 1973, Wood started the first game of a double header for the White Sox (against the Yankees).  He got off to a good start, whiffing Yankee lead-off hitter 2B Horace Clarke on a wicked knuckler. Unfortunately, the pitch also fooled catcher Ed Hermann and Clarke reached first on a passed ball – which proved the highlight of Wood's game.  In order, he followed up with: a walk to RF Matty Alou; a two-run double to LF Ron White; a run-scoring single to CF Bobby Murcer; an RBI single to catcher Thurmon Munson; a run-scoring single to 3B Graig Nettles; and an early exit in an eventual 12-2 loss.

Given Wood's short stint on the mound and the lack of stress placed on a knuckleballer's arm, White Sox manager Chuck Tanner sent Wood back to the mound to start game two. The results were marginally better.  Wood lasted 4 1/3 innings, giving up seven hits and five runs, earning his second loss of the day as the Yankees triumphed 7-0.  Workhorse Wood, by the way, ended the 1973 season with 24 wins and 20 losses, the last American Leaguer to win and lose 20 games in the same season (Phil Niekro did it in the NL in 1979).
FEWEST STARTING PITCHERS IN A DOUBLEHEADER – TWO
When the Boston Braves and Philadelphia Phillies faced off in a double header on August 12, 1921, they collaborated to make MLB history – with both teams sending the same starting pitcher to the mound in both games for the only time ever.  George Smith was the Phillies' double-starter, while Jack Scott did the honors for the Braves. Scott was the losing hurler in both games, while Smith tossed a 12-hit shutout to win Game Two.  (Both pitchers were knocked out of game one by the third inning, Scott taking the loss, Smith getting a no-decision.) Smith, by the way, was on course for a 4-20, 4.76 season, while Scott would finish the year 15-13, 3.70.  Both hurlers had career records under .500.
__________________________
LEAST LIKELY TO PICK UP TWO COMPLETE-GAME WINS IN A DAY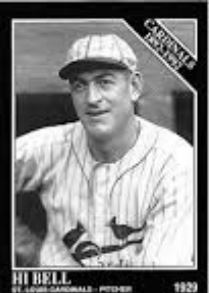 The last National Leaguer to earn a pair of complete games wins in a single day was the St. Louis Cardinals' Herman "Hi" Bell, who, on July 19, 1924, stymied the Boston Braves 6-1 and 2-1 – giving up just six hits over his 18 innings. Bell, a 26-year-old rookie, had just one career win and two complete games going into the doubleheader.  Further, he picked up only one more win and one more complete game the rest of the season – finishing at 3-8, 4.92. In eight MLB seasons, Bell went 32-34, 3.69 with 14 complete games in 47 starts.
Hmmm?  The mystery of Babe Ruth's Pitching Doubleheader

While Babe Ruth isn't on the list of pitchers who picked up two complete-game victories in a day, he is on record as having once started both games of a twin bill on the mound – under somewhat mysterious circumstances.

It happened on July 11, 1916, when Ruth was on his way to a 23-12 record and league-low 1.74 earned run average for the Red Sox. Red Sox manager Bill Carrigan had Ruth on the mound to start the first game (against the White Sox). Ruth pitched to just one batter, and was then relieved by Rube Foster, who finished the 5-3 Boston win.

In the bottom of the first inning, Dave Danforth started on the mound for the White Sox.  Like Ruth, he pitched to just one batter before Chicago manager Clarence "Pants" Rowland brought in Jim Scott, who got knocked around for four runs in 2 2/3 innings. (The White Sox used six pitchers in the game.)  Two starting pitchers, each earmarked to face just one batter – who knows what kind of mind games the managers were playing?

Ruth then started the second game of the double dip, going the distance to top the White Sox 3-1 on a six-hitter.  White Sox second-game starter Mellie Wolfgang also went the distance in Game Two.
Primary Resources: Baseball-Reference.com; Baseball-Almanac.com. Society for American Baseball Research.
I tweet baseball @DavidBBRT
Follow/Like Baseball Roundtable's Facebook page here.
Member:  Society for American Baseball Research; The Baseball Reliquary; The Negro Leagues Baseball Museum.