On April 2, 2017, Giants' ace right-hander Madison Bumgarner opened the season with a bang – not only did he fan 11 hitters in six innings of three-run ball (no decision), he also became the first pitcher to have a multi-homer game on Opening Day. Bumgarner went two-for-two (solo shots in the fifth and seventh) with a walk in three plate appearances. Bumgarner finished the 2017 season with a .206 average and three round trippers.  He has popped a total of 17 career homers, 15 of those over the past four seasons.
If you follow Baseball Roundtable, you know I am not the biggest fan of the designated hitter – and the tale that led off this post says a lot about my position.  This post provides a random sampling of pitchers who illustrate why I like to watch hurlers hit.  It takes a look at some (not nearly all) pretty good hitting pitchers from multiple  eras.  (Actually, I like watching solid-hitting pitchers, those weak-hitting moundsmen that occaisionally surprise and even futile swings and missed sacrifices. ) 
FOR THE RECORD

Wes Ferrell holds the record for career (MLB career 1927-41) home runs as a pitcher with 37 (he also had one as a pinch hitter), as well as the single-season record for pitchers at nine.
Walter Johnson – RHP … 417-279, 2.17 ERA
Walter Johnson earned his way into the Hall of Fame with his electric right arm (417 wins, 12 times led his league in strikeouts) – but he was no slouch with the bat. In his last season (1927), the 39-year-old Johnson hit .348 (16-for-46), with two home runs and ten RBI.  And, that was not his best season at the plate. Note: Johnson played his entire career (1907-1927) for the Washington Nationals/Senators.
Walter Johnson's best season in the batter's box: In 1925, Johnson posted a  .322 average (42-for-97), two home runs, 20 RBI, 12 runs scored and just six strikeouts (in 36 games). On the mound that year, he went 20-9, 3.07.
Johnson wrapped up his career with a .235 average, 24 home runs and 255 RBI in 21 seasons (934 games).
_________________
Micah Owings, RHP … 32-33, 4.86
As a 24-year-old rookie with Arizona in 2007, Micah Owings went 8-8, with a 4.30 earned run average in 29 games (27 starts) – and also won the Silver Slugger Award as the NL's best-hitting hurler. In six MLB seasons, he went 32-33, 4.86 on the mound and .283-9-35 as a hitter.
Micah Owings' best season at the plate: In 2007, Owings hit .333 (20-for-60), with four home runs and 15 runs batted in.  That performance is enhanced by the fact that 12 of his 20 hits went for extra bases (in addition to the four round trippers, he had seven doubles and a triple) – for a .683 slugging percentage. Owings followed up that first season with a .304-1-6 campaign at the plate. .
BRINGING ALL THE DUCKS HOME

On July 3, 1966, RHP Tony Cloninger started for the Braves (against the Giants) in San Francisco.  He not only picked up his ninth win of the seasons (against seven losses) with a complete-game seven-hitter, he also became the first National Leaguer (at any position) to hit two Grand Slam home runs in a game. He is still the only MLB pitcher to accomplish the feat. For the day, Cloninger was three-for-five with two runs scored and nine runs batted in (the single-game RBI record for pitchers).
Wes Ferrell – RHP … 193-128, 4.04 ERA
Wes Ferrell's career stretched from 1927-1941 and he won 20 or more games in a season six times. He also was pretty darn good with the stick – finishing his career with a .280 average, a record (for pitchers) 38 home runs (one hit as a pinch hitter) and 208 RBI.
Wes Ferrell' best season at the plate:  In 1935, Ferrell put a .347 average (52-for-150), with seven home runs and 32 RBI for the Red Sox.  Notably, that season, Ferrell made 35 appearances as a pinch hitter. On the mound, he went 25-14, with a 3.52 ERA, leading the AL in wins, starts, complete games and innings pitched.
___________________
Mike Hampton, LHP … 148-115, 4.06 ERA
As a pitcher, Mike Hampton was a two-time All Star and one-time 20-game winner (22-4 in 1999, when he led the NL in wins and winning percentage for the Astros). At the plate, he was a five-time Silver Slugger Award winner (1999-2003). Notably, he is also the only pitcher to win a Silver Slugger and Gold Glove in the same season (2003 for the Braves) – thus, for me, he will always be Heavy Metal Mike. In 16 seasons (423 games), Hampton hit .246, with 16 home runs and 79 RBI.
Mike Hampton's best season at the plate: In 2001, (Rockies), Hampton hit .291 (23-for-79), with seven home runs, 20 runs scored and 16 RBI. He did have higher averages during his career (topping .300 four times), but in terms of overall offensive productivity, 2001 stands out.
___________________
George Uhle – RHP … 200-166, 3.99
George Uhle pitched in the majors from 1919 to 1936, picking up an even 200 victories and winning 20 or more games three times. He also put up a .289 career batting average (393-for-1,360), with nine round trippers and 190 RBI (722 games).
George Uhle's best season at the plate: In 1923 (Indians), Uhle hit.361 (52-for-144), with no home runs, but 23 runs scored and 22 RBI.  That season, Uhle won an AL-leading 26 games (16 losses), with a 3.77 ERA.  Even in his final campaign – at age 37 – Uhle hit .381 in 21 at bats.
_________________
Carlos Zambrano – RHP … 132-91. 3.66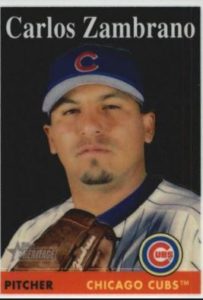 Carlos Zambrano, in a 12-season MLB career (2001-2012), won 14 or more games in a season five times and led the NL in wins in 2006 with 16 (seven losses). The three-time All Star was a switch-hitter who three times hit .300 or better and bashed a total of 24 MLB home runs (16 between 2006 and 2009). Zambrano's career batting stat line was .238-24-71 (693 at bats).
Carlos Zambrano's best year at the plate: In 2008, Zambrano not only won 14 games for the Cubs, he hit .337 (28-for-83), with four home runs and 14 RBI.
DOES IT GET ANY BETTER THAN THIS?

On June 23, 1971, Phillies' right-hander Rick Wise took the mound against the Reds (in Philadelphia), looking for his eighth victory of the season (versus four losses). He got more than that. Wise tossed a complete-game, no-hitter – shutting out the Reds 4-0, walking one and fanning three.  But he did even more.  Wise also went two-for-three at the plate – hitting two home runs and driving in three of the Phillies' four tallies. A no-no and a multi-homer game? Never done before, nor since.
Don Newcombe – RHP … 149-90, 3.56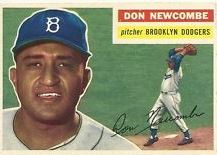 Big Don Newcombe threw righty, but hit from the portside.  As a pitcher, he won 149 games in ten seasons (1949-60, with two years lost to military service). He was a two-time twenty-game winner – and led the NL with 27 wins and a .800 winning percentage in 1956. At the plate, he hit .271 (238-for-988), with 15 home runs and 108 RBI.
Don Newcombe's best season at the plate: In 1955 (for the Dodgers), Newk hit .359 (26-for-117), with seven home runs and 23 RBI (he also had nine doubles, a triple and a stolen base).
_________________
Doc Crandall – RHP … 102-62, 2.92
Doc Crandall, whose MLB career went from 1908 to 1918) was the first hurler to be used primarily as a reliever (he also played second base). For example, from 1909 through 1913, he appeared in 185 games and started just 53 – finishing 120. His best season on the mound was 1915, when he went 21-15, 2.59 for the St. Louis Browns of the Federal League. That season he appeared in 51 games as a pitcher (84 overall), starting 33. As a hitter, Crandall finished his career at .285, (253-for-887), with nine home runs and 123 RBI.  He appeared in 302 games as a pitcher, 71 at 2B and 17 games at other defensive spots.
Doc Crandall's best season at the plate: In 1914 (for the St. Louis Browns), Crandall hit .309 (86-for-278), with two home runs, 40 runs scored and 41 RBI  That season, however, he appeared in just 27 games as a pitcher, 63 at second base and 27 as a pinch hitter. In seasons in which he appeared primarily as a pitcher, 1910 was his best at the plate – .342-1-13 in 45 games, 42 as a pitcher (24 in relief.)
PITCHER WITH GOOD GENES

Ken Brett, brother of Hall of Famer and three-time batting champion George Brett, was a pitcher (83-85, 3.93 career record in 14 seasons) who could also swing the bat.  In 1973, Brett bashed home runs in four consecutive games – a record for pitchers.

On June 9, he started for the Phillies at home against the Padres, picked up a 4-1 win (7 1/3 innings of one run ball) and hit a solo home run in the fifth inning.

On June 13, he tossed a complete-game, five-hit, 16-3 win over the Dodgers in Philadelphia – and again hit a solo shot in the fifth inning.

On June 18, he gave up six runs to the Mets, but still got a complete-game, 9-6 win (at home) – and hit a solo home run in the fourth inning.

On June 23, we saw another Brett complete game, this time a 7-2 victory over the Expos on the road – and a a two-run homer in the seventh.
Terry Forster, LHP … 54-65, 3.23
Terry Forster, the 1974 AL saves leader, didn't get a lot of at bats in his MLB career (1971-86), but he made them count. While he went 54-65, 3.23 with 127 saves on the mound, he hit a mighty .397 (31-for-78) as a batter.  Just five extra base hits, however, and seven RBI.
Terry Forster's best season at the plate: In 1972, Forster went 10-for-19, a .526 average and struck out only twice in 22 plate appearances. In his only other season with 15 or more at bats (for the Pirates in 1977), Forster went 9-for-26 (.346).
____________________
 Orel Hershiser, RHP … 204-150, 3.48
Hershiser was a three-time All Star and one-time twenty-game winner on the mound – leading the NL with 23 wins (eight losses) in 1988. His career stretched from 1983 to 2000. At the plate, he finished with a .201 average, with no home runs (50 RBI.) Not stellar numbers, but he makes this post based on his top season.
Orel Hershiser's best year at the plate: In 1993 (Dodgers), Hershiser hit a healthy .356 (26-for-73), with 11 runs scored and six RBI – striking out only five times in 83 plate appearances. He was the MVP of the 1988 World Series, when he won two games – one a complete game 6-0 shutout and the other a complete game 5-2 win. He fanned 17 batters and gave up just seven hits in his 18 innings of work. Further, in the only game in which he batted (in the NL park, of course), Hershiser went three-for-three with two doubles, a run scored and an RBI – as the Dodgers topped the A's 6-0.
__________________
Don Drysdale, RHP … 209-166, 2.95
Don Drysdale made his living with his fastball, not his fast bat – but he did have one surprising season at the plate. In 1965, Drysdale hit .300 (39-for-130), with seven home runs and 19 RBI – the only .300 hitter (with at least 15 at bats) on the World Series Champion Dodgers' squad. Drysdale also went 23-12, 2.77 on the mound that season.  Drysdale hit only .186 in 14 MLB seasons (1956-69), but the Hall of Famer twice reached the NL mark in home runs in a season for a pitcher (seven) and really raked in 1965.
TWO-FOR-THREE … IN A WAY

On May 13, 1942, the Boston Braves topped the Cubs (in Boston) 6-5 behind the arm AND BAT of right-hander Jim Tobin. Tobin not only threw a complete game five-hitter for his fifth win (against three losses), he also became the second pitcher to hit three home runs in a game – and the first (and still only) to hit three over the fence in a single contest.  Note: The big day in May was not indicative of Tobin's 1942 season. While he ended that May 13 contest at 5-3, 2.32, with a .407 batting average, he ended his season with just 12 wins, a league-worst 21 losses and a 3.97 ERA. At the plate, he finished at .246, with six home runs and 15 RBI. For his career, Tobin went 105-112, 3.44 and .230-17-102. 

The only other pitcher to rap three home runs in a game was Louisville Colonels' right-hander Guy Hecker, who started against the Baltimore Orioles on August 15, 1886. (It was an American Association – considered a major league – contest.) Hecker hit three inside-the-park home runs that day – and pitched a complete-game, four-hitter, as Louisville won 22-5.  Hecker, by the way, put up a 175-146, 2.93 record in nine seasons – including 52-10, 1.80 in 1884. He hit .282 for his career – and won a batting title (.341) in 1886, when appeared in 49 games as a pitcher, 22 at first base, and 17 in the outfield. (Yes, it was a different game back then.)
More good-hitting pitchers? The list could go on with the likes of Zack Greinke; Don Larsen; Bob Lemon; Red Ruffing; Dontrelle Willis; Earl Wilson; and more.
Primary resources:  Society for American Baseball Research; Baseball-Reference.com; Baseball-Almanac.com
I tweet baseball @DavidBBRT
Follow/Like Baseball Roundtable's Facebook page here.  More baseball commentary, blog post notifications, prizes.
Member: Society for American Baseball Research; The Baseball Reliquary; The Negro Leagues Baseball Museum.