As those who follow BBRT know, when it comes to the national pastime, I can be a bit "old school."  I fondly reminisce about two-hour ball games, regularly scheduled double headers, high stirrups, complete games and the bunt as an often-used offensive weapon. Heck, I'm even old enough to remember watching "Willie, Mickey and the Duke" – before the trio of New York center fielders was immortalized in "Talkin' Baseball." (Note: To listen to Talkin' Baseball, see the clip at the end of this post.)
There is, however, one thing I do not memorialize as part of the "good old days" – ballpark food. This Tuesday (April 7), BBRT was fortunate enough to be invited to Target Field for one of the newer rites of spring – the Twins' sixth annual Food and Beverage Preview. The experience provided ample proof that, at least when it comes to concessions, the good old days fall short of today's ball park experience.
When I first started attending MLB games, standard fare consisted of hot dogs (not always hot), beer and soda (not always cold), peanuts, cotton candy, Cracker Jack® and, if you were lucky, maybe ice cream or licorice. The culinary tour that was part of the Target Field Food and Beverage Preview (concentrating primarily on new items for 2015) made it clear we've come a long way from the days of hot dogs and beer.  (And, while this post is primarily aimed at the Twins fans who follow BBRT, the raising of the bar – pun intended – in terms of concessions is MLB-wide.) New Target Field offerings for this season range from Hot Indian Foods' Chicken Tikka to Hrbek's Shrimp Corn Dog  – and beverages to be launched include such "soon-to-be favorites" as the College Daze Bloody Mary (garnished with, among other things, a slice of pepperoni pizza) and Barrio's Trinity Margarita.
I have neither the space, nor the time, to touch on all the food and beverage items that were presented on Tuesday, but I would like to share a comment or two on some of most  interesting – and some of my personal favorites. For the Twins' concessions guide, listing many items, with locations and prices, click here.   I would add that it's a family tradition to complete all our concession stand purchases prior to the first pitch – a necessity if you are going to keep an accurate scorecard. After the Food and Beverage Preview, it's clear I have to move up my arrival time.  I will still also partake of the "old school" vendor-delivered hot dog and beer, however.
So, let's look at some 2015 Target Field concessions.
College Daze Bloody Mary
Perhaps the biggest splash (pun intended) among the new offerings was made by the College Daze Bloody Mary (available at Hrbek's, near section 114).  It's a new take on the "Bloody Mary as a meal" (fans of Hrbek's Bigger Better Burger Bloody Mary need not worry, that meal-in-a-glass is still available). The new Bloody Mary is topped with a cold slice of Pepperoni Pizza, a beef stick, pickle spear, celery stalk, Pepper Jack and Cheddar cheese cubes, pepperoncini and, of course, an olive.  As you can see from the placement of the pizza in the photo near the top of this post, this Bloody Mary is truly "over the top."  It certainly attracted the most photographers (and plenty of tasters) at the Food and Beverage Preview.
A Dog Eat Dog World – Shrimp Corn Dogs and BratDogs
Hrbek's also has a few new food items that are worth a try.  My favorite was the Shrimp Corn Dog – four jumbo shrimp (on a skewer) fried in jalapeno corn batter with a chili lime aioli for dipping (and a side of fries).  They have great shrimp flavor, just enough "zing," and are a little lighter than some of the other fare.
Closer to traditional baseball food was the BratDog – an all-beef hot dog, stuffed into a bratwurst, wrapped in bacon, topped with sauerkraut, caramelized onions and peppers and served on a pretzel roll.  This one will stay with you throughout the game.
Hot Indian Foods – International Fare for the American Game
For those looking for international fare, Hot Indian Foods, which has both a food truck and a location at the Midtown Global Market, is new to Target Field.  Hot Indian Foods is serving up Chicken Tikka – yogurt-marinated chicken simmered in a creamy tomato curry and served with garlic and coconut toasted rice, crispy poppadum (Indian bread) and hot Indian slaw. They also have a vegan curry dish (Aloo Gobi), similar to the Chicken Tikka only with potatoes, cauliflower and squash replacing the chicken. Look for the Hot Indian Food cart near Section 120.  BBRT tried the Chicken Tikka and would recommend it for those seeking a unique taste at the ball park. My personal preference might have been for a bit more "heat," but this is Minnesota.
Burgers Beyond the Basics
Red Cow, noted for its burgers, is also new to Target Field (food cart near section 126). They will be offering three gourmet burgers.  BBRT would recommend making the leap to the Blues Burger (with apricot jam and locally produced blue cheese). If you're a bacon lover, you might prefer  the 60/40 Bacon Burger  (a patty of 60 percent certified Angus beef and 40 percent ground bacon – topped with cheddar cheese, Summit beer mustard and candied bacon). More conventional taste? Go for the Ultimate Red Cow Burger (lettuce, tomato, onion and Red Cow sauce).
This One's Out of the Park

When Sous Chef Keith Andres leaned from the window of the Taste of Target Field Food Truck and handed me the fried pickle, beer-braised bacon, peanut butter (on a pretzel bun) sandwich, I had to look to see if Elvis was in line behind me.  The King would have loved this sandwich – multi-textured with the tangy crunch of pickles, the smoky flavor of the bacon, the creamy sweetness of the peanut butter and the fresh pretzel bun. It was my first sample from the 2015 Twins Food and Beverage Preview and it set a positive tone for the afternoon.

As guests and media arrived for the Target Field Food and Beverage Preview, we were greeted – appropriately – by the Taste of Target Field food truck, which focuses on its mission of "Bringing the taste of the ballpark to you."  The food truck carries a host of Target Field favorites that bring the ball park to the community. Depending on the day, you will find offerings like Kramarczuk's sausages,  cheese curds, Tony O's Cuban, malt cups, fries and more.  Ironically, and unfortunately, the new Fried Pickle Sandwich is not available inside Target Field.  If you spot the food truck, BBRT highly recommends you run right over and order this treat.  You can track the truck on twitter @TastyTwinsTruck. A game day hint, try looking near Fulton Brewery.
Andrew Zimmern's Canteen – On the Move at Target Field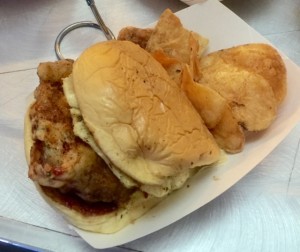 Andrew Zimmern's Canteen is not new to the ballpark, but is moving to a new, larger location – from a concourse cart to a concession stand near Hrbek's (section 114). The Canteen will be offering a trio of signature sandwiches: the Bacon Sandwich, Smoked Meat Sandwich and BBRT's favorite – the Korean Fried Chicken Sandwich, with grilled pineapple, chili lime slaw and spicy dressing. It offers just the right blend of "hot" and "sweet."   I highly recommend this one.
Schwan's – Focused on Building a new Legend
If you have seats in the popular Legend's Club, you'll probably want to visit the new Schwan's stand (near Section R). Among the offerings are a pair of flatbread sandwiches – Buffalo Chicken Flatbread (chicken, celery and mozzarella cheese, topped with hot sauce) and the Italian Fire-Baked Flatbread (salami, ham, pepperoni, Italian cheese, lettuce and tomato, topped with vinaigrette).  Two new burgers will also be available at the Schwan's stand – the BBQ Bacon Burger and the Caprese Burger (beef patties, fresh mozzarella cheese, balsamic-marinated tomato and basil). BBRT recommends the Caprese Burger – balsamic and basil make this one unique.
The Left Field Corner – A New Hot Spot
Well-known Latin restaurant Barrio is also a new presence at Target Field.  The new Barrio – in the left field corner – was one of the more popular stops on our Food and Beverage Preview tour – perhaps the complementary Trinity Margaritas had something to do with that.  We were also impressed with the upscale decor, the standing tables, multiple big screen TVs, and great view of the field.
The Barrio will feature Pork Carnitas Tacos, Guacamole and chips and, of course, top-flight Margaritas and craft beers.
For the Salad Lovers
Garden Goodies cart, with its fresh salads, has two new offerings – a Mardi Garden Salad  and a Wild Rice and Turtle Bean Salad.
The Spirit of the Northland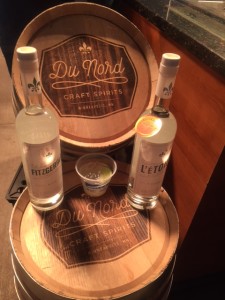 There are also some new locally crafted spirits at Target Field.  Near Section 111, you'll find a stand featuring two local distilleries: Du Nord (Minneapolis) and Panther Distillery (Osakis). Du Nord's menu includes a Moscow Mule, Gin and Tonic, Gin Daiquiri and Spiked Hot Chocolate (It can be cool in April on Minnesota). Panther Distillery's line-up includes an Apple Fizz, Manhattan, Whiskey Sour and Whiskey Coke. (BBRT tried the Moscow Mule – and it's a winner.)
A Taste of the Islands
Goose Island Pub, adjacent to section 229, will carry a selection of Goose Island craft beers.
Of course, lots of past favorites remain.  Just to mention a few that are close to BBRT's heart: Tony O's Cuban Sandwich; Garlic Helmet Fries; Mac's Walleye and Chips; Kramarczuk's sausages; Izzy's Hand Scooped Ice Cream; and the Bigger, Better Bloody Mary Cart.
My advice,  Get to Target Field early – and hungry.
Oh yes, I did promise "Talkin' Baseball."
I tweet baseball @DavidBBRT