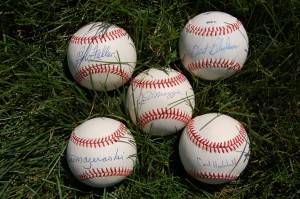 Name the MLB HOFer, who had notched only 31 wins by his 30th birthday, but went on to win more than 300 games.
Phil Niekro, who made his MLB debut at age 25 and was 31-27 when he turned 30 at the start of the 1969 season. (He also had less than 200 wins when he turned 40.)  Thirty was lucky for Niekro, he went 23-12, 2.56 that season and made his first All Star team.  Niekro pitched until he was 48, made four more All Star teams and had two more 20-win seasons.  He ended his career 318-274, 3.35. He led the NL in victories twice, winning percentage once, ERA once, complete games four times, and strikeouts once.  On the other side of the coin, he led the NL in losses four straight seasons (1977-80, when he went 71-76), led in home runs allowed four times, walks three times, hit batsmen three times, wild pitches three times – and is the last pitcher to log twenty wins and twenty losses in the same season (in 1979, when he 21 wins and 20 losses led the NL in both categories).
Like baseball trivia? Try BBRT's 99 favorite trivia questions by clicking here.                                                                                                                 

For BBRT's "Second 99" Trivia Kwiz, click here.