THE LAST TIME THE TWINS WERE ON TOP OF THE CENTRAL

Okay the headline may be a bit "over the top."  But, when was the last time you might have read a headline touting the "First Place Twins?"  Not as long ago as you might think.  That would have been the morning of June 9, 2015 – as the Twins started the day with a 33-24 record, tied with the Royals for first place in the AL Central.  The Twins lost that day (to the Royals) 2-0, to slip out of the lead.  So, Opening Day 2017 was a clash of early June 2015 AL Central Division titans.  This time, however the Twins came out on top.  Side note:  It may seem longer since the Twins topped the Central Division standings since 2015 is the only season between 2011 and 2016 that the Twins avoided 90 losses.  
Here's BBRT take on yesterday's game – and other Opening Day musings. (What I chose to highlight may give you some idea about how I watch – and score – a ball game.)
You always get a special kick on opening day, no matter how many you go through. You look forward to it like a birthday party when you're a kid. You think something wonderful is going to happen.

                                                                       Joe DiMaggio
Yes, indeed, something wonderful can happen on Opening Day.  This year, the Twins topped the Royals 7-1 and ended the day tied for first place.  Compare that to a year ago, when the Twins loss their eighth straight Opening Day game on their way to nine straight season-opening losses and a 59-103 record. No wonder yesterday's victory seemed truly wonderful.
Opening Day is the most hopeful and optimistic day of each year.  At least for this one day, every team is a contender, every rookie a potential "phenom,"  every fading veteran a potential "Comeback Player of the Year," and every new face in the lineup or on the bench a welcome addition.

                                                Baseball Roundtable – March 26, 2013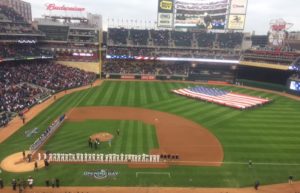 The weather, however, was not as wonderful – the low fifties, overcast (the F-16 fly-over was cancelled) with a stiff wind (at least in the second deck where I was seated).  The hooded "Twins Tees" proved handy and the hot chocolate vendors did a "brisk" business.  Still, despite the overcast, it was 51 degrees – although it felt more like 42. (We Minnesotans have a built in sensor for what the day's temperature "feels like.")
PRE-GAME
Fans were clearly ready for the return of baseball and the Twins (a sell-out crowd).  Nearby watering holes were packed before the game and long lines of festive fans crowded the Plaza as DJ Advance provided pre-game music.  There was plenty of Twins gear in evidence and, if you weren't wearing something "Twins," there was a Twins hooded tee for the first 30,000 through the gates. (For more on Twins – and other unique MLB – give-aways for 2017, click here.)
Once in the park, the pre-game  festivities included a solid rendition of the national anthem by a brass quintet from the Minnesota Orchestra – without scheduled singer Dessa (illness).
Grey sky, no flyover, no Dessa – almost seemed like a bad omen.  But former Twins' coach Rick Stelmaszek (gotta love a guy with a "Z" in his name) and current coach "Everyday Eddie" Guardado turned it around. Stelly, who spent 32 years with the Twins, tossed out the first pitch (to Guardado) to a notable ovation. There were also a host of traditional Opening Day activities: the introduction of both teams along the sidelines (with mini-fireworks added for Twins' players); season ticket holders unveiling a giant American flag in the outfield;  a pair of bald eagles at home plate; and 94-year-old World War II veteran Henry Langevin raising the American Flag during the anthem.  In addition, the pregame included a memorial tribute to members of the Twins' family who passed away since last season's opener – ending with special recognition of Twins' pitcher Yorman Landa and Royals' pitcher Yordano Ventura, who both lost their lives in off-season automobile accident.
THE GAME – THE TWINS STROLLED (WALKED) AWAY WITH IT
Those who follow BBRT know of my contention that there is always something new and/or interesting to see at a ballgame.  This one was no exception.  Here are just a few observations:
Twins' batters struck out 11 times to the Royals four, but still outscored Kansas City 7-1.
Twins' starter Erwin Santana had zero strikeouts over six innings, then fanned the side in the seventh (his final inning).
At one point in the deciding bottom of the seventh, the Twins had the bases loaded and three runs across in the inning – and had hit just one ball out of the infield (more on that later).
Twins' Designated "Hitter" Robbie Grossman came to the plate five times, scored once, had an RBI and never put the ball in play (two walks, three strikeouts).
Twins' SS Jorge Polanco went two-for-three in the game – with both his hits coming in the same inning.
The sixth inning saw the Twins benefit from their first challenge of the season and their first intentional walk under the new (just wave 'em to first – like in softball) rule. No-o-o!
The Twins revived the bunt as an offensive weapon.
In the seventh and eighth, all attempts by fans in left field to start "The Wave" died out quickly. (Yesss!)
THE SEVENTH INNING – A TRUE STROLL (WALK) IN THE (BALL) PARK
In the top of the seventh inning, Twins' starter Erwin Santana (who had not struck out a single batter – but also had given up just two hits and a walk) walked CF Lorenzo Cain to start the inning and then fanned 1B Eric Hosmer, C Salvador Perez and DH Brandon Moss in order.
In the bottom of the inning, things really got strange. Twins' SS Jorge Polanco opened the frame with a single to center (off Royals' reliever Matt Strahm).  It was a 1-1 game at the time, so manager Paul Molitor sent RF Max Kepler up to bunt.  Kepler laid down a beauty to the right of the pitcher's mound – and beat it out.  (Although it did require Target Field's first challenge of the season to reverse the original "out" call.) Eddie Rosario (LF and number-nine hitter) was called on to move the runners up, and executed a nice third-to-first sacrifice bunt. Leadoff hitter 2B Brian Dozier was intentionally walked (waved) to first to load the bases. (Apparently, MLB did not publicize the new rule very well, as fans all around me were asking "What happened – How did he get on base?")  DH Robbie Grossman then walked to drive in Polanco.
That was all for Strahm, with Peter Moylan coming in from the pen to face CF Byron Buxton. Moylan fanned Buxton and was relieved by Travis Wood, who walked 1B Joe Mauer and 3B Miguel Sano – enabling Kepler and Dozier to stroll to the plate uncontested. So, at this point the Twins had three runs in, based loaded – and only one ball out of the infield. New catcher Jason Castro got the game back on a more traditional path with a two-run (Grossman and Mauer scoring) single to left.  Polanco then rapped his second hit of the inning – a single to right which scored Sano. Finally, Kepler fanned to end the carnage.  Twins 7 – Royals 1.  And that was pretty much the ball game.
Just a few other observations:
Attendance was 39,615 – Minnesota fans have truly been waiting for baseball to return.
BBRT loves double plays and the Twins rewarded me with a 6-4-3 twin killing in the second inning and a 4-6-3 version in the ninth.
The Twins used a line up that had a lead off hitter who, last season, hit 42 home runs and drove in 99 – and a cleanup hitter who went .261-11-49 a year ago.
For those who like home runs: Mike Moustakas poled one to right-center in the fourth inning to give the Royals a 1-0 lead; and the Twins' Miguel Sano scorched oen to left in the fourth inning to tie the game.
If defense if your game:  two diving catches (highlight reel stuff) by CF Byron Buxton and 2B Brian Dozier's glove scoop and flip on a bunt.
During the Kiss-Cam, only two "gentleman" removed their caps before the kiss.
The free Twins Magazine now includes a scorecard – saved a dollar.
BBRT likes to rate each park's Bloody Mary (a full look at Twins concessions, click here.  )  I tried the Bloody Mary at Two Gingers (second deck) and it passed muster.  Not just mix and vodka, but solid spices added and two large olives ($10.50).
A FEW MLB OPENDING DAY TIDBITS
MADBUM GOES DEEP
The first MLB 2017 regular season game produced a first of its own – as San Francisco Giants' "Ace" pitcher Madison Bumgarner became the first pitcher to slam two home runs on Opening Day (giving him the 2017 MLB lead). Bumgarner was also perfect on the mound through five innings (he retired the first 16 batters in order, striking out eight) before giving up three consecutive hits and three runs with one out in the sixth.
Bumganer ended the game two-for-two with a walk at the plate and threw seven innings of six-hit, three-run ball – striking out eleven and walking no one.  He got a no-decision, as the D-backs won 6-5 on shortstop Chris Owings' walk-off single in the bottom of the ninth.  The Giants' new closer Mark Melancon – acquired to reinforce a leaky bullpen – took the loss, giving up two runs in the bottom of the ninth.
MOST HOME RUNS IN AN OPENING DAY GAME

When Giants' mound "Ace" Madison Bumgarner crushed a pair of home runs in the opening game of the 2017 season, he came within one of the MLB Opening Day record.  Three players – the Blue Jays' George Bell, Cubs' Tuffy Rhodes and Tigers' Dmitri Young share the record for home runs in an opening day game with three.

On April 4, 1988, George Bell – batting clean-up and serving as the DH – became the first major leaguer to hit three home runs in an Opening Day game as his Blue Jays topped the Royals 5-3 in Kansas City. 

On a windy April 4, 1994, Karl "Tuffy" Rhodes (leading off and playing CF for the Cubs in Chicago) hit three solo shots off Mets' starter Dwight Gooden. Rhodes also had a single and a walk in five plate appearances. Despite Rhodes' record-tying performance, the Cubs lost to the visiting Mets 12-8. 

On April 4, 2005 the Tigers' Dmitri Young rapped three Opening Day home runs – as the Tigers topped the Royals 11-2 in Detroit. 

On the other side of the coin (or plate), on March 31, 1996, White Sox catcher Ron Karkovice set an MLB Opening Day record by striking out five times as Chicago lost 3-2 in Seattle.
METS LOVE OPENING DAY
The Mets topped Atlanta on Opening Day 2017, running their season opener record to 36-20 – that .643 Opening Day winning percentage is the best in MLB.
MORE #WhyIHateTheDH
Pitcher Jeremy Hellickson tripled and drove in a run as his Phillies topped the Reds 4-3 on Opening Day 2017 in Cincinnati.  Hellickson got the win.
LET'S GET THIS PARTY STARTED
Phillies' 2B Cesar Hernandez and Astros' CF George Springer each led off their teams 2017 opening game with home runs –  becoming the 34th and 35th players to do so. Only Astros' OF Terry Puhl accomplished the feat twice – 1978 and 1980.
AN OPENDING DAY TIDBIT JUST FOR TWINS FANS

Being a Twins fan, one of my favorite Opening Day records is seven RBI in game one of the season – shared by the Twins' Brant Alyea and the Cubs' Corey Patterson.

On April 7, 1970 – in his very first game as a Twin – LF Brant Alyea became the first player (and still only American Leaguer) to drive in seven runs in an Opening Day game – as Minnesota topped the White Sox 12-0 in Chicago. Batting fifth, Alyea went four-for-four, with two home runs, two singles and two runs scored.  The game, it turned out, would foreshadow a strong April for Alyea.  In 17 April games, he hit .415, with seven runs, 23 RBI, four doubles and five home runs.

Thirty-three seasons later – on March 31, 2003 – Cubs' CF Corey Patterson tied Alyea's record. In a 15-2 win over the Mets in New York, Patterson, batting seventh, drove in seven runs, going four-for-six with two home runs and two runs scored.  Patterson, a career .252 hitter (12 seasons), was an Opening Day All Star. In seven Opening Day appearances, Patterson hit .440, with seven runs, 12 RBI and three home runs.
A LOOK AT THE TRUE KINGS OF OPENING DAY
TED WILLIAMS
Perhaps no one looked forward to Opening Day more than Ted Williams – the king of the Opening Day batter's box.  A career .344 hitter, Williams was even better on Opening Day.  Teddy Ballgame played in fourteen openers and was never held hitless.  He compiled a .449 Opening Day average (22 hits in 49 at bats), with three home runs, eight doubles, one triple, nine runs scored, 14 RBI and eleven walks.  His Opening Day on-base percentage was .550 and his season-opener slugging percentage was .837.
WALTER JOHNSON
The Washington Senators' Walter Johnson can be crowned king of the Opening Day hill.  On his first-ever Opening Day start (April 14, 1910), the 22-year-old Johnson tossed a 3-0 one-hit shutout against the Philadelphia Athletics.  Sixteen years (and 13 Opening Day starts) later, a 38-year-old Johnson fulfilled his last Opening Day assignment with a 15-inning, complete-game, 1-0 win (6 hits, 3 walks, 9 strikeouts) over the A's.  Johnson holds the record for Opening Day pitching victories with nine (against five losses) and also threw a record seven Opening Day shutouts.
A FINAL THOUGHT

I never have minded the naming of ballparks after sponsors – Target Field actually works for me.  But now, it seems like everything at the ballpark has a sponsor – from the challenge/replay to the foul lines (see poto). 
I tweet baseball @DavidBBRT
Follow (and like) Baseball Roundtable on Facebook for more baseball musings.
Member:  Society for American Baseball Research (SABR); The Baseball Reliquary; Negro Leagues Baseball Museum; Baseball Bloggers Alliance.