The Triple Crown (Batting Avg. – HRs – RBI) … Does it spell "R-E-S-P-E-C-T?"  Not if respect is spelled MVP.
Matt Kemp came close in 2011, but MLB has had only 15 Triple Crown winners
– from Paul Hines of Providence in 1878 to Carl Yastrzemski of the Red Sox in 1967.   There have been nine Triple Crown winners since the Baseball Writers Association began voting on the Most Valuable Player award in 1931 and only five of those nine were honored as MVPs.   Let's take a look at those who didn't get votes, in order of the "level of injustice."
1.  Lou Gehrig, Yankees, 1934.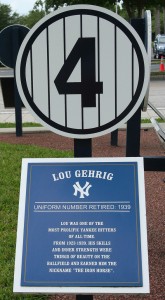 Gehrig's .363 – 49 – 165 not only topped the American league in Average, HRs, and RBI, he finished ahead of the NL leaders in all three categories as well.  (Gehrig is one of only five players to win the "Major League Triple Crown.")   Gehrig also led both leagues in on base percentage, slugging percentage and total bases.  But that's not what earns him a five-star injustice rating.  Despite capturing the Triple Crown, Gehrig finished a distant FIFTH in the AL MVP voting; behind three members of the pennant-winning Tigers (the Yankees finished, 94-60, seven games out.)
The MVP winner, Detroit catcher Mickey Cochrane, ran up a .320 – 2 – 76 total and did not lead the league in a single offensive category.   Others finishing ahead of Gehrig were Detroit second basemen Charlie Gehringer (at .356 – 11 – 127 and the AL leader in runs and hits,  also probably more deserving than Cochrane); Yankee hurler  Lefty Gomez (26-5, 2.33 era, who led the league in wins, ERA, complete games, shutouts, and innings pitched); and Detroit pitcher Schoolboy Rowe (24.-8, 345).
2.  Ted Williams' 1942 season earns him second place on the lack-of-respect list among Triple Crown winners. 
In 1942, the Splendid Splinter led both leagues in all three Triple Crown categories (.356 – 36 -137), as well as in runs scored, on base percentage, slugging percentage, total bases and bases on balls.
This dominance earned him a second place finish in the MVP balloting (Boston also finished second, to the Yankees, at 93-59, nine games behind).  The MVP winner?  Yankee second baseman Joe Gordon (.322 – 18 – 103), who led the league in two offensive categories, strikeouts and grounding into double plays.  Williams, like Gehrig, earns a five-star injustice rating.
3.  Ted Williams gets a three-star injustice rating for his 1947 Triple Crown year.
This is not so much because of a lack of respect for his dominance, but because it was the second time he earned the Triple Crown, but was denied the MVP.  In 1947, Williams led the AL with .343 – 32 -114, and also led in runs scored, bases on balls, on base percentage and total bases.   The MVP winner was Yankees' centerfielder Joe DiMaggio (the Yankees won the pennant, Boston finished third, fourteen games out.)  DiMaggio's season totals were .315-20-97 and he finished in MLB's top five in runs, runs batted in, hits, total bases, doubles and triples – trailing Williams, however, in all but triples.  Still, not a major "disrespect," unless you pile it on top of the 1942 voting.
4.  Chuck Klien is the fourth Triple Crown winner to be denied an MVP award.
Klien, however, was probably not surprised.  First, Triple Crowns were a bit commonplace that year – 1933 – the only season in which both leagues boasted a Triple Crown winner.  They were even from the same city, Jimmy Foxx of the Philadelphia Athletics and Chuck Klien of the Phillies.  Foxx got his MVP, despite the As third-place finish (79-72, 19.5 games behind), but Klien was hurt by the Phillies 60-92 record and seventh place finish (31 games behind the NY Giants).  Klien finished at .368 – 28 – 120, also leading the league in hits, doubles, on base percentage, slugging percentage and total bases.  The MVP went to Carl Hubbell of the pennant-winning Giants, who pitched his way to a 23-12 record and a 1.66 ERA – leading the NL in wins, ERA, shutouts and innings pitched.