There is no doubt today's game is becoming both more hard-throwing and more-free swinging.  Earlier this month, I posted the chart below to show the rise of strikeouts per game over the years (more than double since 1950.   Now, below the chart, I offer some more evidence of the  nature of the new ball game.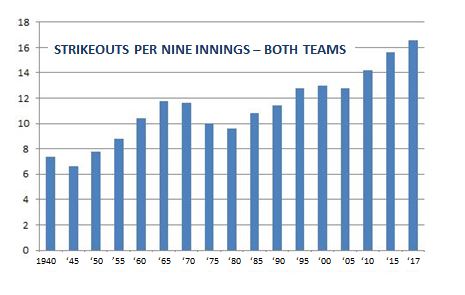 I'm working on a similar chart for home runs, but the trend appears to be similar. In 1950, fans saw an average of about 1.7 home runs per game (both teams combined) – 130 home runs per team over a 154-game season.  This season, fans have been seeing an average of just over 2.5 home runs per game – with MLB on a pace toward a season average of 205 home runs per team.
This free-swinging/hard-hitting trend shows up in other aspects of the game.  So far this August, we have seen seen three Immaculate Innings (three strikeouts on nine pitches) – bringing the total number of 2017 Immaculate Innings to an MLB single-season record eight – breaking the 2014 record of seven with more than a month to go.  (In fact, there have been only four SEASONS in MLB history with more Immaczulate Innings than we have seen so far this August – and that includes 2017.) Your 2017 Immaculate frames go to: Drew Storen, Reds (April 18); Craig Kimbrel, Red Sox (May 11); Max Scherzer, Nationals (May 15); Kenley Jansen, Dodgers (May 18); Carlos Carrasco, Indians, (July 7); Dellin Betances, Yankees (August 2); Jose Alvarado, Rays (August 4); Rick Porcello, Red Sox (August 9).   Notably, in MLB history, there has been only one other season with as many as five Immaculate Innings (1998) and of the 89 Immaculate innings recorded, 40 have taken place since 2000.  Here's the list by decade;
                                    IMMACULATE INNINGS
                                   1880s – 1            1960s – 8
                                   1890s – 0           1970s – 8
                                    1900s – 1           1980s – 4
                                    1910s – 1            1990s – 18
                                    1920s – 5           2000s – 15
                                    1930s – 0           2010s – 25
                                    1940s – 0
                                     1950s – 3
A few other Immaculate Inning tidbits:
Only four pitchers have thrown multiple Immacualte Innings: Lefty Grove; Sandy Koufax; Nolan Ryan; Randy Johnson.
Only Sandy Koufax has three such innings – one each in 1962, 1963 and 1964.
Lefty Grove is the only pitcher to throw two immaculate innings in the same season (August 23 and September 27, 1928).
Nolan Ryan is the only pitcher to theow an Immacutalte Innings in both the Ameerican and National League (Mets, 1968 – Angels, 1972).
The only World Series Immaculate Inning belongs to the Royals' Danny Jackson (Game 5 of the 1985 Series).
The only players to come right out of the box and fire an Immaculate Inning in the first frame are: Sandy Koufax (1962); Roger Clemens (1997); Pedro Martinez (2002); Rick Helling (2006); Rich Harden (2008).
There have been only two Immaculate Innings in extra innigs: Sloppy Thurston (12th inning, August 22, 1923); Juan Perez (10th inning, July 8, 2011.)
More Immaculate Innings have taken place in the ninth ining (20) than any other frame.
I tweet baseball @DavidBBRT
Like/Follow Baseball Roundtable's Facebook page here.  Baseball commentary, blog post notifications, PRIZES.
Member: Society for American Baseball Research (SABR); The Baseball Reliquary; The Negro Leagues Baseball Museum; Baseball Bloggers Alliance.