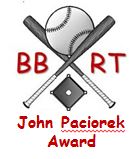 In 2014, BRT launched its own baseball award – The John Paciorek Award (JPA). The JPA recognizes players who have had short, maybe very short, major league careers, but whose accomplishments, nonetheless, deserve recognition.  Just as the emergence of these players on the MLB scene was often unexpected, the annual JPA is awarded on no specific timetable.  BBRT, in fact, most often uncovers these brief, but bright, stars when researching some unrelated baseball topic.
(Note: Information on John Paciorek's career – the inspiration for the JPA – can be found at the end of this post. Paciorek's day in the sun constitutes arguably the best one-game MLB career ever.)
 ________________ 2016 JPA Winner – John Allen Miller _______________
This year, BBRT honors John Allen Miller with the JPA – for crashing just two homers in his MLB career, but making them both historic.
John Allen Miller played parts of two seasons in the major leagues (1966 and 1969, with the Yankees and Dodgers, respectively).  An outfielder/first baseman, Miller played in a total of just 32 major league games, getting 61 at bats and just ten hits (.164 career average), two home runs and three RBI.  With that output, however, Miller earned a special place in the MLB record books.  Miller's two round trippers came in his very first and very last MLB at bats – making him just one of two players in MLB history to homer in their first and final official appearances in a major league batter's box. The other is Paul Gillespie – whose MLB career spanned three seasons during World War II (1942, 1944, 1945), all with the Cubs. Gillespie, a catcher, appeared in 89 games – hitting .283, with six home runs and 31 RBI; and went zero-for-six in the 1945 World Series.
Miller made his MLB debut with the Yankees on September 11, 1966. The 22-year-old was in his fifth professional season and had hit a promising .294, with 16 home runs and 59 RBI in 113 games at AA and AAA that season. Miller started that debut game (against the Red Sox at Fenway) in LF, batting seventh. In his very first big league at bat, he hit a two-out, two-run (Yankee starting CF Joe Pepitone was on base) home run off of Red Sox starter Lee Stange.  Despite the Yankees' long heritage of home run hitters, Miller's long ball made him the first Yankee to homer in his first MLB at bat. (Little did Miller know he would not get another home run or RBI until the final at bat of his MLB career.) Miller came to the plate four more times, notching a single and three strikeouts. Miller got in five more games in 1966, going zero-for-18.
The following April, Miller was traded (along with pitcher Jack Cullen and $25,000) to the LA Dodgers for utility infielder John Kennedy. Miller spent 1967 and 1968 at Triple A Spokane – putting up respectable numbers.  In 1969, he made it back to the big leagues, getting in 26 games (just 38 at bats) for the Dodgers. In the first 37 of those at bats, Miller collected seven hits (one double and six singles), scored twice, but did not collect an RBI.   Miller's last at bat of the season (and what turn out to be the last at bat of his MLB career) came as a pinch hitter (September 23) in the eighth inning of a game at Cincinnati.  The Dodgers, trailing 6-2 sent Miller to the plate for pitcher Al McBean.  In that final MLB at bat, Miller stroked a solo home run off Reds' starting pitcher Jim Merritt.  (Thus, not only did Miller homer in his first and final MLB at bats, all of his MLB RBI came in those two plate appearances as well.)
What further makes Miller's case for the JPA is how close he came to not homering in his final at bat.   Miller almost came to the plate one more time – on September 27, as the Dodgers and Giants faced off at Dodger Stadium.  That game was tied 1-1 in the bottom of the eleventh inning. Southpaw Ron Bryant was on the mound for the Giants and, after getting Dodger SS Maury Wills to pop out, he gave up singles to LF Manny Mota and CF Willie Davis. Dodgers' manager Walt Alston sent the right-handed hitting Miller up to hit for LA pitcher Jim Brewer.  Giants' skipper Clyde King –playing the percentages – brought in veteran righty Don McMahon to pitch.  Alston countered by calling Miller back and sending up left-handed swinging Len Gabrielson (who singled in the winning tally.)  Without the switch, that final at bat home run could have become just an obscure next-to-last at bat dinger. Note: Miller did go on to play three seasons (1970-72) in Japan, hitting .249 with 72 home runs and 222 RBI in 382 games for the Chunichi Dragons.
________________________________________________________
PAST JOHN PACIOREK AWARD WINNERS:
2014 – Brian Scott Dallimore – In his first start (not his first game) for the 2004 Giants, Dallimore had two singles, a Grand Slam (his first MLB hit and only MLB home run), a walk and a hit by pitch.  For the full JPA take on Dallimore's 27- game MLB career, click here.
2015 – Roy Gleason – Gleason played in just eight MLB games, had a double in his only MLB at bat – but also earned a World Series ring (1963) and a Purple Heart. Ultimately, he was the only ballplayer with MLB experience to serve on the front lines in Vietnam. For the full JPA take on Gleason, click here. Note: Gleason's life is detailed in the book "Lost in the Sun – Roy Gleason's Odyssey from the Outfield to the Battlefield."  
INSPIRATION FOR THE JPA

John Paciorek – signed out of Saint Ladislaus High School in Hamtramck, Michigan (where he had starred in football, basketball and baseball) – appeared in his first major league game on the final day of the 1963 season (September 29) at the age of 18.  The 6' 1", 200-pound outfielder had spent the 1963 season with Class A Modesto Colts. The Colts' parent club, the Houston Colt .45s (that was the current Astros' franchise name back then), was suffering through a difficult season. The team was 65-96 going into that final game.  Looking to the future, Houston had, in fact, fielded an all-rookie lineup (average age 19) on September 27. Youth was still being served two days later when John Paciorek started his first MLB game. The results were surprising – and worthy of recognition.

Playing right field and batting seventh in a 13-4 win over the NY Mets, Paciorek ended up with three hits and two walks in five plate appearances, with four runs scored and three runs batted in.  Perhaps equally surprising is that it was not only Paciorek's first major league appearance, it was to be his only MLB appearance.  Back pain the following spring, followed by surgery (he played 49 minor league games in 1964 and missed all of the 1965 season) put an end to his MLB playing days. (Paciorek did play in four more minor league seasons.)  Still, you will find John Paciorek in the Baseball Encyclopedia and his is arguably the greatest one-game MLB career ever.  Among one-gamers, he holds the record for times on base and runs scored, and shares the record for batting average, on base percentage and RBIs. 

Paciorek, by the way, went on to become a high school teacher and multi-sport coach and is the author of two books (Plato and Socrates – Baseball's Wisest Fans and The Principles of Baseball: And All There Is To Know About Hitting.) You also can enjoy Paciorek's prose (and expertise) directly at his blog "Paciorek's Principles of Perfect Practice" by clicking here. You can find out even more about Paciorek in Steven Wagner's 2015 book "Perfect: The Rise and Fall of John Paciorek, Baseball's Greatest One-Game Wonder."  (BBRT will be reviewing "Perfect" in the near future.

A final note. John Paciorek's insight into the national pastime should come as no surprise. Paciorek comes from a true "baseball family."  He was the first born of eight siblings and was followed to the big leagues by younger brothers Jim and Tom Paciorek.  (Like John, Jim's MLB career was short – 48 games for the Brewers in 1987. Brother Tom, however, achieved a .282 average over an 18-season MLB career.)
I tweet baseball @DavidBBRT
Member: Society for American Baseball Research; The Baseball Reliquary; Baseball Bloggers Alliance.