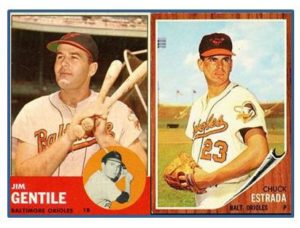 In 1961 – with Yankee sluggers Mickey Mantle and Roger Maris dominating headlines in their chase of Babe Ruth's record 60 home runs in a season – Jim Gentile of the Orioles quietly put up quite a season of his own. Gentile hit .302, with 46 home runs and a league-topping 141 RBI.  He also tied the MLB record and set a new AL mark (both since broken) for Grand Slams in a season with five bases-loaded long balls. In addition, he tied an MLB record with two Grand Slams in a game – May 9.  (The current record for Grand Slams in a season is six, reached by the Yankees' Don Mattingly in 1987 and the Indians' Travis Hafner in 2006.)
Orioles' pitcher Chuck Estrada was the sole beneficiary of Gentile's 1961 offensive outburst – every one of Gentile's record-tying five four-run blasts was hit in a game started by Estrada (who, as you would expect, picked up a victory in all four contests).  Notably, Gentile hit only one other Grand Slam in his career (June 26, 1960) and – you guessed it – the starting and winning pitcher in that contest was Chuck Estrada.  Gentile went three-for-five in that game (a 9-2 Orioles' win), with two home runs and seven RBI. So for Gentile, six career Grand Slams – all in games Chuck Estrada started and won.
In 1961, Gentile was pretty much an offensive juggernaut when paired with Estrada.  He played in 29 of Estrada's 31 starts.  In those 29 games, he hit .356, with 15 home runs and 47 RBI. How potent is that?  Gentile played in 148 games in 1961, If he had hit in the other 119, like he did in the 29 Estrada starts he played in, he would have bashed 77 home runs and driven in 240.  Gentile played in all 15 of Estrada's victories that season (and in eight of his nine losses). The Orioles scored 88 runs in Estrada's 15 wins, with Gentile driving in 36 percent of those tallies. (Estrada went 15-9, 3.69.)
For those of you who like a little more – Don't baseball fans always want that next fact or stat? – here's some background. Gentile was in the majors with the Dodgers (1957-58), Orioles (1960-63), A's (1964-65), Astros (1965-66) and Indians (1966). In nine MLB campaigns, he was an All Star in three seasons (1960-61-62) and 1961 was his best year. His career stat line was .260-179-549. That's 1961 season saw Gentile reach his all-time career highs in nearly every offensive category.  It was the only season in which he reached a .300 batting average, 100 or more RBI and 40 or more home runs (he had a total of five seasons of at least 20 homers – including the 46 in 1961 and 33 in 1962).
Estrada's best season was his rookie year (1960) with the Orioles, when the 22-year-0ld led the AL with 18 wins (11 losses and a 3.58 ERA). He finished second in the AL rookie of the Year balloting to his Orioles' teammate, shortstop Ron Hansen, who hit .255, with 22 home runs and 86 RBI.  Estrada was an All Star in just one season – his rookie campaign –  in a career that saw him win 50 and lose 44, with a 4.04 ERA. He pitched for the Orioles (1960-64), Cubs (1966) and Mets (1967).
MORE GRAND SLAM FACTOIDS.

In 1987, Yankees' first baseman Don Mattingly came to the plate with the bases loaded 21 times – picking up two singles, a double, six home runs and a pair of sacrifice flies. In those 19 plate appearances, he hit .474 and drove in 33 runs. Bases-loaded situations accounted for just 3.3 percent of his plate appearances that season, but 4.8 percent of his base hits, 20 percent of his home runs and 26 percent of his RBI.

Of even greater note, Mattingly's six 1987 Grand Slams were a single-season MLB record (since tied) and Mattingly – despite a 14-season career that included 163 bases-loaded plate appearances – did not hit another Grand Slam before or after those record-setting six.

 Twins' first baseman Rich Reese holds a share of the MLB career record for pinch-hit Grand Slams at three. Those three bases-loaded round trippers were the only Grand Slams of his ten-season MLB career – which included 210 pinch-hitting appearances out of a total of 2,224 plate appearances.
BBRT unofficial Baseball Halll of Fame Fan Ballot
Don't forget to vote in Baseball Roundtable's unofficial Fan Hall of Fame Ballot. Just click here to access the ballot. When final BBWAA voting is announced Baseball Roundtable will feature a comparison of fan votes versus writer tallies.
Primary resources: MLB.com; Baseball-Almanac.com; Baseball-Reference.com
I tweet baseball @DavidBBRT
Like/Follow the Baseball Roundtable Facebook page here.
Member: Society for American Baseball Research; The Baseball Reliquary; The Negro Leagues Baseball Museum.