FIVE EXTRA BASE HITS IN A GAME
On September 3, Indians' 2B Jose Ramirez tied a an MLB record – with a little help from his "friends" – by collecting five extra-base hits in a single game. As the Indians topped the Tigers 11-1 in Detroit, Ramirez collected two home runs and three doubles.  A couple of interesting tidbits about those homers: 1) Ramirez hit one from each side of the plate (the third time he has accomplished that this year; 2) Both home runs were assisted by outfielders (hand/glove) before falling in for four-base hits.
His first home run, in the opening inning, was to left, where Tigers' LF Mike Mahtook was ready to play the ball off the wall. Ramirez' smash hit the top of the wall and bounced twice before rebounding toward the field. Mahtook jumped up, attempting to snag the ball with his bare hand – except, instead of cleaning snatching the horsehide, Mahtook bumped/bounced it over the fence.  Then in the sixth inning, Ramirez hit a long line drive to right field, where Tigers' RF Alex Pressley jumped to make the catch, only to have the ball bounce off his glove, into the stands and back onto the field for another home run.  Ramirez ended the day five-for-five, with three runs scored and five driven in. As of September 4, he was .310-23-69 on the season (leading theleague in extra-base hits) – his fifth MLB campaign. The big day made Ramirez just the 13th player to record five extra-base hits in a game, the details on the other twelve are listed later in this post.
FOUR HOME RUNS IN A GAME
Then, the hits just kept on coming.  The very next day (September 4), The Diamondbacks' J.D. Martinez tied another MLB slugging record – rapping four home runs in a single game, as his surging Diamondbacks dominated the Dodgers 13-0 in Los Angeles. The big day mde Martinez the 18th player in MLB history to accomplish that feat,  Here's how Martinez' day went:
A slow start, striking out swinging to lead off the second inning;
Two-run home run to left-center off starter Rich Hill in the top of the fourth;
Lead-off homer to right the top of the seventh off Pedro Baez;
Solo shot to center off Josh Fields in the eighth;
Two-run home run to left off Wilmer Font in the top of the ninth.
For the day, Martinez scored four times and drove in six runs. Martiinez was the second player to notch a four-homer game this seasson. The Reds' Scotter Gennett was the first. For a look at all the four-home runs games that preceded Ramirez' and some four-HR game trivia bits, click here.
________________________
Now, here is the list of MLB Players (besides Jose Ramirez) with five extra base hits in a game.
George Streif, Philadelphia Athletics, American Association – June 15, 1885
On June 25, 1885 – as the Brooklyn Grays topped the Philadelphia Athletics, 21-14 in Brooklyn, the Athletics' 3B George Streif become the first documented MLB player to collect five extra base hits in a single game.  He rapped four triples and a double – for 14 total bases. 1885 was the final year of Streif's MLB career (1879, 1882-85). Over his career, he hit .208, with five home runs. The 1885 season was his best – as he finished with a stat line of .274-0-27 in 44 games.
George Streif's four triples on June 15, 1885, remain the MLB record for triples in a game.
George Gore, Chicago White Stockings, NL – July 9, 1885
The second MLB player to record five hits in a game – like the first – was also a George.   In a July 9, 1885 game against the Providence Grays, Cubs' outfielder George Gore collected three doubles and two triples. The Cubs won, at home, 8-5. In 1885, Gore hit .313, with five home runs and 37 RBI. In a 14-season MLB career (1879-1892), he hit .301-46-618.  His best year was 1880, when he won then NL batting championship with a .360 average, and posted two home runs and 47 RBI in 77 games. That season, he also led the league in on-base percentage and slugging percentage. Gore hit over .300 eight times in his career and led the NL in runs scored twice and walks three times.
George Gore also owns a share of the record for stolen bases in a single game at seven (June 25, 1881).
Larry Twitchell, Cleveland Spiders, NL – August 15, 1889
On August 15, 1889, Larry Twitchell started in LF for the Cleveland Spiders (versus the Boston Beaneaters) in Boston. Twitchell would later pitch a scoreless inning in that 19-8 Cleveland victory, but his bat is what earned him attention that day. Twitchell went six-for-six (with a walk), rapping a double, three triples, a home run and a single. Twitchell collected three RBI and scored four times in the game. Twitchell hit .275, with four home runs (11 triples) and 95 RBI on the season – arguably the best performance in his nine-year MLB career (1886-94). Twitchell's career stat line was .263-19-384.  For those who like to stump friends with trivia, Twitchell is the only player who also took the mound on a day he collected five extra-base hits.
Lou Boudreau, Cleveland Indians, AL – July 14, 1946
On July 14, 1946 – as the Indians lost to the Red Sox 11-10 –  Indians' shortstop Lou Boudreau went five-for-five, collecting four doubles and a home run. Boudreau scored three runs and collected four RBI in the game. Boudreau, who went .295-68-789 over 15 MLB seasons (1938-52), hit .293, with six home runs (30 doubles) and 62 RBI in 1946. In 1947, he had his best season ever – going .355-18-106.
Joe Adcock, Milwaukee Braves, NL – July 31, 1954
On the final day of July in 1954 – as his Braves beat the Dodgers 15-7 – 1B Joe Adcock rapped four home runs (tying the single game record) and a double.  His 18 total bases set the MLB record for a single game (later broken). Adcock scored five times and drove in seven runs in the game.  Adcock had a 17-season MLB career in which he hit .277, with 336 home runs and drove in 1,122 runs. In 1954, he went .308-23-87. His best season was 1961, when he went .285-35-108.
Willie Stargell, Pittsburgh Pirates, NL – August 1, 1970
Stargell was the big bopper on the day the Pirates topped the Atlanta Braves 20-10 in Atlanta. Stargell, playing LF, went five-for-six with two home runs, and three doubles.  He scored five runs and drove in six. For the season, he hit .264, with 31 home runs and 85 RBI. Hardly a great campaign for a player who, over 21 MLB seasons (1962-82), would hit .282, with 475 home runs and 1,540 RBI – topping forty home runs twice and 100 RBI five times and earning 1979 NL MVP recognition with a .281-32-82 season.
Steve Garvey, Los Angeles Dodgers, NL – August 28, 1977
On August 28, 1977 Dodgers' starter Don Sutton threw a neat six-hit, complete-game shutout, as the Dodgers pounded the Cardinals 11-0 in LA.  The big news, however, focused on the number five – as the Dodgers' popular first baseman, Steve Garvey, went five-for-five, with five runs scored, five RBI and a MLB record-tying five extra-base hits.
Garvey launched two home runs and a trio of doubles on his big day. For the 1977 season, Garvey hit .297, with 33 home runs and 115 RBI.  Over his 19-season MLB (1969-87) career, Garvey was a ten-time All Star and four-time Gold Glove winner.  His best season was probably 1974, when he won the NL MVP Award with a .312-21-111 performance – although he notched better numbers in many categories along the way. For example, in 1977, he hit .297 with career highs in home runs (33) and RBI (115). Garvey also twice led the NL in hits and logged six seasons of 200 or more safeties.  His final career line was .294-272-1,308 (with 2,599 hits).
Shawn Green, Los Angeles Dodgers, NL – May 23, 2002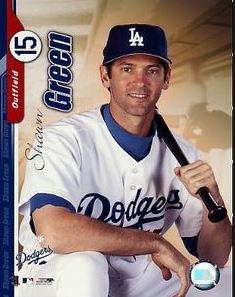 On May 23, 2002, the Dodgers topped the Brewers 16-3 in Milwaukee – and RF Shawn Green topped the Dodgers with six hits in six at bats, six runs scored and seven RBI. Green's output included an MLB record-tying four home runs, a double and a single. On the season, Green hit .285-42-114 and, over a 15-season MLB career, his line was .283-328-1,070. Green's best season was 2001, when he hit .297, with 49 home runs and 125 RBI.  Overall, he topped 40 home runs three times and had 100 or more RBI four times.
On May 23, 2002, the Dodgers' Shawn Green hit for 19 total bases – the MLB record for total bases in a game.
Kelly Shoppach, Cleveland Indians, AL – July 30, 2008
Despite catcher Kelly Shoppach's five-extra base hit game, the Indians lost to the Tigers (in Cleveland) by a 14-12 score.  Shoppach went five-for-six with two home runs and three doubles – scoring four times and collecting three RBI. On the season, Shoppach hit .261, with 21 home runs and 55 RBI in 112 games (the most games he would play in any of his nine MLB seasons).  Shoppach put up career-high numbers nearly across-the-board in 2008 (games-112; hits-92; runs-67; doubles-27; home runs-21; RBI-55; average-.261). Over his MLB career (2005-12), he hit .223, with 70 home runs and 216 RBI.
Josh Hamilton, Texas Rangers, AL – May 8, 2012
Josh Hamilton was in CF, batting third for the Rangers as they took on the Orioles in Baltimore. He bashed four home runs (tying the MLB single-game record) and a double in five at bats – scoring four times and driving in eight, as the Rangers emerged victorious by a 10-3 score. Hamilton, the 2010 AL MVP, hit .285, with 43 home runs and 128 RBI in 2012. His best campaign was 2010, when he went .359-32-100. In a nine-year MLB career (2007-15), Hamilton put up a .290-200-701 line.
Jackie Bradley, Jr., Boston Red Sox, AL – August 15, 2015
In mid-August of 2015, Red Sox' RF Jackie Bradley collected three doubles and a pair of home runs in six at bats, as his Red Sox pounded the Mariners 22-10 in Boston.  Bradley scored five times and plated seven tallies. Bradley finished the season at .249-10-43 in 74 games. As of September 4 of 2017, his fifth MLB season, Bradley had played 504 MLB games, putting up a .243-54-224 stat line.
Kris Bryant, Chicago Cubs, NL – June 27, 2016
On June 27, 2016 – as the Cubs topped the Reds 11-8 in Cincinnati – Cubbies' starting third baseman Kris Bryant rapped three home runs and two doubles in five at bats (crossing the plate four times and driving in six runs). Bryant proved to be truly on the move – also playing right field and left field in the game.  It was the 24-year-old Bryant's second MLB season and he finished at .292-39-102 (with an NL-leading 121 runs scored). His performance earned him the NL MVP award. As of September 4, 2017 – just Bryant's third MLB season – his career line was .285-90-260.
Primary resources: Baseball-Reference.com; MLB.com; Society for Americana Baseball Research.
I tweet baseball @DavidBBRT
Like/Follow Baseball Roundtable's Facebook page, here.  New blog post notifications, baseball commentary, PRIZES.
Member: Society for American Baseball Research (SABR); The Baseball Reliquary; The Negro Leagues Baseball Museum; Baseball Bloggers Alliance.