With Spring Training nearly upon us (and it's been a long wait), BBRT would like to revisit one remarkable Spring Training contest – when six pitchers combined to throw a perfect game.
Spring training records are, of course, unofficial, but the games and achievements are, at times, memorable.  Such was the case on March 14, 2000, a sunny, 80-degree day at City of Palms Park in Fort Meyers, Florida – Spring Training home of the Boston Red Sox.  The Sox had captured the AL Wild Card playoff spot the year before, finishing at 94-68, four games behind AL East Division leader Yankees.  The Red Sox went on to beat the Indians in the League Division series three games to two, before succumbing to the Bronx Bombers (four games to one) in the AL Championship Series.  A City of Palms Park record crowd of 7,139 was on hand for the March 14 game, due in great part to the fact that Red Sox ace Pedro Martinez was slated to start the game (against the Toronto Blue Jays).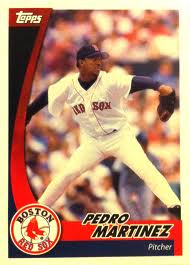 In 1999, the Sox right-hander had been nothing short of spectacular, leading the AL in wins (23-4), winning percentage (.852), ERA (2.07), and strikeouts (313 Ks in just 213 1/3 innings), while walking just 37– earning his second of three career Cy Young Awards.  And, Martinez didn't disappoint.  In the first inning, he struck out lead-off hitter/rightfielder Anthony Saunders looking, followed by setting down second baseman Homer Bush swinging, and closed the inning with a called strike three on first baseman David Segui.  Martinez zipped through his three innings of work facing just nine-hitters, fanning six and giving up only one even reasonably hit ball, a line out to center by the last hitter he faced, catcher Ramon Castillo.  A great start.  For the Boston Faithful, however, the best was yet to come.
In the top of the fourth inning, right-hander Fernando De la Cruz (destined to spend the regular season at AA) relieved Martinez, and went on to pitch two perfect innings, with one strikeout.
In the sixth, another righty, Dan Smith (who had gone 4-9, 6.02 for the Expos the previous season) took the mound for Boston – adding another perfect inning and another strikeout.  Smith would spend most of the 2000 season at AAA Pawtucket, getting in only two games (3 1/3 innings) with Boston.
Veteran southpaw Rheal Cornier (who had appeared in 60 games with a 3.60 ERA for the Sox in 1999) kept the "perfecto" going with a 1-2-3 seventh inning, which also saw the Red Sox make changes at catcher, first base, second base, centerfield and rightfield.
The eighth saw another Boston pitching change, with stocky righty Rich Garces (5-1, 1.55 in 1999) setting the Blue Jays down in order and notching one strikeout.  (Garces would go 8-1, 3.25 with one save in 64 games in 2000.)
Right-hander Rod Beck, acquired from the Cubs during the 1999 season (and holder of 260 career saves), came in to "save" the perfect game in the ninth – finishing with strikeout, flyout, strikeout.
The Red Sox won the game, 5-0, with Nomar Garciaparra driving in four runs with a double and a home run. Spring Training records can be a bit sketchy, but BBRT has not been able to find another Spring Training perfect game.
I tweet baseball  @DavidBBRT