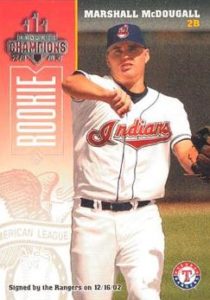 On this date (May 9) 1999, Florida State University second baseman Marshall McDougall had what is arguably the best day ever by college (Division I) baseball player.  We're talking seven-for-seven, with six runs scored, 16 RBI and six home runs – setting a host of NCAA Division I single-game records.
The day started out routinely enough, as McDougall, batting in the number-two spot, singled to left in the top of the first (against Atlantic Coast Conference rival Maryland) and the inning ended with the scored tied at 2-2.  After that, it was all Florida State and nearly all Marshall McDougall.  The Seminoles won the contest 26-2, and McDougall's remaining at bats went:
Second Inning – solo home run to left.
Fourth inning – three-run home run to center.
Sixth inning – two-run home run to left.
Seventh inning – three-run home run to center.
Eighth inning – Grand Slam home run to left.
Ninth inning – three-run home run to center.
McDougall, a junior in his first year with Florida State University (he played two years at Santa Fee Community College in Gainesville, FL), declined to take all the credit.  After the game he commented, "Luckily, we had people on base, so they couldn't walk me. My teammates came through for me."
In that game, McDougall not only hit for the "home run cycle" (solo, two-run, three-run and Grand Slame), he also set National Collegiate Athletic Association (NCAA) single-game records – which still stand – for home runs (6); RBI (16); and total bases in (25).  Not a bad day at the ball yard.
The fact is, McDougall didn't have many bad days at the ball park in 1999. That season, McDougall was held hitless only eight times, while recording 20 games with three or more safeties.  His final line for the year – 71 games, with a .419 average, 28 home runs, 106 RBI, 104 runs scored and 22 stolen bases (in 25 attempts).  He also drew 39 walks and was hit by a pitch ten times, while striking out 46 times.  McDougall won the ACC Triple Crown and led all college players in RBI and base hits (126).
As you might expect, McDougall was an NCAA consensus All American – and made virtually every publication and organization's All America squad. He was also the Atlantic Coast Conference Player of the Year, was a first–team selection to the NCAA All Tournament Team and voted the Most Outstanding Player of the 1999 College World Series (the Seminoles lost in the finals).
After his 1999 season at FSU, McDougall was selected by the Red Sox in the 26th round of the 1999 MLB Draft, but decided to play his final season at FSU.  This was already the third time McDougall had been an MLB draft selection.  (More on that later.) McDougall "slumped" a bit in his final college season –  .346-15-67, 82 runs and 14 steals in 72 games.  The Seminoles finished second in the ACC (15-9), 53-19 overall and third in Division I College World Series. The Oakland A's took McDougall in the ninth round of the 2000 MLB draftand his professional career got underway.
Now, for those who are interested, let's take a look at Marshall McDougall's path to (and from) the major leagues – and reflect on just how challenging playing ball at the major league level can be; no matter what your past performance and future potential may look like.  
In high school (Valrico, FL), McDougall had already shown his promise as a second-team All-State player (selected by the White Sox in the 41st round of the 1996 MLB Draft). He chose instead to attend Santa Fe Community College, where again he was a second-team All-State selection (picked by the Yankees in 37th round of the 1997 draft). And once again, he declined to sign, instead moving on to Division I ball at Florida State University;  where, as you've already read, he carved out a spot in college baseball history.
After signing with the A's, McDougall worked his way up to the AA Midland Rockhounds – where, in 2002,  he hit .303-9-56 in 84 games, before being traded to the Indians for Ricardo Rincon during the season. He suffered an injury after the trade and played only nine games in the Indians' system (Double A and Low A). In December 2002, he was taken by the Rangers in the Rule 5 Minor League draft.
The 6′ 1″, 200-lb. McDougall showed solid potential in the Rangers' system (at Double A and Triple A). In 2003, he hit .261-15-78 in 140 games; in 2004, .288-21-83 in 112 games; and, in 2005, he was hitting .341-11-64 (75 games) when he got the "call to the show."   He joined the Rangers as a utility player and manned five positions for Texas (2B/3B/SS/RF/DH). Still, he got only 18 MLB  at bats in 18 games (three hits, three runs, one double, and ten strikeouts.)   Hampered by injury (wrist), McDougall later played in both the Dodgers' and Padres' systems, but never made it back to the major leagues.  Other stops along the way for McDougall have included both the Mexican and Chinese Leagues.  McDougall's story clearly reflects how hard it is to get to the big leagues (he made it) and how challenging it is to stay there.  Still, he played the game at the highest level – and still holds a place (several places) in the college record books.
Follow/Like Baseball Roundtable's Facebook page, click here.  More baseball commentary there, and bobblehead giveaways coming up.
Helpful sources for this post included MiLB.com; Baseball-Reference.com; and Nolefan.org
I tweet baseball @ David BBRT
Member: Society for American Baseball Research (SABR); The Baseball Reliquary; The Negro Leagues Baseball Museum; Baseball bloggers Alliance.