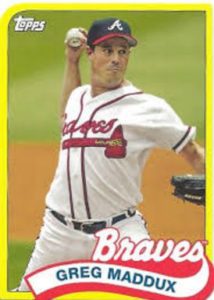 On this date (August 12) in 2001, future Hall of Famer Greg Maddux and his Braves faced off against the hard-hitting Arizona Diamondbacks in Atlanta.  Maddux was having a typical season – taking the mound with a 15-6 record and a 2.68 ERA.   He was also in hot pursuit of Bill Fischer's record of 84 1/3 consecutive innings pitched without issuing a walk (1962 Kansas City Athletics). Maddux' last free pass had come on June 20th – 70 innings ago.
Little did Maddux know, as he took the mound in the bottom of the first inning, that it would be a very un-Maddux-like afternoon – and that his walkless streak would end at 72 1/3 innings (still the NL record) on the orders of manager Bobby Cox.
Over the first two innings, Maddux gave up one run, but did not look sharp.  He was touched for three singles and hit a batter – but had not issued a walk.  Then in the third inning, things really went awry, as the Diamondbacks actually batted around against "The Professor." It went like this, SS and leadoff  hitter Greg Counsell singled and stole second; 2B Junior Spivey singled, with Counsell going to third; LF Luis Gonzalez singled, scoring Counsell and sending Spivey to third; 1B Mark Grace hit a sacrifice fly scoring Spivey (Maddux' walkless streak now at 72 1/3 innings); and 3B Matt Williams doubled, scoring Gonzalez.
Now, with Williams on second and one out, Cox made the traditional baseball move – ordering Maddux to intentionally walk CF Steve Finley to set up the double play. With that strategic move, Maddux' streak was over and Fischer's MLB record was safe. The next batter, RF Danny Bautista grounded to third base – with the runners moving up.  Cox then ordered another  intentional pass, this one to C Damian Miller – bringing up the pitcher. Pitcher Albie Lopez put an end to the inning with a ground out.  (After the second intentional walk, Maddux went 11 2/3 innings before his next unintentional free pass, which would still have left him 1/3 of an inning short of Fischer's record.)
A few side notes:
Maddux walked only 27 batters in 233 innings in 2001 – and ten of those were intentional.
Maddux walked two or more batters in just nine of his 34 starts and had 18 starts with zero walks that season.
Maddux had nine consecutive starts with zero walks – and did not issue a single free pass in July.
The two (intentional) walks in that August 12th game represented one of only three two-walk innings for Maddux all season – and one of the other two was also comprised of a pair of intentional passes.
Maddux finished his career with only 999 free passes (3,371 strikeouts) in 5008 1/3 innings pitched.
In 23 MLB seasons, Maddux averaged only 1.8 walks per nine innings and, in 1991, walked just 20 batters (six intentional) in 232 2/3 innings.
He ended the 2001 season 17-11, 3.05 – and had a career record of 355-227, 3.16.
I tweet baseball @DavidBBRT
Follow/Like Baseball Roundtable's Facebook page, here.
Member: Society for American Baseball Research (SABR); The Baseball Reliquary; The Negro Leagues Baseball Museum; Baseball Bloggers Alliance.