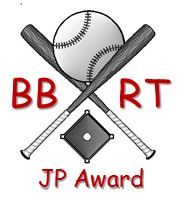 In 2014, BRT launched its own baseball award – The John Paciorek Award – or JPA (which could stand for "Played Just Abit.")  The JPA recognizes players who have had short, maybe very short, major league careers, but whose accomplishments, nonetheless, deserve recognition.  Just as the emergence of these players on the MLB scene was often unexpected, the JPA is awarded on no specific timetable.  BBRT, in fact, most often uncovers these brief, but bright, stars when researching some unrelated baseball topic.
(Note: Information on  John Paciorek's career – the inspiration for the JPA – can be found at the end of this post.)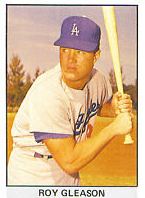 Now the timetable for these recognitions may not be specific, but that does not preclude the presentations from being "time appropriate."  With that in mind, BBRT's second JPA is being presented on this Memorial Day to Roy Gleason – whose achievements include eight MLB appearances (Dodgers 1963), a career MLB batting average of 1.000, a World Series ring (more on that later) and a Purple Heart (earned in Vietnam). 
Roy Gleason was a top-rated prospect right out of high school, recruited (for the Boston Red Sox) by the likes of Ted Williams. A big (6'5", 220-pound), speedy, switch-hitting outfielder, Gleason had his heart set on taking the field for the Los Angeles Dodgers. At least briefly, he lived the dream – signing with the Dodgers and making his major league debut at the age of 20, in just his second professional season (1963). He first appeared in a Dodgers game as a pinch runner on September 3 and, as the season wound down, got into seven games in that capacity – scoring two runs, but never coming to the plate.
Then, on September 28, 1963 – in the eighth inning of a game against the Phillies, Gleason was called on to pinch hit for LA pitcher Phil Ortego (the Dodgers were trailing 12-2 at the time). That first MLB at bat would prove to be Gleason's only MLB plate appearance and he made the most of it – lining a 1-0 fastball off the Phillies' Dennis Bennett for a standup double to left (and scoring later in the inning). Thus, Gleason ended his first MLB season – and his MLB career – with a 1.000 batting average, 1.000 on base percentage and 2.000 slugging percentage. And, although Gleason was not on the post-season roster, the Dodgers went on to win the 1963 World Series, earning Gleason a coveted World Championship ring.
Gleason spent the next three seasons back in the minors – where he hit only .213, but showed a combination of power and speed with 44 home runs and 21 stolen bases. Gleason was maturing as a player and a return to the majors seemed on the horizon after he earned an invite to the Dodgers' 1967 major league Spring Training camp. Gleason, however, received another invite that spring – a draft notice. That invite, as noted in Gleason's book "Lost in the Sun" (by Roy Gleason as told to Wallace Wasinack and Mark Langill) took the young outfielder on an "Odyssey from the Outfield to the Battle Field."
BBRT recommends Lost In The Sun – Roy Gleason's Odyssey from the Outfield to the Battlefield. It's moving story of dream chasing, perseverance, reluctant heroism, fear , survivor's guilt, and the inside of major league negotiations (methods and motives) – with a helping of history, politics and cultural commentary thrown in.
Gleason, it turns out, was the only baseball player with major league experience on his resume to serve on the front lines in Vietnam. In Vietnam, Gleason earned his Sergeant's stripes, as well as a Purple Heart (suffering leg and wrist wounds when his squad came under attack on July 24, 1968).  By his own admission, a reluctant hero (aren't those the most heroic), Gleason nonetheless distinguished himself.  A few lines from his citation note that, after being wounded, Gleason "refused medical attention and continued to perform his duties as squad leader until all his wounded men had been evacuated."  In his book Lost in the Sun, Gleason, describes the moments after he was wounded, "As I rolled on my belly to return fire, I didn't have time to think about the reason I was there. Why am I fighting to the death – an enemy I didn't even know – in a world far removed from the small mid-American town of LaGrange, Illinois. The sight of the blood-soaked mud was now the scene, and God … how I missed the lush green baseball fields I'd played on in America."
Gleason was ultimately airlifted out of the combat area on an Army helicopter – and left behind was his foot locker and his 1963 World Championship ring, but not his major league dreams.
After recovering from his wounds and enduring extensive rehab, Gleason attempted a comeback – performing well in 1969 Spring Training before being returned to the minors. A truck accident (Gleason was working construction between the 1970 and 1971 seasons), however, resulted in an arm (rotator cuff) injury that ended his pursuit of major league career.
As a baseball fan and a veteran myself, I am honored to be able to recognize Roy Gleason for his service and his bright and shining major league moment in this Memorial Day post.
On September 20, 2003, the Dodgers held a special ceremony honoring Gleason before their game against the Giants.  Roy's military and athletic accomplishments were recognized in a brief video and Gleason threw out the ceremonial first pitch.  Then came the surprise of the day, as Dodger Manager Jim Tracy stepped forward to present the ballfield phenom and battlefield hero with a replacement 1963 World Series ring.  Says Gleason, "I was in shock when he when he handed me the World Series ring, and it remains one of the most incredible instants in my life. I felt like I was finally back to where I always wanted to be – I felt lke I was 20-years-old again."
By the way, remember I said BBRT often uncovers the stories of brief, but brilliant, baseball "stars" while researching other baseball stories.  Well, Roy Gleason's name (and story) came up while I was looking into the career of former Dodgers' (1949) and Cubs' (1951) first baseman Chuck Connors – who gained fame as an actor (particularly as the star of the popular TV series The Rifleman. (For more on Connors, click here.)  Turns out, Gleason appeared with Connors in a 1966 episode of the TV Series "Branded." Gleason's television credits also included appearances in Batman and No Time for Sergeants.
Previous JPA Winners:
2014 – Brian Dallimore, San Francisco Giants infielder. Had a short (two-season/games played) MLB career.  In his first MLB start (as a 30-year-old rookie), Dallimore was on base five times in five plate appearances, had two singles and a home run (grand slam, for his first MLB hit) in three at bats, scored three runs and drove in four. For the full story, click here. 
Inspiration for the JPA

John Paciorek – signed out of Saint Ladislaus High School in Hamtramck, Michigan (where he had starred in football, basketball and baseball) – appeared in his first major league game on the final day of the 1963 season (September 29) at the age of 18.  The 6' 1", 200-pound outfielder had spent the 1963 season with Class A Modesto Colts. The Colts' parent club, the Houston Colt .45s (that was the current Astros' franchise name back then) was suffering through a difficult season – they were 65-96 going into that final game.  Looking to the future, Houston had, in fact, fielded and all-rookie lineup (average age 19) on September 27. Youth was still being served two days later when John Paciorek started his first MLB game. The results were surprising – and worthy of recognition.

Playing right field and batting seventh in a 13-4 win over the NY Mets, Paciorek ended up with three hits and two walks in five plate appearances, with four runs scored and three runs batted in.  Perhaps equally surprising is that it was not only Paciorek's first major league appearance, it was his only MLB appearance.  Back pain the following spring, followed by surgery (he played 49 minor league games in 1964 and missed all of the 1965 season) put an end to his MLB playing days. (He did play in four more minor league seasons.)  Still, you will find John Paciorek in the Baseball Encyclopedia and his is arguably the greatest one-game MLB career ever.  Among one-gamers, he holds the record for times on base and runs scored, and shares the record for batting average, on base percentage and RBIs.  

Paciorek, by the way, went on to become a high school teacher and multi-sport coach, and the author of two books (Plato and Socrates – Baseball's Wisest Fans and The Principles of Baseball: And All There Is To Know About Hitting.) You also can enjoy Paciorek's prose (and expertise)  directly at his highly recommended blog "Paciorek's Principles of Perfect Practice" by clicking here. 

A final note. John Paciorek's insight into the national pastime should come as no surprise. Paciorek comes from a true "baseball family."  He was the first born of eight siblings and was followed to the big leagues by younger brothers Jim and Tom Paciorek.  (Like John, Jim's MLB career was short – 48 games for the Brewers in 1987. Brother Tom, however, achieved a .282 average over an 18-season – 1,392 game – MLB career.) 
I tweet baseball @DavidBBRT