The  2017 post season continues to provide some exciting – if at times less than crisply played – baseball. Here at Baseball Roundtable, we are celebrating the post season with some related history and trivia. Here's the latest question.
POST SEASON TRIVIA

Who is the only player to play his entire major league career in the post season?
Okay, most of you probably remember Francisco "K-Rod" Rodriguez, called up by the Angels in September of 2002 – who collected five post-season victories (including a World Series win) before recording his first regular-season decision. Rodriguez, who would go on to record 437 saves in 16 MLB seasons (including an MLB-record 62 saves in 2008), pitched in five September 2002 games, fanning 13 hitters in 5 2/3 innings. That post-season he picked up two wins in the AL Division Series; two wins in the AL Championship Series; and a win and a loss in the World Series – again, all before his first regular-season decision.
Then, there is Royals' 2B Raul Mondesi, who (in 2015) became the second player to make his MLB debut in the World Series.  Mondesi got in 72 games for the Royals in 2016-17.   And, of course (Who could forget?) outfielder Bug Holliday, who made his MLB debut in the 1885 version of the Fall Classic – as his National League Chicago White Stockings (Cubs) took on the American Association Saint Louis Browns.  (Holliday went on to a MLB career that carried into 1898.)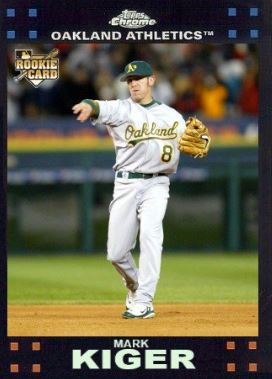 There is one other player who made his major league debut in the post season (the American League Championship Series). In doing so, this infielder earned a spot in baseball trivia lore, as he became (and remains to date) the only player whose entire MLB career was played in the post season. On this date (October 13) 2006, Mark Kiger made his MLB debut as a defensive replacement (2B) for the Oakland A's in Game Three of the American League Championship Series (versus Detroit).  Kiger (who had spent the 2006 season at Double-A Midland and Triple-A Sacramento) had been added to Oakland's post-season roster after regular 2B Mark Ellis was injured during the American League Division Series (against Minnesota). Ellis had played 124 regular season games that season – starting 121 at second base.
The A's had started D'Angelo Jimenez (a .183 hitter in 28 games that season) at the keystone sack in each of the first three games of the series. In Game Three – already down two-games to none and trailing 3-0 in the game – the A's pinch-hit Bobby Kielty for Jimenez in the top of the eighth inning. Kiger made his first major league appearance as a defensive replacement at 2B in the bottom of the inning and handled one fielding chance (a 6-4 force out to end the inning). Jimenez was back in the line-up at second base in Game Four and the situation played out again. Facing elimination – and with the game tied 3-3 in the top of the ninth – Kielty again pinch hit for Jimenez, with Kiger coming in at second base in the bottom of the inning. The Tigers won the game – and the Championship Series – on a three-run Magglio Ordonez' homer in the bottom of the ninth (Kiger had no fielding chances).  With that, the A's season and Kiger's MLB career were over.
The A's released Kiger in December of 2006 and he signed with the Mets' organization about a month later. Between 2007 and his final professional season (2009), he spent time in both the Mets' and Mariners' organizations, but did not make it back to the major leagues.
A few notes on Kiger:  He played collegiate baseball for the University of Florida Gators, where he put up a stat line of .314-8-57 in 2000 and .314-2-31 in 2001. Then, in his senior season, Kiger hit .403, with 11 home runs, 55 RBI and 11 steals in 65 games.  He was drafted by the A's in the fifth round of the 2002 MLB Draft. Kiger played for nine teams over eight minor league seasons – compiling a .264 average with 47 home runs, 331 RBI and 66 stolen bases over 878 games.  The year he was called up to the A's, he had hit a combined .276-9-34 (with 11 steals) at Double A and Triple A.  His best minor league campaign was, arguably, in 2007, when he hit .297-11-52 in a combined 128 games at Double-A and Triple-A.
Primary Resources: Baseball-Reference.com; FloridaGators.com.
I tweet baseball @DavidBBRT
Follow/Like Baseball Roundtable's Facebook page here.
Member: The Society for American Baseball Research (SABR); The Baseball Reliquary; The Negro Leagues Baseball Museum.