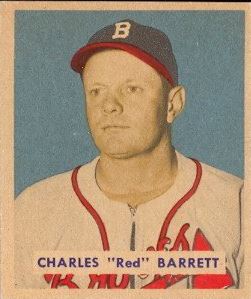 On this date (May 10) in 1944, 29-year-old RHP Charles "Red" Barrett faced a daunting challenge.  Barrett – 6-11, 4.53 on the season – was starting for the (43-60) Boston Braves against the (55-45) Cincinnati Reds.  His mound opponent was veteran and six-time All Star Bucky Walters, who took the mound with a 16-5, 2.36 record. Note:  Walters would finish the season 23-8, 2.40, while Barrett would go 9-16, 4.06.
On this day, however, Barrett would prevail 2-0, tossing a complete-game, two-hit shutout.  In the process, Barrett would set the record for the fewest pitchers ever thrown in an MLB nine-inning complete game – just 58 tossed to the plate.  Barrett walked none and struck out none, facing 29 batters (two pitches per plate appearance).  Clearly, if you stepped into the batter's box that day, you better be ready to hit – Barrett was in no mood to "waste" a pitch.
Walters probably deserved better that day.  The losing pitcher gave up two runs (one earned) on just six hits, with one walk and one strikeout.  Together, Barrett and Walters combined to throw the shortest (time-wise) MLB night game ever – just 75 minutes.
RED BARRETT MAY HAVE CALLED HIS SHOT

The Braves' Red Barrett, who used only 58 pitches to complete a 2-0 win over the Reds on May 10, 1944 (the fewest pitches ever in a nine-inning MLB complete game), may have "called his shot" six years earlier.

Here are a couple of excerpts from Barrett's comments in a November 9, 1938 Los Angeles Times article:

         "These strikeout pitchers are chumps. Me, I try to make them hit the          first ball."

"My idea is to throw as few pitches as possible. Even when you strikeout a batter, it generally takes four-to-seven, and sometimes even more, pitches. I'd rather get that batter out on one pitch and save my arm."
Barrett was truly a "pitch to contact" hurler.  In eleven MLB seasosns, he went 69-69, 3.53 and, in 1,263 1/3 innings, walked just 312 batters and fanned 333.
Barrett's best season came in 1945.  In mid-May he was a disappointing 2-3, 4.74; when he was traded to the Cardinals. He went on to win 21 games for the Redbirds – ending the campaign at 23-12, 3.00 and leading the NL in wins. complete games (24) and innings pitched (284 2/3). He made his only All Star squad that season, but the game was not played due to World War II travel (fuel-saving) restrictions. It was the only season Barrett won more than 12 games. (He was 12-18 in 1943 and 11-12 in 1947).
LONG LINE AT THE CONCESSION STAND. DID I MISS ANYTHING?

On September 28, 191, the New York Giants topped the Philadelphia Phillies in a nine-inning contest that took just 51 minutes – tho shortest nine-inning game in MLB history. What is somewhat surprising is that, while both pitchers – Lee Meadows (Phillies) and Jesse Barnes (Giants) – went the distance, the game featured seven runs, 18 hits and three walks.  Meadows gave up six runs (five earned) on 13 hits, while Barnes surrendered just one run on five safeties.

For those interested in such things, the shortest-ever 18-inning doubleheader (Remember those?) in MLB history took place between the Yankees and (St. Louis) Browns on September 26, 1926 – taking just two hours and seven minutes. The Brown swept the Bombers, winning Game One 6-1 in one hour and 12 minutes and taking Game Two 6-2 in just 55 minutes (the shortest-ever American League contest). The two games featured 45 hits and seven walks.  My, how the game has changed.
Barrett, while "starring" in only one MLB season, did show promise in the minors. He went 159-122, with a 3.41 ERA in 12 minor league seasons – including four seasons of twenty or more victories. In 1942, Barrett was the (Double A) International League's Most Valuable player (for the Syracuse Chiefs), leading the league with 20 wins (12 losses); 34 starts; 25 complete games; and seven shutouts.  He also fanned a league-topping 114 batters in 268 innings.
Key resources:  Society for American Baseball Research; Baaseball-Reference.com; Baseball-Almanac.com.
I tweet baseball @DavidBBRT
Follow/Like Baseball Roundtable's Facebook page, here.
Member: Society for American Baseball Research (SABR); The Baseball Reliquary; The Negro Leagues Baseball Museum; Baseball Bloggers Alliance