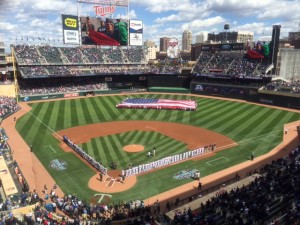 Well, MLB Opening Day – or, more accurately, Opening Days – is at least partially behind us. (BBRT is old school.  I miss the times when Opening Day featured games in Cincinnati and Washington D.C. and the rest of MLB opened play the following day.) This year, Opening Day, even without postponements, was slated to stretch from Sunday through Tuesday. (So, it's not over yet.) My feelings on Opening Day(s) aside, let's look at a few notable occurences from 2016 openers thus far.
Back-to-Back-to-Back Jacks.
On Monday (April 4), for just the third time in MLB Opening Day history, a team launched three consecutive home runs in their first game of the season. The assault came with two out in the eighth-inning of San Francisco's 12-3 win over the Brewers (unfortunately, for Brewers' fans, played in Milwaukee). It included a three-run shot to right by lead-off hitter/CF Denard Span, followed up by solo homers (to right and center, respectively) by 2B Joe Panik and C Buster Posey. It was a somewhat unlikely trio.  Span hit five home runs for Washington last season, has never topped eight in an MLB season and came into 2016 with 37 home runs in eight MLB campaigns. Panik, in just his third MLB season, hit eight round trippers (in 100 games) last season. Posey had shown the most power of the three, with 19 HR's last season, a high of 24 in 2012 and 102 in his first seven MLB seasons.
The two teams to achieve back-to-back-to back dingers on Opening Day before the Giants were the 1997 Padres (in an April 1 12-5 victory over the Mets) and the 1948 Red Sox (in a 5-4 loss to the Philadelphia Athletics on April 19).
The Padres' trio of consecutive Opening Day homers came at home in the sixth inning. With the Padres trailing 4-0, SS Chris Gomez led off with a HR to left center, Rickey Henderson (pinch hitting for pitcher Joey Hamilton) banged one out to deep left and 2B Quilvio Veras poked one down the right field line.  The outburst apparently got the Padres started, as they scored eight more runs in the inning. Again, there were some unlikely long ball candidates in the mix. It was, for example, one of only five 1997 home runs for Gomez, whose career high was 11 in 1995 and who hit just 60 round trippers in 16 MLB seasons. Veras hit a total of  three HR's in 1997, never hit more than six in a season and ended a seven-year MLB career with a total of 32 long balls.  Future Hall of Famer Rickey Henderson was on his way to an eight-homer 1997 season, but would hit 297 in his 25-year MLB careers.
The Red Sox' trio of consecutive Opening Day homers involved a more likely combination of hitters than the Giants' or Padres' groups. Their outburst, in the second inning, came from the 4-5-6 hitters in the lineup. First baseman and cleanup hitter Sam Spence started it off, followed by SS Vern Stephens and 2B Bobby Doerr.   Spence hit a dozen homers in 1948, and 95 in a nine-year MLB career.   Stephens would go on to hit 29 homers that season, had a career high 39 in 1949 and 247 in a 15-year MLB career. Doerr hit 27 long balls in 1948, was consistently in double figures and ende a 14-year MLB career with 223 HR's.
Off to a Good Start.
On April 4, Rockies' rookie SS Trevor Story let his bat tell the story – becoming the first rookie to hit two home runs, while making his MLB debut on Opening Day (we do track everything in baseball) – as the Rockies topped the Diamondbacks 10-5 in Arizona. Story's homers came in the third and fourth innings, both off Arizona ace Zack Greinke. Story ended his MLB debut two-for-six, with two runs scored and four RBI.
Reigning NL MVP Bryce Harper got his 2016 off to an MVP start, homering in his first at bat of the season (with two-out in the first inning.)
Ouch! & Ooops!
Ouch! When the Dodgers torched the Padres 15-0 on Opening Day (in San Diego), it was the worst shutout drubbing in Opening Day history.  The Dodgers collected 15 runs on 17 hits and ten walks (no home runs). Meanwhile, Dodger ace Clayton Kershaw held the Padres to one hit in seven scoreless innings. (The Padres collected four hints in the game.)
Oops! The Rangers managed to win their April 4 opener (in Texas) by a score of 3-2 over Seattle – despite collecting only one hit.  All three Texas tallies came in the fifth inning off Mariners' starter Felix Hernandez. 2B Rougned Odor started it off with a walk; SS Elvis Andrus reached on an error by Seattle 3B Kyle Seager; C Robinson Chirinos sacrificed the runners to second and third; CF Delino DeShields drew a walk, loading the bases; RF Shin-Soo Choo walked, forcing in a run; DH Prince Fielder blooped a single (the Rangers' only hit of the day) that fell between the left fielder and shortstop, scoring Andrus; 3B Adrian Beltre was safe on a error by SS Ketel Marte, scoring DeShields; finally, 1B Mitch Moreland and LF Ian Desmond went down swinging to end the brutal half-inning. Seattle outhit the Rangers 4-1 and punched two home runs, but still lost the contest.
I tweet baseball @DavidBBRT
Member:  Society for American Baseball Research (SABR); The Baseball Reliquary; Baseball Bloggers Alliance.