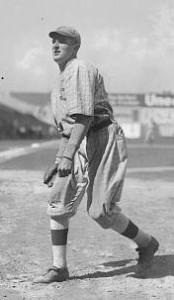 John Walter "Duster" Mails did not have what one might call a distinguished major league career.  In seven seasons, between 1915 and 1926, he went 32-25 with a 4.10 earned run average.  However, late in the 1920 season, Mails was one of the best pitchers in baseball – literally unbeatable as he helped the Cleveland Indians to the AL pennant and the franchise's first World Series championship.
Duster, in fact, was so  "hot" in 1920 that, when told he would start Game Six of the World Series versus the Brooklyn club (Mail's original major league team), he announced "Brooklyn will be lucky to get a foul tip off me today. If Spoke (the Indians' star outfielder and manager Tris Speaker) and the boys will give me one run, Cleveland will win."  Did Duster deliver?  More on that in a bit.  First, let's take a look at how Duster Mails got into the spotlight on MLB's biggest stage.
Mails signed with the Class B Northwestern League's (NWL) Seattle Giants in 1914 (out of Saint Mary's College, where he played both baseball and basketball). The 19-year-old southpaw split four decisions in his first NWL season, but in his second campaign for Seattle, Mails blossomed – going 24-18 before earning a late-September major league look from the NL's Brooklyn Robins.  Mails pitched just five innings for Brooklyn – going 0-1 with a 3.60 ERA.  In those five innings, he gave up six hits (two home runs) and five walks, while fanning three.  The following season, again with the Robins, Mails went 0-1, 3.63 (all in relief) – giving up 15 hits and nine walks in just 17 1/3 innings (although he did fan 13 batters). After the season, the Robins designated Mails for assignment and he was claimed by the Pirates. He never took the mound for Pittsburgh, but spent the 1917 with the Pacific Coast League (Double A) Portland Beavers.
After taking off the 1918 season, Mails came back to the Pacific Coast League (pitching for the Seattle Rainiers and Sacramento Senators).  He seemed to have found his control – going a combined 19-17, 2.14 – with only 99 walks in 301 innings.  He continued this positive performance with Sacramento the following season – when he was 18-17, with a 3.23 ERA in 292 2/3 innings before the Indians purchased his contract on August 21st.  (At the time the Indians were 72-43, in second place, just 1 ½ games behind the White Sox.)
Mails made his first start for the Indians on September 1, and the rest is history. Between September 1 and October 1 – in the heat of the pennant race – Mails pitched in nine games (eight starts). He went 7-0, with a 1.85 ERA, six complete games and two shutouts – as the Indians edged the White Sox (two games back) and Yankees (three games out) for the pennant. Needless to say, but I'll still say it, "They couldn't have done it without him."
Then came the World Series, against the team that had given up on Mails – the Brooklyn Robins.  The two teams split the first two games and Mails did not make an appearance.  He was called upon in relief in Game Three, as Indians' starter Ray Caldwell gave up two runs, while recording only one out in the first inning.  Mails continued his regular season form, blanking the Robins for 6 2/3 innings. Brooklyn won Game Three 2-1 despite Mails' performance.  Cleveland then took Games Four and Five – which brings us to Mails' start (and that shutout he so brashly promised) in Game Six. Did he deliver? Indeed. He asked for one run – and that's all his Indians game him.  Mails got the win 1-0, going the distance with a three-hitter.  (The Indians would go on to win Game Seven – and take the best-of-nine World Series five games to two.)
Now, I'd like to say that the 25-year-old Duster Mails went on to a long and brilliant major league career.  That, however, was not to be.  In 1921, he went 14-8, 3.94 with Cleveland, but found himself back in the bullpen. In 1922, he slipped to 4-7, 5.28. In 1923, Mails was back in the Pacific Coast League, where he would spend most of the next 14 seasons. (Mails pitched a total of 18 minor league seasons, winning 226 games, versus 210 losses). He did resurface in the major leagues in 1925, going 7-7, 4.60 for the Cardinals and again in 1926, pitching in one game for those same Cardinals.
So, there we have the MLB playing career of Duster Mails, who – for just over a month in 1920 – was one of the best pitchers ever to take the mound.  And, who had the audacity to promise a shutout in the World Series – and delivered.
I tweet baseball @DavidBBRT
Member: Society for American Baseball Research; The Baseball Reliquary; Baseball Bloggers Alliance.