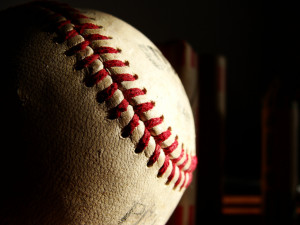 On this date (April 25) in 1933, 26-year-old rookie southpaw Russ Van Atta took the mound for the defending World Champion New York Yankees, as they faced the Washington Senators in Washington's Griffith Stadium.   Notably, this was not the Washington Senators later described as "First in War. First in peace. Last in the American League."   This was the Washington Senators that had finished in the American League's first division in each of the previous three years – averaging 93 victories per season – and would go on to win the 1933 AL pennant with a 99-53 record.  On the day Van Atta made his debut, three future Hall of Famers were in the Senators' lineup: left fielder Heinie Manush, right fielder Goose Goslin and shortstop Joe Cronin.
Of course, Van Atta had some pretty good players behind him as well.  The New York lineup that day featured future Hall of Famers: Babe Ruth (right field); Lou Gehrig (first base); Earle Combs (center field); Joe Sewell (third base); Tony Lazzeri (second base); and Bill Dickey (catcher). The Yankees were the defending AL and World Series  Champions and, in the previous seven seasons, had never finished lower than third (capturing four AL pennants). Their eventual 91 wins in 1933, would land them in second place.
With nine future Hall of Famers on the field, it is somewhat surprising that the star of the game was a rookie pitcher making his very first major league appearance.
In his fifth season of professional baseball (after playing college ball at Penn State),Van Atta earned his chance at breaking into the Yankees' rotation with a 22-win season for the American Association Saint Paul Saints the year before. He made the most of it.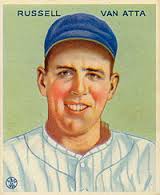 In his debut, Van Atta threw a complete-game, 5-hit shutout.  That in itself is a pretty spectacular first MLB appearance, when you consider he was facing the eventual AL Champions.  But Van Atta did more than that, he also went four-for-four at the plate, scored three runs, drove in one and recorded a successful sacrifice bunt.  (The Yankees won 16-0.)  Van Atta went on to have a pretty good rookie season overall.  He won 12 games and lost only four (tying for the AL lead in winning percentage), posting a 4.18 ERA and ten complete games.  He also hit .283 (17-for-60), with eight runs scored and seven RBI.)
It would, unfortunately, prove to be the premier season of what was a short (seven-season) MLB career. In the winter following his rookie performance, Van Atta injured his pitching hand breaking a window to save his family dog (trapped in a house fire) – and the feeling never fully returned to his fingers.  Van Atta left MLB with a 33-41 record (5.60 ERA).  But, oh, that sparkling debut. And he did save the family dog.
I tweet baseball @DavidBBRT