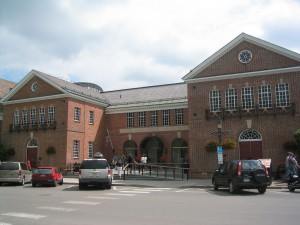 We are just days away (Monday, December 8) from the announcement of the Golden Era candidates (if any) who will be inducted into the Baseball Hall of Fame in 2015.  In this post, I will share how BBRT's ballot would look (if I had one), as well as my predictions as to who the committee will chose to send on to the Hall of Fame.
Selecting from among the Golden Era candidates proved more challenging then working my way through BBRT's predictions and preferences for the regular Baseball Writers Association of American Hall of Fame voting.  (For BBRT's regular Hall of Fame Ballot predictions, click here.) There were several reasons for that:

Since the Golden Era candidates were prescreened by an Historical Overview Committee, they all had some very deserving achievements and attributes;
Since I grew up in the Golden Era, I was able to see all the nominated players on the field – and find my choices mixing emotion with reason;
You can only vote for five of ten candidates, no matter how deserving you feel six or seven may be; and
Predicting how the Committee will vote is complicated by the fact that its membership changes so much from election to election (only four of the 16 members of the previous Golden Era Committee are back this year).

 
By way of background, the Hall of Fame Eras Committees consider candidates passed over for election to the HOF in the annual Baseball Writers Association of America – BBWAA –  balloting. The committees, which meet on a rotating basis (each committee meeting once every three years), are the: Pre-Integration ERA (prior to 1946); Golden Era (1947-72); and Expansion Era (1973 forward). Players to appear on each year's ballot are selected by an Historical Overview Committee and candidates must receive 75 percent support from Era Committee members to achieve election.  Era Committee members may vote for or up to five candidates.   Candidates whose careers overlap eras are considered on the basis of the time frame in which they made their most significant contributions to the national pastime.
There are ten candidates on this year's Golden Era ballot and, unlike the regular Hall of Fame election, their fate is not in the hands of the members of the Baseball Writers Association of America. Instead, their election depends on garnering 75 percent of the votes from a16-member panel that, this election cycle, includes:
Already enshrined Hall of Famers: Jim Bunning, Rod Carew, Pat Gillick (executive), Ferguson Jenkins, Al Kaline, Joe Morgan, Ozzie Smith and Don Sutton
Baseball executives: Jim Frey, David Glass, Roland Hemond and Bob Watson
Historian: Steve Hirdt
Media representatives: Dick Kaegel, Phil Pepe and Tracy Ringolsby
The returning members from 2011 are Gillick, Kaline, Hemond and Kaegel.
Note:  The last time the Golden Era Committee convened (2011), only former Cubs' third baseman Ron Santo received the required 75 percent of the vote.
2014 Golden Era Baseball Hall of Fame Voting (for 2015 induction)
Candidates – Those returning from the 2011 voting are in bold face, with voting percentages for the top vote-getters noted.
Dick Allen, Ken Boyer, Gil Hodges (56.3%), Bob Howsam (executive),  Jim Kaat (62.5%), Minnie Minoso (56.3%), Tony Oliva (50.0%), Billy Pierce, Luis Tiant and Maury Wills.
How BBRT would use its five votes – if I had a ballot.
When considering players, it's difficult to put sentiment aside.  Being born in the initial year of the Golden Era, I grew up watching all of these players.  I can find a reasons – beyond basic statistics – to vote for every one.
Beyond overall statistics (more on those later), here are just a few of the candidates' unique achievements:
Maury Wills, Ken Boyer and Dick Allen have all won league MVP Awards
Jim Kaat shares the MLB record for consecutive Gold Gloves won (16) with Brooks Robinson
Gil Hodges is one of only 16 MLB players to hit four home runs in one game
Tony Oliva is the only player to win his league batting title in his rookie and sophomore seasons
Maury Wills, in 1962, not only became the first player to steal 100 bases in a season (104), he topped the next highest player's total by 72 – and the Dodger shortstop actually stole more bases than every other MLB team
Minnie Minoso led the AL in hit by pitch an MLB record 10 times
In 1962, Billy Pierce (traded to the San Francisco Giants in the off season), proved to really like home cooking – going 11-0 in eleven Candlestick starts, with  his overall 15-6 record helping the Giants tie the rival Dodgers for the pennant. Pierce started Game One of the three-game playoff and ran his 1962 home record to 12-0 (beating Sandy Koufax, tossing a three-hit shutout in an 8-0 win).
Dick Allen is one of only 39 players since 1900 to hit two inside-the-park homers in a one game. Since Allen hit his two inside-the-park HRs on May 31, 1972, the feat has been equaled only once in MLB – by the Twins' Greg Gagne in 1986. (Three inside-the-park homers in a game has been achieved only once, by Tom McCreery of Louisville of the NL in 1897.)
The uniqueness of this class of candidates goes beyond the numbers. Consider:
Tony Oliva's knees bent-in stance – and ability to hit pretty much any pitch (in or out of the strike zone)
Luis Tiant's twisting (and deceptive) delivery
Minnie Minoso's groundbreaking efforts on behalf of Latin American players
Dick Allen's fierce presence and personality on and off the field
I could go on and on, but the point is – each of these players offers up good (and diverse) reasons to secure the votes of the Golden Era Committee (and BBRT).  Still, the Committee members are limited to five votes, so I decided to follow the same rules for BBRT's "ballot."   I did my best to focus on exceptional performance in relation to their Golden Era peers – league leadership in key categories, All Star selections, individual awards (Rookie of the Year, Cy Young, MVP, etc.)  I recognize that my selections, which I will present in priority order, may make me look like a bit of a "homer." (I'm from Minnesota and two of my selections are former Twins.) I do, however, think my reasoning will stand up to evaluation.
1. Minnie Minoso (OF/3B, 1949-1964*)
*Minoso also made brief publicity-focused appearances for the White Sox in 1976 and 1980 – which allowed him to appear in MLB in five different decades.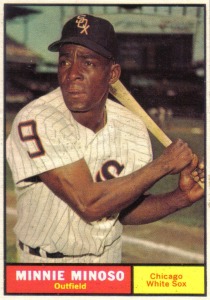 In his first full MLB season (split between the Indians and the White Sox), Minoso hit .326, leading the AL in triples (14), stolen bases (31) and hit by pitch (16) – finishing second to Yankees' infielder  Gil McDougald in the Rookie of the Year balloting.
BBRT note: Minoso's statistics for the year – 146 games, 530 at bats, 173 hits, 34 doubles, 14 triples, 10 home runs, 76 RBI, 31 steals and a .326 average – topped McDougald in every category except home runs.
Minoso went on to a 17-season MLB career in which he made seven All Star squads, earned three Gold Gloves, led the AL in hits once, doubles once, triples three times, stolen bases three times, total bases once and hit by pitch an MLB-record ten times. He finished with 1,963 hits and a .298 average (topping .300 eight times), 186 home runs (hitting 20+ in a season four times), 1,136 runs (scoring more than 100 runs in a season four times), 1,023 RBI (besting 100 four times) and 205 stolen bases. In addition to those offensive marks, Minoso also led AL leftfielders in assists six times, putouts four times and double plays four times.  Minoso was well into his career when the Rawlings Gold Glove Awards were established in 1957; yet he still earned a Gold Glove in left field in 1957, 1959 and 1960.
Adding to Minoso's Hall of Fame resume is the fact that he was a groundbreaking "Black Latino" in major league baseball.  He was the first player of color for the Chicago White Sox, the first Black Cuban to play in the major leagues and the first Cuban to play in the major league All Star game.  His baseball legacy is further enhanced by the fact that he played (and starred) not only in the major leagues, but in the Negro Leagues (where he played in the East West All Star Games of 1947 and 1948) and Cuban League – and is a member of the Cuban Baseball Hall of Fame, the Latino Baseball Hall of Fame and the Hispanic Heritage Hall of Fame.
All of this puts Minoso at the top of the BBRT Golden Era ballot – plus I'd like to see his full name Saturnino Orestes Armas (Arrieta) Minoso on that HOF plaque.
Minnie Minoso played for: Cleveland Indians (1949, 1951, 1958-59); Chicago White Sox (1951-57, 1961, 1964, 1976, 1980); Saint Louis Cardinals (1962); Washington Senators (1963).
Minnie Minoso's best season:  1954 Chicago White Sox … 153 games, .320 average, 182 hits, 29 doubles, 18 triples (league-leading), 19 home runs, 119 runs scored, 116 RBI, 18 stolen bases.
2. Jim Kaat (LHP, 1959-83)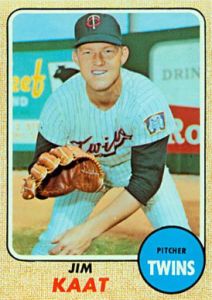 Jim Kaat – 283 wins, 3oth all-time.  That might say enough right there.  Kaat, however, also is among MLB's top 35 hurlers in games started (625, 17th), innings pitched (4,530 1/3, 25th) and strikeouts (2,461, 34th). One of the criticisms of Kaat raised during regular BBWAA balloting was that he his win total was inflated by the length of his career (Kaat average 11.3 wins per season over 25 seasons).  From a different perspective, BBRT believes the fact the Kaat had the skills and determination to compete on the major league level from age 20 to age 44 contributes to his Hall of Fame credentials.
Overall, Kaat went 283-237, 3.45.  He was a three-time All Star, and won 20 or more games three times. He led his league in games started twice and wins, complete games and shutouts once each. Then, of course, there are those sixteen (consecutive) Gold Gloves.  Kaat finished second (with 62.5 percent of the vote) in the previous Golden Era balloting.  This should be his year.
Jim Kaat played for the: Washington Senators/Minnesota Twins (1959-73); Chicago White Sox (1973-75); Philadelphia Phillies (1976-79); New York Yankees (1979-1980); Saint Louis Cardinals (1980-83).
Jim Kaat's best season: 1966 Twins … A league-leading 25 wins (13 losses), with a 2.75 ERA. That season, Kaat also led the AL in starts (41) and complete games (19). Kaat might have that all-important Cy Young Award on his HOF resume, except for the fact that MLB gave out only one CYA in 1966 (the move to a CYA for each league came the following year) and it went to National Leaguer Sandy Koufax (27-9, 1.73 for the Dodgers).
3. (Tie) Tony Oliva (OF-DH, 1962)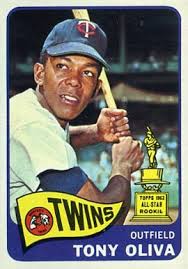 Okay, having two former Twins on my ballot may make me look like a "homer," but hear me out.  First, it's ironic that Jim Kaat's HOF qualifications have been criticized in the past because his career was too long (283 wins over 25 seasons), while Oliva's HOF credentials have been criticized because – due to injury – his productive career was too short (only 11 seasons in which he played at least 125 games, only seven of 140 games or more).
Oliva gets BBRT's vote because when he played he was simply one of the best. In his first eight seasons full seasons (1964-71), he made the All Star team every year.  During that span he produced an annual average of 182 hits (.313 batting average), 22 home runs, 89 runs scored, 90 RBI and ten stolen bases.
Oliva won three batting titles (and the 1964  Rookie of the Year Award) – and is the only player to win the batting crown in both his rookie and sophomore seasons.  He also led the AL in base hits five times, doubles four times, and topped the AL one time each in runs scored, slugging percentage, total bases and intentional walks.   Tony-O also showed speed on the bases, finishing in double-digit in steals six times, with a high of 19 in 1965.
Oliva also was a "'plus" defender with a rifle arm in right field, capturing a Gold Glove in 1966. Even after knee issues forced to serve primarily as a DH (1972-76), he continued to be a feared hitter.  Oliva played in 15 major league seasons, retiring with a .304 career average, 1,917 hits, 220 home runs, 870 runs scored and 947 RBI.
Tony Oliva played for:  Minnesota Twins (1962-76)
Tony Oliva's best season:  1964 Twins … In his rookie year, Oliva led the AL in batting average (.232), hits (217), doubles (43), total bases (374) and runs scored (109). He threw in 32 home runs, 94 RBI and 12 stolen bases for good measure.  Oliva did not fall prey to the "sophomore jinx." The following season, he again led the AL in hits and batting average.
 3. (Tie) Dick Allen (1B/3B, 1963-77)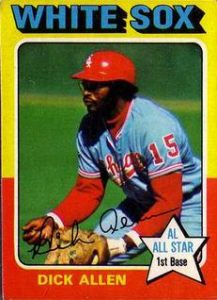 Dick Allen's traditional HOF candidacy suffered from a combination of career-shortening injuries and career-complicating (often racially motivated) controversy.  The fact is Allen had a fierce presence both on and off the field.  It is on-the-field performance – specifically his at-the-plate performance – that earns Allen BBRT's Golden Era vote.  It is generally agreed that none of his peers hit the ball as consistently hard (and far) as Allen did in the pitching-dominated 1960s.
Allen came on with a bang in his first full season, leading the NL in runs scored (125), triples (13) and total bases (352), while hitting .318 with 29 home runs and 91 RBI.  His performance earned him the Rookie of the Year Award.  He went on to a 15-year career during which he was a seven-time All Star and collected 1,848 hits, 351 home runs and 1,119 RBI.  His career batting average was .292, and he topped .300 seven times.  He led the NL in home runs twice (hitting 30+ HRs six times), RBI once (besting 100 three times), walks once, on base percentage twice, slugging percentage three times and total bases once.
Dick Allen played for: Philadelphia Phillies (1963-1969; 1975-76); Los Angeles Dodgers (1971); Chicago White Sox (1972-74); Oakland A's (1977).
Dick Allen' best season:  1972 Chicago White Sox … Played in 148 games, hitting .308, while leading the AL in home runs (37), RBI (113), walks (99), on base percentage (.420) and slugging percentage (.603).  Won the AL MVP Award.
5. Gil Hodges (1B, 1943-63 – military service 1944-45)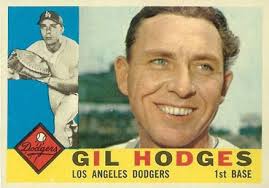 Gil Hodges was a slick-fielding first baseman. (Rawlings launched the Gold Glove Award in 1957 and Hodges, already in his 12th MLB season at age 33, began a streak of three consecutive Gold Gloves at first base.) Hodges was also a potent offensive force – an RBI machine.  For the seven seasons from 1949 to 1955, he topped 100 RBI every year – averaging 112 runs driven in per campaign.   He also logged 11 consecutive seasons of 20+ home runs (1949-59), with a high of 42 in 1954.
In 18 MLB seasons, Hodges was selected for eight All-Star teams, and helped his Dodgers capture seven NL pennants and two World Series championships.  In post season play, he is best remembered his 21 hitless at bats in 1952, but in his other six World Series he hit .318, with five home runs and 21 RBI in 32 games.
Hodges' put up a career average of .273, with 370 home runs, 1,274 RBI and 1,105 runs scored.  Without losing those two years to military service, he may well have exceeded the 400 home run, 1,500 RBI marks. After his playing days, he also managed the Washington Senators (1963-67) and New York Mets (1968-71), leading the "Miracle Mets" to the World Championship in 1969.
Gil Hodges played for: Brooklyn/LosAngeles Dodgers (1943-61); the New York Mets (1962-63).
Gil Hodges' best season:  1954 Dodgers … Hodges played in all 154 games that season, providing sparkling defense along with a .304 average, 42 home runs, 130 RBI and 106 runs scored.
Note: Hodges finished third in the previous Golden Era voting, with 56.5 percent.
So, there's the BBRT Golden Era ballot.  But I can't resist taking just a little liberty.  If I only had one more vote, it would go to:
Ken Boyer (3B/1B/CF … 1955-69)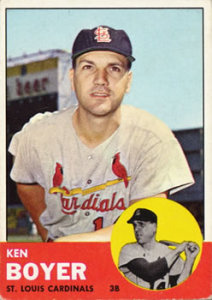 Ken Boyer was a Gold Glove fielder at third base.  In fact, he won five Gold Gloves in a six-season span (1958 to 1963).  He led all NL third baseman in assists twice, putouts once and double plays five times. And I guess he was able to console himself for losing the 1964 Gold Glove to the Cubs' Ron Santo with the fact that Boyer was voted the NL MVP that season.
You may have heard about (or witnessed) Boyer's defensive skills at the hot corner, but did you know his MLB career also included time in centerfield (111 games), as well as at first base (65 games) and shortstop (31 games)? In fact, in 1957 – with the Cardinals wanting to develop infield prospect Eddie Kasko and facing a gap in centerfield – Boyer agreed to move to the center of the outfield. In 105 games there, he made just one error and led NL outfielders with a .993 fielding average.
Note: A combination of an injury to Kasko and the Cardinals acquisition of outfielder Curt Flood sent Boyer back to third base in 1958 (and he began a streak of four consecutive Gold Gloves).
In his fifteen-year MLB career, Boyer became known not just as a fine defensive player, but also as a consistent, quality hitter. He retired with 2,143 hits, a .287 average, 282 home runs, 1,104 runs scored and 1,141 RBI – topping .300 five times (with a high of .329 in 1961), hitting 20 or more home runs eight times (with a high of 32 in 1960), driving in 90 or more runs eight times (with a league-leading high of 119 in 1964) and scoring 90 or more runs five times (with a high of 109 in 1961).  The quality of Boyer's play – in the field and at the plate – earned him seven All Star selections.
WHAT WILL THE GOLDEN ERA COMMITTEE DO?
With only four of the sixteen members from the previous Golden Era Committee (which elected on Ron Santo) returning, this becomes a tough call. Given the make-up of the 2014 committee, I expect they will be a little more generous in the balloting.
Likely to be elected:  I expect Jim Kaat (who came so close in 2011) and Minnie Minoso to receive the necessary support.
Dark horse candidates:  I also think Tony Oliva (thanks to Rod Carew's presence on the panel) and Gil Hodges (who got 56.3 percent last time around) have a chance – but I am less confident they will garner three-quarters of the votes.
So, in order of likelihood, Kaat, Minoso, Oliva, Hodges.
BBRT invites your comments on the Golden Era ballot.
I tweet baseball @DavidBBRT