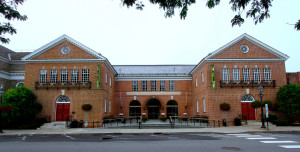 The Baseball Hall of Fame has released its Modern Baseball (Era) Committee Ballot – listing nine former players and one executive for consideration for the 2018 Hall of Fame Class.  The 16-member Modern Baseball Committee considers players and executives active between 1970-87.  This election is in addition to the traditional Baseball Writers Association of America (BBWAA) HOF balloting. Era Committee nominees must garner the votes of 12 (75 percent) of committee members for election. Each member of the committee may vote for up to four candidates.  The Modern Era candidates for 2018 induction are: Steve Garvey; Tommy John; Don Mattingly; Marvin Miller (executive); Jack Morris; Dale Murphy; Dave Parker; Ted Simmons; Luis Tiant; and Alan Trammel.
BACKGROUND ON HALL O F FAME VOTING

The Baseball Hall of Fame Era Committees …

Today's Game (1988-present); Modern Baseball (1970-87); Golden Days (1950-69); Early Baseball (1871-1949).  Near-term voting years for each committee:

Today's Game – 2017, 2019
Modern Baseball – 2018, 2020
Golden Days and Early Baseball – 2021

To be eligible for the ERA Committees' ballots: Players must have played in at least ten MLB seasons and have been retired for at least 15 seasons; Managers and Umpires must have ten years in MLB and be retired for at least five seasons if under 65-years-old, six months if 65-or-over; Executives must be retired at least five years or at least 70-years-old. In addition, the nominees must no longer be eligible for the traditional Baseball Writers Association of America balloting (BBWAA).

Traditional BBWAA Hall of Fame Elections …

For the traditional BBWAA election, players must have played in at least ten MLB seasons and been retired (as a player) for at least five seasons. Players stay on the ballot up to ten years (formerly 15 years), but are dropped from the ballot after any election in which they receive less than five percent of the vote. (Eligible voters are active and honorary members of the BBWAA who have been active baseball writers for at least ten years and BBWAA members for a period beginning at least ten years prior to the current voting. Each elector may vote for up to ten individual on the ballot – and it takes 75 percent of the vote for election.)

Stated HOF Election Criteria …

"Voting shall be based upon the player's record, playing ability, integrity, sportsmanship, character, and contributions to the team(s) on which the player played."
In this post, Baseball Roundtable will take a look at all ten Modern Game candidates; comment on how BBRT would vote (if I had a ballot); and attempt to predict who the actual Modern Era Committee will select for 2018 Hall of Fame Induction. (I'll present those comments and predictions in reverse order.)
Traditional BBWAA Hall of Fame Ballot voting is underway – and Baseball Roundtable is conducting an unofficial fan ballot. To reach about those candidates and cast your unofficial fan vote(s), click here. 
___________________________________________
MODERN ERA COMMITTEE PREDICTION
Baseball Roundtable predicts that this year's successful nominees will be:  Marvin Miller; Jack Morris; and Ted Simmons.  (Further comments on why BBRT predicts those results are included in the remainder of this post.) I might add that we could see fewer nominees get the necessary 75 percent vote: 1) Voting tends to be conservative; 2) With only four votes, electors have to be selective – and multiple candidates with similar "credentials" could end up splitting vote totals.  There is one caveat.  If the Modeern Game Committee choose to honor the late Marvin Miller's wished and not select him for inducation, I expect one of the following players will join Morris and Simmons:  1) Alan Trammel; 2) Tommy John; or 3) Steve Garvey.
________________________________________
IF BASEBALL ROUNDTABLE HAD A BALLOT
Let me say first, these were not easy choices.  There were half dozen nominees I could easily have voted for – but, playing by the rules, I limited myself to four selections. My preferences were based on the stated election criteria (see box above), which I divided into:  Game – actual stats and performance; Fame – awards and recognitions; and Character –  heart, conduct and contributions to both teams and the game itself.
Here are the four nominees I finally decided on:
Ted Simmons, C/1B, 1968-1988 … Cardinals, Brewers, Braves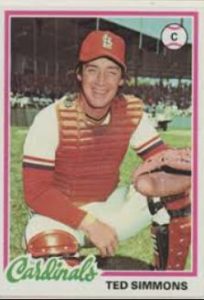 My first Modern Game vote (if I had one) would go to Ted Simmons.  To me this one is a no-brainer. What I find most puzzling is that in his first year on the traditional Hall of Fame ballot, Simmons got only 3.7 percent of the vote – dropping him from the BBWAA ballot after just one shot. (Player who gets less than five percent are dropped from the ballot.) I should add here that, in making this selection, I did take into consideration that Simmons played one of the game's most challenging and wearing positions – and did it for 21 seasons.  Factors that drove my decision:
Simmons has more base hits (2,472) than any (primary) catcher in MLB history except Hall of Famer Ivan Rodriguez. That's right. More hits than the likes of Johnny Bench, Yogi Berra, Mike Piazza, Carlton Fisk and Gary Carter (all Hall of Famers) or, going further back, more than Hall of Fame backstops Mickey Cochrane, Bill Dickey and Roger Bresnahan.
Simmons also has more career RBI (1,389) than any other primary catcher except Yogi Berra. Right again. More RBI than such backstops as Johnny Bench, Mike Piazza, Carlton Fisk, Ivan Rodriguez. Gary Carter, Bill Dickey and Mickey Cochrane.
Simmons also has more doubles (483) than any other primary catcher except Rodriguez.
He also ranks sixth all-time among catchers in runs scored (1,074) – sandwiched on the all-time list between Johnny Bench (1,091) and Mike Piazza (1,048) and is one of only ten catchers to cross the plate 1,000+ times (eight of the ten are already in the HOF).
Starting to see the logic behind my vote?
Ted Simmons had a 21-season (15 seasons of 100 or more games) major league career, primarily as a catcher.  He was with the Cardinals from 1968 to 1980, the Brewers from 1981 to 1985 and the Braves from 1986 to 1988.  He was an eight-time All Star (six times in the decade of the '70s) and finished his career with a .285 average, 248 home runs and 1,389 RBI in 2,456 games.  He hit over .300 in seven full-time seasons, recorded 20 or more home runs in six campaigns and had 100 or more RBI three times. His best season was with the Cardinals in 1975, when he hit .332 with 18 home runs and 100 RBI.  Although he was not a Gold Glove caliber defender, he was dependable enough to find himself behind the plate defensively in 1,771 games – 15th all-time and ahead of such stars as Johnny Bench, Yogi Berra, Mike Piazza and five other Hall of Fame backstops (Ivan Rodriguez leads the way with 2,427 defensive game at catcher).
All things considered, Ted Simmons would get Baseball Roundtable's Modern Era vote and I am hopeful the Modern Era Committee will also see it that way.
____________________________________________
Tommy John, LHP, 1963-89 … Indians, White Sox, Dodgers, Yankees, Angels, A's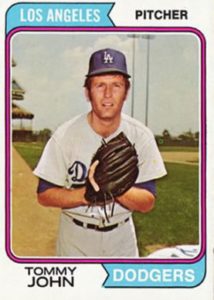 Tommy John pitched 26 years in the major leagues – and even had a ground-breaking (and game-changing) surgery named after him. During his time on the traditional ballot, John's highest vote total was 31.7 percent.
John put up 288 victories (231 losses) and a 3.34 earned run average.  All solid numbers. However, there are pros and cons to John's Hall of Fame candidacy. Let's start with the pros:
John has 288 victories – that is 26th all-time among starting pitchers – and of the 25 pitches with more wins, all but two (Roger Clemens and Bobby Mathews) are in the Hall of Fame. Fact is, more than half the starting pitchers enshrined have fewer wins than John.
John won 20 or more games in a season three times and twice led the NL in winning percentage.
John's 46 shutouts are also 26th all-time and all but one (Luis Tiant) of the pitchers with more shutouts than John is in the Hall – and, again, more than half of the pitchers in the Hall of Fame have fewer shutouts than John. He also led his league in shutouts three times.
John's 4710 1/3 innings pitched are 20th all-time and he is one of just eight pitchers with 700 or more starts (his 700 starts are sixth all-time).
John's 27 MLB seasons played are third in MLB history behind only Nolan Ryan (27 seasons … 1966-93) and Cap Anson (27 seasons …. 1871-97).
John retired with a .555 winning percentage, ahead of more than a dozen starting pitchers currently in the Hall of Fame.
There are also some cons:
John's wins can be attributed to his longevity. As Baseball-Reference.com reports, his average full season record was 13-11 – which does seem to fall short of Hall-worthy.
Despite a respectable 2,245 career strikeouts, he fanned only 4.3 batters per nine innings – not exactly dominating.
He never won a Cy Young Award and was an All Star only four times in 26 seasons.
In my book, John also deserves Character credits for taking on the risk and leaning into the rehab of a new surgical procedure that had a long-term impact not just on his career (he won 164 games after the surgery), but on the game itself.
Ultimately, John was a good enough and dedicated to last 26 seasons in the major leagues – and put up 288 wins. Despite his low strikeouts per nine innings figure, he did what we look for pitcher to do – get outs and produce wins.
ONE FINAL THOUGHT ON TOMMY JOHN

HOF voters put Sandy Koufax in the Hall with just 165 wins – recognizing that injury shortened his career.  I think it's time Tommy John and his 288 wins entered the HOF, recognizing that surgery – and a powerful work ethic – lengthened his career.  Side note: Tommy John had just one fewer victory after his historic surgery than Sandy Koufax had in his career.
______________________________________
Jack Morris, RHP, 1977-1994 … Tigers, Twins, Blue Jays, Indians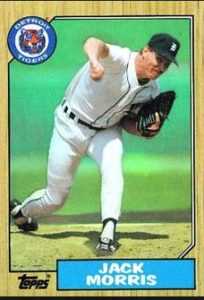 Jack Morris would also get my vote  – although I may be a bit biased, having been in the park for his 1991 World Series Game Seven, 1-0, complete-game, shutout victory. This is a close call, but Morris' reputation for grit and determination – particularly in "big" games – gives him the Character points he needs to push him to a spot near the top of the BBRT ballot. (Morris, by the way, had the highest vote total on the traditional ballot among this year's Modern Game nominees – 67.7 percent in 2013.  He doesn't need much of a push.)
The right-hander pitched 18 seasons (for four different teams) and his consistent status as a staff "Ace" or at least staff "Leader" is reflected in his 14 Opening Day starts. (Note: I acknowledge Morris was not the winningest pitcher on his team in all 14 of those seasons, but being selected for Opening Day does carry some significance and, I believe,  earn both "Fame" and "Character" points.)  Morris' final stat line was 254-186, with a 3.90 ERA (that ERA hurts his HOF chances), 2,478 strikeouts in 3,824 innings pitched and 175 complete games. He was an All Star five times, a three-time twenty-game winner (led his league in wins twice and also led in complete games, shutouts and innings pitched once each). Morris threw 200 or more innings in a season 11 times. His best season was 1983, when he went 20-13, 3.34, with 20 complete games (in 37 starts) and an AL-topping 293 2/3 innings pitched for the Tigers.
All of these factors put Morris on the "very good" list – but, perhaps just to the edge of the HOF list.  So, what puts him over the top for BBRT?  A couple of things.  First Morris, won more games in the decade of the 1980s (162) – 22 more than any other pitcher in MLB – and also pitched the most innings (2,433 2/3) in the decade. His 1,629 strikeouts in the '80s trailed only Nolan Ryan and Fernando Valenzuela. Then there is his performance on the big stage.  Morris pitched in three World Series and was dominant in two of them – going 2-0, 2.00 with two complete games for the Tigers in 1984; 2-0, 1.17 in three starts (one complete game) for the Twins in 1991 (including that Game Seven, ten-inning, complete-game shutout); and 0-2, 8.44 for the Blue Jays in 1992. Even with that 1992 debacle, his World Series line is 4-2, 2.97 – three complete games in seven starts.  Overall, Morris' post-season record is 7-4, 3.80.
Ultimately, BBRT thinks Morris has just enough to earn that spot in the Hall.   (Besides, if Morris gets in, the door opens a little wider for one of my Minnesota favorites – Jim Kaat, with his 283 wins and 16 Gold Gloves.)
______________________________________
Alan Trammell, SS, 1977-96 … Tigers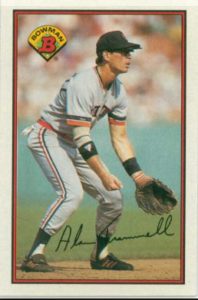 My fourth and final vote required a little soul-searching – and moved me from my traditional "old school" approach to the ballot toward a view that also incorporates some of today's "advanced" metrics. Note: In 2016, his last year on the traditional Hall of Fame ballot, Trammel garnered 40.9 percent support from the BBWAA.
Alan Trammel spent 19 of his 20 MLB seasons teamed up with Tigers' 2B Lou Whitaker – making them the longest-running and most-prolific SS/2B double-play combination in MLB history. Trammel also was a six-time All Star, four-time Gold Glover and three-time Silver Slugger honoree.
Trammel does have solid numbers – particularly for a middle infielder – a .285 average over 20 seasons, 2,365 hits, 185 home runs and 1,003 RBI.  In addition, his HOF resume includes the 1984 World Series MVP Award (he hit .450 with two home runs and six RBI in five games). Trammel's best campaign was 1987, when he hit .343, with 28 home runs, 105 RBI and 21 stolen bases. That season, Trammel finished in the top five in the AL in average, hits, runs scored and total bases.  Trammel's case for the HOF does suffer a bit for having never led his league in any offensive category.
As I considered Trammel, I found a number of analysts and supporters who compared him to Hall of Famer Barry Larkin.  The two do have similar career stat lines – a pretty good measure of their Game.  However, the difference between Trammel and Larkin in the Fame department may explain why Trammel is not already in the Hall and Larkin is.  Larkin was selected to 12 All Star teams to Trammel's six and collected nine Silver Sluggers to Trammel's three. (Trammel did earn four Gold Gloves to Larkin's three).   Larkin's 1995 NL MVP Award also probably slightly outshines Trammel's 1984 World Series MVP recognition.  In addition, while both players had two 20-20 (HR-SB) seasons, one of Larkin's was a 30-30 campaign, which earns a few more Fame points. Given all this, I didn't really buy into the Trammel/Larkin comparison.  However, I did think Trammel's 20 years of solid production demanded further examination.
To complete my consideration, I went outside my comfort zone.  Now, those who follow Baseball Roundtable know I am both old and "old school." I tend to lean toward traditional statistics like batting average, home runs, RBI, won-lost records, earned run average and strikeouts – and away from such markers as Fielding Independent Pitching (FIP) and Batting Average on Balls in Play (BIP). I am more interested in how far a home run traveled than its elevation angle and exit speed and more intrigued by fastball/curveball speed and the number of swings and misses than spin rate and perceived velocity.  In addition, I do not like the new "wave the batter to first" intentional walk, challenge/replay and designated hitter. (I am not totally old school.  I do think the current crop of young stars is the best MLB has seen in decades).  Now, there are some relative new stats that I do place stock in – like Wins Above Replacement (WAR) and Defensive Runs Saved (DRS) – and I went there to make my final decision on Trammel.  "Boom," that put him over the top.
Trammel's career Wins Above Replacement is 70.4 – compared to the average of 66.7 among Hall of Fame shortstops, eleventh all-time and sandwiched between Larkin's 70.2 and certain future Hall of Famer Derek Jeter's 71.8. That's pretty good company.  When you look at WAR over the player's peak seven seasons, Trammel looks just as good, seventh all-time among shortstops at 44.7 – compared to the average of 42.8 among Hall of Fame shortstops and ahead of such star-quality shortstops as Luke Appling, Barry Larkin, Derek Jeter, Pee Wee Reese and Phil Rizzuto.  Six of the seven shortstops ahead of Trammel by this measure are in the Hall of Fame (all except Alex Rodriguez).
Taking all of this together, Trammel would get my Modern Game vote – which I am sure will make me some friends among BBRT's Detroit readers.
_________________________________________________________________
THE REMAINING CANDIDATES
Now, how about the other candidates?  Let's go alphabetically.
Steve Garvey, 1B/3B, 1969-1987 … Dodgers/Padres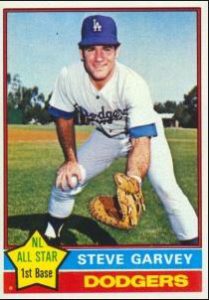 Steve Garvey was one of my final six (as I worked my way toward the allowed four votes).  Garvey's high point in the traditional balloting was 42.6 percent.
Garvey was selected to 10 All Star squads (eight in a row from 1974-81) and achieved 2,599 hits and a lifetime batting average of .294, despite playing in notorious "pitchers' parks in Los Angeles and San Diego. He hit over .300 in seven full seasons, collected 200 or more hits in a campaign six times and 100 or more RBI five times.  The level of competition for recognition at his position is reflected by the fact that Garvey does not have a Silver Slugger Award on his resume (approximately half his career was played before the Silver Slugger was established).  Garvey had plenty of Game.
Garvey also scores well in the Fame department. He was the 1974 NL MVP, the NL Championship Series MVP twice (1978 & 1984) and put up a .338-11-31 line in 55 post-season contests.  In addition, he was a two-time All Star Game MVP (1974 & 1978).  He added a little frosting to the cake with four consecutive Gold Gloves (1974-77) and also holds the National League record for consecutive games played at 1,207.
After leaving the playing field, Garvey did face some "character" issues (read paternity suits) – which tarnished his All-American image and may have cost him votes over time. Also working against Garvey is his 272 career home runs from what is traditionally a power position.  Garvey, however, did hit 20+ home runs in a season five times, with a high of 33 in 1977. He had several campaigns in the .315-20-100 range, but I would probably rate his best as 1977, when he played in all 162 Dodgers' games, hit.297, poled 33 home runs, drove in 115 and tossed in a Gold Glove and 19 stolen bases. (His career high in steals was 19 in 1976.)
Overall, Garvey may be on the edge of the Hall statistically – particularly when you look at career home runs and RBI.  For BBRT, his ten All Star selections and post-season performance move him up the list and should eventually earn him a Hall of Fame plaque. He would have been my fifth selection this year – but, of course, there is a four-vote limit. Garvey does have a chance this year and will clearly remain in the running.
STEVE GARVEY AND THE POST SEASON

For your consideration: Steve Garvey's post-season batting averages:

 

Five NL Division Series games -.368

 22 NL Championship Series games – .356;
 28 World Series games – .319.
_____________________________________________
Don Mattingly, 1B/OF, Yankees … 1982-1995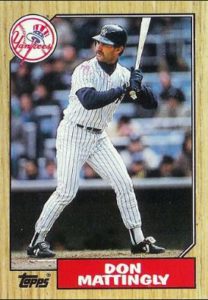 Don Mattingly put up some very nice numbers in a 14-season MLB career – a .307 average, 2,153 hits, 222 home runs, 1,099 RBI. He also was a six-time All Star, nine-time Gold Glover, and the 1985 American League MVP. In addition, he led the AL in hits twice, doubles three times, total bases twice, RBI once and batting average once. So, why is he not in the Hall of Fame? In fact, why was his highest total on the traditional ballot less than 30 percent (29.2 percent)?
Mattingly played a position(s) noted for power and run production – and, due in great part to back issues, he did not put up the career home run and RBI totals that would have opened the doors to the Hall.  For example, after hitting .337, belting 119 home runs, driving in 483 runs and making four All Star teams in his first four full major league seasons, Mattingly hit .292, with only 99 home runs, 583 RBI and two All Star selections over his final eight campaigns. It seems unlikely Mattingly will get the Modern Game Committee nod.
____________________________________________________________
Marvin Miller, Executive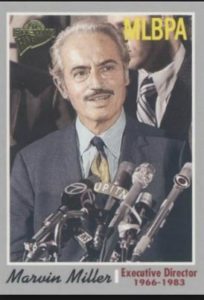 The late Marvin Miller (1917-2012) served as the Executive Director of the MLB Players Association from 1966-82 – negotiating the first collective bargaining agreement in professional sports and leading the MLB Players Association to a position as one of the most powerful labor organizations in the country.
Miller led the fight for free agency and arbitration and focused his efforts on enabling players to receive "market value" for their contributions –  dramatically altering the balance of power (or perhaps finally creating a balance of power) between owners and players.  This, ultimately, changed the shape of the game.  I do think Modern Game Committee voters may be ready to vote him in.  However, late in life, Miller requested not to be included on future Hall of Fame ballots (he had been rejected several times) – quoted as saying "I find myself unwilling to contemplate one more rigged Veterans Committee, whose members are handpicked to reach a particular outcome while  offering the pretese of a democratic vote. "
In not including this game-changing executive in my final four, I chose to recognize Miller's wishes.
__________________________________________________
Dale Murphy, OF/1B/C, 1976-93 … Braves, Phillies, Rockies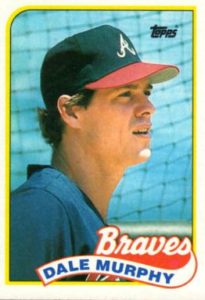 Dale Murphy is a seven-time All Star, five-time Gold Glover, four-time Silver Slugger honoree and a two-time National League MVP (1982-1983). Overall, Murphy played in 2,180 over 18 seasons, collected 2,111 hits, stroked 398 home runs, drove in 1,266 and stole 161 bases. He also led the NL in home runs twice, RBI twice, total bases once and runs scored once.  These all work in his favor as a candidate for a plaque in Cooperstown.
Working against Murphy, however, is a .265 lifetime average – with only two full seasons at .300 or better and four full campaigns under .250.  His highest total on the traditional BBWAA ballot was 23.2 percent.
Murphy's career can be divided into two eras: 1) 1982-87 and; 2) the rest of his big league tenure. Murphy was truly a HOF-level player from 1982 to 1987: averaging .289, with 36 home runs, 105 RBI and 19 stolen bases per season and winning his two MVP awards, six of his seven all Star selections, all five of his Gold Gloves and all four of his Silver Slugger Awards during that span.  Now, let's look at the rest of his career, eliminating those seasons in which he played less than 100 games at the MLB level (his first two and last two MLB seasons). In the remaining eight campaigns, Murphy averaged .247, with 22 home runs, 75 RBI and seven steals. With his .265 average, I believe Murphy would need the boost of at least one other career landmark – like 500 home runs or 1,500 RBI to move past the other position players on the Modern Game ballot.
_____________________________________________
Dave Parker, RF, 1973-1991… Pirates, Reds, A's Brewers, Angels, Blue Jays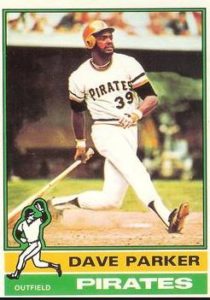 Dave "The Cobra" Parker was a player who surely had Game – 19 major league seasons, 2,712 hits; .290 career average; 339 long balls, 1,493 RBI and 154 stolen bases.  His Game also included two NL batting titles, three Gold Gloves, three times leading his league in total bases, and an RBI title.  He also earned points on the Fame scale – seven All Star Selections, the 1978 National League MVP and the 1979 All Star game MVP Award.  Overall, Parker put up nine seasons of 20 or more home runs (three of those 30+); six qualifying seasons with an average of .300 or better; four seasons of 100+ RBI; three seasons of 100+ runs scored; and one campaign of 200 or more base hits.  His best season was 1978, when he won his second consecutive NL batting crown, with a .334 average, hit 30 home runs, drove in 117, scored 102 times, earned a Gold Glove and won the NL MVP Award.  Interestingly (at least to BBRT), none of those 1978 offensive numbers ended up being career highs for The Cobra. All that works in Parker's favor. Yet, his highest vote total on the traditional ballot was 24.5 percent.
Parker scored negative points on the Character scale – drug-related issues (cocaine) that many believed affected his performance mid-career and put him on the stand (with immunity) in a 1985 federal drug trial.  (Parker and a number of other players ended up avoiding MLB suspension by agreeing to community service, ongoing drug tests and the contribution of 10 percent of their 1986 salaries to programs addressing drug abuse.) Parker also found himself facing legal action by the Pirates who claimed a combination of drug use and weight gain affected his ability to deliver promised performance.
BBRT note: Parker's performance (and, in turn, his career numbers) were impaired by a series of injuries. In the early 1980's, Parker had to deal with: knee issues (cartilage removal); a torn Achilles tendon; torn cartilage in his right wrist; and a ruptured ligament in his left thumb.
Despite the Character issues, Parker was my sixth finalist on my way to four votes. Parker's drug use was not "performance-enhancing" and there is at least some precedence for "forgiveness."   Hall of Fame Veterans Committee voters forgave Orlando Cepeda for his post-retirement conviction on drug possession charges, and he was inducted into the Hall in 1999.  Cepeda's number were quite similar to Parker's: MLB Seasons … Cepeda – 17, Parker – 19; Career Average … Cepeda -.297, Parker – .290; Hits … Parker –  2,712, Cepeda – 2,351; Home Runs … Cepeda – 379, Parker – 339; RBI … Parker – 1,493, Cepeda – 1,365; Runs … Parker – 1,272, Cepeda – 1,131;  Stolen Bases … Parker 154, Cepeda – 142. They each earned an NL MVP Award and Cepeda's Rookie of the Year Award is probably balanced by Parker advantage in Gold Gloves.
While I would vote Parker in, I don't believe the Modern Game Committee is ready to forgive and forget. (And, there is also that distinction that Parker's legal troubles occurred while he was an active player. Cepeda's issues arose after he retired.)
________________________________________________
Luis Tiant, RHP, 1964-82 … Indians, Twins, Red Sox, Yankees, Angels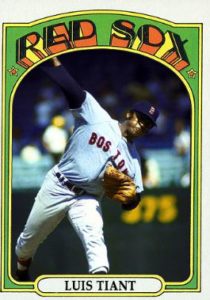 I loved to watch Luis Tiant pitch – that unique motion.  I also like to watch/listen to him off the field – that energetic personality and the ever-present cigar.  And, Tiant put up some pretty good numbers –  229 wins (172 losses) and a 3.30 earned run average. Tiant was a 20-game winner four times. He also led the league in earned run average twice – and spectacularly both times (1.60 in 1968 & 1.91 in 1972). In addition, he led his league in shutouts three times and his 49 career whitewashes are 21st in MLB history. With the Red Sox in 1975, Tiant was a post-season hero – pitching a complete-game, three-hit shutout against the A's in the AL Championship Series and picking up two of the Red Sox three wins against the Reds in the World Series (a complete game shutout in Game One and a complete game 5-4 win in Game Four). Tiant's best season was 1968, when he went 21-9, with a league-low 1.60 ERA.  Even then, for Tiant, it was a totally "right" season at the "wrong" time.  Denny McClain won the AL Cy Young Award (unanimous selection) with a 31-6, 1.96 mark and, over in the NL, Bob Gibson overshadowed Tiant's sparkling ERA with a 1.12 earned run average of his own.
Ultimately, Tiant came up short in the traditional HOF balloting (a high of 30.9 percent) and comes up a bit short when the balloting limit for these Modern Game candidates is limited to four votes. Tiant never won a Cy Young Award and was selected to just three All Star teams.  I'm not saying a vote for Tiant would be a misplaced vote, but I believe he needed a handful more wins (say reaching 250) or a Cy Young Award to challenge Jack Morris and Tommy John on this ballot.  An attention-grabbing Game Seven World Series win – or a season or two of leading the league in wins or strikeouts also could have put him over the top. Very simply, with limited voting I expect Tiant will have to wait.
Primary sources: Society for American Baseball Research; Baseball-Reference.com; MLB.com; Baseball Hall of Fame
I tweet baseball @DavidBBRT
Follow/Like Baseball Roundtable's Facebook page here.  More baseball commentary, blog post notifications, PRIZES.
Member: society for American Baseball Research; The Baseball Reliquary; the Negro Leagues Baseball Museum