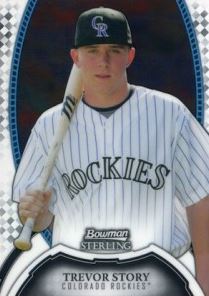 One of the top "stories" (pun intended) of the 2016 MLB season has been Colorado Rockies' rookie shortstop Trevor Story – just 14 games into the season, Story has an MLB-leading eight home runs. That got BBRT to thinking: How many long balls would Story need to put himself into a top-ten spot on the all-time rookie leader board?  It appears a season of 35 home runs would do it – and that reaching the mark can portend a pretty long and successful career.  Let's take a look at the past rookies who have reached 35 home runs.
ALL TIME ROOKIE SEASON HR LEADERS
49 HR … Mark McGwire, 1B,  A's, 1987 – Age at start of rookie season: 23
Mark McGwire, who played in just 18 games for the A's in 1986 (three home runs, nine RBI), retained his rookie status for 1987 – and he made the most of it.  McGwire played in 151 games, hitting .289 with an MLB (and AL) rookie-record 49 home runs and 118 RBI.  His performance was good for an All Star berth and the AL Rookie of the Year award.  Note: In 1985 and 1986, McGwire had hit 47 home runs and driven in 218 at A-AA-AAA.
McGwire went on to hit 583 home runs and collect 1,414 RBI in 16 MLB seasons – leading his league in HR's four times (high of 70 HR's in 1991) and RBI once (high of 147 in 1998 and 1999). McGwire was a 12-time All Star.  Nickname: Big Mac.
A little known fact about Mark McGwire – he was an AL Gold glove winner in 1990.
38 HR … Wally Berger, LF, Braves, 1930 – Age at start of rookie season: 24
Although he moved to CF in 1931, Wally Berger started out in LF with the Braves. He made the team in 1930 – after hitting .355 with 40 round trippers in the Pacific Coast League (then AA) the year before.  In his MLB rookie season, Berger hit .310, with 38 home runs (tied for the NL Rookie record) and 119 RBI. The 38 home runs was Berger's career high. Berger was a four-time All Star in his 11-season MLB career – during which he hit .300, with 242 HR's and 898 RBI. In 1935, he led the NL with 34 HR and 130 RBI.
Berger was the starting CF for the NL in the first MLB All Star game (1933).
38 HR …. Frank Robinson, OF, Reds, 1956 – Age at start of season: 20
Frank Robinson broke onto the MLB scene as a 20-year-old in 1956 by hitting .290, with 38 home runs (tied for the NL rookie record) and 83 RBI.  (In three minor league seasons, Robinson hit .320, with 54 home runs.) Robinson was an All Star and NL Rookie of the Year in 1956 – and he never looked back, earning his way into the Hall of Fame.  He ended his career in 1976 with a .294 average, 586 home runs and 1,812 RBI. He was an All Star in 12 seasons and won just about every award possible: NL Rookie of the Year (1956); NL Most Valuable Player (1961); AL MVP (1966); World Series MVP (1966); All Star Game MVP (1971); AL Triple Crown (1966); Gold Glover (1958). Nickname(s): The Judge; Pencils.
Robinson was the first African-American manager in both the AL (Indians 1975) and NL (Giants 1981).
37 HR … Al Rosen, 3B, Indians, 1950 – Age at start of rookie season: 26
Rosen's strong minor league numbers, .328 average and 86 homers in five minor league seasons, earned him a call up to the Indians in 1947-48-49.  His service was brief, however, 54 at bats in 35 games – and he retained his rookie status when he opened the 1950 campaign with Cleveland. Rosen clearly delivered on his promise in that rookie season – .327-37-116; and he scored 100 runs and drew 100 walks. Rosen played ten MLB seasons, hitting .285, with 192 HR's and 717 RBI. His best season was 1953, when he hit .336, with 43 HR's and 145 RBI – all career highs. Rosen was an All Star in four seasons and the 1953 AL MVP. He led the AL in runs scored once, home runs twice and RBI twice.  Nickname(s): Flip; The Hebrew Hammer.
How the (All Star) game has changed. In the 1954 All Star contest, Al Rosen played 1B and 3B, had three hits and a walk in five plate appearances, scored twice, drove in five runs and hit two homers – all while playing with a broken finger. Rosen is one of only five players to hit two home runs in an All Star Game (Arky Vaughn -1941; Ted Williams – 1946; Rosen- 1954; Willie McCovey – 1969; Gary Carter – 1981) and one of only two players to drive in five runs in an All Star Game (Ted Williams – 1946; Rosen – 1954).
37 HR … Albert Pujols, 1B, Cardinals, 2001 – Age at start of rookie season: 21
Albert Pujols started the 2001 season with the Cardinals – following just one minor league campaign (A – High A – AAA) in which he hit .314 with 19 homers and 98 RBI. The 21-year-old rookie did even better at the major league level, hitting .329 with 37 home runs and 130 RBI – earning a spot on the All Star team and the NL Rookie of the Year award. That began a string of ten consecutive seasons of a batting average of .300+, 30+ home runs and 100+ RBI. He almost has an eleventh. In 2011, the string was broken when he went .299-37-99. As this post is being prepared, Pujols is still active (16th season), has been an All Star in ten seasons, NL MVP three times (2005, 2008, 2009) and a Gold Glover twice.  He has led his league in runs scored five times, hits once, doubles once, HR's twice, RBI once and batting average once.  He has a career average of .311, 562 home runs and 1,708 RBI (all those may change by the time you read this.)  Nickname(s); Prince Albert; The Machine.
In 2002, Albert Pujols played first base, third base, shortstop, left field, right field and designated hitter for the Cardinals.
36 HR … Jose Abreu, 1B, White Sox, 2014 – Age at start of rookie season: 27
Jose Abreu joined the White Sox in 2014 after ten seasons as a star in Cuba (640 games, .341 average, 178 home runs, 583 RBI). The White Sox' investment paid immediate dividends, as the 27-year-old MLB rookie hit .317, with 36 home runs and 107 RBI – making the All Star team and earning AL Rookie of Year honors. Abreu, still active, followed that up with a .290-30-101 campaign in 2015.
In 2010, playing for Elefantes de Cienfuegos, Abreu hit .453 (66 games), with 33 homers and 93 RBI.  His batting average and home run totals for 2009-10-11 were, respectively: .399-30 in 89 games; .453-33 in 66 games; and .394-35 in 87 games.
35 HR … Hal Trosky, 1B, 1934 – Age at start of rookie season: 21
In 1933, Hal Trosky blossomed at AA Toledo, hitting .323 with 33 home runs in 132 games – earning a call up to the Indians during which he hit.295 in 11 games.  Still a rookie in 1934, Trosky got into 154 games and hit .330,with 35 home runs and 142 RBI. He went on to an 11-season MLB career, hitting .302, with 228 homers and driving in 1,012 runs.  His career-best season was 1936, when he hit.343, with 42 HR's and 162 RBI.
Hal Trosky never made an All Star team – blame the likes of Lou Gehrig and Jimmie Foxx.
35 HR … Rudy York, C/1B/3B, Tigers, 1937 – Age at start of rookie season: 23
Rudy York showed his power potential early.  As a 21-year-old he hit .301, with 32 home runs at A-level Beaumont; then, at 22, he hit .334 with 37 home runs at Milwaukee (AA). In 1937, he was in the big leagues to stay – and he responded with a .307 average, accompanied by 35 home runs and 101 RBI – all in just 104 games. York went on to a 13-year MLB career in which he was an All Star in seven seasons and hit .275 with 277 home runs and 1,149 RBI. In 1943, he led the AL in home runs (34) and RBI (118), while compiling a .271 average.
Rudy York has the distinction of being the only hitter ever struck out by Ted Williams. On August 24, 1940, Williams came in from the outfield and pitched the final two innings of a 12-1 Red Sox loss to the Tigers (in Boston). It was Williams' only career pitching appearance (he gave up one run on three hits) and was historic for Rudy York because he became the only player ever struck out by Ted Williams (on three pitches). Ironically, York went 4-5 with a double, two singles, a home run, three runs scored and five RBI off the regular members of the Red Sox' mound staff before facing Williams.
35 HR … Ron Kittle, OF, White Sox, 1983 – Age at start of rookie season: 25
In 1983, White Sox rookie OF Ron Kittle started off his MLB career with a bang – a .254-35-100 season and the AL Rookie of the Year award. Despite a steady show of power over 10 MLB seasons, Kittle would never again reach 35 homers or 100 RBI. He wrapped up his career in 1991, with a .239 average, 176 home runs and 460 RBI.
The year before Ron Kittle made the major leagues to stay, he destroyed Triple A pitching,  In 127 games for the Pacific Coast League Edmonton Trappers, he hit .345, with 50 home runs and 144 RBI.
35 HR … Mike Piazza, C, Dodgers, 1993 – Age at start of rookie season: 24
In 1992, Mike Piazza earned the proverbial cup of coffee in the major leagues by hitting .350, with 23 home runs and 90 RBI at AA and AAA.  In 21 games with the Dodgers, he hit .232 with just one home run. 1993 would be a different story.  Piazza hit .318, with 35 homers and 112 RBI for the Dodgers – earning All Star recognition and NL Rookie of the Year honors. The ride continued for 14 more seasons – all the way to the Hall Of Fame.  While he never led his league in any category, Piazza was an exceptional offensive performer – an All Star in 12 seasons and nine-times a Silver Slugger Award winner. He retired after  the 2007 season with a .308 career average, 427 home runs and 1,335 RBI. Piazza topped 30 HR's nine times, 100 RBI six times and a .300 average ten times. He holds the record for home runs as a catcher at 396.
Mike Piazza is lowest MLB Draft pick to make the Hall of Fame. He was chosen in the 62nd round of the 1988 draft – which means 1,389 played were chosen ahead of him.
I tweet baseball @DavidBBRT
Member: Society for American Baseball Research (SABR); The Baseball Reliquary; Baseball Bloggers Alliance.