After each season, members of the Baseball Bloggers Alliance (an organization of 200+ bloggers dedicated to the national pastime) vote on a series of awards for each league.  Those recognitions include:
Willie Mays Award (top rookie)
Walter Johnson Award (top starting pitcher)
Stan Musial Award (top player)
Goose Gossage Award (top relief pitcher)
Connie Mack Award (top manager)
BBRT will provide a link to the BBA site once all the winners are announced (later this month).  In this post, I'd like to share BBRT's votes, as well as some background on my selections and those that were "close" to getting BBRT's vote.  Your comments on the BBRT selections are welcomed.
William Mays Award (top rookie)
American League
BBRT vote:  Matt Shoemaker.
Contenders: 2. Jose Abreu   3. Yordano Ventura   4. Masahiro Tanaka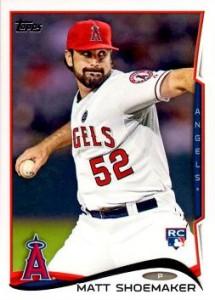 Thank you Matt Shoemaker – for closing out the year in a way that both: a) prevents me from having to split my AL rookie vote; and b) enables me to vote for a player who more closely fits my personal definition of an MLB "rookie."
While the smart money may be on Jose Abreu as the AL's top rookie, BBRT's vote goes to Angels' RHP Matt Shoemaker. Undrafted out of college, Shoemaker ran up a 50-42, 4.52 record in seven minor league seasons. He worked his way up to an MLB "cuppa coffee" in 2013 (one game, five scoreless innings), before sticking with the Angels this season.  The 27-year-old, bearded rookie turned in a 16-4 record, with a 3.04 ERA (20 starts, seven relief appearances), with 24 walks and 124 strikeouts in 136 innings. Shoemaker moved passed Abreu on the BBRT ballot thanks to his performance under the pressure of the pennant race.  From August 1 to season's end, Shoemaker went 8-1, with a 1.66 ERA.
Among the contenders was another 27-year-old – but less traditional – "rookie," who is a veteran of eight seasons in Cuba (and a former Cuban League MVP). White Sox rookie first baseman Jose Abreu finished in the American League's top five with a .317 batting average (third-best), 36 homers (third), 107 RBI (fourth), .581 slugging percentage (first), and .383 on-base percentage (fifth).
Additional contenders for BBRT's vote included:  Kansas City right-handed starter Yordano Ventura, who put together a 14-10, 3.20 season for the play-off Royals and a was key player in the Royals' drive to the post-season (4-1, 2.41 in six September starts); and a second less traditional rookie, New York right-hander Masahiro Tanaka, who joined the Yankees after six seasons as a star in Japan (including a 24-0, 1.24 record in 2013) and finished an injury-interrupted season at 13-5, 2.77 with 151 strikeouts (versus just 21 walks) in 163 1/3 innings.
National League
BBRT vote:  Jacob deGrom
Contenders: 2. Ender Inciarte      3. Billy Hamilton
It's a tougher call, with less spectacular rookie performances to choose from, in the NL.  BBRT's vote goes to the Mets' Jacob deGrom. The 26-year-old southpaw – who ran up a 21-11, 3.62 record in four minor league seasons – went 9-6, with a solid 2.69 ERA in 22 MLB starts.  DeGrom also missed a lot of bats, fanning 144 in 140 1/3 innings.
Finishing close, but behind deGrom in BBRT's ballot considerations were: Arizona outfielder Ender Inciarte, who hit .278 with four home runs, 27 RBI, 54 runs scored and 19 steals (22 attempts) in 118 games; and Reds' outfielder-speedster Billy Hamilton. Hamilton, who swiped 56 bases and scored 72 runs for the Reds.
Walter Johnson Award (top pitcher)
American League 
BBRT vote: Phil Hughes
Contenders: 2. Corey Kluber     3. Felix Hernandez
I expect to get some flack here, but my first-place goes to Twins' righty Phil Hughes.  Why?  First, Hughes won 16 games for a team that went 70-92. Only three players in the AL won more games than Hughes (they each had 18 victories), and all three (Max Scherzer, Corey Kluber, Jered Weaver) pitched for teams with winning records.  Hughes, who went 16-10, 3.52, also set a new MLB record for strikeouts to walks ratio (11.63) and recorded the fewest walks ever for any hurler to reach 200 innings pitched in a season.  In 209 2/3 innings, Hughes fanned 186, while walking just 16.
The smart money goes on one of BBRT's contenders – Indians' righty Corey Kluber (18-9, 2.44).  Kluber was a strikeout machine, finishing with 269 K's in 235 2/3 innings (just two strikeouts behind AL leader David Price). He also finished among the leaders in ERA (third), complete games (second, tie) and innings pitched (third).  Just behind Kluber, in BBRT's estimation, was Seattle's Felix Hernandez, the AL ERA leader at 2.14 (to go with a 15-6 won-lost record and 248 strikeouts in 236 innings pitched).
National League
BBRT vote: Clayton Kershaw (duh)
(Distant)  Contenders: 2 (tie). Adam Wainwright     2 (tie). Johnny Cueto
BBRT's NL Walter Johnson Award vote goes (of course) to Dodgers' southpaw Clayton Kershaw.  Not much explanation needed here.  Kershaw missed a month of starts and still led the NL in wins (21 against just 3 losses), ERA (1.77 – his fourth consecutive ERA title) and complete games (6), while also finishing third in strikeouts (239 in 198 1/3 innings).
BBRT sees a runner-up tie between the Cardinals' Adam Wainwright and the Reds' Johnny Cueto.  These two right-handed starters tied for second in wins (both at 20-9), finished two and three (behind Kershaw) in the NL in ERA and complete games, as well as one and two in the NL in innings pitched. In addition, Cueto tied the Nats' Stephen Strasburg for the NL strikeout title (242), while Wainwright tied for the league lead in shutouts (three).
The Stan Musial Award (top player)
Note: In past award announcements, the Baseball Bloggers Alliance has referred to this award as recognizing the top or "premier" player in each league (as opposed to the Most Valuable Player). Makes this vote easier and less controversial.
American League
BBRT vote: Mike Trout
Contenders: 2. Jose Altuve     3. Miguel Cabrera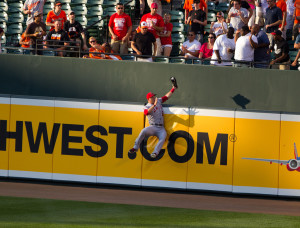 BBRT's vote for the Stan Musial Award in the AL goes to the Angels' Mike Trout. Pretty simple. How can you not vote for the player who led the league in runs scored AND runs batted in, while also flashing Gold Glove defensive skills.  Trout, who hit .287, finished in the top five in the AL in runs scored (115, first), RBI (111, first), home runs (36, third), slugging percentage (.561, third), walks (83, fourth) and triples (nine, third). He also added 16 steals in 18 tries. The only concern?  Trout also led the AL in strikeouts with 184.
Running behind Trout in BBRT's considerations were: the Houston Astros' five-foot-six second baseman Jose Altuve – like Trout a "plus" fielder, Altuve also was the spark at the top of the Astros' lineup, leading all of MLB in batting average (.341) and base hits (225), wile also topping the AL in stolen bases; and Tigers' first baseman Miguel Cabrera, with another solid season (.313, average, 25 home runs, 101 runs scored, 109 runs batted in).
National League
BBRT vote: Andrew McCutchen
Contender: 2. Giancarlo Stanton
With no one player dominating the statistics, the call on the NL's premier player is a tough one.  BBRT  casts its vote for Pirates' center fielder Andrew McCutchen (making my Stan Musial Award selections a center field sweep). Like Trout, Mccutchen takes Gold Glove skills into the outfield.  He also combines speed and power, finishing 2014 (146 games) with a .314 average, 25 home runs, 83 RBI and 18 steals (in 21 attempts). McCutchen also led the NL in on base percentage at .410.
Finishing just behind McCutchen is Marlins'right fielder Giancarlo Stanton, the NL leader in home runs (37), slugging percentage (.555) and total bases (299). Stanton, who hit .288, also drove in 105 runs (second in the NL) and had the second-best on-base percentage in the league (.395).
Goose Gossage Award (top reliever)
American League
BBRT Vote: Greg Holland
Contender: 2. Fernando Rodney
BBRT's vote for the AL Goose Gossage Award goes to the Royals' Greg Holland, who went 1-3, with 46 saves, a 1.44 ERA and 90 strikeouts in 62 1/3 innings pitched.
Right behind Holland is the Mariners' Fernando Rodney, who tallied an MLB-leading 48 saves. Despite the leadership in saves, Rodney was less dominating then Holland, going 1-6, 2.85 with 76 whiffs in 66 1/3 innings.
National League
BBRT vote: Craig Kimbrel
Contenders: 2. Kanley Jansen     3. Aroldis Chapman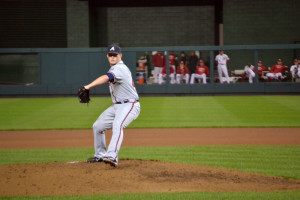 In the NL, BBRT likes Braves' closer, right-hander Craig Kimbrel, for the Goose Gossage Award. Kimbrel, who led the NL in saves for the fourth-consecutive year,  finished 0-3, 1.61 with 47 saves and 95 strikeouts in 61 2/3 innings.  Over the past four seasons, Kimbrel has averaged just over 46 saves per year.
Based on strikeouts, walks and earned run average (always leery of closers with ERA's over 3.00), others who merited BBRT's consideration were: the Dodgers' Kanley Jansen (2-3, 2.76, 44 saves, 101 strikeouts and 19 walks in 65 1/3 innings); and Reds' closer Aroldis Chapman (0-3, 2.00, 36 saves, 106 strikeouts and 24 walks in 54 innings).   There is one more "vote"… an honorable mention, actually … for Colorado closer LaTroy Hawkins, just for the fact that he is still getting the job done (4-3, 3.31, 23 saves in 26 opportunities) at age 41.
Connie Mack Award (top manager)
American League
BBRT vote:  Buck Showwalter
Contender:  2. Ned Yost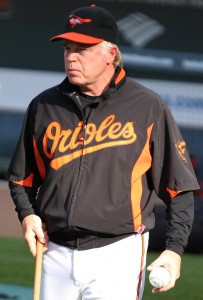 BBRT sees the AL's top manager as the Orioles' Buck Showalter, who brought the Orioles home with a 12-game lead over the second-place Yankees.  Not only were the Orioles not found on too many analysts' pre-season East Division champion predictions, Showalter had to manage around injuries to key players (Matt Weiters and Manny Machado), as well the sub-par season and later suspension for 2013 star Chris Davis.
BBRT also gave serious consideration to Ned Yost, who brought the Royals back to the post-season after a 29-year absence – despite being the only team in baseball with less than 100 home runs on the season. The Royals won under Yost with defense and speed (the fewest home runs, but the most stolen bases) – a formula that puts additional pressure on the manager (manufacturing runs with singles, steals, the hit-and-run).
National League
BBRT vote: Bruce Bochy
Contender:  2. Matt Williams
BBRT's vote for NL Connie Mack Award goes to Bruce Bochy of the Giants, who led the squad to an 88-74 record (and Wild Card spot), despite the difficulties facing Matt Cain and Tim Lincecum and injuries to Brandon Belt and Angel Pagan.  Counting on youngsters like Joe Panik and Andrew Susac, Bochy kept a winning attitude on the San Francisco team.
Just behind Bochy is Matt Williams of the Nationals, who won 96 games and finished a whopping 17 games ahead of their nemesis (the Braves).  Like Bochy, Williams managed through significant loss of time to injuries (catcher Wilson Ramos, outfielder/face-of-the franchise Bryce Harper and third baseman Ryan Zimmerman).
Keep watching BBRT for the final results of the Baseball Bloggers Alliance balloting.
I tweet baseball @DavidBBRT