Today (March 30), Baseball Roundtable again took part in a new rite of spring. No, it wasn't the first robin, the day we first heard "Pitchers and Catchers Report," the Minnesota lakes ice-out, or even MLB's Opening Day.  It was the Twins' Eighth Annual Media Food and Beverage Preview.  Sponsored by the Minnesota Twins and Delaware North Sportservice (the team's exclusive food and beverage partner), this annual event features a look at (and taste of) the upcoming season's new Target Field food and beverage offerings.
I have neither the space, nor the time, to touch on all the new food and beverage items that were unveiled this afternoon. (They ranged from a traditional Shrimp Broil to an Indian Chicken Tikka Salad to a Shaved Smoked Beef Sandwich.) However, I would like to share a comment or two on some I found especially tasty, interesting or both. For the Twins' concessions guide, which lists the full and most up-to-date (locations, prices could change) slate of concessions, locations and prices, click here.
WHEN IT COMES TO BALLPARK FOOD – THESE ARE THE GOOD OLD DAYS!

Those who follow BBRT know, when it comes to the national pastime, I can be a bit "old school" – looking back fondly on the days of two-hour ball games, regularly scheduled double headers, high stirrups, complete games, two-dollar bleacher seats and fans who, when they looked down, were filling in a scorecard, not checking their smartphones.  There is, however, one thing I do not memorialize as part of the baseball's good old days – ballpark food. When it comes to ballpark concession options, these are the good old days – and they just keep getting better.

When I first started attending MLB games, standard fare consisted of hot dogs (not always that hot), beer and soda (not always cold), peanuts, cotton candy, Cracker Jack® and, if you were lucky, maybe ice cream (usually frozen malt cups with a not-so-tasty wooden spoon) or licorice ropes. The culinary tour that was part of the 2017 Target Field Food and Beverage Preview provided ample evidence of just how far ballpark food has come. 
Let's look at some of Target Field's new concessions for 2017.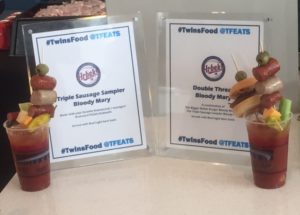 The Triple Sausage Sampler and Double Threat Bloody Mary's.  If you follow BBRT, you know that I review the Bloody Mary's at every ballpark I visit.  Of one thing I can assure you, when it comes to Bloody Mary's, Hrbek's Pub (near Section 114 at Target Field) continues to raise the bar.  We've seen such offerings as the Bigger Better Burger, College Daze, and Cluck and Moo Bloody Mary's.  For 2017, they are putting forward what I consider the best Bloody yet – The Triple Sausage Sampler Bloody Mary.  Okay, I'm a sausage guy (I am of Polish descent, after all).  This one – $19.95 at Hrbek's – comes with a healthy portion of skewered Kramarczuk's Bratwurst, Polish and Andouille sausages (all perfectly spiced), ripe olive, sweet pepper, cheddar and Swiss cheeses and a beef stick – as well as a dill pickle spear and celery stalk. There is also, of course a beer chaser.  Wow! Oh yes, for four dollars more they'll add a cheeseburger slider. A meal in a glass –with a chaser.
4 Bells Shrimp Boil. If you're hungry and want something a little different at the ballpark, try 4 Bells (Section 114) Shrimp Boil. A generous portion of peel-and-eat shrimp, Butcher and the Boar ® Sausage, red potatoes and corn on the cob – with Creole seasoning. ($14.50 for a generous portion of true southern comfort.)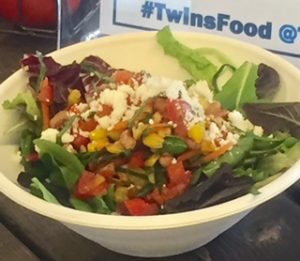 Roots for the Home Team "All Nations Lake Street Salad."  I was particularly fond of the fresh and light taste of the Roots for the Home Team (Near Gate 34 on weekends) All Nations Lake Street Salad – collard greens; red and yellow pepper; roasted corn; tomatoes; carrots; black-eyed peas – with a Tomatillo Lime Cilantro dressing and Crumbled Queso Fresco Cheese topping. Thinking outside the box or want something a little lighter at the ballpark?  The All Nations Lake Street Salad is one of nine new salads that Root for the Home Team has created for 2017.  ($9 of $11 with chicken.) Note: Roots for the Home Team partners with youth garden programs in the Twin Cities to give multicultural teens the opportunity to develop business and entrepreneurial skills.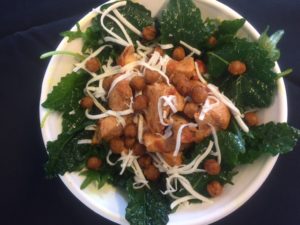 Hot Indian Chicken Tikka Salad.  Okay, I've got a soft spot for ethnic foods and "Hot Indian Foods" knows how to reach it – even at the ballpark. For this season, they've added a Hot Indian Chicken Tikka Salad – baby kale, shredded paneer, crispy chickpeas, superbly spiced chicken.  (Worth a stop at Section 120 – $12.50).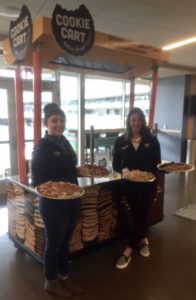 Cookie Cart.  Dessert, aah, sweet dessert!  Why not stop at the Cookie Cart. Twelve kinds of cookies – six packs for $8 and $3 for a frosted cookie.  These are cookies like grandma used to make (chocolate chip, peanut, oatmeal, they are all here) – and the organization provides areas teens with the opportunity to develop work, life and leadership skills while working with an urban non-profit bakery.  If you are craving a sweet, the Cookie Cart has just what you are looking for.  They will operate in Section 101 during Saturday and Sunday games.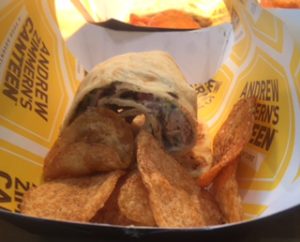 Andrew Zimmern's Canteen (Section 114) Skewers. These tasty skewers come in Braised Boneless Beef Short Rib; Mediterranean Chicken; and Braised Pork Shoulder – on flat bread, with roasted eggplant spread, herbed yogurt sauce and tomato-cucumber (served with chips).  Easy to eat, and easier to enjoy ($14.50 each). The Canteen's new 2017 offerings also include a Frozen White Chocolate Mousse ($7.50) for dessert.   I finished the Mousse before I could get a photo of it (dulce de leche, lady fingers, white chocolate) – and then licked away every drop that had slipped from spoon to fingertips.

Vegan Sriracha Brat. Vegan anyone? For vegan readers, there is "The Herbivorous Butcher" and the Vegan Italian Sausage and Vegan Sriracha Brat (each $12.50).  I preferred the extra "bite" of the Sriracha Brat.  If you're vegan at the ballpark, this is probably the way to go.  They also carry Hebrew National Kosher Hot Dogs in pairing with MSP Kosher Hot Dog.  (Look for both in Section 129.)
Barrio Adobe Grilled Chicken Burrito. Barrio continues to deliver its own special taste to Target Field (Sections 105 and 305).  This year, they are featuring the Adobe Grilled Chicken Burrito (black beans, rice, Monterey Jack, avocado-tomatillo Pico, Pico de Gallo, salsa, fresh jalapeno) – as a Burrito or in a bowl ($11.00). Delicioso!  Add a margarita and you're ready for extra innings.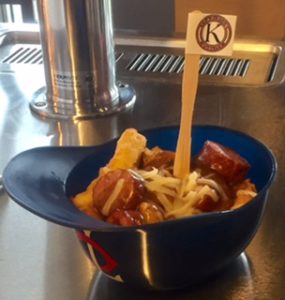 Kurd-Marczuk's (cart in Section 101) is  offering a Twins baseball cap filled with cheese curds, chopped Polish sausage, topped with gravy.  These were tasty, chewy, and easy to carry – I'd buy them without the souvenir mini-cap. (Prices here range from $9.50-$20.00.)
Murray's Shaved Smoked Beef. Murray's new offering for 2017 is the Shaved Smoked Beef Sandwich on a toasted bun, featuring Murray's garlic butter and house-cut, dill-seasoned chips.   For all the beef eaters out there, garlic and beef make a pertty good ballpark combo. Murray's will have a new cart in Section 116. ($14.50.)
These are just some of the new items. There are also such offerings as Buffalo Chicken Poutine; Boneless Barbeque and Buffalo Wings; Barrio Barbacoa Tacos; and Andrew Zimmern's Sloppy Ko (Korean barbeque). In addition, lots of favorites are back at locations like: Pizza Luce; Red Cow; Minnie and Paul's; Izzabella's Gelato; Mac's Walleye and Chips AND MANY MORE.  Again, for the full list of offering, prices and locations, click here.
If you're planning a trip to Target Field  and wondering about promotions, event and "deals," click here.
I tweet baseball @DavidBBRT
Read more BBRT baseball (Follow and Like) on the Baseball Roundtable Facebook Page.
Member:  Society for American Baseball Research (SABR); The Baseball Reliquary; Negro Leagues Baseball Museum; Baseball Bloggers Alliance.