Baseball Roundtable loves multi-talented players.  For example, among my current favorites are Rockies' "Lumber and Leather" 3B Nolan Arenado (two home run titles and five Gold Gloves in five MLB seasons); Angels' "Power and Speed" CF Mike Trout (youngest player to each 100 home runs and 100 stolen bases); and Astros' "Is there anything he can't do?" 2B Jose Altuve.  You get the idea.
BBRT recently focused on players that deliver exceptional offense and defense. You can see my post on MLB players who have won a Silver Slugger and a Gold Glove in the same season by clicking here.  In this post, Baseball Roundtable will focus on players who combined power and speed on offense – beginning with those who have led their league in home runs and stolen bases in the same season and working my way down to the kings of the 30/30 (HR/SB) Club.
————————
Power and Speed Factoid One:  Only three times in MLB history has a player led his league in both home runs and stolen bases in the same season.  Here they are:
Ty Cobb, Outfield, Detroit Tigers – 1909 – Nine home runs and 76 stolen bases
Ty Cobb, in just his third full MLB season (fifth MLB campaign overall) already had two batting titles and one stolen base crown under his belt.  Then, in 1909, he led the American League with nine home runs and 76 stolen bases – as well as with 216 base hits, 116 runs scored, a .377 average and 107 RBI.
Cobb, by the way, won just the one home run crown in his MLB career (1905-1928), but also earned six stolen base crowns and 12 batting titles – and led the AL in hits eight times, runs scored five times, RBI four times, triples four times and doubles three times. The Hall of Famer's final (24 seasons/3,034 games) stat line was .366-117-1,944; with 4,189 hits, 2,244 runs scored and 897 stolen bases.
Ty Cobb is the only the only player to lead his league in home runs and stolen bases without ever hitting the ball over the fence or out of the park.   In 1909, all of Cobb's AL-leading round trippers were of the inside-the-park variety.  
Jim Sheckard, Outfield, Brooklyn Superbas – 1903 – Nine home runs and 67 stolen bases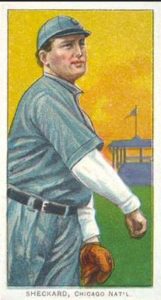 In his 17-season MLB career (1897-1913), Jimmy Sheckard won just one home run crown and a pair of NL stolen base titles. In 1903, he hit .332, with nine home runs, 75 RBI and 67 steals.  Considered one of the finest fielding outfielders of his time, Sheckard's career stat line was .274-56-813, with 465 steals in 2,122 games. Sheckard's best season was 1901, when he reached career highs in average (.354), base hits (196), home runs (11), RBI (104), doubles (29) and triples (a league-leading 19).
Chuck Klein, Outfield, Philadelphia Phillies – 1932 – 38 home runs and 20 stolen bases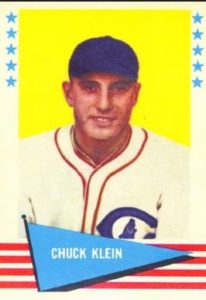 Chuck Klein successfully defended his 1931 home run crown (31 round trippers) with a league-topping 38 in 1932 – and he tossed in an NL-best 20 stolen bases. It was one of only two seasons in a 17-campaign career (1928-44) that the Hall of Famer reached double digits in thefts. In that 1932 season, Klein also led the NL in hits (226) and runs scored (152), while driving in 137 runs – a performance that earned him Most Valuable Player recognition.
Klein's career stat line was .320-300-1,201, with 79 stolen bases. He also recorded 2,076 base hits and scored 1,168 runs. He led his league in runs scored three times, hits twice, doubles twice, home runs four times, RBI twice and batting average once.
Chuck Klein won a Triple Crown in the only season to feature Triple Crown winners in both the AL and NL – and from the same city no less.  In 1933 (the season after his home run/stolen base leadership), the Philadelphia Phillies' Chuck Klein won the National League Triple Crow – hitting .368, with 28 home runs and 120 RBI. That same season, Philadelphia's AL entry (Athletics) also featured a Triple Crown winner, Jimmy Foxx (.356-48-163).
—————————
Power and Speed Factoid Two:  Only six players have won both a home run crown and a stolen base title during their careers.  Let's take a look at them.
You start, of course, with the three players from Factoid One – Ty Cobb, Jim Sheckard and Chuck Klein – then add:
Harry Stovey, Outfield/First Base – Worcester Ruby Legs, Philadelphia Athletics, Boston Reds, Boston Beaneaters, Baltimore Orioles, Brooklyn Grooms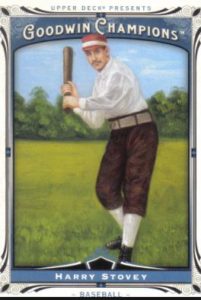 Playing from 1880 to 1893 (National League, American Association, Players League), Harry Stovey won five home run titles and two stolen base crowns. He led the NL in home runs in 1880 (six for Worcester) and 1891 (16 for Boston). Stovey also led the American Association in long balls in 1883 (14), 1885 (13) and 1888 (19) – all for Philadelphia. His two stolen base crowns came in 1886 (68 for Philadelphia of the AA) and 1890 (97 for Boston of the Players League). Over his career, Stovey hit .288, with 122 home runs, 912 RBI and 509 steals. In addition to his home runs and stolen base titles, he led his league in runs scored four tmes, doubles once, triples four times and RBI once.
Ed Delahanty, Outfield/First Base/Second Base – Philadelphia Quakers/Phillies, Cleveland Infants, Washington Senators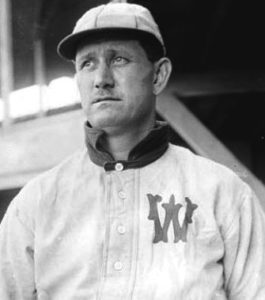 Ed Delahanty enjoyed a 16-season MLB career (National League, American League, Players League). He twice led his league in home runs – both times for the Phillies – with 19 in 1893 and 13 in 1896. He led the NL in stolen bases (Phillies) with 58 in 1898. The Hall of Famer also led his league in hits once, batting average three times, doubles five times, triples once and RBI three times.  His career stat line was .346-101-1,466, with 456 steals and 1,600 runs scored.
Delahanty hit over .400 three times in his career – .405 in 1894; .404 in 1895; and .410 in 1899.
Willie Mays, Outfield – New York/San Francisco Giants, NY Mets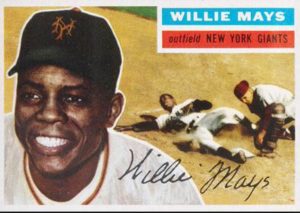 The "Say Hey Kid" won four home run crowns and four stolen base titles in his career – all of them with the Giants – just never in the same season. He led the NL in home runs in 1955 (51), 1962 (49), 1964 (47) and 1965 (52). He topped the league in stolen bases in 1956 (40), 1957 (38), 1958 (31) and 1959 (27).
In his MLB career (1951-73), the Hall of Famer also led the NL in hits once, runs scored twice, triples three times and batting average once.  His final stat line was .302-660-1,903, with 338 stolen bases, 3,283 hits and 2,062 runs scored in 22 seasons (2,992 games). He was the 1951 NL Rookie of the Year and the NL MVP in 1954 and 1965.  Mays, a true five-tool player, also earned 12 Gold Gloves.
So, there are your six players who have won both a home run title and a stolen base crown: Ty Cobb, Jim Sheckard, Chuck Klein, Harry Stovey, Ed Delahanty and Willie Mays.
———————–
Power and Speed Factoid Three: Only two players have both a 50-home run and a 50-stolen base season on their major-league resumes – Brady Anderson and Barry Bonds. 
Barry Bonds – 52 stolen bases for the Pittsburgh Pirates in 1990 and 73 home runs for the San Francisco Giants in 2001
No surprise here. Barry Bonds, the all-time MLB home run leader (762), reached forty or more home runs eight times in his 22-season MLB career (1986-2007 … Pittsburgh Pirates and San Francisco Giants) and stole forty or more bases three times.  What might be a surprise is that he only reached the fifty mark once in each category.
Bond's career stat line: .298-762-1,996, with 514 stolen bases.  He also had 2,935 hits and 2,227 runs scored.  He led his league in home runs twice, RBI once and runs scored once. He was also a seven-time league MVP, 14-season All Star and eight-time Gold Glover.
Brady Anderson – 53 stolen bases for the Orioles in 1992 and 50 home runs for the Orioles in 1996
A bit of a surprise here, since Brady Anderson's second-highest season home run total was just 24 and he only reached 20 home runs three times in 15 MLB seasons (1988-2002 … Red Sox, Orioles, Indians). Anderson did top 20 steals in seven seasons. Anderson, a three-time All Star, put up a career stat line of .256-210-761, with 315 stolen bases.  His best season was 1996, when he hit .297, with 50 home runs, 110 RBI and 21 steals.
---
SHORT BREAK:  Please take a few minutes to vote in Baseball Roundtable's (unofficial) Fan Hall of Fame balloting.  BBRT would like to get a nice fan sampling to compete with the final BBWAA vote.  Click here to access the ballot.  Thank you for helping out. 
————————-
Power and Speed Factoid Four: Only four players have hit 40 home runs and stole 40 bases in the same season. 
Okay, everyone pretty much knows this, but since there are no 50-50 seasons, the 40-40 list needs to be here.  I will, however, be brief.
Jose Canseco, Outfield, A's – 1988 – 42 home runs and 40 stolen bases
In 1988, Jose Canseco hit  .307-42-124, with 40 steals – earning the AL MVP Award. His final stats (17 seasons … 1985-2001) were .266-461-1,407, with 200 stolen bases. He was a six-time All Star, 1986 Rookie of the Year and a two-time home run champ.
Barry Bonds, Outfield, Giants –  1996 – 42 home runs and 40 stolen bases
In 1996, Barry Bonds hit .308, with 42 home runs, 129 RBI and 40 steals. For more on Bonds, see Factoid Three.
Alex Rodriguez, Shortstop, Mariners – 1998 – 42 home runs and 46 stolen bases
Alex Rodriguez hit .310, with 42 home runs, 124 RBI and 46 stolen bases for the Mariners in 1996. In a 22-season MLB career (1994-2013/2015-2016 … Mariners, Rangers, Yankees), Rodriguez hit .295, with 696 home runs, 2,086 RBI and 329 steals. He was a 14-time All Star, three-time MVP and two-time Gold Glover. During his career he topped 40 home runs in a season eight times (with 50 or more three times) and stole 20 or more bases six times.  He led the AL in home runs five times, runs scored five times, hits once, doubles once and batting average once.
Alfonso Soriano, Outfield, Nationals – 2006 – 46 home runs and 41 stolen bases
Alfonso Soriano barely missed the 40-40 club in 2002, when he hit 39 home runs and swiped a league-leading 41 bases for the Yankees. He joined the club four year later with a .277-46-95, 41-steal season for the Nationals.  In his 16-season MLB career (1999-2014 … Yankees, Rangers, Nationals, Cubs), Soriano hit .270, with 412 home runs, 1,159 RBI and 289 stolen bases. He was a seven-time All Star and led his league in runs, hits and stolen bases once each (all in 2002, when he hit.300-39-102, with 41 steals for the Yankees). He topped 30 home runs in seven seasons and exceeded 20 steals in five campaigns.
————————
Power and Speed Factoid Five: Two players share the record for most times in the 30-30 (home runs/stolen bases) Club – and they are a father-son combination.
Going into the 1950s, MLB's 30-30 Club had only one member – Saint Louis Browns' outfielder Ken Williams, who hit .332, with 39 home runs, 155 RBI and 37 stolen bases in 1922. (He led the AL in home runs and RBI.) It was the only season that Williams (who finished a 14-season MLB career with 196 homers and 154 steals) ever reached thirty in either category. Williams retired with a .319-196-916 stat line.
The next 30-30 season was recorded by Willie Mays in 1956 (he did it again in 1957); then Hank Aaron joined the group in 1963; and Bobby Bonds earned his membership in 1969.  By 1978, there had been ten 30-30 seasons in MLB – and Bobby Bonds had five of them.  Through 2017, 38 players have acheived a total of sixty 30-30 seasons.  Only two have five 30-30 campiagns on their resume:   Bobby Bonds and his son Barry Bonds.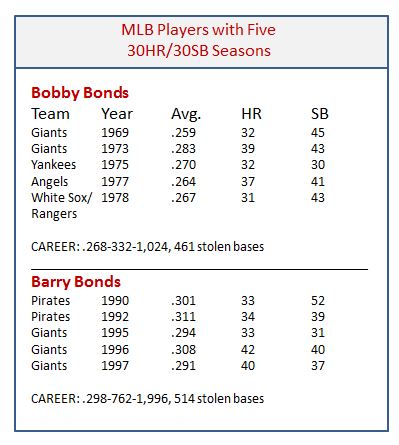 Key resources; Society for American Baseball Research; Baseball-Reference.com; Baseball-Almanac.com
I tweet baseball @DavidBBRT
Follow/Like Baseball Roundtable's Facebook Page here.   More baseball commentary, blog post notifications, prizes.
Member: Society for American Baseball Research; The Baseball Reliquary, The Negro Leagues Baseball Museum