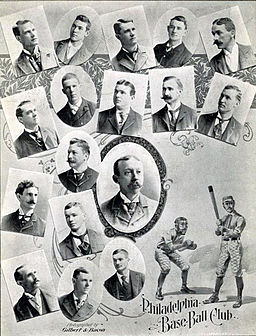 MLB has seen a total of 20 players put up a total of 28 (qualifying) .400+ batting average seasons – none, of course, since Ted Williams .406 in 1941. Fifteen of those 28 .400+ campaigns took place before 1900.  Even given the fact that slightly more than half of the .400+ seasons took place before 1900, the chance that four players on any one team would top the .400 mark in the same season seems unlikely. But that is exactly what happened in 1894, when the Phillies had an "all Hall of Fame" regular outfield, who all hit over .400 – LF Ed Delahanty (.405); CF Billy Hamilton (.403); RF Sam Thompson (.415).
What is somewhat surprising is that none of these .400-hitting regular Philadelphia fly-chasers led the National League – or even the Phillies – in batting average.
There were, in fact, a single-season MLB-record five qualifying .400 hitters in 1894.  Leading the National League, with an all-time MLB-record .440 average, was Boston Beaneaters' center fielder Hugh Duffy (another future Hall of Famer). Second in the league was Phillies' fourth/reserve outfielder Tuck Turner, who (in his second MLB season) played in 82 of the Phillies 132 games and hit .418. The third, fourth and fifth highest averages went to the Phillies mentioned aboce – Thompson, Delahanty and Hamilton.
The 1894 Phillies set a still-standing MLB record by hitting .350 as a team – 41 points above the NL team average (that season, eight of the 12 NL teams hit above .300).  Regardless of those offensive stats, the Phillies were – and remain – the only team ever to have four .400 hitters in a single season.  That season, Philadelphia's four outfielders collected 757 hits (for a .409 combined average), had a combined .485 on base percentage, scored 555 runs, drove in 456 and stole 160 bases. Again, all in just 132 games.  They included the NL leaders in RBI (Thompson, 149), runs scored (Hamilton, 198), slugging percentage (Thompson, .696), on-base percentage (Hamilton, .521), walks (Hamilton, 128) and stolen bases (Hamilton, 100). Oh yes, the Phillies finished fourth, at 71-57 (with four games designated as no-decision), 18 games behind Baltimore.
Here are the players in the Phillies' 1884 outfield.
Left Field – Ed Delahanty – Hall of Fame, 1945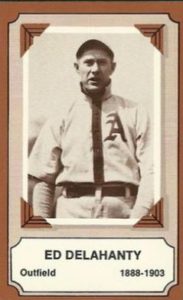 The 6'1"/170-pound right-handed hitter – whose size earned him the nickname "Big Ed" –  was 26-years-old and in his seventh MLB season (six in the NL, one in the Players League) in 1894.  That season, he hit .405, collecting 200 hits, scoring 148 runs and driving in 133 (in 132 games). Delahanty hit four home runs and stole 22 bases that season.
Delahanty hit .346 over a 16-season MLB career (1888-1903), leading the league in hits once, doubles five times, triples once, home runs twice, RBI three times, total bases twice and stolen bases once. He is one of only three players to hit .400+ in three seasons (the others are Ty Cobb and Rogers Hornsby).  Delahanty was also known as a fleet outfield with a strong arm – an all-around player.
His .346 career average if the fifth highest in MLB history and he is also one of only 18 players to hit four home runs in a game. Ed was one of four Delahanty brothers to play in the major leagues – Ed (1888-1903); Frank (1905-09, 1914-15); Jim (1901-02, 1904-12, 1914-15); Joe (1907-09); Tom (1894, 1896-97).
ED DELAHANTY'S MYSTERIOUS DEMISE

Ed Delahanty died – at the age of 35 – during the 1903 baseball season. Delahanty was with the Washington Senators at the time – and had been caught in an AL/NL contact dispute. (Delahanty had signed contracts with both the AL Washington Senators and the NL New York Giants.)  On July 2, the Senators had lost a 1-0 game to the Tigers in Detroit, dropping to 16-43 on the season.  It was the final game of the Detroit series and the team was set to board a train for Washington D.C. and a 21-game homestand. An apparently disgruntled (or despondent) Delahanty jumped the team and boarded a train headed from Detroit to New York City (a train crossed through Canada on the trip) – mysteriously leaving his belongings in his Detroit hotel.

On the journey to New York, Delahanty, who was known to have issues with alcohol, became increasing disruptive and was put off the train at Bridgeburg, Ontario (now Fort Erie) – near the International Bridge over the Niagara River.  Delahanty decided to cross the International Bridge on foot and, while on the bridge, was confronted by a night watchman.   Exactly how it happened is not clear, but Delahanty apparently escaped the watchman's grasp and ended up in the Niagara River. His body was found about a week later 20 miles downstream, below the Horseshoe Falls (the Canadian portion of Niagara Falls.) It was never determined whether Delahanty was pushed, fell or jumped to his death.

At the time, Delahanty – the 1902 AL batting champ – was hitting .333, but had played in just 42 of the Senators 59 games.
Center Field – Billy Hamilton – Hall of Fame, 1961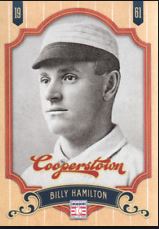 The center fielder in the Phillies' all-.400 outfield was 5'6"/165-pound speedster Billy Hamilton – whose daring on the base paths earned him the nickname "Sliding Billy."  The 28-year-old was in his seventh major league season and had already led his league (American Association and National League) in stolen bases three times, in addition to having the 1891 batting title under his belt. In 1894, in 132 games played, the left-handed hitter hit .403 and collected 225 hits – while also leading the NL in runs scored (an MLB all-time high of 198), walks, (128), stolen bases (100) and on-base percentage (.521).
Side note: In baseball's early days, stolen bases were not awarded in the same way as post-1900. At times, players were credited with a stolen base for moving up a base on a fly out, advancing more than one base on a hit and advancing on an error. Under those rules, stolen bases were considerably more prevalent.  Still, Hamilton's base-running was renowned and he did lead his league in stolen bases, under the rules of the day, five times.
Hamilton played 14 major league seasons, putting up a .344 lifetime average (tied with Ted William for seventh-best all time) and capturing a pair of batting titles. Hamilton was also an on-base percentage machine.  He led the league in walks five times (four consecutively from 1894-97) and in on-base percentage five time.  His career on-base percentage of .455 is the fourth-highest all time (behind Ted Williams, Babe Ruth and John McGraw). In addition, Hamilton led his league in runs scored four time and hits once.  He finished his 14-campaign MLB career with 1,697 runs scored in 1,594 games.  He also tallied 2,164 hits, 95 triples and 914 stolen bases (although various sources credit him with 912 or 937 steals).  His total bases rank third all time.
A GOOD START A (POSSIBLY) EVEN BETTER FINISH

Billy Hamilton is one of only six major leaguers – and the first ever – to open a game with a lead-off homer and end it with a walk off round tripper. He did it on May 17, 1893, as the Phillies topped the Senators 11-9 in ten innings.  Others to accomplish this feat are: Vic Power (Kansas City A's – May 7, 1957); Darin Erstad (Anaheim Angels – June 25, 2000); Reed Johnson (Toronto Blue Jays – June 15, 2003); Ian Kinsler (Texas Rangers – June 19, 2009); Chris Young (Arizona Diamondbacks – August 7, 2010).
Right Field – Sam Thompson – Hall of Fame, 1974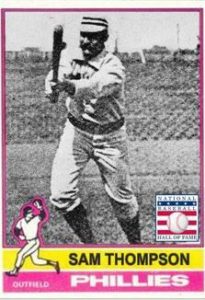 Right field on the 1994 Phillies was held down by another big man (for his time), 6'2"/207-pound left-handed hitting Sam Thompson. Thompson, who played in 15 MLB seasons and put up a .331 career average, had his best campaign in 1894, hitting .415, with 13 home runs and a league-leading 149 RBI in just 102 games. He came into the 1894 season already holding one batting title, one home run crown, one RBI crown and having led the league in hits twice. As with Big Ed Delahanty, Thompson's size and power earned him the moniker "Big Sam."  He was also known as a solid fielder with a rifle arm – and is still ranked number-12 all-time in outfield assists.
In his career, Thompson led the league in hits three times, doubles twice, triples once, home runs twice, RBI three times and batting average once,. He finished with a .331 average, 1,308 RBI, 1,261 runs scored, 126 home runs and 232 stolen bases (in 1,410 games).
20/20 VISION

Sam Thompson was the first player to reach 20 home runs and 20 stolen bases in the same season.
Outfield Reserve – Tuck Turner

Little (5'6"/155-pound) switch-hitting George "Tuck" Turner was the surprise of the Phillies' all-.400 outfield in 1894.  The 27-year-old was in just his second MLB season (he hit .323 in 36 games for the Philies in 1893) and played 82 games (56 in LF, 22 in RF, three in CF and one on the mound). In those 82 games, Turner hit .418 (second in the NL and highest on the Phillies), collected 145 hits, scored 95 runs and drove in 84,  Turner followed that up with a .386 average (59 games) in 1895 – giving him a .388 average over his first three MLB campaigns. Turner played three more MLB seasons, but hit only .260 (202 games) – and left the majors after the 1898 season with a .320 career average. (According to news reports at the time, Tucker was plagued with bouts of malaria during those final three seasons.)
THE OLD SWITCHEROO

Tuck Turner's .418 average in 1894 is the highest MLB season average ever for a switch hitter.
Primary resources:  Society for American Baseball Research; Baseball-Reference.com; Baseball-Almanac.com; MLB.com
I tweet baseball @DavidBBRT
Follow/like Baseball Roundtable's Facebook page here.
Member: Society for American Baseball Research; The Baseball Reliquary; The Negro Leagues Baseball Museum.