Spring Training is approaching and that gets BBRT thinking about the MLB prospects for the coming season – whom to watch in Spring Training for signs of things to come.  BBRT's choices at times may seem to defy traditional reasoning – driven by such factors as: numbers like a 102.8 mph fastball, a single-season record 155 stolen bases or 133 strikeouts versus only 28 walks;  events like a World Series base running gaff; opportunities created by trades or free agent losses; or even just because BBRT likes the name (Wouldn't you like to hear sportscasters pronounce Foltynewicz?).  At any rate, in no particular order, here are the ten prospects BBRT will be watching most closely in 2014.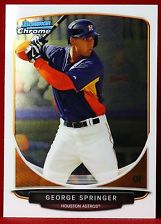 George Springer (Astros, OF) 23-years-old, 6'3",  200 lbs.
Players that bring together the combination of power and speed are special (at least in the eyes of BBRT), and Astros' prospect George Springer is one of these.  Springer was originally drafted in 2008 by the Twins (48th round), but chose the University of Connecticut instead – where he earned First Team All-American and Big East Player of the Year honors.   He was the Astros' first-round pick (11th overall) in the 2011 draft.
In 2012, at High A and AA, Springer played 128 games and put together a combined line of .302, 24 HRs, 87 RBI and 32 stolen bases.  He moved up to AA/AAA last season and didn't miss a beat – 135 games, .303, 37 HRs, 108 RBI and 45 steals – earning Minor League Baseball's Offensive Player of the Year honors.  He still needs to work on plate discipline (145 walks versus 312 strikeouts over the past two seasons), but (given the state of the Astros) it may be time to let him continue to develop at the major league level.  BBRT will be watching Springer in spring training and hopes to see his power and speed bringing excitement to the Astros' lineup in 2014.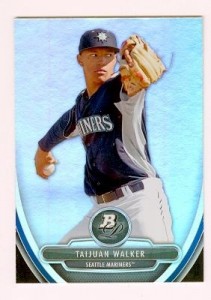 Taijuan Walker (RHP, Mariners), 21-years-old, 6'4", 210 lbs.
The Mariners' 2010 first-round draft pick (43rd overall), Taijuan Walker and his mid-90s fastball made their Mariners' debut in late August of 2013.  After going 5-3, 3.61 with 64 strikeouts in 57 1/3 innings at Triple A Tacoma, Walker went 1-0, 3.60 with four walks and twelve strikeouts in three late-season starts (15 innings pitched) for the Mariners.
Walker – who complements a live four-seam fastball with a solid cutter, workable (but still inconsistent) curve and a developing changeup – rang up a 3.49 ERA with 400 strikeouts (versus 149 walks) in 371 2/3 innings over four minor league seasons (23-26 won-lost).
The Mariners appear to have reserved a spot for Walker in their 2014 rotation – and, reportedly refused to include the high-potential right-hander in a trade for David Price.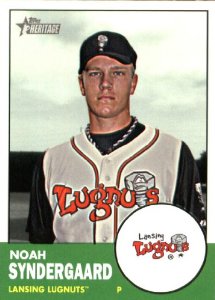 Noah Syndergaard (Mets, RHP) 21-years-old, 6'6", 240 lbs.
Noah Syndergaard, a Blue Jays' first-round draft pick (38th overall) in 2010, was acquired by the Mets in the R.A. Dickey trade – and it's looking like a good move.
In 2013, his first season in the Met's system, Syndergaard split time between High A and Double A – going 9-4, with a 3.06 ERA and 133 strikeouts in 117 2/3 innings.  Perhaps more telling is that fact that, while striking out 133, he walked only 28.  For his four minor league seasons, the hard-throwing (mid-90s, with a decent curve) righty is 22-12, with 329 whiffs and 81 walks in 293 2/3 innings.
With Matt Harvey facing Tommy John surgery, the Mets need to shore up their rotation.  While Syndergaard will likely start the season at Triple A, solid performance at that level could lead to a mid-season call up and another exciting mound presence for the Mets.  BBRT will be watching.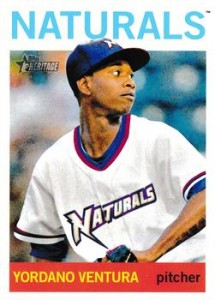 Yordona Ventura   (Royals, RHP) 22-years-old, 5"11", 180 lbs.
Remember this number – 102.8 mph – more precisely 102.816 according to CBSSports.com.  That number represents the second fastest pitch by  starting pitcher (and the fastest regular season pitch by a starter) ever recorded by the Pitchf/x tracking system (dating back to 2007).  It was thrown by Royals' prospect Yordona Ventura in his very first major league appearance (September 17, 2013).  That accomplishment, pun intended, put Ventura on BBRT's 2014 prospect radar screen.  By the way, so as not to create too much excitement, Cleveland catcher Yan Gomes did turn the four-seamer around for a single.
(Note: The honor of the fastest pitch ever recorded during a game on Pitchf/x was thrown by  the Reds' Aroldis Chapman, who reached 105.1 mph versus the Padres on September 24, 2010. The fastest pitch ever recorded for a starter on the system goes to the Tigers' Justin Verlander, who threw one 103.2 mph in game five of the 2011 ALCS. Apparently, even after more than 260 regular and post-season innings, Verlander had a little zip left in his arm. )
Back to Ventura.  The hard-throwing prospect signed with the Royals as an international free agent in 2008.  In five minor league seasons, he went 20-13, 3.47, with 455 strikeouts (142 walks) in 415 1/3 innings.  He earned his call up by going 8-6, 3.14 with  155 strikeouts and 53 walks in 134 2/3 innings at AA/AAA in 2013.   He brought a 100-mph fastball and a solid curve to the majors.  The only question seems to be whether, at his size, he will have the endurance to be a 200 innings-pitched starter.  Then again, once he fully harnesses his stuff, he could be an explosive closer.  Ventura may need a bit more seasoning, but keep an eye on him in Spring Training.  A strong spring could earn him a roster spot.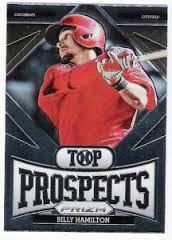 Billy Hamilton (Reds, OF), 23-years-old, 6', 160 lbs.
Another memorable number for this post – 155. That's how many bases the speedy Hamilton stole in 2012, in 132 games at High A Bakersfield and Double A Pensacola. It's also the all-time single-season record for organized baseball.  Hamilton followed up in 2013 by stealing 75 bases in 132 games at Triple A Louisville before a September call up to the Reds.  In 13 games for Cincinnati, he hit .368 (9-for-19) and stole another 13 bases in 14 attempts.  I wouldn't let that average fool you, Hamilton still has plenty to learn at the plate (he hit just .256 at Louisville). You can't, however, teach speed and the Reds think highly enough of Hamilton to have penciled him in to replace the departed Shin-Soo Choo.
Hamilton has to work on his ability to put the ball in play – so he can put his speed into play.  However, I wouldn't bet against him.  He has shown a willingness to put in the work, agreeing to convert from a natural right-handed hitter to a switch hitter and from shortstop to centerfield.  Clearly, Hamilton promises a lot of excitement on the base paths – and, if he can hit .250 in his first full MLB season, the Reds are likely to be pleased.  He will definitely be fun to watch.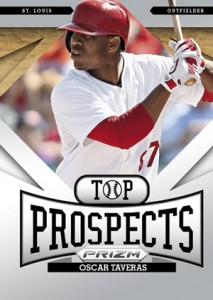 Oscar Taveras (Cardinals, OF), 21-years-old, 6'2", 200 lbs.
While an ankle injury cut Oscar Taveras' 2013 season short (46 games, .306 average, five home runs, 32 RBI for the Triple A Memphis Redbirds), the 21-year-old outfielder (who already has five minor league seasons under his belt) is on everyone's radar.  Taveras says he has recovered from ankle surgery and rehab is going well.  With that in mind, BBRT expects to see Taveras patrolling the Cardinals' outfield in 2014.  He really has little left to prove at the minor league level. Signed by the Cardinal as an undrafted free agent in 2008, Taveras has put up a .320 average, with 45 home runs and 275 RBI in 374 games, while advancing steadily through the Cardinals' system.
In 2011, at age 19, he captured the Midwest League (Class A) batting title, hitting .386, with eight home runs and 62 RBI in 78 games. In 2012, he found his power stroke at AA Springfield, leading the Texas League with a .321 average, and adding 24 homers, 94 RBI and ten stolen bases.  His performance earned Taveras Texas League Player of the Year honors.
A free swinger in the Vlad Guerrero/Tony Oliva mold, Taveras has drawn only 125 walks in 1,598 plate appearances, but he has also struck out only 212 times and shown an ability to make solid contact with pitchers off the plate.  Watch him in Spring Training.  If he's healthy, he'll be going north.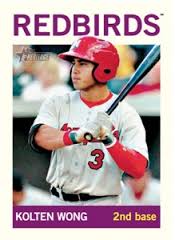 Kolten Wong (Cardinals, 2B) 23-years-old, 5'9", 185 lbs.
Kolten Wong is one of two "prospects"  on BBRT's list who already has post-season experience – going one-for-six in seven 2013 post-season games.  He first came to BBRT's attention in Game Four of the World Series, when he was brought in as a pinch runner in the ninth inning with his Cardinals trailing 4-2. Wong was picked off first (with two out and Carlos Beltran at the plate) by Red Sox closer Koji Uehara – marking the only World Series game ever to end on a pick-off play.  Given that negative attention, BBRT is rooting for Wong to have a strong 2014 with the Cardinals.
Wong was drafted out of high school by the Minnesota Twins in the 16th round of the 2008 MLB draft, but chose to attend the University of Hawaii.  There he played for the Hawaii Rainbow Warriors and was named a Baseball America All-American in 2011. The Cardinals selected him in the first round (22nd overall) of the 2011 draft.
Wong hit only .153 in 32 games (59 at bats) for the Cardinals at the end of the 2013 regular season.  That, however, is not an indication of his potential.  He was called up after hitting .303, with 10 home runs, 45 RBI and 20 stolen bases in 107 games at Triple A Memphis – and has posted a .301 average over three minor league seasons.  The trade of David Freese, which should open up more time at third base for Matt Carpenter, indicates the Cardinals are confident Wong can show his offensive potential at the MLB level.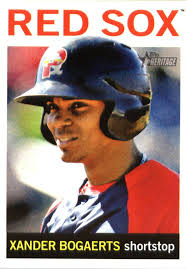 Xander Bogaerts (Red Sox, SS-3B), 21-years-old, 6'3", 185 lbs.
Seems strange to list a player who sports a .296 average in 12 post-season games (.238 in six World Series contests) among "prospects,"  but Bogaerts' still has only 18 games of regular-season major league experience (.250 in 44 at bats, with seven runs, five RBI, one HR and one stolen base. A smooth fielder who came up as a shortstop, he split his time between SS and 3B for the Red Sox down the stretch drive. Bogaerts' 2014 position and playing time may be determined by where Red Sox shortstop Stephen Drew signs. (Reports are that Drew has indicated he is willing to play multiple positions.) Bogaerts, ranked as 2014's top shortstop prospect by MLB.com, hit .296 with 54 home runs, 235 RBI and 17 steals in four minor league seasons.  He is considered a natural hitter, who will develop power to go with a solid average as he matures.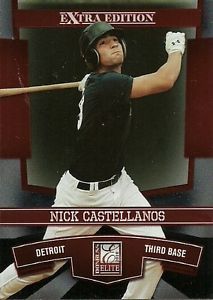 Nick Costellanos (Tigers, 3B-OF) 21-years-old, 6'4", 210 lbs.
Prince Fielder gone, Miguel Cabrera moving over to first base – enter Tigers 2010 first-round pick (44th overall) Nick Costellanos.  The 21-year-old caught BBRT's attention because of the opportunity and challenge he faces as Detroit revamps its lineup.  Considered one of the minor leagues' best pure hitters, with developing power, Detroit was working to smooth Castellanos' path to the big leagues even before the Fielder departure. With the promising prospect blocked by MVP Cabrera at third base, the Tigers switched Costellanos from the hot corner to the outfield in 2013.  He responded with a .276 average, 18 home runs and 76 RBI at Triple A.  In four minor league seasons, his line is .303-35-212.  He hit .278 in 18 at bats after a September call up to the Tigers.   Now a spot at third is open, and BBRT is anxious to see what this youngster can do at the major league level.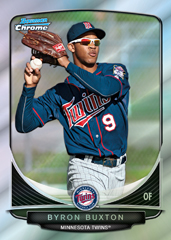 Byron Buxton (Twins, OF) 20-years-old, 6'2", 189 lbs.
Even though he's not likely to see action at the major league level in 2014, BBRT had to have a Twin to watch and Buxton earned that position.  Buxton is the 2013 winner of the J. G. Taylor Spink Award (given by Topps and Minor League Baseball to the Minor League Player of the Year), is rated baseball's top prospect by MLB.com, was selected as the Midwest League's 2013 MVP, and earned Minor League Player of the Year recognition from Baseball America.
The second player chosen in the 2012 draft, Buxton is proving a sound choice.  In his first full minor league season, split between Class A Cedar Rapids and High Class A Fort Myers, Buxton hit .334 with 12 homers, 77 RBI, 109 runs and 55 stolen bases in 125 games. While most expect Buxton to start the season at Double A, he has been invited to Twins Spring Training, and BBRT will be watching his progress.  Twins fans could look forward to a late season call up.
Finally, here are a few other prospects BBRT will be checking in on – just with a little less regularity.  
Miguel Sano (Twins, 3B) 20-years-old, 6'3", 195 lbs.
Baseball fans in Minnesota are following this super prospect. Miguel Sano, just 20-years-old, already has 90 minor league homers (.279-90-291 in 379 minor league games).   Not quite ready, but has perhaps the best power potential in the minors. The Twins needs at third base could speed his path to the majors.
Kris Bryant (Cubs, 3B) 22-years-old, 6'4", 215 lbs.
Kris Bryant was the Cubs 2013 first round (second overall) draft pick and the first-team college All American and 2013 College Player of the Year (University San Diego) followed up by being recognized as MVP of the Fall League, where he hit .364 with 6 home runs in 20 games.   In his first minor league season (2013), at three levels, Bryant hit .336, with nine homers and 32 RBI in 36 games.
Raul Alberto Mondesi (Royals, SS) 18-years-old, 6'1", 165 lbs.
Raul Mondesi is hoping to follow in his dad (Raul Ramon Mondesi) to the major leagues.  The senior Mondesi had a 13-year MLB career, during which the outfielder hit .273 with 271 home runs and stole 229 bases. "Mondesi the Younger" has solid skills and signed with the Royals (for a reported $2 million) at age 16.  A switch hitter and strong defensive player, Mondesi hit .261, with seven homers, 47 RBI and 24 steals in his first minor league season.  Still a long way from the major leagues, but BBRT always enjoys following "baseball families."
Mike Foltynewicz (Astros, RHP) 22-years-old, 6'4", 200 lbs.
BBRT wants this young man to make the majors, if only to see his last name on the uniform and hear the sportscasters try to pronounce it.  And he has a good chance – a fastball that reaches the upper 90s and a four-year minor league record of 25-21, 4.74 with 370 whiffs in 460 innings pitched.
BBRT welcomes your comments on prospects you'll be watching in 2014.
I tweet baseball  -  @DavidBBRT