There were plenty of highlights in August – pennant races, a trio of Immaculate Innings, landmark home runs by rookies and veterans, near-perfect games, a team hitting over .300 for the month and more.  We will get into all that in this post – the traditional Baseball Roundtable monthly wrap of stats and stories – but from this vantage point, the highlight of the month was MLB's first-ever Little League Classic.
http://Embed from Getty Images

On August 20, MLB held its first Little League Classic (in conjunction with the Little League World Series).  It included an MLB game between the Pirates and Cardinals played in a venerable minor league ballpark (91-year-old Bowman Field) across town (Williamsport, PA) from the Little League World Series. The 2,366-seat ballpark was packed for the event – primarily with Little Leaguers and their families.

The Pirates came away with a 6-3 victory and the star of the contest was Pirates' 1B and cleanup hitter Josh Bell, who had a single, home run (his 21st of the season) and four RBI. The real winners, however, were in Little League uniforms, as the Pirates and Cardinals players, coaches and staff spent most of the pre-game day mingling with the youngsters – touring the facilities, answering questions, signing autographs, taking selfies and watching their games. (How cool when the guy watching you in a Matt Carpenter jersey IS Matt Carpenter.) Cardinals' players Tommy Pham and Carlos Martinez even popped for snow cones for the kids seated near them (200 snow cones in all) as they watched the Little Leaguers compete.

Clearly, the players (both Little League and Major League) and fans all had a good – no make that GREAT – time and I hope MLB will make the Little League Classic an annual event. In another effort to add excitement for players and fans, August also saw the first-ever MLB Players Weekend – bringing a little color to the game and offering players a chance to express themselves in personalized socks, equipment and nicknames.  For BBRT's take on that successful promotion, click here.
_________________________________________
Now, let's get down to the traditinal monthly wrap up.  As usual, there will be plenty of stats AND plenty of stories.  We'll look at the month of August first – and drop in the year-to-date (through August 31) standings and stastical leaders at the end of the post.  For those who are less statistically inclined, it's pretty easy to skip over the stat-heavy sections and go right to the stories that caught Baseball Roundtable's interest over the course of the month.  Along the way, you'll also find BBRT's Players and Pitchers of the Month and a look at August's most successful teams.
BASEBALL ROUNDTABLE'S AUGUST PLAYER(S) AND PITCHER(S) OF THE MONTH

National League Player of the Month – Giancarlo Stanton, Marlins

What can you say about the numbers Giancarlo Stanton put up in August?  He was a beast. The Marlins' RF banged out an MLB-leading 18 home runs (tying Rudy York's record for August – set in 1937 – and second in MLB history for any month, trailing only Sammy Sosa's 20 home runs in June of 1998.) Stanton also led all of MLB in August RBI (37) and runs scored (28), while hitting .349.  Our August NL Player of the Month, ended August at .289-51-110 on the season.  Also in the running, but well behind Stanton, were Phillies' rookie Rhys Hoskins – who made his MLB debut August 10 – and put together a .304-11-25 line for the month. More on RH in the stories section. The Diamondbacks' Paul Goldschmidt also had an honor-worthy month – .330-11-31.  But, ultimately and easily, Stanton is the guy.

National League Pitcher of the Month – Corey Knebel Brewers

BBRT's NL Pitcher of the Month is Brewers' closer Corey Knebel, who went 13-f0r-13 in save opportunities, posted a 0.00 ERA and fanned 21 batters in 15 1/3 innnigs.  Knebel – saving 13 of the Brewers' 15 August wins – kept the Brew Crew in the NL Central race.

The Cubs' Jake Arrieta also drew consideration after an August record of 4-1, with a 1.21 ERA in six starts, as  did the Nationals' Geo Gonzalez,who who went 4-1, 2.23 in five starts (but for a loss and five earned run in six innings on August 31, Gonzalez might have slipped past Knebel.

AL Player of the Month – Manny Machado, Orioles

Picking an AL Player of the Month was a bit more challenging than selecting Giancarlo Stanton for the NL recognition. Ultimately, BBRT selected Orioles' 3B Manny Machado, who hit .341, led the AL in RBI (35) and tied for the league lead in August home runs (12) – while also continuing to deliver plus defense at the hot corner. One unusual stat from Machado's August performance – despite his strong numbers, he only drew three walks over the entire  month (also only 11 strikeouts).

Running a very close second was Tim Beckham, who celebrated his move from the Rays to the O's (and his new job as the Orioles' shortstop) by leading MLB with 50 August hits and a .394 average. Beckham also led the AL in runs scored for August with 27 – and added six home runs and 19 RBI. Before joining the Orioles, Beckham's 2017 line with the Rays was .259-12-36 in 87 games. Looks like crab cakes agree with him. I also looked at the Rangers' ageless Adrian Beltre, who went .330-7-30 for the month (one of only five major leaguers to reach 30 RBI).

AL Pitcher of the Month – Corey Kluber, Indians

Corey Kluber earned the honor by going 5-1, with a sub-2.00 ERA (1.96) in six starts. The Indians' righty averaged 7 2/3 innings per start and fanned an MLB-leading  54 batters (against just six walks) in 46 innings.  In his six starts (including a pair of complete games), Kluber never gave up more than six hits and only once surrended more than two runs (three).  In his only loss, he gave up two runs on four hits  in 7 2/3 innnigs, while walking one and fanning 12.

Also in the runnig were the Orioles' Dylan Bundy, who went 4-0, 2.00 in four starts, fanning 45 in 36 innings; the Indians' Trevor Bauer (5-0, 2.31); and the Rays' Alex Colome, ten-for-ten in save opportunities, with a 0.75 ERA for the month.
__________________________________________________
TEAM STATS – TWINS AND NATIONALS; MOST AUGUST WINS
We saw a bit of shifting in the standings in August.  First, nobody won more games (or even as many) as the Twins, who went 20-10 and moved into the second AL Wild Card spot. Ironically, Minnesota closed out July by losing six of their last seven and became sellers rather than buyers at the trade deadline (most notably dealing their All Star closer Brandon Kintzler). Then, in August, their young bats got hot and the Twin scored an AL-high 177 runs. Among the keys to the Twins' resurgence were 24-year-old SS Jorge Polanco (.373-6-23 for the month); veteran (and former AL MVP) 1b Joe Mauer (.336-1-12); 23-year-old CF and defensive whiz Byron Buxton (.324-8-22); and 25-year-old LF Eddie Rosario (.307-9-25). Overall, the Twins hit .280 with 50 roundtrippers for August (both second only to Baltimore in the AL), and also logged the fifth-best staff ERA in the AL (3.78).
ROLLING A 300

In August, the Orioles hit .306 as a team – the only MLB squad to hit .300 or better.  They also led all of MLB with 57 August round trippers.  The only other team to reach 50 was the Twins. 
While the  Twins moved into a Wild Card spot, they didn't gain much ground on the Central Division-leading Indians, who rode a pitching staff with the AL's best August ERA (3.08), fewest walks and most strikeouts to a 19-win (versus nine losses) month. Leading the way for the Indians were Corey Kluber and Trevor Bauer – a combined 10-1, 2.11 for the month. Other AL teams hot during the dog days of August were the Red Sox (18-9), Angels (18-10) and Orioles (17-12).  At the other end of the spectrum were the White Sox (11-18); Tigers (11-17) and A's (11-16). The Red Sox' strong month enabled them to overtake (and build a 4 1/2 game lead over) the Yankees, who were in first place August 1, but faded with a 14-15 record for the month.
RUNS – WE DON'T COUNT THE STINKIN' RUNS

Of the teams that would qualify for the playoffs as of August 31, only the Twins have a negative run-differential on the season – having scored 646 runs and given up 661 for a -15. The Dodgers have the largest postive run differential year-to-date at +209, while the Padres have the largest negative at -150.  (Ouch!)
The Nationals led the pack in the NL, with 18 wins (versus 11 losses) – driven by a pitching staff that turned in an NL -low ERA of 3.19 for the month. The names of the biggest contributors might surprise you. Gio Gonzalez was the staff leader at 4-1, 2.23 in five August starts and in the bullpen, trade-deadline newcomer Sean Doolittle chipped in nine saves and a 1.38 ERA. The offense wasn't bad, tallying the NL's fifth-most runs for the month, but it was really the pitching that enabled the Nats to expand their division lead by a game, despite the Marlins solid 17-12 August (led by Giancarlo Stanton's .349-18-37 performance). The Dodgers lost their last five games in August, but still finished 17-10 – with a 16-game lead over the Diamondbacks. At the bottom of the NL's August results were the Mets (10-20) and the Phillies (11-19).
As we go into September, the closest division races are in the NL Central, where the Cubs lead the Brewers by 3 1/2 and the AL East, where the Red Sox lead the Yankees by 4 1/2.  The team farthest out of first place is the Giants, 40 games out. The best race going may be for the two AL Wild Card spots – with a 3 1/2 game spread among the Yankees, Twins, Angels and Orioles.  FULL STANDINGS AND EACH TEAM'S AUGUST RECORD IN THE CHART NEAR THE END OF THE POST. 
IF THE SEASON ENDED AUGUST 31, YOUR PLAYOFF TEAMS WOULD BE …

NL: Dodgers, Nationals, Cubs.  Wild Cards: Diamondbacks, Rockies

AL: Indians; Astros; Red Sox; Wild Cards: Yankees, Twins  
__________________________________________
NOW FOR AUGUST TEAM STATISTICAL LEADERS
TEAM BATTING LEADERS FOR THE MONTH OF AUGUST
Runs Scored (MLB Average – 132)
NL: Cubs – 191; Reds – 165; Cardinals – 162
AL: Twins – 177; Orioles – 175; Rangers – 156
FEWEST TALLIES

No team scored fewer runs in August than the Rays, with just 94 – the only team with less than 100 tallies for the month. The Brewers trailed all NL teams with just 103 August runs. The Padres had the lowest team batting average for the month at just .225 (the NL average was .254); while the Rays put up the lowest average in the AL at .228 (leaguer average – .258).
Average (MLB Average – .256)
NL:  Cubs – .290; Cardinals – .280; Braves – .273
AL: Orioles – .306; Twins – .280; Rangers – .275
SLUGGING PERCENTAGE

The Orioles were the only team  with a slugging percentage above .500 for the month (.534 – more than 100 points above the MLB average for August), while three teams finished with slugging percentages under .400 (Pirates – .367; Padres – .381; Giants – .392).
Home Runs (MLB Average – 37)
NL: Reds -49; Cubs – 48; D-backs – 42
AL:  Orioles – 57; Twins – 50; Indians – 46
Stolen Bases (MLB Average – 15)
NL: Reds – 20; Nationals – 19; Padres & Brewers – 18
AL: Angels- 27; Red Sox – 25;  Twins – 22
 GOTCHA!

The only teams to swipe fewer than ten bases in August were the Pirates, Cardinals and Orfioles (nine each). Atlanta had the worst success rate – with 14 steals in 25 attempts (56 percent). Cleveland was successful a MLB-best 89 percent in August (17-for-19). 
Walks (MLB Average – 92)
NL: Reds – 141; Cardinals – 114; Cubs – 110
AL: Twins – 106; Red Sox – 104; Angels & Rangers – 103
FREE SWINGERS

When you talk about free swingers, look to the Brewers and Cubs, who each fanned an MLB-leading 274 times in August.  The White Sox led the AL with 265 . 
 TEAM PITCHING LEADERS FOR THE MONTH OF AUGUST
Earned Run Average (MLB average – 4.38)
NL: Nationals – 3.30; Dodgers – 3.60; Brewers – 3.72
AL: Indians – 3.08; Rays – 3.34; Angels – 3.62
Send Reinforcements. Quickly!

Seven teams had ERAs over 5.00 for August – topped by the Royals at 5.89. Then came the Tigers (5.69); White Sox (5.63); Reds (5.42); Phillies (5.40); and A's (5.26); and Mariners (5.03). 
Fewest Runs Allowed (MLB average – 132)
NL: Dodgers – 97; Nationals – 98; Brewers – 111
AL: Indians – 87; Rays – 96; Angels – 110
Strikeouts (MLB Average – 230)
NL: Dodgers – 260; Cubs – 259; Mets – 255
AL: Indians – 290; Yankees – 268; Red Sox – 266
FATTENING UP THE OLD AVERAGES

Opponents hit a lusty .294 against Tiger pitching in August (MLB's worst Batting Average Against). The Phillies' staff was the most accommodating in the NL at .287.
Fewest Walks Allowed (MLB Average – 92)
NL: Dodgers – 71; Rockies – 75; Giants – 82
AL: Indians – 68; Twins – 70; Rays – 71
POWER AND PRECISION

The league leaders in August pitchers' strikeouts – Dodgers and Indians – also each gave up the fewest walks in thier leagues. I guess they were not only throwing hard – but knew where the ball was going. 
Saves (MLB average – 8)
NL: Brewers – 14; D-backs – 13; three with 10
AL: Angels – 12; Mariners &  Rays – 11
Blown Saves

The Royals' pen blew the most saves in August with six – and also had the lowest save percentage (40 percent).
Now on to the MLB August stats and stories.
_______________________________________
YOU'VE SEEN SOME (TEAM) STATS, HOW ABOUT A FEW AUGUST STORIES?
THE RH FACTOR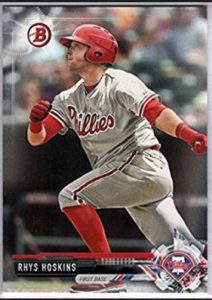 There were some "powerful" stories in August.  Number-one – at least from Baseball Roundtable's vantage point – was the fast start of RH, Phillies' rookie Rhys Hoskins. The 24-year-old rookie LF/1B made his debut August 10 (He was hitting .284, with 29 home runs and 91 RBI for the Triple A Lehigh Valley Iron Pigs.).In his first major league at bat, Hoskins struck out looking versus the Mets' Jacob deGrom. His next trip to the plate, he hit into a 4-6-3 double play. And in his final plate appearance of the day, he drew a six-pitch walk. After four games, things did not look much better. Hoskins was one-for-sixteen (.077), with one run scored and one RBI.
In Hoskins' fifth game (August 14), things began to get interesting, as he went two-for-four with a pair of home runs.  Then between, August 14 and 27, Hoskins went on a tear – 18-for-51 (.353) in 14 games, with 11 home runs and 23 RBI.   That gave Hoskins the record (we do track everything in baseball) for the fewest games played by a player reaching 11 home runs (18), as well as the fewest at bats to reach that number (64). Note: Hoskins was also the fastest to reach the nine- and ten-home run marks, but who's counting. And,  just to top it off, young Mr. Hoskins – on August 27 –  made a sliding, shoestring catch to start a 7-4-3 triple play.
6 – 20- 25: CUBS LUCKY NUMBERS
On August 30, Cubs' 22-year-old rookie Ian Happ (who, by the way, has played second base, third base and all three outfield positions this season) hit his 20th home run of 2017.  Nice job for a rookie – and he helped set an MLB record (another that falls into the "We count everything" category). With that homer, the Cubs became the first team with six players, age 25-or-under with 20 home runs.  The others are: Anthony Rizzo (31 HR this season); Kris Bryant (25); Kyle Schwarber (24); Wilson Contreras (21); Javier Baez (20).
FORTY-FOUR GOING ON THIRTY
On August 20, the Twins (still in the Wild Card chase, looked to 44-year-old July pickup Bartolo Colon to win a big game (against the Diamondbacks) for Minnesota. Colon, in his twentieth MLB season, came through – going six innings (seven hits, two walks, four runs and six strikeouts) in 12-5 Twins win.  (The nine runs the Twins put on the board in the first inning certainly helped.) It was Colon's third win in five decisions (with a 4.46 ERA in seven starts) since joining the Twins. Colon had been 2-8, 8.14 with the Braves at the time of the trade.
That's not what made this contest special, however. Colon's victory was his first against the Diamondbacks and made him the 18th pitcher to record a victory against all thirty current MLB franchises. On his way to completing the victory circuit, Colon (who ended August with 239 MLB wins) pitched for the Indians, Expos, White Sox, Angels, Athletics, Mets, Braves and Twins. Here is your list of pitchers who have carved a victory notch in their belt (a little Bartolo-pun there) against each of the thirty franchises: Al Leiter; Kevin Brown; Terry Mulholland, Curt Schilling; Woody Williams; Jamie Moyer; Randy Johnson; Barry Zito; A.J. Burnett; Javier Vazquez; Vincente Padilla; Derek Lowe; Dan Haren; Kyle Lohse; Tim Hudson; John Lackey; Max Scherzer; Bartolo Colon.   Colon, by the way, had a strong August – going 4-1, 3.40 for the month – and helping the Twins stay in the Wild Card hunt. 
21 – GOING PAST 30
On August 2, Dodgers' 21-year-old rookie first baseman Cody Bellinger hit his 30th home run of the 2017 seasons (in a Dodgers 5-3 loss to the Braves). The long ball made Bellinger just the tenth NL rookie to reach the 30-HR mark. Bellinger ended the month of August 34 home runs on the season,well within striking distance of the NL rookie record of 38 (shared by the Braves' Wally Berger, 1930 and the Reds' Frank Robinson, 1956).  The overall record for rookies – 49 by the Mark McGwire of the A's in 1987) seems out of reach.  Surprisingly, despite his 34 dingers, Bellinger does not lead MLB rookies in 2017 homeruns.  That honor goes to the Yankees' Aaron Judge with 37 at the end of August.
A SHIFTY SITUATION
On August 29, Dylan Bundy of the Orioles got the start against the Mariners – and came away with a complete-game, shutout victory (4-0). He almost came away with a whole lot more, however. With one out in the fourth inning, Bundy had allowed three base runners – one on an error and two on walks – and no hits. That brought up Mariners' 3B Kyle Seager and brought on a defensive shift that moved Orioles' 3B Manny Machado over to shortstop territory and left the hot corner vacant. Seager beat the shift with a bunt toward first base, logging the Mariners' first hit.
Seager's shift-beating bunt single would, ultimately, turn out to be the Mariners' ONLY hit – as Bundy allowed only a safe-on-error and hit-by-pitch the rest of the way.  He finished with a one-hit, twelve-strikeout shutout.  For another August near no-hitter that caught my eye, read on after the sidebar box below.
WHERE WERE YOU WHEN THE SHIFT HIT THE FANS?

Probably in the stands.  In the 2017 edition of the "Bill James Handbook" (Acta Sports, Chicago Il), writer/researcher John Dewan reports that MLB teams used defensive shifts 2,350 times in 2011 – and 28,074 times in 2016.  (Note: I highly recommend the Bill James Handbook, lots of great info for fans.)
On August 23, Dodgers' southpaw Rich Hill took a perfect game (versus the Pirates) into the ninth inning, only to lose the "perfecto" on an error by LA third baseman Logan Forsythe on a ball hit by the leadoff hitter in the ninth (Pittsburgh SS Jordy Mercer). Hill got the next three hitters to keep the shutout and no-hitter intact. Unfortunately, for Hill, Pirates' hurlers Trevor Williams (eight innings) and Felipe Rivero (one inning) held the Dodgers scoreless. Juan Nicosia came on to pitch a clean tenth for Pittsburgh – setting the stage for heartbreak. Pirates' 2B Josh Harrison led off the tenth with a walk-off home run.   Hill not only lost the perfect game, but also the no-hitter, shutout and the game itself.  His line in the loss: nine innings pitched, one hit, one run, ten strikeouts.  For more on perfect games lost late, click here.
ANOTHER IMMACULATE INNING
In the month of August, three pitchers threw Immaculate Innings (three strikeouts on nine pitches):
Dellin Betances, Yankees – August 2 versus Tigers (Jim Adduci, Justin Upton, Miguel Cabrera)
Jose Alvarado, Rays – August 4 versus Brewers (Travis Shaw, Jesus Aguilar, Herman Perez)
Rick Porcello, Red Sox – August 9 versus Rays (Trevor Plouffe, Wilson Ramos, Mallex Smith)
This brings 2017's total Immaculate Innings to an MLB single-season record eight. For more on Immaculate Innnigs, click here.
I LIKE IKE
Okay, you have to be pretty old to remember the Presidential campaign slogan "I Like Ike," but you don't have to be very old to like Ike Davis, who once had a 32-homer season while playing 1B for the Mets.  Davis, who hit .239, with 81 home runs and 291 RBI in seven MLB seasons is working to  revitalize his career (at age 30) as a relief pitcher in the Dodgers' system. Not a total surprise, Ike's dad – Ron Davis – racked up 130 saves in 11 MLB seasons and young Ike pitched in relief for Arizona State. (It was the Ron Davis connection – he came in to close for my home town Twins to the tune of "Eye of the Tiger" – that captured my attention.)

In his first appearance in the Arizona Fall League, Davis pitched one inning – striking out the side. As August ended, Davis had thrown 5 2/3 Fall League innings without surrenduring an earned run (three hits, four walks, six strikeouts).  Side note: in 2015, Davis made two pitching appearances for the Oakland A's, giving up one hit and one walk (no runs) and fanning one. (He also played 65 games at 1B.)
A LONG WAY FROM HOME
The Angels' Albert Pujols hit five home runs in August, bringing his season total to 21. Like most of Pujols' long flies these days, they were a bit historic.  They brought his career total 612– moving him past  Sammy Sosa (609) and giving Pujols the most MLB home runs of any foreign-born player.  They also enabled Pujols  to catch Jim Thome for seventh place all time on the HR list.  Pujols finished August at .232-21-83.  Next up – Ken Griffey Jr. 630.
COMPARING THE KIDS
On August 7, as the Nationals topped the Marlins 3-2, Bryce Harper hit his 150th career round tripper – becoming only the 14th player to reach that milestone before reaching age 25. Harper, of course, is often compared to another young MLB Star – the Angels' Mike Trout.  Trout also hit 150 long balls before 25.  In fact, Harper and Trout reached that milemarker at EXACTLY the same age – 24-year and 295-days.
RUN THAT BY ME AGAIN
The Ray's 3B Evan Longoria opened August with a bang – an August first cycle. Longoria's cycle included a two-run home run in the first inning; a run-scoring triple in the third; a fly out to second in the fifth; a single in the seventh.   Then with two out in the ninth, and needing a double to complete the cycle, he hit a liner down the left-field and turned on the after-burners.  The play ended in a head-first slide into second – and Longoria called out. After a review, however, the call was overturned and Longoria had run/slid his way into the record books – by way of the replay.
KNOW A GOOD RESEARCHER?

On August 29th, the Twins' Jorge Polanco became just the fifth Twin to homer from both sides of the plate in a game (as the Twins topped the White Sox 6-4). That's not what caught my eye, however (after all, it has been done more than 300 times – a record 14 by Mark Teixiera and Nick Swisher). What intrigued me was that, the following day, LF Ehire Adrianza became just the third Twin to hit a triple from both sides of the plate in a game (joining Polanco and Christian Guzman). If there are any great researchers out there who can answer this question, it could save me a lot of time.  How many times has that been done?
13 – LUCKY AND UNLUCKY
On August 19, the red-hot Dodgers topped the Tigers 3-0 in Detroit.  It was the Dodgers 13th interleague victory of the 2017 season – tying a record for consecutive interleague victories shared by the 2004 Tigers and 2006 Red Sox. The win was also the Dodgers sixth in a row and 13th (against just three losses) in August.  Thirteen, however, also marked the end of the streak. In the next game, a pair of Justins brought justice to Detroit – as the Tigers topped LA 6-1, with Justin Erlanger giving up just two hits, one  walk and one run (nine strikeouts) over eight innings and LF Justin Upton stroking a two-run home run.  Side note: Two key Justins (Upton and Verlander) were traded away by the Tigers in  September. 
SOUTHPAW TAKES NORTHERNMOST SPOT IN THE RECORD BOOKS
On August 19, Yankee veteran southpaw C.C. Sabathia picked up his tenth win of the seasons (10-5, 3.99) as the Yankees topped the rival Red Sox 4-3 in Boston. Sabathia went six innings and gave up four hits and two runs, walking one and fanning four.    His second strikeout of the game – Chris Young for the second out in the second inning –  gave Sabathia 2,680 AL strikeouts; setting a new record for AL lefthanders. (Mickey Lolich had held the record at 2,679). Sabathia, in his 17th MLB season ended the month 11-5, 3.70 on the season.  For his career (as of August 31), he is 234-146,  3.70 – with 2,822 strikeouts in 3,289 2/3 innings.
EDDIE MATHEWS, FRANK ROBINSON, MIKE TROUT – HITING 'EM HARD AND HITTING 'EM EARLY
On August 19, Mike Trout hit his 25th and 26th round trippers of the season as the Angels beat the Orioles 5-1 in Baltimore. In the process, Trout became just the third MLB player to have six seasons of 25 or more home runs before his age-26 season. He joined Hall of Famers Eddie Mathews and Frank Robinson with that distinction.  For the full story, click here.
SPEED KILLS – IN A GOOD WAY
August was a big month for MLB's speed merchants, as eight players recorded inside-the-park home runs – the most in a month in forty years. At the top of my list is Twins' CF Byron Buxton (Disclaimer: I am from Minnesota, so I am a bit biased on this one.)  Statcast™  clocked Buxton circling the bases in 13.85 second on August 18 (in Minnesota versus the Diamondbacks), breaking his own Statcast™ record of 14.05 seconds set last October 2. Here's your list of August I-T-P home runs.
August 7, Javier Baez, SS, Cubs (versus Giants).
August 12, David Peralta, LF, D-backs (versus Cubs)
August 17, Daniel Descalso, 2B, D-backs (versus Astros)
August 18, Byron Buxton, CF, Twins (versus D-backs)
August 18, Nicky Delmonico, DH, White Sox (versus Rangers)
August 19, Denard Span, CF, Giants (versus Phillies)
August 22, Nick Castellanos, 3B, Tigers (versus Yankees)
August 24, J.T. Realmuto, 1B, Marlins (versus Phillies)
ALL STAR ALL AROUND THE BASES

In 2007, Ichiro Suzuki became the first (and still only) player to hit an inside-the-park home run in the All Star Game. 
ANOTHER ANGLE ON SPEED
On August 16, Padres 1B Wil Meyers turned on the after-burners.  In the fourth inning of that game, with a runner on second and two out, Meyers broke up a scoreless game with a run-scoring single to left. Myers then stole second and, after catcher Austin Hedges walked, successfully stole third. Meyer topped off his inning successful stealing home on the front end of a double steal. It was just the 51st time in MLB history that a player stole second, third and home in one inning. Forty-one different players have stolen their way around the bases in an inning, with only four doing it more than once in their careers: Ty Cobb (four times); Honus Wagner (four times): Max Carey (twice); Jackie Tavener (twice).
"WHIFF "- EL BALL
Yankee rookie phenom Aaron Judge set a new single-season  major league record for consecutive games with a strike out by a position player at 37 (July 8 – August 20) topping Adam Dunn's 2012 record of 32 (with the White Sox). Judge also broke pitcher Bill Stoneman's overall single-single season (1971) record for consecutive games played with a strikeout (35) and tied Stoneman's record for consecutive games played with strikeout of 37 over more than one seasons (set in 1971-72). For more on Judge's streak, click here.
_____________________________________
SO MUCH FOR STORIES – NOW, AUGUST STATISTICES
—–INDIVIDUAL BATTING LEADERS FOR THE MONTH OF AUGUST—-
Average (minimum 50 at bats)
NL:  Charlie Blackmon, Rockies – .383; Jonathan Villar, Brewers – .364; Ender Inciarte, Braves – .362
AL: Avisail Garcia, White Sox – .423; Tim Beckman, Orioles – .394; Christian Vazquez, Red Sox – .385
Reverse Order

The lowest batting average for a player with at least 50 at bats in August was .113 – Adam Engel of the White Sox (9-for-80). In the NL, that dubious spot on the BA list went to Dominic Smith of the Mets at .164 (11-for-67).
Home Runs
NL: Giancarlo Stanton, Marlins – 18; Rhys Hoskins, Phillies & Paul Goldschmidt, D-backs – 11
AL: Josh Donaldson, Blue Jays, Gary Sanchez, Yankees & Manny Machado, Orioles – 12
RBI
NL: Giancarlo Stanton, Marlins – 37; Paul Goldschmidt, D-backs – 31; Anthony Rizzo, Cubs – 30
AL: Manny Machado, Orioles – 35; Adrian Beltre, Rangers – 30; Justin Upton, Tigers & Josh Donaldson, Blue Jays – 27
Runs Scored
NL: Giancarlo Stanton, Marlins – 28; Charlie Blackmon, Rockies – 27; Dee Gordon, Marlins – 26
AL: Tim Beckham, Orioles & Brian Dozier, Twins – 27; Mike Trout, Angels – 26
Stolen Bases
NL:  Billy Hamilton, Reds – 11; Dee Gordon, Marlins – 10; Starling Marte, Pirates – 7
AL: Rajai Davis, A's, Whit Merrifield, Royals & Andrew Benitendi, Red Sox – 9
Walks
NL:  Joey Votto, Reds – 35; Eugene Suarez, Reds – 24; Matt Carpenter, Cardinals – 21
AL: Mike Trout, Angels – 27;  Aaron Judge, Yankees – 23; Edwin Encarnacion, Indians – 22
A SWING AND A MISS

Nobody fanned more in August than Yankee rookie Aaron Judge with 41 whiffs in 92 at bats. Over in the NL, the Phillies' Nick Williams led the swing-and-miss parade with 37 strikeouts in 106 at bats.
—–INDIVIDUAL PITCHING LEADERS FOR THE MONTH OF AUGUST—–
Wins
NL:  Jake Arrieta, Cubs – 4-1, 1.21; Gio Gonzalez, Nationals – 4-1, 2.23; Jeff Samardzija, Giants – 4-1, 3.05; Zach Davies, Brewers, 4-2, 2.06; Pat Corbin, D-backs – 4-2, 2.52
AL:  Trevor Bauer,  Indians 5-0, 2.32; Corey Kluber, Indians – 5-1, 1.96; Rick Porcello, Red Sox – 5-1, 4.04; Martin Perez, Rangers – 5-1, 4.19
ERA (Minimum 25 June innings)
NL:  Jake Arrieta, Cubs – 1.21; Mike Montgomery, Cubs – 1.73; Zach Davies, Brewers – 2.06
AL:  Corey Kluber, Indians – 1.96; Dylan Bundy, Oriole – 2.00; Drew Pomeranz, Red Sox – 2.28
Ouch!

The worst ERA among pitchers with at least four starts or 15 innings pitched in August went to the Phillies' Nick Pivetta, who put up a 11.57 ERA  and a 1-3 record in five August starts.  In the AL, given those parameters, the highest ERA goes to Ian Kennedy of the Royals (0-4, 9.57).  On the other side of the coin, the most innings pitched by a hurler with an August ERA of 0.00 was 15 1/3 by Brewers' closer Corey Knebel. 
Strikeouts
NL: Jacob deGrom, Mets – 44 (39 IP); Patrick Corbin, D-backs – 42 (39 1/3 IP); two with 39
AL:  Corey Kluber, Indians – 54 (46 IP); Chris Sale, Red Sox – 53 (37 IP);  Justin Verlander, Tigers – 50 (42 IP)
Saves
NL:  Corey Knebel, Brewers – 13; Fernando Rodney, D-backs – 12; Brad Zeigler, Marlins & Sean Doolittle, Nationals – 9
AL: Edwin Diaz, Mariners & Alex Colome, Rays – 10; Robert Osuna, Blue Jays – 9
______________________________________________________
NOW, A LOOK AT THE STANDINGS AS OF (END OF DAY) AUGUST 31
AND THEN THE YEAR-TO-DATE (THROUGH AUGUST 31) TEAM AND INDIVIDUAL STATS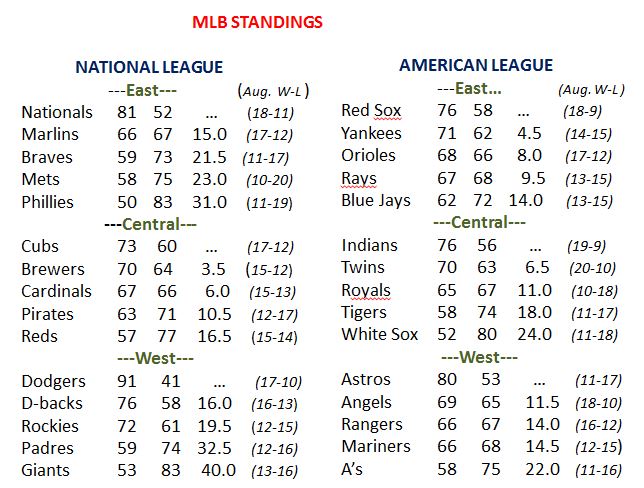 ______________________________________________
NOW FOR ALL YOU STAT LOVERS, HERE WE GO.
—–TEAM BATTING LEADERS THROUGH AUGUST—–
Average (MLB Average – .255)
NL: Rockies – .273; Nationals – .272; Marlins – .265
AL: Astros – .284; Orioles – .268; Red Sox – .261
TALLY-HO

The Orioles have the top batting average with runners in scoring position through August at .303 (the only team over .300). The NL lead in average with runners in scoring position is shared by the Rockies and Nationals at .297.
Runs Scored: (MLB average – 621)
NL: Nationals – 704; Rockies – 681; Cubs – 675
AL: Astros – 735; Yankees – 689; Rangers – 672
 TALLY-NO!

The Padres have plated the fewest runs through August (509). At the bottom of the AL, you'll find the White Sox at 567.

Toronto has the lowest batting average with runners in scoring position (through August) at .222. The Padres are at the bottom of the NL at .228. (MLB average – .260)

The Giants have proven the most power challenged with an MLB-low 104 home runs through August – 101 behind MLB leader Baltimore.  Boston has the fewest round trippers in the AL at 140.
Home Runs (MLB Average – 169)
NL: Mets & Cubs – 193; Brewers – 192
AL:  Orioles – 205; Rangers & Astros -204
 SWINGING ON THE AIR WAVES

Brewers' batters are "hitting the air waves" this season, with 1,314 strikeouts through August. The AL leader is the Rays, with 1,287. 
Stolen Bases (MLB Average – 70)
NL: Brewers – 107; Reds – 103; Nationals – 88
AL: Angels – 115; Rangers – 102; Red Sox – 90
—–TEAM PITCHING LEADERS THROUGH AUGUST  —–
ERA (MLB average – 4.35)
NL: Dodgers – 3.20; D-backs – 3.64; Nationals – 3.89
AL: Indians –  3.57; Red Sox 3.71; Yankees – 3.81
HOW DO YOU SPELL RELIEF?

The Dodgers boast MLB's best relief ERA through August at 2.90, but the Indians aren't far behind at 3.01. The Tigers have the only bullpen ERA over 5.00 at 5.20.

The Dodgers' staff also has the best starting rotation ERA at 3.38. Clevand is best in the AL at 3.87.  Each league's worst starters' ERA?  The Reds (5.87) and Orioles (5.59).
Fewest Runs Allowed (MLB average – 621)
NL: Dodgers – 447; D-backs –  543; Nationals – 557
AL: Indians – 496; Red Sox – 553; Yankees – 560
WILD AND CRAZY

Through August, no team's staff has hit more batters than the Padres with 44 HBP.  The Astros top the AL with 43 HBP.  San Diego also tops the NL with 44 wild pitches, second in MLB to the A's 48. The Giants' staff goes easy on hitters – they are the only team with less than 20 HBP (18).  Most often victimized? Pirates' hitters have been plunked an MLB-leading 75 times; while Nationals' batters have spent the least time rubbing out pain – being hit just twenty times (no other team has suffered fewer than 30 HBP). 
Strikeouts (MLB average – 1,097)
NL: Dodgers – 1,251; D-backs – 1,225; Nationals – 1,189
AL: Astros – 1,315; Indians – 1,312; Red Sox – 1,273
Fewest Walks Allowed (MLB average – 434)
NL: Dodgers – 356; Cardinals – 399; Nationals & Pirates – 405
AL:  Indians – 349; Red Sox – 373; Angels – 391
Saves (MLB Average – 33)
NL: Brewers – 46; Dodgers – 43; Rockies – 41
AL: Rays – 46; Blue Jays – 38; Twins – 37
BONUS STAT – HAVE AN OUT ON US

The Oakland A's have given away the most free outs (errors made) this season at 105. Over in the NL that dubious distinction goes to the Brewers at 97. (MLB average – 78 errors.) The Royals and Rockies have committed the fewest errors through August (59) – and share the best fielding percentage at .988
__________________________________
ENOUGH OF TEAM STATS, LET'S MOVE ON TO …
INDIVIDUAL STATISTICAL LEADERS THROUGH AUGUST 31
Batting Average
NL:  Charlie Blackmon, Rockies- .339; Justin Turner, Dodgers – .327; Bryce Harper, Nationals – .326
AL: Jose Altuve, Astros –  .355; Avisail, Garcia, White Sox – .324; Eric Hosmer, Royals – .318
EVERY COIN HAS TWO SIDES

The lowest average through August (minimum 250 at bats) belongs to the Rays' Danny Espinosa at .164 (41-for-250).  The Cubs' Kyle Schwarber has the NL's bottom spot at .199 (72-for-362). Just five  players with at least 250 at bats are under the Mendoza line. In addition to Espinosa and Schwarber, that list includes the: Rangers' Mike Napoli (.195); Rays' Brad Miller (.196); Royals' Alex Gordon (.199).    
Home Runs
NL: Giancarlo Stanton, Marlins – 51; Cody Bellinger, Dodgers & Joey Votto, Reds – 34
AL: Aaron Judge, Yankees – 37; Khris Davis, A's, Joey Gallo, Rangers & Khris Davis, A's – 36
LIKE FREE SWINGERS?

Three MLB players – all in the AL – have fanned at least 170 times this season: Aaron Judge, Yankees (176); Khris Davis, A's (175); Miguel Sano, Twins (170). Note: Those three have been productive despite the whiffs, with a combined stat line of  .258-101-250.
RBI
NL: Nolan Arenado, Rockies – 111; Giancarlo Stanton, Marlins – 110; Paul Goldschmidt, D-backs – 109
AL: Nelson Cruz, Mariners – 101; Johnathon Schoop, Orioles – 100; Justin Upton, Tigers/Angels – 94
Runs Scored
NL: Charlie Blackmon, Rockies – 120; Giancarlo Stanton, Marlins – 103; Paul Goldschmidt, D-backs – 100
AL: Aaron Judge, Yankees – 99; George Springer, Astros – 92; Jose Altuve, Astros – 89
Stolen Bases
NL:  Billy Hamilton, Reds – 55; Dee Gordon, Marlins – 48; Trea Turner, Nationals – 37
AL: Cameron Maybin, Angels & Jose Altuve, Astros – 29; Rajai Davis, A's & Jarrod Dyson, Mariners – 28
Walks
NL:  Joey Votto, Reds – 113; Matt Carpenter, Cardinals – 89; Paul Goldschmidt, D-backs – 85
AL: Aaron Judge, Yankees – 99; Edwin Encarnacion, Indians – 89; Jose Bautista, Blue Jays – 74.
JUST WAVE 'EM OVER

No player has drawn more intentional walks this season then the D-backs' Paul Goldschmidt  and Reds' Joey Votto – each with 14. Mike Trout of the Angels leads the AL with 13.
—–PITCHING LEADERS THROUGH THE MONTH OF AUGUST—–
Wins
NL:   Zack Greinke, D-backs – 16-6, 3.08; Zach Davies, Brewers – 16-7, 3.85; Clayton Kershaw, Dodgers – 15-2, 2.04
AL:  Chris Sale, Red Sox – 15-6, 2.77; four with 14
ERA (Minimum 125 innings)
NL:  Clayton Kershaw, Dodgers – 2.04; Max Scherzer, Nationals – 2.21; Gio Gonzalez, Nationals – 2.58
AL:  Corey Kluber, Indians – 2.63; Chris Sale, Red Sox – 2.77; Marcos Stroman, Blue Jays – 3.11
BANG 'EM HIGH

The Mariners' Ariel Miranda gave up the most home runs through August at 35 (150 1/3 IP). The NL leader is the Cubs' John Lackey (32 in 141 IP). 

The highest opponents' batting average  (at least 100 IP) belongs to the Twins' (and Braves') Bartolo Colon (.327). The only other pitchers with a Batting Average Against of .300+ are the Giants' Matt Cain (.316); Tigers' Jordan Zimmerman (.312); Padres' Clayton Richard (.309);  Rangers' Martin Perez (.304) and Twins' Kyle Gibson (.303).
Strikeouts
NL: Max Scherzer, Nationals – 230 (167 1/3 IP); Jacob deGrom, Mets – 206 (178 2/3 IP); Zack Greinke, D-backs – 188 (172 1/3 IP)
AL: Chris Sale, Red Sox – 264 (185 1/3 IP); Chris Archer, Rays – 225 (179 1/3 IP); Corey Kluber, Indians – 215 (160 2/3 IP)
K'S PER NINE

Among pitchers with at least 100 innings pitched, the Red Sox' Chris Sale has fanned an MLB-best 12.8 batters per nine innings through August. The NL leader is the Nationals' Max Scherzer at 12.4. The only other pitcher to fan at least 12 per nine innings is the Indians' Corey Kluber at 12.0.
Saves
NL:  Greg Holland Rockies – 36; Kenley Jansen, Dodgers – 35;  Fernando Rodney, D-backs – 34
AL: Alex Colome, Rays – 40; Robert Osuna, Blue Jays – 35; Craig Kimbrel Red Sox – 31
THE ONES THAT GOT AWAY

Jim Johnson of the Braves leads MLB in blown saves through August at nine (in 31 opportunities). The AL leader is the Blue Jays' Robert Osuma with eight (43 opportunities).
Primary Resources: ESPN.com; MLB.com; Baseball-Reference.com; Baseball-Almanac.com; StarTribune.
I tweet baseball @DavidBBRT
Like/Follow the Baseball Roundtable Facebook page here. Additional baseball commentary blog post notifications and PRIZES. (So far this season, we've given away four bobbleheads – Derek Jeter, Mariano Rivera, Harmon Killibrew and Miguel Sano.  More to come.)
Member: Society for American Baseball Research (SABR); The Baseball Reliquary; The Negro Leagues Baseball Museum; Baseball Bloggers Alliance.