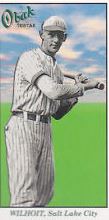 Wichita Jobbers' outfielder Joe Wilhoit's professional baseball career truly appeared to be "down and out" when he beat out an infield single in the first inning of a game played on this date (June 14) in 1919.  Wilhoit, a former major leaguer who had appeared in the World Series just two years before, found himself playing in the low minor leagues (Class A) and struggling to hit his weight (the 6' 2", 175-pounder was hitting just .198 at the time).   Little did Wilhoit realize that his scratch hit would start a comeback that stretched all the way to the Boston Red Sox and the baseball record books.  But, I'm getting ahead of myself here.  Let's take a look at Joe Wilhoit's baseball journey.
Wilhoit, a "plus" outfield defender got a late start on his professional career (after attending DePaul University), but seemed destined to make the most of it.  In 1916, at age 30, he was signed by the National League Boston Braves after hitting a combined .323 in three minor league seasons (394 games).
Note: Wilhoit did play semipro ball while at DePaul and "late start" may be a misnomer, as Wilhoit's year of birth – listed as 1885 in the Baseball Encyclopedia – has been noted as being as late as 1891 in other sources.
On Opening Day 1916, Wilhoit found himself batting third and playing RF for the Boston Club – going 0-for-3, but driving in a run on a sacrifice fly as the Braves won 5-1 over Brooklyn. Major League pitching proved tough to handle for Wilhoit, who managed just four hits in 31 at bats in his first month in the big leagues.  He finished his rookie season hitting .230, with two homers, 28 RBI and 18 steals in 116 games.
The following year, Wilhoit truly "hit the road."  He started the season with the Braves, hitting .274 in 54 games.  Then in late July, the Braves let him go (for the waiver price) to the Pirates, where he played in just nine games (getting two hits in 10 at bats), before moving on again (on August 5) in another waiver move, this time to the contending New York Giants.  Wilhoit seemed to finally find his stroke, finishing up the season by hitting .340 in 34 games (17-for-50) with the Giants.   He even got into two games in the World Series (as a pinch hitter) – lining into a double play in the eighth inning of game two and drawing a walk in the fifth inning of game six. In 1918, however, his struggles at the plate resurfaced and he got into just 64 games for the Giants, hitting .274, with no home runs and 15 RBI.
In 1919, the downward slide became steeper, as Wilhoit started the year with the Seattle Raniers of the Pacific Coast League, where he was hitting just .164 after 17 games. Next stop on the slide was Wichita of the Class A Western League, where (as noted earlier in this post) Joe's hitting woes continued – until that June 14, 1919, infield single.
From that moment forward, Joe Wilhoit embarked on an unbelievable – and still unmatched – hitting streak.  From June 14 to August 19, Wilhoit hit in a professional baseball record 69 consecutive games.   During the streak, Wilhoit had 50 multi-hit games, compiled a .515 batting average (153 for 297), and collected 37 extra base hits (four home runs, nine triples and 24 doubles).  Wilhoit ultimately led the Western League in batting average at .422 – collecting 222 hits in 128 games.
The biggest mid-streak threat came in game 62 (the first game of an August 14 double header) at Omaha. Wilhoit was hitless after nine innings – and with the score tied 3-3 in the Omaha half of the ninth, the potential winning (and streak-ending) run was thrown out at the plate. Wilhoit, given new life, continued the streak in style, with a game-winning two-run home run in the 11th inning.
The streak finally ended (at 69 games) on August 19, with Wichita playing Tulsa in Wichita.  Wilhoit came to the plate four times and and recorded a strikeout, fly out and ground out, before drawing an unpopular walk in his final trip to the plate.  The home town fans reportedly gave Joe a long ovation and passed hats through the stands – collecting more than $600 for the popular outfielder (the average monthly pay in Class A at the time was around $200).
Wilhoit's comeback earned him a return ticket  to the major leagues, where he went 6-for-18 (.333) with five walks in six games with the Boston Red Sox.  Despite the late season look, Wilhoit was back in the minors in 1920, hitting .300 at AA Toledo.  From there, it was three seasons at Salt Lake City of the Pacific Coast League – where he hit .339, .317 and .360, before retiring from baseball.  Wilhoit died of lung cancer in 1930.
To this day, the longest hitting streak  in baseball history belongs to a guy named Joe – and it's not DiMaggio.