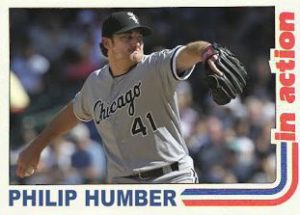 Five years ago today (April 21, 2012), the White Sox' Phil Humber tossed a perfect game in a 4-0 victory over the Seattle Mariners in Seattle.  Humber finished off the Mariners in 96 pitches, 67 for strikes, going to a three-ball count on only three batters.  In his gem, Humber struck out nine (including the final batter) and there were only six outfield putouts.
Humber's "perfecto" intrigues me – primarily because it was his first AND ONLY career complete game (eight seasons, 97 appearances, 51 starts). Humber ended with a career line of 16-23, 5.30; and his 16 career wins are the fewest ever for a pitcher who tossed a perfect game. Note: The White Sox Charlie Robertson had the fewest career victories at the time of his perfect game (April 30, 1922) – just one. Robertson's perfect outing came in just his fourth career start (fifth career appearance).
Humber's also was the first of three perfect games in 2012 – the only MLB season with three perfect games. Note: There has not been a perfect game in MLB since 2012.
FOR MY MINNESOTA FOLLOWERS – THERE IS A TWINS' CONNECTION

Humber, who pitched in the majors from 2006 to 2013, was a former Twin (2008-09), as was his White Sox battery mate that day – A.J. Pierzynski.  Pierzynski, had been a Twin from 1998 through 2003.
As if often case, contemplating one unique baseball achievement sent me to the record books.   So, here are a few facts about MLB's 23 perfect games to date. (Thanks to Baseball-Reference.com and MLB.com for lost of statistical resouces._
"Necessity is the mother of concentration."  More perfect games (seven of 23) have ended in the narrowest of victories, by the score of 1-0.
The highest score in a perfect game?  That would be 10-0, the Giants' Matt Cain's margin over the Astros in his May 13, 2012 perfect outing.
PERFECTLY TIMED

On July 18, 1999, the Yankees' David Cone pitched the first perfect game in interleague play – as New York topped Montreal 6-0 at Yankee Stadium. It couldn't have come at a more appropriate time.  It was Yogi Berra Day at the stadium and Don Larsen (who pitched the only World Series perfect game) threw out the first pitch to Berra (who caught Larsen's 1956 perfect outing).
Another perfecto fact.  The largest attendance for a perfect game was 65,519 for Don Larsen's 1956 World Series perfect day of work.  The smallest crowd to witness a "perfecto) was 6,298, when Catfish Hunter shut down the Twins in Oakland on May 8, 1968 – although tens of thousands claim to have been there.  The announced attendance for Humber's perfect outing was 22,472.
Home Cookin' seems to help. Of the 23 perfect games, 17 were at home.
Reaching high for perfection.  Randy Johnson's perfect game on May 18, 2004 (Diamondbacks 2 – Braves 0 in Atlanta) made Johnson the oldest 40 years – 256 days) and tallest (6'10") pitcher to complete a perfect game.
Way to go, Kid! John Montgomery Ward is the youngest player to toss a perfect game. He achieved his feat for the NL's Providence Grays (in a 5-0 win over the Buffalo Bisons) on June 17, 1880 – at the age of 20 years and 105 days.
Let's get this over with. Cy Young pitched the quickest perfect game (one hour and 25 minutes), as the Boston Americans topped the Philadelphia Athletics 3-0 on May 5, 1904.
Savoring the moment(s). The most time-consuming perfect game was pitched by David Wells (two hours and forty minutes), with his Yankees besting the Twins 4-0 on May 17, 1998.
ON THE BIG STAGE

Don Larsen pitched the only World Series perfect game on October 8, 1956, at Yankee Stadium – as the Bronx Bombers bested the rival Brooklyn Dodgers 2-0.  Larsen struck out seven, went to a three-ball count only once and saw nine outfield putouts.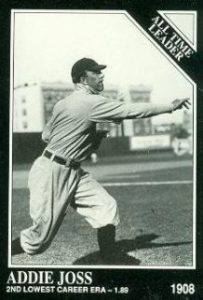 Who needs to waste a pitch? Addie Joss of the Cleveland Naps used the fewest pitches to log a perfect nine-innings – 74 pitches – just three strikeouts (the lowest ever in a perfect game) – as he beat the White Sox (in Cleveland) on October 2, 1908.  Joss' perfect game came in the final days of a tense pennat race. With just three game left in the season, Detroit led Cleveland by 1/2 game and Chicago by 1 1/2 – with Chicago playing at Cleveland. It was a tight pitching duel between Joss and Chicago ace Ed Walsh (who gave up just four hits and notched 15 strikeouts in a  losing cause). The only run  was scored by Cleveland in the third inning on a single by Cleveland CF Joe Birmingham. Walsh appeared to have him picked off of  first, but Birmingham took off for second and White Sox' first baseman Fank Isbell's throw to second hit the runner  and caromed into the outfield – enabling Birmingham to take third. He then scored the game's only run on a Walsh wild pitch. Detroit, however, held to take the pennant by 1/2 game over Cleveland. Joss, by the way, finished the season at 24-11, with a leagye-low 1.16 ERA; while Walsh wone a league-high 40 games (15 losses) with a 1.42 ERA. (How times have changed.)
It take a lot of pitches to notch 14 strikeouts.  The most pitches in a perfecto?  Matt Cain's 125 (86 strikes), as the Giants topped the Astros 10-0 on June 13, 2012.  Cain, tied Sandy Koufax for the most strikeouts in a perfect game.
AS CLOSE AS IT GETS

Perhaps the most dominant perfect game performance (if such a distinction can be brought to perfection) belongs to Dodgers' lefty Sandy Koufax, who tossed his perfect game against the Cubs in LA – winning 1-0 on September 9, 1965.  Koufax struck out a perfect-game record 14 in that contest, including the last six batters (the last five on swinging third strikes).

The Dodger southpaw's accomplishment was especially meaningful since he needed every out and every pitch to best Cubs' Bob Hendley – who himself allowed only two base runners the whole game.  Hendley pitched a one-hitter, giving up a lone double, one walk and one UNEARNED run. The Dodgers scored their lone tally in the fifth on a walk to Lou Johnson, a sacrifice bunt by Ron Fairly (moving Johnson to second), a stolen base (third base) by Johnson and a throwing error by the catcher that let Johnson come in to score. The one hit and two base runners is the record-low offensive output for both teams in any MLB game.
Perfect game record least likely to be broken?  When Jim "Catfish" Hunter tossed his perfect game against the Twins (May 8, 1968, at Oakland), he not only notched 11 strikeouts (including the last batter) – he added insult to injury by collecting three hits in four at bats (a double and two singles) and driving in three of Oakland's four runs.  The best offensive performance ever by a perfect hurler.The Dodgers'
WHAT'S A GUY GOTTA DO?

Okay, it's not an official perfect game, but on May 26, 1959, the Pirates' Harvey Haddix retired the first 36 batters he faced against the powerful – defending NL Champion – Milwaukee Braves' line up. That's right, 12 perfect innings.  The only problem?    The Pirates' lineup, while managing 12 hits (and putting the ball in play consistently – only two strikeouts) against fidgety Lew Burdette, had not pushed a run across.

Then, in the unlucky bottom of the 13th, Pirates' third baseman Don Hoak's throwing error let Braves' 2B  Felix Mantilla (leading off the inning) reach first. 3B Eddie Mathews sacrificed him to second before RF Hank Aaron was intentionally walked.  Still, one out in the 13th, no-hitter, shutout, complete game and potential win still intact.  Then, 1B Joe Adcock hit a home run – which turned into a game-winning double when Adcock passed Aaron the base paths. All Haddix got for retiring the most consecutive batters from the start of any MLB game?  A complete game loss.
Perfect Games – The List  (Home Team in Bold)
Felix Hernandez, Seattle 1/Tampa Bay 0 … August 15, 2012
Matt Cain, San Francisco 10/Houston 0 … June 13, 2012
Phil Humber, Chicago 4/Seattle 0 … April 21, 2012
Roy Halladay, Philadelphia 1/Florida 0 … May 29, 2010
Dallas Braden, Oakland 4/Tampa Bay 0 … May 9, 2010
Mark Buehrle, Chicago 5/Tampa Bay 0 … July 23, 2009
Randy Johnson, Arizona 2/Atlanta 0 … May 18, 2004
David Cone, New York 6/Montreal 0 … July 18, 1999
David Wells, New York 4/Minnesota 0 … May 17, 1998
Kenny Rogers, Texas 4/California 0 … JUly 28, 1994
Dennis Martinez, Montreal 2/Los Angeles 0 … July 28, 1991
Tom Browning, Cincinatti 1/Los Angeles 0 … September 16, 1988
Mike Witt, California 1/Texas 0 … September 30, 1984
Len Barker, Cleveland 3/Toronto 0 … May 15, 1981
Jim Hunter, Oakland 4/Minnesota 0 … May 8, 1968
Sandy Koufax, Los Angeles 1/Chicago 0 … September 9, 1965
Jim Bunning, Philadelphia 6/New York 0 … June 21, 1964
Don Larsen, New York 2/Brooklyn 0 … October 8, 1956
Charlie Robertson, Chicago 2/Detroit 0 … April 30, 1922
Addie Joss, Cleveland 1/Chicago 0 … October 2, 1908
Cy Young, Boston 3/Philadelphia 0 … May 5, 1904
John Montgomery Ward, Providence 5/Buffalo* 0 … June 17, 1880
Lee Richmond, Worcester 1/Cleveland 0 … June 12, 1980
*Game played in Providence, coin toss made Buffalo "home team."
Follow and Like the Baseball Roundtable Facebook page – for more baseball talk and, soon to come, drawings for bobble heads.
I tweet baseball @DavidBBRT
Member:  Society for American Baseball Research (SABR); The Baseball Reliquary; The Negro Leagues Baseball Museum; Baseball Bloggers Alliance.