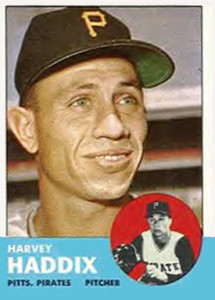 On this day (May 26) in 1959, Pirates' southpaw Harvey Haddix found out just how unlucky "13" can be.  Haddix was "perfect" against the powerhouse Braves (defending NL champions) for 12 innings – still the longest string of retired batters from the start of an MLB game.  The perfect game was lost on an error to open the 13th inning – and Haddix eventually lost the no-hitter, the shutout and the game.  On a side note, the Braves managed to turn a Joe Adcock three-run home run into a run-scoring double to claim 1-0 win.
In this post, Baseball Roundtable will look at Haddix' gem, as well as all the other (near) perfect games that were lost with two outs in the ninth inning or later.
UNLUCKY 13th

12 PERFECT INNINGS – FOR THE LOSS

For a real hard luck story, consider the Pittsburgh Pirates' Harvey Haddix, who took a perfect game into the 13th inning – AND LOST.

On May 26, 1959, Haddix took the mound against the power-laden Milwaukee Braves (who had won the National League pennant the previous two seasons and came into the game again leading the league).  Haddix retired the first 36 hitters in order – fanning eight, carrying a perfect game into the bottom of the 13th. A 20-game winner in 1953, the 33-year-old Haddix had come into the game 4-2, with a 2.67 ERA in seven starts – and had thrown complete games in his two previous outings. (He would end up 12-12, 3.13 on the year.)

Unfortunately, the Braves' Lew Burdette, despite giving up 12 hits and fanning only two, had held the Pirates scoreless. (Like Haddix, Burdette had not issued a single free pass.) Milwaukee 2B Felix Mantilla led off the 13th by reaching on error by Pirates' third baseman Don Hoak. Slugging 3B Eddie Mathews bunted Mantilla over to second, which led to an intentional walk to RF Hank Aaron, bringing up 1B Joe Adcock.

Adcock rapped a 1-0 pitch over the right field fence for what appeared to be a three-run home run.  However, the Braves, in celebrating the tension-filled victory, forgot how to run the bases. Adcock passed Aaron between second and third and, after some deliberation, Adcock was called out – ultimately changing his three-run homer to a one-run double. So, despite 12 perfect innings, Haddix lost the no-hitter, the shutout and the game itself.  But he did etch his name forever into baseball lore; and countless trivia quizzes.

Haddix spent 14 seasons (1952-65) in the major leagues (Cardinals, Phillies, Reds, Pirates, Orioles), going 136-113, 3.48.  His best seasons were with the Cardinals in 1953-54. In those two campaigns, Haddix put up lines of 20-9, 3.06 and 18-13, 3.57.  The 5'9", 170-pounder was a three-time All Star and led the NL in shutouts (six) in 1953.
Now, let's look at other games in which perfection was lost with two outs in the ninth or later – in reverse order.
Max Scherzer, Washington Nationals … June 20, 2015
Nationals' right-hander and 2013 AL Cy Young Award winner Max Scherzer came within one out – within one strike actually – of a perfect outing on June 20, 2015. He entered the top of the ninth with a 6-0 lead over the Pittsburgh Pirates – having retired the first 24 batters, striking out ten.  In the ninth, Scherzer retired the first two batters (RF Gregory Polanco on a pop out to the catcher and SS Jordy Mercer on a liner to center) and then worked the 27th hitter (pinch hitter Jose Tabata) to a 2-2 count.  Tabata fouled off three 2-2 pitches before Scherzer lost the perfect game in perhaps the most painful way (in more ways than one) possible – by hitting Tabata with a pitch (a breaking ball to the elbow).  Scherzer then got Pirates' second baseman Josh Harrison on a fly ball to left, completing the no-hitter – and earning a 6-0 victory.  Scherzer, by the way, was not the first pitcher to lose a perfect game by hitting the 27th batter (see the George Wiltse description below).
TWO NO HITTERS IN A SEASON

In 2015, Max Scherzer became just the fifth pitcher to throw two no-hitters in a regular season.  The list includes:

Johnny Vander Meer, Reds (June 11 and June 15, 1938) … the only pitcher with no-hitters in consecutive starts.

Allie Reynolds, Yankees (July 12 and September 28, 1951).

Virgil Trucks, Tigers (May 15 and August 25, 1949) … in a season in which Trucks won only five games (versus 19 losses). 

Nolan Ryan, Angels (May 15 and July 15, 1973) … two of his record career seven no-hitters.

Max Scherzer, Nationals (June 20 and October 3, 2015.)

An honorable mention to the Phillies' Roy Halladay who threw a perfect game on May 29, 2010 and added a 2010 post-season no-hitter (October 6, 2010).
Scherzer, still active, is in his tenth major league season (Diamondbacks, Tigers, Nationals).  He is a four-time All Star, two-time twenty-game winner and two-time Cy Young Award winner (2013-2016). In 2015, he went 14-12, 2.79, but led the NL with four complete games and three shutouts.  His best season was with the Tigers in 2013, 21-3, 2.90.  As this post is written his career record is 129-72, 3.38 – with six complete games and four shutouts.
YU CAN'T ALWAYS GET WHAT YOU WANT

In 2013, two pitchers named Yu – Yu Darvish and Yu Petit lost perfect games with two outs in the ninth.
Yu Darvish, Rangers … April 2, 2013
Rangers' Ace Yu Darvish, in his first start of the 2013 season (April 2), stifled the Houston Astros without a base runner for 8 2/3 innings – fanning 14. All he had to do to gain perfection was retire the Rangers' number-nine hitter, light-hitting shortstop Marwin Gonzalez. Gonzalez hit Darvish's first pitch up the middle – through Darvish's legs – for a single. It was Darvish's 111th pitch and he was relieved by Michael Kirkman, who finished off the 7-0 win. So, despite a sterling effort, Darvish was denied a perfect game, a no-hitter, a complete game and even a personal shutout.  He did get the win.  Darvish, still active, finished the 2003 season 13-9, 2.83. As this post is written, his career record is 51-32, 3.25 and he has two complete games and one shutout in 110 starts (2012-14, 2016-17).
Yusmeiro Petit, Giants … September 6, 2013
Yu can't make this up.  On September 6, 2013, the San Francisco Giants' Yusmeiro (Yu) Petit joined the unlucky "almost perfect" rotation. With two out in the ninth, Petit – with a 3-0 lead over the Diamondbacks – had retired all 26 batters he had faced, fanning seven.  The Diamondbacks sent up pinch hitter Eric Chavez, who worked the count full. Then, just one strike away from perfection, Petit gave up a single to right field.  Petit retired the next hitter CF A.J. Pollock on a grounder to third – settling for a one-hit shutout.  This made Petit the second pitcher name "Yu" to get within one out of a "perfecto" during the 2013 season.  Petit finished the season a 4-1, 3.86 (eight games, seven starts). Still active (2006-17), his MLB record as this post is written is 24-32, 4.47.
Armando Galarraga, Tigers … June 2, 2010.
Perhaps the most heartbreaking "no-hitter breakup" took place on June 2, 2010, when Detroit Tigers' righty Armando Galarraga found himself on the mound in the top of the ninth 26 outs into a perfect game (three strikeouts).  The Tigers had a 3-0 lead and Galarraga was facing Indians' second baseman Jason Donald. Galarraga induced Donald to ground to right side of the infield and first-sacker Miguel Cabrera moved to his right to make a fine play, spinning and throwing to Galarraga covering first (who clearly beat Donald to the bag). Umpire Jim Joyce called Donald safe, a mistake he admitted and apologized for after the game. (Talk about a bad time for a bad call.) The official scorekeeper gave Donald and infield single, ending both the perfect game and the no-hitter. Galarraga retired the next batter – CF Trevor Crowe – on a groundout. Joyce's call, despite the post-game mea culpa, stood, and Galarraga joined the list of pitchers losing a perfect game with two outs in the ninth.
Galarraga had a five-season MLB career (2007-2012), going 26-34, 4.78 for the Rangers, Tigers, Diamondbacks and Astros. His near-perfect game was one of only two complete games in 91 career starts.
Mike Mussina, Yankees … September 2, 2001
On September 2, 2001, the Yankees' Mike Mussina squared off against the rival Red Sox at Fenway Park. After eight innings, Mussina and Red Sox starter David Cone were locked in a 0-0 duel. Mussina hadn't allowed a base runner, striking out twelve. Cone had given up just four hits and three walks (fanning eight), while holding New York scoreless.  The Yankees pushed across a run in the top of the ninth on a single, an error and a double by 3B Enrique Wilson. Mussina, looking for his 14th victory of the campaign, went to work on his perfect game – notching a ground out (pinch hitter Troy O'Leary) and a strikeout (2B Lou Merloni) and taking pinch hitter Carl Everett to a 1-2 count before Everett singled to left. Mussina retired Trot Nixon for the final out, in a 1-0 one-hit win.
Mussina finished the season 17-11, 3.15. In an 18-season MLB career (1991-2008), Mussina went 270-153, 3.68 with 57 complete games and 23 shutouts. The five-time All Star won 17 or more games eight times and, ironically, had only one 20-win season – his last. As a 39-year-old, Mussina went 20-9, 3.37 for the Yankees in 2008. In the major leagues from 1991 to 2008, Mussina pitched for the Orioles and Yankees.
Brian Holman, Mariners … April 20, 1990
On April 20, 1990, the Mariners' Brian Holman retired the first 26 hitters (six strikeouts), shutting down the defending World Champion Oakland A's. Holman had a perfecto and a comfortable 6-0 lead with two outs in the bottom of the ninth, before giving up a first-pitch home run to pinch hitter Ken Phelps. It was, notably, Phelps only home run of the 1990 season and the last of his 123 career round trippers. Holman then struck out Rickey Henderson for the final out in a 6-1 Mariners' win.  It was one of only two complete games in Holman's four MLB seasons (37-45, 3.71). Holman finished the 1990 season 11-11, 4.03 – the only season he finished at .500 or better. He played for the Expos and Mariners (1988-91).
Dave Stieb, Blue Jays … August 4, 1989
On August 4, 1989, Blue Jays' right-hander Dave Stieb took a 2-0 lead and a perfect game into the top of the ninth inning against the Yankees. Stieb started the inning as though ready to make history, fanning pinch hitters Hal Morris and Ken Phelps on nine pitches (his tenth and eleventh strikeouts of the game).  Then the number-nine hitter, center fielder Roberto Kelly, broke up the "perfecto" and the no-hitter with a double to left.  Second baseman Steve Sax followed with a run-scoring single, before left fielder Luis Polonia grounded out to end the game.  So, Stieb lost the perfect game, the no-hitter and the shutout – but did get the win. Stieb ended the season 17-8, 3.35 – one of six seasons in which the seven-time All Star logged 16 or more wins.  In a 16-season MLB career (1979-1992, 1998), Stieb went 176-137, 4.83 for the Blue Jays and (for one season) White Sox.
DAVE STIEB – SO CLOSE AND YET SO FAR

In 1988, Dave Stieb – who lost a perfect game with two outs in the ninth on August 4, 1989 – twice came within one strike of a no-hitter – and in consecutive starts. On September 24 (against the Indians) and September 30 (versus the Orioles), he lost no-hitters with two outs in the ninth inning and two strikes on the hitter (2 and 2 counts both times).  Stieb did get two complete-game shutouts, 1-0 over the Indians and 4-0 over the Orioles. The games were his final two starts of the 1988 season, so he had the entire off-season to contemplate his bad luck. Stieb did finally get his no-hitter – the first in Toronto Blue Jays' history – a 3-0 win (four walks/nine strikeouts) over the Indians in Cleveland on September 2, 1990.
Ron Robinson, Reds … May 2, 1988
Reds' right-hander Ron Robinson was one strike away from a perfect game on May 2, 1988. He had a 3-0 lead, two outs in the ninth, nary a base runner allowed (three strikeouts) and a 2-2 count on Expos' pinch hitter Wallace Johnson – and then hung a curveball that Johnson hit for a single. Tim Raines followed with a two-run home run, and Red's closer John Franco was brought in to get the final out.  So, on the verge of a perfect game (with two out and two strikes in the ninth), Robinson lost the no-hitter, the shutout and the complete game. (He did get the win.)
In his nine MLB seasons (1984-92 – Reds and Brewers), Robinson recorded eight complete games and two shutouts – and had a respectable 48-39 record, with a 3.63 ERA and 19 saves. His best season was 1990, split between the Reds and Brewers, when he went 14-7, 3.26 and notched three seven of his complete games and both of his career shutouts.
Milt Wilcox, Tigers … April 15, 1983
With two outs in the bottom of the ninth – in an early-season game (April 15, 1983) –  Tigers' right-hander Milt Wilcox had yet to allow a White Sox hitter to reach base (and had struck out eight). Pinch hitter Jerry Hairston ended that with his first hit of the season – a clean single. Wilcox retired the next batter (CF Rudy Law) for a 6-0 (one-hitter) win. Wilcox finished the season 11-10, 3.97. He won 119 games (113 losses) in 18 MLB seasons (1970-75, 1977-86) with the Reds, Cubs, Tigers, Mariners. His career ERA was 4.07, with 73 complete games and 10 shutouts. Wilcox' best season was 1984, when he went 17-8, 4.00.
Milt Pappas, Cubs … September 2, 1972
On September 2, 1972, the Cubs' Milt Pappas held an 8-0 lead over the San Diego Padres – and had a perfect game going (with six strikeouts) as the Padres batted in the ninth.  After retiring the first two batters in the final frame, Pappas walked pinch hitter Larry Stahl on a very close 3-2 pitch.  Pappas then retired pinch hitter Garry Jestadt on a pop out to second base. So, while he lost the perfect game, he did save the no-hitter. Pappas – who went 209-164, 3.40 in 17 MLB seasons (1957-73) – had his best year in 1972, going 17-7, 2.77. It was the 33-year-old's 16th MLB campaign (he retired after the 1973 season). The two-time All Star (1962 and 1965) spent time with the Orioles, Reds, Braves, and Cubs.
Billy Pierce, White Sox … June 27, 1958
White Sox' lefty Billy Pierce was on a roll when he faced the Senators on June 27, 1958.  Despite a slow start to the season (his record was 6-5 on the year), Pierce was coming off back-to-back complete-game shutouts of the Red Sox and Orioles.  Pierce retired the first 26 hitters he faced (eight strikeouts) and then gave up a double to Senators' pinch hitter Ed Fitz Gerald before striking out AL 1958 Rookie of the Year Albie Pearson to gain a 3-0 win. Pierce finished the season 17-11, 2.68.  He was a seven-time All Star and two-time twenty-game winner and won 211 games (versus 169 losses) with a 3.27 in 18 MLB seasons (1945, 1948-64). He threw 193 complete games and 38 shutouts.
Tommy Bridges, Tigers … August 5, 1932
On August 5, 1932, the Tigers' Tommy Bridges was coasting along with a 13-0 lead, seven strikeouts and a perfect game with two outs in the ninth, when he gave up a single to Washington Senators' pinch-hitter Dave Harris.  Bridges then got the final out for a 13-0 win. Bridges went 14-12, 3.36 that season, but hit his stride two years later – winning 20+ games in 1934, 1935 and 1936. The six-time All Star finished a 16-season MLB career (1930-43, 1945-46) with a 194-138, 3.57 record. He pitched 200 complete games and recorded 33 shutouts.
George Wiltse, New York Giants … July 4, 1908
It looked, for the longest time, like George Wiltse was going to have plenty to celebrate on Independence Day 1908. The Giants' southpaw retired the first 26 Phillies before hitting Philadelphia pitcher George McQuillan with a pitch on a 2-2 count (after not getting the call on a very close pitch on his previous delivery – a call umpire Cy Rigler later admitted he missed).  Wilste retired the next batter. However, despite nine no-hit/no-run innings, he wasn't done yet.  He and McQuillan were embroiled in a 0-0 duel.  Wiltse went on to pitch-a 1-2-3 tenth (preserving the no-hitter) and the Giants managed to push across a run to give Wiltse a 1-0, no-hit victory. Wilste is one of only three pitchers to date to complete a no-hitter of more than nine innings. Wilste finished the 1908 season 23-14, with a 2.34 ERA. He was also a twenty-game winner in 1909 (20-11, 2.00) and went 139-90, 2.47 in twelve MLB seasons.
NO-NO-NO

Three pitchers have completed an MLB record ten-inning no-hitter: George Wiltse, Giants (July 4, 1908); Fred Toney, Reds (May 2, 1917); and Jim Maloney, Reds (August 19, 1965).
LIKE/FOLLOW Baseball Roundtable's Facebook Page.  Great bobblehead giveawys coming. Link here. 
I tweet baseball @ DavidBBRT
Member:  Society for American Baseball Research (SABR); The Baseball Reliquary; The Negro Leagues Baseball Museum; Baseball Bloggers Alliance.