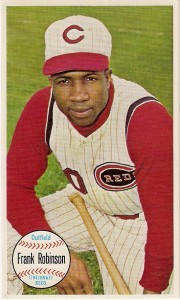 Say "MVP" in an exercise in word association and BBRT's response would be quick and clear – Hall of Famer Frank Robinson. In his 21 seasons as a player, Robinson earned MVP Awards for the NL and AL (regular season), World Series and All Star Game – and, in 16 seasons as a manager, he also earned the AL Manager of the Year Award.  And, there were many more highlight achievements in Robinson's record-setting, award-winning and history-making MLB career.  BBRT thinks this day, January 14, is a good day to reflect on Robinson's accomplishments.
First African-American manager in MLB
On January 14, in 1981, Frank Robinson signed on to manage the San Francisco Giants.  With that stroke of the pen he became the answer to one of BBRT's favorite trivia questions – Who was the first African-American Manager in the NL; in the AL?  Kind of a trick question, Frank Robinson holds the "first" in both leagues.
First – and only – MVP in Both Leagues
Like MVP,  first is a word often associated with Robinson.  He was the first (and still only) player to win the Most Valuable Player Award in both the AL and NL.  He was the NL MVP for the Reds in 1961, when he hit .323, with 37 home runs, 124 RBI and 22 steals; and he won the AL MVP award in 1966, when he went .316-49-122 for the Orioles.  That year, Robinson was first in the AL in batting average (.316), home runs (49) and RBI (122), as well as first in runs scored (122) – which also made him the first African-American Triple Crown winner.
Award-Winning First Season
Robinson started on his quest to finish at the top of the list in his very first season.  As a rookie with the Reds in 1956, he not only won the Rookie of the Year Award, he tied the rookie record for home runs (38), since broken by Mark McGwire. He finished the season hitting .290 with 38 home runs, 83 RBI and a league-high 122 runs scored.
And, there were other firsts in Robinson's career.
First in Opening Day Home Runs
On April 8, 1975 (Opening Day in Cleveland) Robinson hit a home run in his first at bat as a player-manager.  It's one of the eight Opening Day home runs that put Robinson in first place (tied with Ken Griffey, Jr.) for Opening Day homers (with eight).
First to it One Completely Out of Memorial Stadium
On May 6, 1966, he became the first (eventually only) player to hit a home run completely out of Baltimore's Memorial Stadium.
League Leader
Over the course of his playing career, Robinson led his league (finished first) in hit by pitch seven times, intentional walks four times, runs scored three times, and once each in doubles, home runs, runs batted in, slugging percentage, and total bases.
MVP – League, World Series, All Star Game
When it comes to recognition, Robinson's not only has a Rookie of the Year and two regular season MVP Awards to his credit, he also earned a World Series MVP Award (1966, Orioles), MLB All Star Game MVP Award (1971)  AL Manager of the Year Award (1989, Orioles) and Hickok Belt (1966, for top athlete in all sports).
Stat Lines
In his 21-season playing career, Robinson hit .294, with 586 homers, 1,829 RBI, 1,812 runs scored and 204 steals.  He was an All Star in 12 seasons and captured one Gold Glove.
In 16 seasons as a manager (Indians, 1975-77; Giants, 1981-84; Orioles 1988-91; Expos/Nationals, 2002-2006), Robinson's teams won 1,065 games and lost 1,176.
Oh yeah, and he was, appropriately,  a first-ballot Baseball Hall of Famer.