Final Day of Ballpark Tours'  first trip of 2013 (for info on the upcoming August trip see ballparktours.net) left Chicago just after 9:00 a.m. for a 1:05 minor league (Single A) game in Appleton, Wisconsin – the Mariners-affiliated Clinton Lumberkings versus the Brewers-affiliated Wisconsin Timber Rattlers.  The bus ride gave me a chance to make some progress on my reading:  "Summer of 68 – The season that changed Baseball, and America, Forever."  Finished it on the finAL bus leg home, watch for the review.
Nice little ballpark in Appleton and our tour operator got us great seats, right behind home plate.  Nice feature at the ballpark – where the food choices, by the way, were far better than Miller Park – you can order concession via cell phone right from you seat and then go to a Fast Lane to pick up your order.  Great, if you are keeping score and don't want to miss any action while stocking up on food and beverage.
BBRT did keep score and, as in so many low minor league games, there was plenty of action.  The hometown Rattlers led 5-2 after four innings, with the Lumberkings up 6-5 a half inning later.  After 7 ½ the visitors led 8-6, but Wisconsin scored six in the bottom of the eighth and eventually won it 11-9.  Clinton scored their nine runs on 14 hits, while Wisconsin plated 11 runs on just seven hits.  The game featured four home runs (the wind was blowing left to right) – as well as 16 walks, a hit batsman, 1 error and three wild pitches.  Needless to say, there was something going on every minute.
The star of the game for Wisconsin was centerfielder Tyrone Taylor, who went two-for-three (home run/ single) in three at bats and also drew a pair of walks.  It's just the second season for the 19-year-old, who hit .387, with two homers and 11 RBI in 18 games (rookie ball) last year.
As with all minor league games, there was also plenty going on between innings: a cheese spread race, the firing of beef sticks into the crowd, various "skill" competitions that brought fans to the field, and the obligatory charity "50-50" raffle.
For the Ballpark Tours group, one of the highlight was the Sunday Bloody Mary bar, where you received a generous pour of vodka in a Timber Rattlers mug and then put together your own Bloody Mary using a wide range of available mixed and condiments.  Your truly went with Tomato-Horseradish juice, a bit of tabasco, pepper, a beef stick, two olives, an asparagus spear, a dick pickle slice, two peppers and a celery stick.  (There was plenty more to choose from.)  The popularity of the offerings was evidenced by the high volume of souvenir mugs on the bus as we left the ballpark.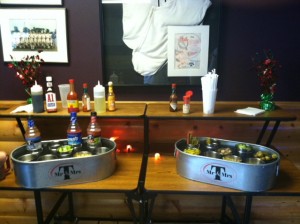 For the last leg home, we relaxed on the bus and watched the documentary "Yogi Berra – In His Own Words" on the overhead video monitors.  All in all, another great Ballpark tours excursion.