Posting this a little late:  It was Twins' Hall of Fame Day and the boys put up twelve tallies.
On Saturday (August 19), Angels' center fielder Mike Trout bashed a pair of home runs (left-center and center field) as the Angels topped the Orioles 5-1 in Baltimore.  You've probably read plenty about how Trout became just the third MLB player to have six campaigns of 25 or more home runs before his "Age-26" season.   It should be clear by now that, in baseball, we not only keep track of pretty much everything – we also (with the advances in information technology) find unique ways to divide those statistics up to create new "first to…" or "just the third MLB player to …" categories.  For example, Trout was actually 26-years-old when he belted that qualifying 25th home run (giving him six 25+ home runs seasons before his "Age-26" season.  You see, a players' baseball-age season is defined as the age the player is on July 1 of any specific season.  For example, Trout hit his season's 25th home run in his Age-25 season, despite being 26 at the time. (He turned 26 on August 7, but was still 25 on July 1.)
Now, I have not made it a general practice to comment on this page on particularly unique records (think, most consecutive, two-hit games, by switch-hitters, batting left handed in June).  However, sometimes achievements come along that catch my eye or pique my interest.  In this case, Trout's six seasons of 25 or more home runs before his Age-26 season drew me in because of the players he now shares that distinction with – Eddie Mathews (my all-time favorite player) and Frank Robinson (who holds a host of even more substantial honors). Further, while  Mathews and Robinson are both Hall of Famers, they seem an unusual pair to share a record – having "shared" one of the most renowned on-field dustups in MLB lore (more on that later).  So, let's look at each of member of the "Six Seasons of 25 or More Home Runs before His Age-26 Season" Club – in the order they achieved the feat.
Eddie Mathews, Third Base, Boston/Milwaukee Braves (1952-57)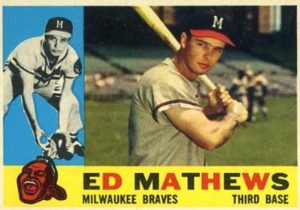 Mathews was the first member of this club – and he's also the only one to complete his Age-25 season while still (real) age 25. (His birth date was October 31, 1931). Mathews made it to the Boston Braves in 1952 and hit .242, with 25 home runs and 58 RBI in 140 games. The following season, the Braves moved to Milwaukee and the 21-year-old Mathews came into his own – hitting .302, leading the NL with 47 home runs and driving in 135. Over the next four seasons, Mathews hit 40, 41, 37 and 32 home runs – completing the first-ever qualifying streak of six season of at least 25 home runs before age 26. Note: They didn't really focus on this kind of thing back then, but Mathews ran off another five straight seasons of 25 or more round trippers. So, he also holds the record for seven consecutive seasons of 25 or more home runs before age 27, eight before age 28 and so on … right up to eleven before age 30. Who knows, maybe Mike Trout will keep Eddie's name in the new for a while.
ONE OF THE GREATS TALKS ABOUT EDDIE MATHEWS

I've only known three or four perfect  swings in my time.  This lad has one of them.

                                                                                      Ty Cobb
Mathews played 17 major league seasons and hit .271, with 512 home runs and 1,453 RBI. He led the NL in home runs twice, hit 40 or more in a season four times and thirty or more another six times.  He was a nine-time All Star
STATISTICS OVER THE SIX SEASONS WITH 25 OR MORE HOME RUNS BEFORE AGE-26 SEASON

Eddie Mathews, Braves (1952-57) …       .281 average; 222 HRs; 586 RBI

Frank Robinson, Reds (1956-61) …          .302 average; 202 HRs; 573 RBI

Mike Trout, Angels (2011-2017)* …          .309 average; 194 HRs; 556 RBI

*As of August 19, 2017: Reasonable projection through season's end: .311-202-580
Frank Robinson, Left Field/Center Field, Reds (1956-61)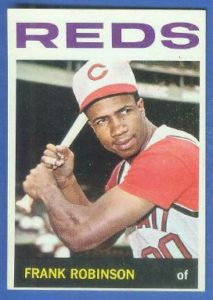 Robinson came to the Reds in 1956 as a 20-year-old rookie (he turned 21 August 31). He immediately went to work at a high level – tying the (since broken) rookie record for home runs with 38 – to go with a .290 average and 83 RBI. Robinson then ran off season home run totals of 29, 31, 36, 31 and 37 to complete the six seasons of 25+ home runs before his Age-26 campaign. He added one more season of 39 long balls, before falling to 21 dingers in 1963.
Robinson played 21 MLB seasons and was a 14-time All Star. His career average was .294, he slugged 586 home runs and drove in 1,812.  He also won nearly every MLB honor imaginable: Rookie of the Year (1956); NL MVP (1961); AL MVP (1966); AL Triple Crown (1966); World Series MVP (1966); All Star Game MVP (1971). Then he topped it off by becoming the first Black manager in the American League (Indians, 1975) and National League (Giants, 1982) and winning the AL Manager of the Year Award (1989).
THAT MAN DESERVES A STATUE … OR TWO … OR THREE

You'll find bronze statues of Frank Robinson at Great America Ballpark (Reds); Oriole Ballpark at Camden Yards (Orioles): and Progressive Field (Indians) – all three teams have retired his number 20.
Mike Trout, Center Field, Angels (2011-17; 25+ HR streak (2012-17)
Unlike Eddie Mathews and Frank Robinson, Mike Trout didn't start his Six Seasons of 25 or More Home Runs before  his Age-26 Season streak from his first day in the majors.  The Angels brought him up for 40 games as a 19-year-old (2011) and he hit .220-5-16.  Better things were on the way.  As a 20-year-old, he played in 139 games and hit .326, with 30 home runs, 83 RBI and a league-leading 49 stolen bases (in just 54 attempts). That earned Trout All Star honors and AL Rookie of the Year. He followed that with HR totals of 27, 36, 41. 29 and (as of August 19) 26.   For his career (to date), Trout is .309-194-556.
Barring injury, Trout seems destined to join Mathews and Robinson in the Hall of Fame.  In just five full seasons, he has won the AL Rookie of the Year Award and two AL MVP Awards (and has yet to finish lower than second in the AL MVP balloting). He's also led the AL in runs scored four times, RBI once and stolen bases once.
A COUPLE OF SLUGGERS MEET ON THE DIAMOND

Eddie Mathews and Frank Robinson are not only both Hall of Famers and members of the 500 home run club; they were both known as gritty, rough-and-tumble, 110-percent ballplayers.  And, they proved it on August 15, 1960.

The Braves were playing a double header against the Reds in Cincinnati. In Game One Mathews was at third base, batting in the three-hole – ahead of Hank Aaron. Robinson was in left field, also batting third, with Reds' right fielder Wally Post at cleanup.

With two outs and no one on in the seventh (and the Reds up 5-3) Robinson tried to stretch a double into a triple.  (There are conflicting reports about whether the ball was hit to the right side or left side. (Baseball Reference says LF, while Mathews, in his own book Eddie Mathews and the National Pastime, and Bob Buege in his book, The Milwaukee Braves – A Baseball Eulogy, says it went to the right side.  There is no disagreement, however, on the mayhem that followed.

Robinson slid hard into third, his arm hitting Mathews on the side of the head.  Mathews placed a heavy tag on the Reds' runner – words were exchanged (very briefly) before blows were landed. (In his book, Mathews notes that "He (Robinson) was not a dirty player, but he could be rough.  Sometimes he was too aggressive."    He also indicated he and Robinson had had run-ins before. (On a side note: Mathews himself was no stranger to being labeled aggressive). By all accounts, Mathews – who had a reputation for being both quick and good with his fists – got the better of the deal. He was relatively unmarked, but Robinson suffered a jammed thumb, bloody nose and badly swollen eye.  Later Braves' Hall of Fame pitcher Warrant Spahn would say "Eddie hit him with three punched not even Muhammad Al could have stopped."  Click here to see a photo from the press coverage.

In the end, Mathews was ejected and Robinson left the field holding a bloody towel to his face. Side note: Gus Bell came in to replace Robinson.  It was more complicated for the Braves. 2b Mel Roach moved to 3B; Hank Aaron moved from CF to 2B; and Al Spangler took over for Aaron in CF. Just a few names from the past for my fellow oldsters.

While Mathews may have won the battle, Robinson appeared to win the war.  The Reds won Game One 5-3. The gritty Robinson was back in left and batting cleanup – nose still bleeding occasionally and one eye nearly swollen shut – in Game Two. The Reds took that game as well, by a 4-0 score. Robinson led the way with a home run and a double and also robbed Mathews of an extra base hit with a fine fielding play.

—–EDDIE MATHEWS WAS INDEED A SLUGGER—–

What teammates had to say about Mathews:

"I didn't mind starting fights. Mathews was always there to finish them for me."

                                                                               Johnny Logan, Shortstop

"All I remember is that it was very comforting, not trying to hit anyone, but if you wanted to pitch inside, you didn't have to worry about (the batter) making it to the mound with Eddie at third."

                                                                              Tony Cloninger, Pitcher
Primary Sources: Basseball-Reference.com; MLB.com; Eddie Mathews and the National Pastime; Society For American Baseball Research (SABR).
I tweet baseball @DavidBBRT
Follow/Like the Baseball Roundtable Facebook page here. Baseball commentary; blog notification; and PRIZES!
Member: Society for American Baseball Research (SABR); The Baseball Reliquary; The Negro Leagues Baseball Museum; Baseball Bloggers Alliance.