Yesterday (August 21), 31-year-old southpaw Andrew Albers –  who has had an up and down professional career (150 minor league appearances and 19 major league appearances since 2008) – had a truly "up" day. Traded to the Mariners (for cash considerations) on August 11, Albers drew his second start of the season (his first time out for the Mariners, he gave up one run in five innings and got the victory in a 3-1 win over the Orioles). This time, he faced the Braves and – while he wasn't as effective – picked up his second MB win of 2017. He again went five innings, this time giving up three earned runs as the Mariners won 6-5.  The two victories doubled his career total. Albers now stands at 4-5, 4.32 in 19 appearances (four starts) for the Twins, Blue Jays and Mariners. Note: Albers was 12-3, 2.61 at Triple A before the trade.
What made this a truly up day for Albers, however, was his performance at the plate.  In his first at bat – also his first MLB plate appearance – Albers collected an infield single and an RBI. He came up twice more in the game, each time successfully sacrificing a base runner from first to second.  Given the state of bunting I've seen recently, Albers deserves perhaps even greater kudos for the two sacrifices than for the infield single.  At any rate, he ended the game with his 1.000 batting average and his 2017 1.000 winning percentage intact.
WES FERRELL DIDN'T NEED NO STINKIN' DH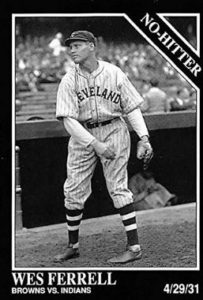 Reading about Albers feats in the batter's box reminded me of how much I dislike the Designated Hitter – as well as what a solid batsman pitcher Wes Ferrell was. (No, I'm not old enough to have actually seen him play.) On today's date (August 22) in 1934, Ferrell ran his season record to 12-2, with a ten-inning, two-run (one earned) complete game against the White Sox. Like Albers, Ferrell's performance in the batter's box may have exceeded his pitching accomplishments. Ferrell went three-for-four in the game, scoring two and driving in two.  And, he did it in spectacular fashion.  Trailing 2-1 in the bottom of the eighth (the game was at Fenway), Ferrell homered to tie the contest. Then, with two-out in the bottom of the tenth, the Red Sox' right-hander went deep again to win the contest.  It was one of three walk-off home runs Ferrell would rap in his career – and one of five multi-homer games he would achieve.
Ferrell, in fact, holds the MLB record for home runs as a pitcher with 37 (he also had one as a pinch hitter), and his career line (548 games) was .280-38-208.  Ferrell logged some great years in there – on the mound and in the batter's box.
In 1935, fort example, Ferrell led the AL in pitching victories, going 25-14, 3.52. He also topped the junior circuit in complete games (31) and innings pitched (322 1/3). At the plate, he hit a lusty .347, with seven home runs and 32 RBI in 150 at bats. He also had 21 walks against just 16 strikeouts.
A few other Farrell tidbits:
Ferrell topped twenty wins in each of his first four full MLB seasons (1929-32 … He did have a total of three appearances in 1927-28 call ups). In those first four full campaigns, he went 21-10, 3.60; 25-13, 3.31; 22-12, 3.75; 23-13. 3.66.
Ferrell had a total of six seasons of 20+ wins – and led the AL in complete games four times.
He was a two-time All Star.
SHOWING OFF ALL THE SKILLS

On April 29, 1931 Wes Ferrell of the Indians no-hit the St. Louis Browns 9-0 in Cleveland. Ferrell gave up three walks and fanned eight in the contest. He also rapped a two-run double and a two-run home run, finishing the day two-for-four with two runs scored and four RBI. On the season, Ferrell went 22-12, 3.75 with a league-leading 27 complete games, while also hitting .319, with nine home runs and 30 RBI in 116 at bats.
Farrell holds the single-season (nine) and career (37) records for home runs as a pitcher.
Farrell hit an MLB career-high .347 for the Red Sox in 1935.
Wes' brother Rick Ferrell, a major league catcher for 18 seasons (.303-28-734).  is a member of the Baseball Hall of Fame. Wes and Rick were together on the Boston Red Sox from 1934-37.
NEVER A QUITTER …ALWAYS A HTTER

After his major league playing days were over, Ferrell continued to play minor league ball – primarily as an outfielder.  His best seasons as he closed out his professional career:

1941 … Hitting .332 with 20 home runs for the Leaksville-Draper-Spray Triplets of the Bi-State (Class D) League;
1942 … Hitting.361 with 31 home runs for the Lynchburg Senators of the Class C Virginia League;
1948, at the age of 40, hitting .425, with 24 home runs in 104 games for the Marion Marauders of the Class D Western Carolina League.

Ferrell finally hung up his spikes as a player after the 1949 season, when he hit .298, with four homes in 50 games for Class B teams in Tampa and Greensboro.
Ferrell's final pitching line was 193-128. 4.04.  It might have been even better if not for shoulder troubles that began in 1931 and limited is ability to use his "plus" fastball and the fact that he spent much of his career pitching for middle-of-pack teams. Still, retired with a .601 MLB winning percentage.
Primary Sources: Baseball-Reference.com; MLB.com; Society for American Baseball Research; Baseball-Almanac.com.
I tweet baseball @DavidBBRT
Follow/Like the Baseball Roundtable Facebook page here.  Baseball commentary, blog post notifications, PRIZES.
Member: Society for American Baseball Research (SABR); The Baseball Reliquary; The Negro Leagues Baseball Museum; Baseball Bloggers Alliance.