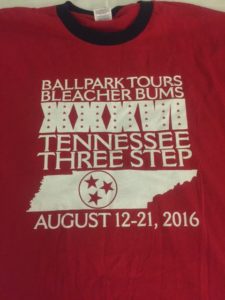 At 9:00 a.m. on Friday, August 12, 32 baseball fans – myself included – set out on Ballpark Tours Bleacher Bums XXXIV – a trip designed to take us to ten baseball games, in seven cities in ten days.  From Peoria (IL) to Memphis (TN) to Nashville (TN) to Chattanooga (TN) to Marion (IL) to Kansas City (MO) to Des Moines (IA), we would be taking in professional baseball at many levels (Independent, A, AA, AAA and Major League).
It was a fine rolling start, featuring some typical Ballpark Tours' hoopla including the distribution of our tour t-shirts, a baseball  book exchange, a Bloody Mary Bar at the back of the bus (open at 11:15 a.m.) and snacks (cheese, meats, crackers) to accompany the morning beverages. As lunch time came around, we stopped for a rest-area picnic, where tour participants broke out fare from chicken-salad pocket breads to smoked whitefish and double butter brie to sushi.
As we re-boarded and burned up the miles with baseball stories and memories from past Ballpark Tours' trips, we also received copies of this trip's Trivia Kwiz and forms for a contest to guess the number of major league runs scored during the upcoming weekend. Wow, apparently there is homework on this trip – but it's baseball homework.
Shortly after the lunch stop, the unrelenting rain started and, when we pulled into Peoria (a six-hour bus ride), we found our first game had been postponed – just the second rainout in Ballpark Tours' 34-year history. Undaunted, groups set out from the hotel – the very nice Staybridge Inn and Suites (my room had a queen bed, coach and coffee table, desk, refrigerator, microwave, stove and even an icemaker and dishwasher). Our destination(s)?  Local restaurants and pubs, on foot or via hotel shuttle.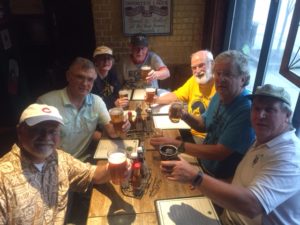 Libation and laughter (as well as supper) were the order of the evening.  The group I joined headed to Ulrich's Rebellion Room – a nearby Irish-style pub.  Despite the rain, and some disappointment with the cancelled game (and missed fireworks and lost bobbleheads), there were plenty of smiles, laughter and toasts to our national pastime. And, imagine, the response, when the group learned the pub didn't close until 4:00 a.m. and the kitchen was open until 3:00. That's hospitality.
I actually headed back to the hotel a little early, which gave me a chance to tune in to coverage of the day's major league contests.  Of particular interest was the Rockies/Phillies game and the performance of Colorado's rookie outfielder David Dahl.
David Dahl – For the Record

I kept an eye on Rockies' rookie left fielder David Dahl Friday evening. Thursday, Dahl hit in his 17th straight game (in what was just his 17th major league game) – tying the MLB record for the longest hitting streak to begin a career.

Dahl, who had a chance to claim the record (at 18 games) all to himself, went zero-for-four in the Rockies' 10-6  loss to the Phillies on Friday – striking out three times. Ironically, one of the strikeouts helped a Phillies' rookie tie another record. Dahl led off the second inning against Phillies' starter Jake Thompson and fanned on a curveball in the dirt, a wild pitch that also eluded catcher Cameron Rupp. Dahl reached first on the WP; Rockies; RF Gerarado Parra followed with a single; and catcher Nick Hundley was safe on an error (scoring Dahl). Thompson then struck out 1B Ben Paulsen, SS Daniel Descalso and P Jon Gray – to notch an MLB record-tying four strikeouts in an inning.

But, back to Dahl.  The 22-year-old rookie collected 24 hits in 70 at bats (.358) during his streak – including one double, three triples and three home runs.  Over the 17 games, he drove in ten runs and scored 17. Dahl moved up from AA Hartford to AAA Albuquerque before his call up, hitting .314 with 18 home runs, 61 RBI and 17 steals in a combined 92 games. Dahl was selected – out of Mountain High School in Birmingham, Alabama – in the first round of the 2013 MLB draft (10th overall). He carried a .310 average with 47 home runs and 74 stolen bases over five minor league seasons (367 games).  .

Dahl tied the record of Chuck Aleno,  3B for the Reds, who was called up May 15 1941. During his 17-game streak, Aleno hit .389 (28 for 72), with two doubles, two triples, nine RBI and 12 runs scored.  Aleno finished the year at .289-1-18 in 54 games, the most he would ever play in an MLB season, When he was called up, the 24-year-old Aleno was in his fifth professional season and was hitting .348 (19 games) for the AA Indianapolis Indians of the American Association. Aleno played 17 seasons of professional ball, part of four in the majors. His MLB career line was .209-2-34 in 118 games.
It's back on the bus tomorrow with, hopefully some game action, Memphis Redbirds, to report.
I tweet baseball @DavidBBRT
Member: Society for American Baseball Research (SABR); The Baseball Reliquary; Baseball Bloggers Alliance.