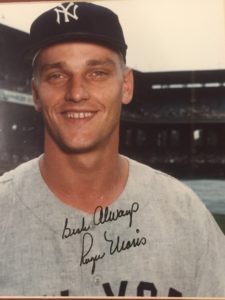 In 1961, the Yankees' Roger Maris belted 61 home runs (breaking Babe Ruth's then MLB record of 60). He also drove in a league-leading 141 runs, scored a league-leading 132 times and won his second consecutive AL Most Valuable Player Award. In addition, he drew a career-high 94 walks.  Ironically, however, 1961 was the only season in his 12-year MLB-career that Maris did not draw a single intentional walk. 
Compare that to the following season, when – On May 22, 1962 – in a 2-1, 12-inning Yankee victory over the Angels, Maris drew five walks in six trips to the plate – including an AL single-game record (later tied by the Red Sox' Manny Ramirez) four intentional passes. In 1962, Maris drew a career-high eleven intentional passes, while putting up a .256-33-100 line.
Notably, when you talk intentional walks, the conversation pretty much has to focus on Barry Bonds.   Bonds holds the records for:
IBB in a season – 120 with the Giants in 2004. (Bonds, in fact, holds the top three spots. The first non-Barry on the list is the Giants Willie McCovey with 45.) Note: Only three players had as many total walks as Bonds had intentional walks in 2004 – Bobby Abreu, Lance Berkman, and Todd Helton (127 each). Bonds drew 232 total walks.
IBB in a career – 688. Second Place goes to the still active Albert Pujols of the Angels with 305 as this is written.
Most seasons leading the league in IBB – 12.
Most IBB's in a nine-inning game – four (twice) on May 1 and September 22, 2004.
FEASTING ON FREEBEES

On May 22, 1990, RF and cleanup hitter Andre Dawson of the Cubs came to the plate eight times in a 16-inning, 2-1 Cubs win over the Reds. Dawson drew five intentional passes – the MLB record for IBB in a game. His day went like this:

Bottom of the first – runner on second and one out – intentional walk.
Bottom of the fourth – leading off – groundout to SS.
Bottom of the sixth – two outs and a runner on first – fly out to left.
Bottom of the eighth – score still 0-0, runner on third, two out – intentional walk.
Bottom of the 11th – runner on first, no outs – single.
Bottom of 12th – still 0-0, runners on first and second, two outs – intentional walk.
Bottom of 14th – score now 1-1, runner on second, two out – intentional walk.
Bottom of 16th – runners on first and third, one out – intentional walk, loading the bases. LF Dave Clark followed with a walk-off single to win the game.

Dawson, who hit .310-27-100, drew a career-high 21 intentional free passes in 1990.
A few other free pass marks:
Most IBB in a season in the American League – 33 by Ted Williams in 1957 and John Olerud in 1993.
Most IBB to a rookie – 16 to Mariners' OF Al Davis in 1984, when he hit ..284-27-116 and was the AL Rookie of the Year.
Most intentional walks received by a team in a game – six, provided by the Cardinals (to the Giants) in a 5-2 loss On July 19, 1975 – with three going to number-eight hitter catcher Dave Rader. Here are the IBB's: bottom of second to Dave Rader with a runner on second, one out and Cardinals down 2-0; bottom of third to Dave Rader, runners on second and third, two out, Cardinals down 4-2; bottom of the fifth to Dave Rader, with a runner on second, two out and the Giants up 4-2; bottom of the sixth to Bobby Murcer, with a runner on second, one out and the Giants up 4-2; bottom of the sixth to Willie Montanez, with the bases loaded, two outs and Giants still up 4-2; bottom of the eighth to Willie Montanez, with a runnr on third and one out and Giants up 4-2.
Six players have received intentional walks with the bases loaded: Abner Dalrymple (August 2, 1881); Nap Lajoie (May 23, 1901); Del Bissonette (May 2, 1928); Bill Nicholson (July 23, 1944); Barry (of course he did) Bonds (May 28, 1998); and Josh Hamilton (August 17, 2008).
WALKIN' IN THE SUNSHINE

In 2004, the year he set the single-season record for intentional walks (120), Barry Bonds also set the single-season record for total walks (232). The next highest MLB walk total that season was 127.  In 2004, Bonds walked in 37.9 percent of his trips to the plate. (Notably, he only struck out 41 times in a .362-45-101 campaign.) While Bonds walked more than 100 times in a season 14 times, the only season he reached 100 strikeouts was in his rookie year (1986).  Note: The other two members of the 700+ home run club –  Hank Aaron and Babe Ruth – had zero 100 strikeout seasons between them.  Aaron also never drew 100 walks in a season, while Ruth had 12 seasons of 100+ bases on balls.
Among the references sources for this post: Baseball-Almanac.com; Baseball-Reference.com; MLB.com.
Follow/Like Baseball Roundtable's Facebook page – here.  Baseball commentary, blog post notifications, baseball giveaways.
I tweet baseball @DavidBBRT
Member: Society for American Baseball Research (SABR); The Baseball Reliquary; The Negro Leagues Baseball Museum; Baseball Bloggers Alliance.