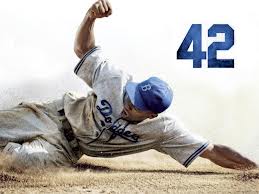 BBRT spent just over two hours yesterday afternoon immersed in "42" – the recently released feature film depicting Jackie Robinson's breaking of major league baseball's "color line" in 1947.  At the conclusion of the inspiring film, the theater audience broke into applause – a tribute to both the quality of film and (even more) to the real-life courage, dignity and perseverance of its primary characters:  Jackie Robinson (played by Chadwick Boseman), Dodgers' owner Branch Rickey (Harrison Ford) and Rachel Robinson (Nicole Beharie). BBRT highly recommends "42" – and not just for baseball fans.
This is much more than a movie about our national pastime.  It's also documents a watershed moment in American history and even presents a true story of love under pressure.   
It's a tale of how the often surly, but clearly idealistic, Branch Rickey – played to perfection by Ford – chose Jackie Robinson as his partner in efforts to break baseball's unwritten, but long understood, color line.  Robinson had not only the playing skills Rickey sought (he was a Negro League star), but the strength of character.  He had been a multi-sport athlete at UCLA and an Army Officer.  In Rickey's (correct) judgment Robinson had the intellect to understand the importance of taking his place in history and the courage and discipline to face the challenges it presented.  In Rickey's words "the guts not to fight back." 
The little-known Boseman fills his role ably, he not only looks and moves like an athlete, he blends on-field strength and stoicism with off-field sensitivity and rage to give us a bit of insight into how difficult being "the first" must have been.  As the movie takes us from Robinson's original signing through his first season in the major leagues, we see the depth of prejudicial abuse Robinson must face – the segregation of accommodations,  racial taunts from fans and opposing players, shunning by even his own teammates, even death threats directed toward Robinson and his family.  And, Robinson must deal with all of this while playing ball well enough to prove he (and those who would follow him) belong in the up-to-then "white" major leagues. 
How difficult was it for Robinson not to fight back?  This was a man who had been court-martialed (found not guilty) in the Army for refusing an order to move to the back of a bus.  Robinson, as history and "42" shows us, maintained his public composure and dignity under fire – with the support of Rickey and the unflinching affection and confidence of his wife Rachel.    
There are, throughout the movie, moments with "messages."  In one scene, a young boy is enjoying the pastoral beauty of the ball park with his father – until Robinson takes the field.  The boy's father begins to hurl a string of racist epithets at Robinson and the child looks dismayed for a moment and then energetically parrots his father's racist venom.  On the other side of the issue, we find a scene where Rickey tells Robinson of seeing a playground ball game in which a young white boy at the plate is mimicking Robinson's moves and stance – "a young white boy pretending to be a black man," now that is progress.
Not only is the story inspiring – and true – the baseball action is well-played and the cars, clothes and ball parks and (unfortunately at times) the attitudes are period-perfect.  It can be a walk down memory lane or, for those too young to remember, an eye-opening look at life in the '40s.
It is, most certainly, a great and important story – well told.  For BBRT, "42" was an afternoon well spent.  I encourage you to see this film – and, if you can't take peanuts and Cracker Jack, enjoy some popcorn.
Jackie Robinson – Dodgers number 42 – 1947 Rookie of the Year

151 games – .297 – 12 HRs – 125 runs – 48 RBI – 29 stolen bases