Bob Gibson – Pitcher of the Day on the Day of the Pitcher. 
Threw a complete game shutout – and hit a Two-Run homer. 
There is no doubt 1968 "earned" its reputation as "The Year of the Pitcher."  Witness the Tigers' Denny McLain's 31 wins (versus six losses) and 1.96 ERA, the 1.12 ERA and 13 shutouts rung up by the Cardinals' Bob Gibson, or the fact that Carl Yastrzemski of the Red Sox claimed the American League batting crown with a .301 average. To put the frosting on the cake, McLain and Gibson not only captured their respective league Cy Young Awards, but were both recognized as league MVP as well.
Well, if 1968 was the Year of the Pitcher, June 4, 1972 (42 years ago, today) was "The Day of the Pitcher." On that date, with sixteen MLB games scheduled, a record eight resulted in shutouts – and the pitchers who took the mound across MLB that day combined for a collective 2.78 ERA.
I'll look at those record eight whitewashes in more detail, but first a few tidbits that show just how much the game has changed.
It was a Sunday and the day featured doubleheaders at Baltimore, Chicago (White Sox), Kansas City and San Francisco.  (I really miss Sunday doubleheaders.)
Despite the fact that five games featured 10 or more total runs scored, 11 of the 16 games finished in under 2 ½ hours (four in under 2 hours), and the longest game was 3 hours and 9 minutes. (And, there were no challenges or instant replays.)
The average length of the 16 games was 2 hours and 35 minutes.
Pitchers went to the plate in every game, collecting 13 hits (78 at bats), two walks, three doubles, and one home run.  Overall, hurlers scored three runs and drove in ten. (I still do not like the DH.)
There were eight complete games, not all in the shutouts. (Pitch counts did not dominate commentary.)
There were six saves recorded that day – and, in four of those saves, the closing reliever pitched two or more innings.
The Shutouts
Now, here's a look at the record-setting eight shutouts – which, by the way, were not good news for the fans in attendance – only one home team was on the right end of the whitewashing.
Oakland at Baltimore (Doubleheader … 2-0 & 2-0 … Oakland wins both)
Oakland set the tone at Baltimore, blanking the Orioles by the identical score of 2-0 in both games of a doubleheader. In each game, the A's scored twice in the top of the first inning for the only runs in the contest.
In game one, the scoring was over after the first four batters.  SS Marty Martinez led off the game with a walk, LF Joe Rudi singled, Martinez scored on a single by RF Reggie Jackson and then Rudi came home as 3B Sal Bando hit into a short-to-second-to-first double play.  No more runners crossed the plate for either team. Dave Hamilton picked up the win (to go 2-0) with six innings of six-hit ball (no walks, one strikeout), Rollie Fingers picked up a hold (2/3 of an inning, one hit) and Darold Knowles earned his second save f the season with 2 1/3 scoreless innings (one hit, four strikeouts).  Doyle Alexander (3-2) took the loss for the O's, despite pitching seven innings of two-run ball.
In game two, Sal Bando hit a two-run home run with two-out in the first inning to account for all the game's scoring (SS Bert Campaneris had led off the inning with a double). Catfish Hunter (6-2) got the win with a complete game two-hitter (no walks, and four strikeouts). Mike Cueller (2-5), who gave up two runs in six innings, took the loss.
Cincinnati at Philadelphia (2-0 … Reds win)
Another 2-0 shutout, this one in Philadelphia – and, again, the scoring was over in the top of the first inning, this time after just three batters. Reds' lead-off hitter LF Pete Rose started the game with a single off the Phlllies' Bill Champion (who took the loss to go 3-3 on the season), CF Bobby Tolan followed with another single and then C Johnny Bench rapped a two-run double – scoring over.
The Reds Jack Billingham (3-4) got the win, throwing 7 2/3 innings of six-hit ball (no walks, six strikeouts), Relief was provided by Tommy Hall (1/3 inning, one hit, one strikeout) and Clay Carroll (one inning, one hit, one strikeout), who earned his tenth save.
Minnesota at Detroit (3-0 … Tigers win)
The Tigers topped the Twins 3-0 at Detroit behind Tim Timmerman's (4-4) complete-game four-hitter (one walk, six strikeouts) – one of just two shutouts in Timmerman's six MLB seasons.  Bert Blyleven (7-4), who would throw sixty complete-game shutouts in his 22-year career, took the loss in a game that was scoreless until the bottom of the seventh. Blyleven gave up just two hits in seven innings of work (one walk, six strikeouts), but one was a seventh-inning, two-run home run by Detroit CF Mickey Stanley (following a hit batter, RF Jim Northrup).
Boston at Kansas City (4-0 … Red Sox win)
In the first game of a doubleheader, Boston beat Kansas City 4-0 behind John Curtis (2-0). Curtis fashioned a complete-game seven-hitter (two walks, five strikeouts). The losing pitcher for the Royals was Mike Hedlund (0-5), who gave two runs on six hits in two innings before being lifted for a pinch hitter in the bottom of the second.  Kansas City took the second game of the twin bill 7-5.
Texas at Milwaukee (10-0 … Rangers win)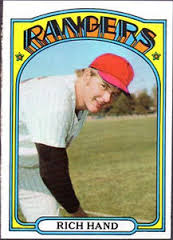 Rich Hand (2-3) had the shortest – and least effective – work day of any of the winning starters in this day of shutouts.  Hand, who was having control problems, pitched five scoreless innings – giving up four hits and five walks, while fanning one batter. Hand pitched out of trouble in the fourth inning (getting a line-drive double play with the bases loaded and one out) and fifth inning (a fly ball out with the bases loaded, thanks to three walks). When he walked the first hitter in the sixth, Hand's day was done. Mike Paul came on to throw two-innings of scoreless relief (no hits, two walks, three strikeouts) and Horacio Pena finished up (two innings, two hits, no walks, two whiffs) for his eighth save. The game as never in doubt, as Texas scored six runs on six hits, two walks and an error in the top of the first. Brewers' starter Skip Lockwood (2-5) lasted just 2/3 of an inning, giving up six runs on five hits and two walks. Notably, Texas collected a total of 14 hits in the game – 13 singles and a double.
Saint Louis at Los Angeles (4-0 … Cardinals win)
Cardinals' fire-baller Bob Gibson (3-5) shut down the Dodgers 4-0 in LA – throwing a complete-game five hitter, with one walk and six strikeouts. Gibson added insult to injury by belting a two-run homer in the top of the ninth.  Saint Louis 3B Joe Torre also homered in the game (fifth inning). Losing pitcher Claude Osteen (6-3) didn't pitch badly, giving up two runs in six innings on seven hits (two walks and three K's). Gibson would finish the year 19-11, 2.46, while Osteen would go 20-11. 2.64.
Houston at Montreal (5-0 … Astros win)
Houston's Don Wilson (4-4) went the distance in this one – a two-hitter, with two walks and six strikeouts. The game was a lot closer than the score would indicate, as Montreal starter Carl Morton (who took the loss to go to 2-6) matched Wilson zero-for-zero through seven innings. Then, with two out in the eighth, Morton gave up a solo home run to Houston CF Cesar Cedeno (his fourth of the season).  Morton's line in a losing cause was eight innings, five hits, one run, two walks, and one strikeout.  Things came apart in the ninth, when Montreal brought in Mike Marshall. Marshall retired only one batter while giving up two walks, three hits and four runs. John Strohmayer finished up for the Expos.
I tweet baseball @DavidBBRT