BBRT often goes "old school" in this posts, reflecting on past stars and accomplishments – like the recent post (September 25) on Satchel Paige.  Today, however, BBRT will look forward and touch on an entire line up of reasons why I have great expectations for the future of the American past time.
In this post, BBRT unveils its 2013 YOUNG STAR (All Star) TEAM.  The qualifications are straightforward.  Each selectee must already have excelled in the major leagues – and must have been born in the 1990s.  (Basically, it's a team of  "Young Stars," 23-years-old and younger.)  This youthful squad, I believe, would be a contender – and, together, these players will give fans plenty to watch, and get excited about, in the years ahead.
So, here is your 2013 Baseball Roundtable Young Star Team (birth dates in parenthesis).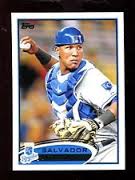 Catcher
Salvador Perez, Royals – age 23 – 6'3", 245 (May 10, 1990)
Kansas City catcher Salvador Perez is already being touted as one of the best defensive catchers (throwing out approximately 35% of attempting base stealers and showing a quick pick off move) in baseball, and he also looks to be maturing (very quickly) as a hitter.  Perez started his minor league career in 2007 at age 17 – and (from 2007-2012) hit .287 with 20 home runs in 343 minor league games. He was first called up to the Royals in August of 2011 – and hit .331-2-21 in 39 games.  In 2012, he again topped .300 for the Royals, with a .301-11-39 line in 76 games.  It appears KC has handled Perez, a 2013 AL All Star, exactly right – this season he has played in 138 games, hitting .292 with 13 home runs and 79 RBI.  He now has a career (3-year) average of .301 in 253 games.
First Base
Wil Myers, Rays – age 22 – 6'3", 205 (Dec. 10, 1990)
Okay, I cheated a hit here to get a strong bat in this slot – moving Myers in from the outfield.  However, Myers has already proven his ability to switch positions (he made the 2010 Midwest League All Star team as a catcher), so BBRT is confident the 22-year-old can make the transfer to first base.  (Unfortunately, rising star first sackers Freddie Freeman of the Braves and Anthony Rizzo of the Cubs were born just a little early to qualify for the '90s squad.  Freeman was born September 12, 1989 and Rizzo August 8, 1989.)
Myers, acquired by the Rays in the James Shields trade, was called up to Tampa in mid-June of this season.  At the time, he was hitting .286-14-57 at AAA Durham.  He was in his fifth minor league season (a total of 445 games, .300 average, 78 HRs, 316 RBI).  In 2012, at AA/AAA, Myers hit .314-37-109.  In 2013, Myers (an AL Rookie of the Year candidate) played in 88 games for the Rays and put up a .293-13-53 line, adding 50 runs, 23 doubles and five steals.   He gives the Young Stars a solid, power bat at first.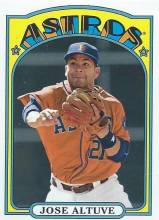 Second Base
Jose Altuve, Astros – age 23 – 5'5", 175 (May 6, 1990)
Just 23, Altuve already has more than 350 ML games and one All Star selection under his belt.  The shortest current major leaguer, Altuve launched his professional career at age 17 (hitting .343 in 64 Rookie League games).  Since day one, Altuve has shown speed and bat control at every level.  (He is also considered a "plus" defender with soft hands, a good arm and solid baseball instincts.) In 382 minor league games, Altuve hit .327, with 24 home runs and 119 steals.  He played his first game for the Astros on July 20, 2011 and has never looked back.  In 2011, he hit .276, with 7 steals and 26 runs scored in 57 games.  In 2012, he upped his average to .290, with 33 steals and 80 runs scored.  In 2013, he continued to hit and run, with a .283 average, 64 runs and 35 steals.  He also notched 31 doubles, five home runs and 52 RBI.  Altuve is a good table setter to put at the top of the  "Born in the '90s" line up.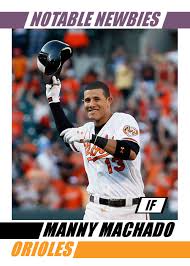 Third Base
Manny Machado, Orioles – age 21 – 6'2", 180 (July 5, 1992)
Manny Machado (what a great baseball name), was being groomed as the O's shortstop of the future before his call up August 9, 2012 (at the age of 19).  The Orioles needed help at the hot corner and Machado was assigned the third base job (a position he had not played professionally).  He adjusted well, proving a defensive asset.  The teenager also held his own at the plate, hitting .262, with seven home runs and 26 RBIs. There was, however, plenty more to come.  This season, Machado has become an offensive force – .282-14-71, while leading the AL in doubles (51), scoring 88 runs and tossing in six steals for good measure.  Once he learns a bit more patience at the plate (113 strikeouts versus 29 walks this season), he is likely to move up among the game's elite hitters.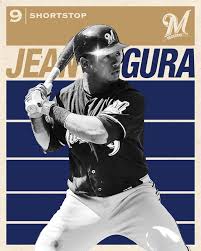 Shortstop
Jean Segura, Brewers –  age 23 –  5' 10", 200 (March 17, 1990)
There were several choices available for the Young Star team at this critical position.  BBRT is going with the Brewers' Jean Segura (acquired by Milwaukee from the Angels in the 2012 Zack Greinke trade).  Signed at 17, Segura's six-season minor league stats include 399 games, a .312 average and 139 stolen bases.  In 2012, he got in one game with the Angels and 44 with the Brewers, hitting .264 with 13 steals, showing flashes of stellar defense, as well as some defensive lapses.  In 2013, Segura lived up to his promise – making the NL All Star team, while stabilizing his defense, and hitting .294, with 74 runs, 12 home runs, and 49 RBI.  He was second in the league with 44 steals (trailing Eric Young by two), and likely would have led the league in that category except for a late season hamstring injury.
Other contenders for this spot were the Cubs' Starlin Castro (May 24, 1990), the first player born in the 1990s to play in the major leagues.  Just 23, Castro is in his fourth ML season, carrying a .283 average in 606 games, two All Star selections and the 2011 NL hits leaderships. Segura passed Castro on the basis of the latter's declining batting average over the past two seasons (.307 in 2011/.283 in 2012/.245 in 2013) and defensive lapses.  Also in the mix were Detroit's Jose Iglesias (January 5, 1990), who this year could become the first player to win Rookie of the Year in a season in which he was traded (from Boston to Detroit).  Iglesias put up a .303-3-29  line in 109 2013 games, but has tailed off a bit in the second half (he hit .330 in 63 games with the Red Sox and .259 in 46 games for the Tigers).
Outfield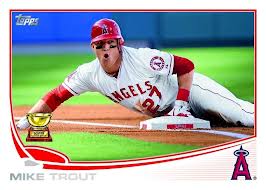 Mike Trout, Angels – age 21 – 6'2", 230 (Aug. 7, 1991)
Just 21, Trout has spent all or part of the past three seasons with the Angels and is already a two-time All Star.  Called up in July 2011, he hit .220 with five homers, 20 runs scored, 16 RBI and four steals in 40 games.  Trout then started 2012 in the minors, but after hitting .403 in 20 games at AAA Salt Lake, it was clear he had nothing more to prove. Trout was back with the Angels by late April.  A .342 hitter, with 23 home runs and 108 steals in 286 minor league games, Trout has proven to be a true five-tool MLB star; adding power and patience as he matured.
In 2012, Trout appeared in 139 games, winning AL Rookie of the Year honors, while hitting .326 with 30 home runs and 83 RBIs, leading the AL in runs scored (129) and stolen bases (49) and playing sterling defense.   In 2013, he has avoided the "sophomore jinx," going .323, with 27 home runs, 97 RBI and 33 steals (caught only seven times), while also leading the AL in runs (109) and walks (110).   From BBRT's perspective, he can be the new generation's Willie Mays – and the leader of the BBRT Young Star team. He'll bat in the three-hold for the Young Stars.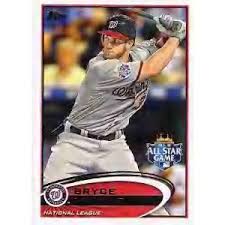 Bryce Harper, Nationals – age 20 – 6'2", 230 (Oct. 16, 1992)
Harper, the 2012 NL Rookie of the Year, has been recognized not just for his talent, but also for his hustle and work ethic.  A major-league regular by age 19, Harper played only 134 minor league games – hitting .292, with 19 homers, 64 RBI and 27 steals.  He earned his first MLB All Star berth in his rookie season (the youngest position player ever selected to an All Star squad) as a replacement for the injured Ian Desmond.  He ended his rookie campaign at .270-22-59, with 18 steals and 90 runs. Harper, who goes "all out, all the time," suffered hip, knee and rib cage injuries in 2013, but still made his second All Star squad and hit .274, with 20 home runs, 58 RBI, 71 runs and 11 steals in 118 games.
Harper earned additional BBRT respect on May 6, 2012, when, after being welcomed to the big leagues with a Cole Hamels' pitch in the back (which Hamels later admitted was intentional), Harper extracted "old school" retribution – going to third on a single and then stealing home.
If Harper avoids serious injury, BBRT expects he will add power as he matures, significantly upping his HR and RBI totals.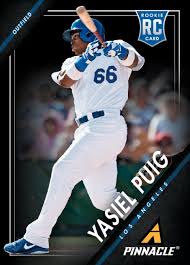 Yasiel Puig,  Dodgers – Age 22 – 6'3", 245 (Dec. 7, 1990)
For BBRT, Cuban defector Yasiel Puig is Mike Trout with "attitude" – and regardless of how you feel about that attitude, he is (and will continue to be) an exciting player to watch.  Puig played in only 63 minor league games before his June 3, 2013 call up – hitting .328-13-52 with 21 steals. His 2013 line reads .319-14-42 with 11 steals in 104 games for LA, playing a key role in the Dodgers comeback to win the division. (He does need to hone his base running skills – caught eight times in 19 attempts- but Puig clearly has five-tool potential.)  He also plays with emotion and confidence that can often rub the opposition the wrong way.  He backs up that attitude with talent and a commitment to winning that holds promise for a long, successful MLB career – and makes him a key part of the 2013 Young Star team's five-tool outfield.
Starting Pitchers (Tie)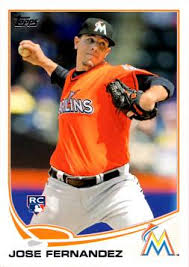 Jose Fernandez, RH, Marlins – Age 21 – 6'2", 240 (July 31, 1992)
Cuban defector, Jose Fernandez – who boasts a mid-90s fastball and a sharp, overhand curve – made the jump to the Marlins in 2013, after only 55 minor league innings (27 games in 2011/12), with a minor league 14-2 record, 59 strikeouts and a 2.02 ERA.  He proved to be all that was advertised, going 12-6, 2.19, with 187 whiffs (vs. 58 walks) in 172 2/3 innings before a late-season shutdown by the Marlins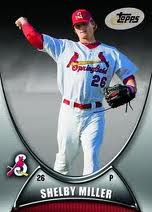 Shelby Miller, RH, Cardinals – age 22 – 6' 3", 215 (Oct. 10, 1990)
Just 21-years-old and with four minor league seasons behind him, Miller received a late 2012 call up to the Cardinals and impressed – 6 games, 13 2/3 inning pitched, 16 strikeouts and a 1.32 ERA.  He earned a spot in the 2013 Cardinals' rotation in spring training and delivered on his promise – 15-9, 3.06,  and 169 strikeouts (vs. 57 walks)  in 173 1/3 innings.
Lots of quality hurlers came close to making the Young Star team – a few of the 1989 birth class include the Mets' Matt Harvey, White Sox' Chris Sale, Giants' Madison Bumgarner and Rays' Matt Moore.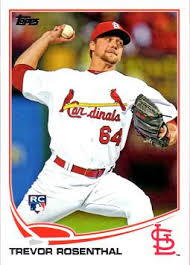 Closer (with a back-up plan)
Trevor Rosenthal RH, Cardinals – age 23 – 6'2", 220 (May 29, 1990)
Pickings were a little slimmer for a 2013 Young Star team closer.  MLB teams like hurlers to "mature" before taking on that responsibility.  Given that circumstance, BBRT looked to the potential of the Cardinals' Trevor Rosenthal, whose fastball has topped 100 mph.  Primarily a starter in the minors (66 games, 48 starts, 22-14 record, 3.53 ERA, 293 strikeouts in 285 1/3 innings), Rosenthal has pitched solely in relief since his call up in July of 2012.  In 74 2013 appearances, he pitched 75 1/3 innings, striking out 108 )vs. 20 walks), with a 2-4 record, three saves and a 2.63 ERA. In his 1 1/2 MLB seasons, he has whiffed 133 hitters (27 walks) in 98 inning, with a 2.66 ERA.
Paco Rodriguez, LH, Dodgers – age 22 – 6′ 3″, 220 (April 16, 1991)
Rosenthal's preference is to be a starter, so just in case, our 2013 Young Star team has the Dodgers' Paco Rodriguez  in the wings.  Rodriguez began his professional career in the LA system in 2012, appearing in 21 games, with a 0.92 ERA and 32 strikeouts in 19 2/3 innings pitched.  That performance earned Rodriguez a September call up to (the first 2012 MLB draftee to make the majors).  He appeared in 11 games (just 6 2/3 innings), with a 1.35 ERA in the final month.  In 2013, Rodriguez appeared in 76 games for the Dodgers, with a 3-4 record, two saves, a stingy 2.32 ERA and 63 strikeouts (vs. 19 walks)  in 54 1/3 innings.  Paco is the Young Star team's closer in waiting.
Looking at established closers, both the Braves' Craig Kimbrel and the Reds Aroldis Chapman were born in 1988 – under 25, promising lots of good years ahead, but too old for the Young Star team.
So, there's BBRT's 2013 Young Star Team.  BBRT welcomes any comments or additional nominations for the  youthful squad.