Spring Training is winding down, and it's the time of year when Baseball Roundtable picks a few MLB prospects to keep an eye on in the coming season.  In this post, we'll take a look at a handful of young players truly poised to make an MLB splash this season, a few others who have a chance to showcase their skills at the major league level – and add a couple of side trips to view a top prospect we won't see this year and a trio of Yankee youngsters who could change the outcome in the AL East.  (Statistics through March 20.)
POISED TO MAKE SPLASH AT THE MAJOR LEAGUE LEVEL
ANDREW BENITENDI (OF, RED Sox)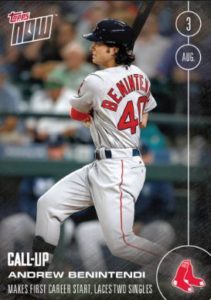 If there was ever a can't miss prospect, it's Red Sox' OF Andrew Benitendi.  The 22-year-old, 5'10", 170-pound fly chaser has been at the top of his game wherever he's played.  His senior year in high school, he hit .564-12-57 with 38 steals and was the 2013 Ohio Gatorade Player of the Year and ABCA/Rawlings National High School Player of the Year.  In 2015, his sophomore season at the University of Arkansas, he hit .380 with 19 home runs and was the Southeastern Conference Player of the Year, Baseball America Player of the Year, as well as the winner of the Dick Howser Trophy and Golden Spikes Award.
The Red Sox made Benitendi the seventh overall pick in the 2015 MLB Draft – and 14 months later, he was playing at Fenway. (He hit .312-20-107, with 26 steals in 151 minor league games, before his 2016 call up – where he hit .295-2-15 in 34 games for Boston.) This spring, he's kept right on hitting – .308-2-8 in fourteen games (with six walks against just four strikeouts). Look for Benitendi to patrol LF at Fenway and do some damage with his left-handed bat as well.
DANSBY SWANSON (SS, Braves)
Dansby Swanson, the 2014 College World Series Most Outstanding Player (Vanderbilt University) was the first overall pick (Arizona Diamondbacks) in the 2015 MLB (June) draft.  Just six months later, he was traded to the Atlanta Braves (see box below), the fastest any first-overall draft choice was ever moved. A mere eight months after that (August 2016), he was in the major leagues – getting just enough at bats to keep his rookie status for 2017.  (Side note:  Both of the top two prospects on this list took just 14 months to get their first taste of the major leagues.) But, I'm getting ahead of myself.
Before the D-backs/Braves trade – in fact, before his first-ever professional game at any level – Swanson was hit in the face with a pitch in a simulated game (delaying his 2015 pro debut by about a month). He went on to play in 22 games at Class A Hillsboro, going .289-1-11. The following season, now in the Braves' system, Swanson hit .275-9-53, with 13 steals, in 105 games at High A and Double A. He was called up August 17 and went .302-3-17 in 38 games for the Braves.  The 6'1", 190-pound, 23-year-old is not known for flashy skills, but rather for "veteran" defensive instincts and reliability, a quick bat, good plate discipline and the potential to add power to his game.  This spring, Swanson was sidelined for a couple of weeks with a side strain, and has gone .389-1-4 in 18 at bats (seven games).  Look for him to be a surprisingly steady (for a rookie) influence in the Braves infield.
BRAVES' MAKE HAUL IN MILLER TRADE

In the NL West, the Diamondbacks seem to consistently find themselves chasing the pitching rich Dodgers and Giants. In 2015, they went "all in" to close the mound gap. Early that December, they signed free-agent Zack Greinke – a former Cy Young Award winner, who led the NL (as a Dodger) in winning percentage (19-3, .864) and ERA (1.66) in 2015. At almost the same time, they added Shelby Miller to the rotation in a trade with the Braves.  Miller had been an All Star in 2015. He also led the NL in losses (6-17), despite a 3.02 ERA. The Diamondbacks also got minor league pitcher Gabe Speier in the deal; while sending number-one overall draft pick SS Dansby Swanson, OF Ender Inciarte and minor league pitcher Aaron Blair to the Braves.

What was the outcome? For the Diamondbacks, Miller had an off year, going 3-12, 6.15 (although he did show improvement; 3.98 ERA in the second half). Speier went 4-2, 2.62, while moving from Rookie League to Double A. The Diamondbacks finished fourth – 22 games off the pace. The Braves fared better – w-a-a-ay better. Inciarte hit .291-3-29 with 16 stolen bases and won a Gold Glove for his play in center field.  Swanson moved up to the Braves (see prospect description above) and seems set to be their shortstop for the long-range future.  Blair went 5-4, 4.65 at AAA, and 2-7, 7.59 with the Braves. The rebuilding Braves did finish last – 26 1/2 games out.
HUNTER RENFROE (OF, Padres)
I like Hunter Renfroe a lot – and I'm convinced "13" (Renfroe was the 13th overall selection in the 2013 MLB draft) will be a lucky number for the Padres.  Renfroe played college ball at Mississippi and in 2013 won the C Spire Ferriss Trophy as the best college player in Mississippi. In 2011-12, he also played for the Bethesda team in the Cal Ripken Collegiate Baseball League – where his number was retired after a 2012 season when he set new team records in runs scored, runs batted in, home runs and total bases. In four minor league season (438 games), the 6'1', 220-pound right-handed hitter hit .281, with 77 home runs, 283 RBI and 23 steals.
Before a September 2016 call up to the Padres, he was hitting .306-30-105 at Triple A El Paso. In 11 late season games for San Diego, Renfroe hit .371-4-14. In 15 Spring Training games, he's hitting .304, with two homers and seven RBI. Look for him in RF in San Diego.
Yoan Moncada (2B, White Sox)
The key player in the Chris Sale trade, Moncada was signed out of Cuba by the Red Sox in 2015. As a teenager in the Cuban National Series, Moncada hit .277-4-28 in 101 games. The 21-year-old made his MLB debut in 2016, going four-for-nineteen in eight games with the Red Sox.  Considered one of MLB's top-five prospects, he hit .287-23-100, with 94 stolen bases over two minor league seasons. This spring, the 6'2", 205-pound infielder is hitting .317-3-13 in 17 games.  Reports indicate the rebuilding White Sox won't rush Moncada to the major leagues, but BBRT is guessing he'll force his way to "The Show" before season's end.
JOSH BELL (1B, Pirates)
Pirates' first baseman Josh Bell is less of a can't miss prospect than the first four on this list – more because of health concerns than performance expectations. The 24-year-old Bell, at 6'2", 240-pounds, looks like the prototypical power-hitting first baseman. To this point, he's shown power potential, but has been more of a line-drive hitter.  In five minor league seasons (487 games), Bell has hit .303, with 44 home runs and 285 RBI (and he's tossed in 23 steals, not bad for a 240-pounder).
Bell was signed by the Pirates (out of high school) in the second round of the 2011 MLB Draft. In his senior campaign for Jesuit College Preparatory School (Dallas, Texas), Bell hit .548, with 13 home runs and 54 RBI, earning a spot on the USA Today All-USA High School Team, Gatorade/ESPN Texas Player of the Year honors and a scholarship offer from the University of Texas.  Bell began the 2016 season at AAA Indianapolis, going .295-14-60 before a call up to the Pirates.  He got in 45 games for Pittsburgh, hitting .273-3-19.  Bell should be a fixture in the Pirates lineup this season.
Oh, about that health issue. In 2012, Bell had significant (left) knee surgery (meniscus) and then, this February, had minor surgery to remove what was termed a loose body from the same knee.  Bell is back with the team, but has only two hits in seven spring games (21 at bats). He's got some catching up to do, but he should be in the line upon Opening Day.
THREE YOUNG YANKEES THAT COULD MAKE A DIFFERENCE

The Yankees are seeing a changing of the guard and – at least to BBRT – it looks pretty good.  Consider what these three youngsters could mean to the Bronx Bombers' future. 

Catcher Gary Sanchez (24-years-old) made his MLB debut last season and went .299-20-42 in 53 games. He's maintaining the momentum this spring, with a .361-4-13 line in 13 games. 

Then there is 1B Greg  Bird (24-year-old), who showed a power bat in the minors and came up last year to hit .261-11-31 in 46 games for the Yanks.  This spring, Bird is .421-4-6 in 16 games.

Finally, there is OF Aaron Judge (also 24), who hit .270-19-65 at AAA Scranton Wilkes-Barre last season (93 games) before going .179-4-10 in 27 games for the Yankees. New York still expects good things from this top prospect, who is at .286-2-3 in 17 spring games.
ALSO ON THE BBRT WATCH LIST
MITCH HANIGER  (OF, Mariners)
Haniger's 19 hits leads all hitters this spring. The 26-year-old has nine extra bases hits (six doubles, one triple and two home runs) and eight RBI. Haniger (6'2", 215-pounds) ripped up Double A and Triple A last season (.321-25-94 in 129 games) and then hit five home runs and drove in 17 (but hit only .229) in a brief call up to the Diamondbacks.  After playing college ball at Cal Poly, where he earned Big West Conference Player of the Year and All American honors in 2012, he was drafted by the Brewers as a supplemental pick (end of first round) in 2012. He was traded to the D-backs in 2014 and then to the Mariners in November of 2016. Haniger has strong minor league numbers (.290-61-268 over 455 games). He's also a plus defender who may very well have played his way into a starting role this spring.
PETER O'BRIEN  (OF/1B,  Royals)
As of this writing (March 20), Peter O'Brien is tied for the Spring Training lead in home runs (six) with a more familiar name (Bryce Harper). Through Monday, the 6'4", 235-pounder was hitting .333-6-13 and opening some eyes.    O'Brien was a second-round pick (Yankees) in the 2012 MLB Draft, traded to the Diamondbacks in 2014 and then to the Royals (who liked his power bat) this January. He played college ball for Bethune-Cookman and the University of Miami and was named Mid-Eastern Athletic Conference Player of the Year in 2010 and All Atlantic Coast Conference in 2011. O'Brien's best minor league seasons were 2015 (.284-26-107 at Triple A) and 2014 (.271-34-74 at three levels). In a brief 2016 call up to the Diamondbacks, he hit .141-5-9 in 28 games. Despite a solid spring, O'Brien – who still needs to work on plate discipline – is expected to start the season in the minors. Still, BBRT expect to see him in a Royals' uniform soon.
BROCK STASSI  (1B, Phillies)
Brock Stassi (6'2", 190-pounds) has been a run-producing machine this spring, with an MLB-leading 15 RBI in just 17 games. The 27-year-old's line in 43 Spring Training at bats is .326-5-15. Stassi may be THE surprise of Spring Training. A 33rd-round draft pick (2011).  Stassi has a .263 average, with 42 home runs and 271 RBI in 580 minor league games (six seasons). He played college ball for the University of Nevada and was a First-Team All-Western Athletic Conference pick during his senior season. He's had a solid spring, but the Phillies may find it hard to take him north – or even free up a spot on the forty man roster. It doesn't help his cause that 24-year-old Tommy Joseph, who surprised the Phillies with 21 home runs in 107 games after being called up last season is penciled in for the first base slot – although Stassi's left-handed bat could be valuable off the bench. Keep an eye on him as the season progresses.
ONE TOP PROSPECT WE WON'T SEE

ALEX REYES  (RHP, Cardinals)

Twenty-two-year old Alex Reyes (6'3", 175-pounds) looked to have a lock on a spot in the Cardinals' rotation. With a high-90s fastball (with movement), a power curve and a solid changeup, he earned a call uP last August and went 4-1, 1.57 with 52 strikeouts in 46 innings (12 appearances/five starts). This followed four minor league seasons in which he went 20-21, 3.50 with 449 strikeouts in 334 innings pitched.  BBRT was anxious to see what Reyes – signed as an amateur free agent in 2012 – could do in a full season for St. Louis. It was, however, not to be.  In February, he suffered a torn ulnar collateral ligament that required Tommy John surgery.  See you in 2018.
I tweet baseball @DavidBBRT
Follow me on Facebook at Baseball Roundtable
Member:  Society for American Baseball Research (SABR); The Baseball Reliquary; Negro Leagues Baseball Museum; Baseball Bloggers Alliance