In 1920, Yankee slugger Babe Ruth out-homered every other AL team.
Pirate rookie outfielder Ralph Kiner won the NL home run crown as rookie in 1946 – and then went on to hold the crown for a record seven consecutive seasons.
Mark McGwire is the only player ever traded in the midst of a 50+ homer season.
Reggie Jackson is the only member of the 500-HR club to never have back-to-back seasons of at least 30 homers.
Eddie Murray's career high in home runs was 33, the lowest for any member of the 500+ HR club.
You'll come across these tidbits and more in this post, as BBRT looks at MLB home runs leaders by numerical decade, in any ten-year span and over the first ten years of an MLB career.  In the lists that follow, Hall of Famers are noted in bold face and career homers are noted in parentheses.
Decade-by- Decade Home Leaders
1870-79
Lipman Lip Pike                       21 (21)
Outfielder-first baseman Lip Pike is generally acknowledged as the leading major league home run hitter of the 1870s, with 21. Playing for the National Association's Troy Haymakers, Baltimore Canaries, Hartford Dark Blues, Saint Louis Brown Stockings, Cincinnati Reds and Providence Grays, Pike led the league in home runs in 1871, 1872, 1873 and 1877.  Pike is also recognized as one of the game's first "professional" players – accepting a salary to play baseball as early as 1866 (a reported twenty dollars a week from the Philadelphia Athletics). With the National Association of Professional Base Ball Players (NAPBBP), founded in 1871, considered the first professional baseball league, Pike ico-holds the title of professional baseball's first-ever home run champion – with four home runs in 1871 (tied with Chicago's Treacey and Philadelphia's Levi Meyerle).
1880-89
Harry Stovey                              89 (122)
Dan Brouthers                          77 (106)
Fred Dandelion Pfeffer                 71 (94)
Jerry Denny                               70 (74)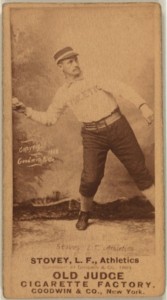 Philadelphia Athletics OF-3B Harry Stovey tops the list for the 1880s, leading the NL in homers once and the then major league American Association three times in the decade, with a high of 19 in 1889. Stovey was also considered one of the best defensive outfielders and top base-stealers of his time, and has been credited with popularizing the feet-first slide and inventing protective sliding pads.
Number two on the list, Dan Brouthers, was the first player (along with Jim O'Rourke) to appear in a major league game in four different decades.
Number three, Cubs second baseman Fred Pfeffer was never a league leader in home runs, but did rap a career-high 25 homers in 1884, when teammate third baseman Ned Williamson hit 27 dingers.  Only five times did a player reach the twenty-home-run mark in a season during the 1880s – and four of those campaigns were recorded for the 1884 Cubs: Williamson, Pfeffer, first baseman Abner Dalrymple (22) and outfielder Cap Anson (21).  The other 20-homer season belonged to Philadelphia's (NL) Sam Thompson, who hit 20 HRs for the Quakers in 1989.
1890-99
Hugh Duffy                               83   (106)
Ed Delahanty                           79   (101)
Mike Silent Mike Tiernan            77  (106)
Sam Thompson                       75   (126)
Boston outfielder/shortstop Hugh Duffy tops the 1890s list, and led the NL in home runs twice in the decade – including a career-high 18 in 1884, when he also led the NL with a .440 batting average; the highest single season average in MLB history.
Outfielder/first baseman Ed Delahanty comes in a close second – and finished with double-digit HRs seven times in the 1890s, winning the HR title twice.
Both Mike Tiernan and Sam Thompson were two-time HR champions during the decade.
1900-09
Harry Davis                              67 (75)
Charles Hickman                      58 (59)
Wahoo Sam Crawford            57 (97)
John Buck Freeman                 54 (82)
Ralph Socks Seybold               51 (51)
Honus Wagner                       51 (101)
Harry Davis, who tops the list, was a true power hitter for his time. The Philadelphia Athletics outfielder led the AL in home runs four consecutive seasons (1904-07) during the decade – with annual HR totals of 12-8-10-8.
Despite being the second most prolific power hitter of the decade, Charles Hickman was a defensive liability and played for six teams in that ten-season span – including playing for two AL teams in each of  four seasons – Boston/Cleveland in 1902, Cleveland/Detroit in 1904, Detroit/Washington in 1905, Washington/Chicago in 1907.
Reds' outfielder Sam Crawford is best known for holding the career record in triples (309) and the single season record for inside-the-park home runs (12).
The other Hall of Famer on this list, Pittsburgh shortstop Honus Wagner never led his league in home runs (over a 21-year career), but between 1900-09 did lead the NL in doubles seven times.  Wagner was one of the five members of the Baseball Hall of Fame's first inducted class.
1910-19
Clifford Gavvy Cravath               116  (119)
Fred Luderus                               83  (84)
Frank Home Run Baker              76  (96)
Frank Wildfire Schulte                   75 (92)
List leader outfielder Gavvy Cravath was one of only three players to top 20 home runs between 1910-19, rapping 24 for the Phillies in 1915 (Frank Schulte hit 21 for the Cubs in 1911 and Babe Ruth hit 29 homers for the Yankees in 1919). Cravath, who hit his 116 homers in 8 seasons (1912-19), led the NL in round trippers six times in that eight-season stretch.
Phillies' first-sacker Fred Luderus had the decade's second-most HRs, despite never leading the league, but he did hit double digits in homers for four consecutive seasons (1911-14).
Philadelphia Athletics' third baseman Home Run Baker earned his nickname, leading the AL in HRs in four consecutive seasons (1911-14).
Cubs' outfielder Wildfire Schulte led the NL in HRs twice in the decade, but is best known as one of only seven players (and the first) to have a MLB 20-20-20 season – in 1911 he hit 30 doubles, 21 triples and a league-leading 21 homers.
1920-29          
Babe Ruth                              467  (714)
Rogers Hornsby                     250  (301)
Cy Williams                             202  (251)
The 1920s were all about Babe Ruth, who out-homered the number-two man on the decade list by more than 200 home runs.  In 1920, Ruth broke his own season home run record of 29, crashing an unimagined 54; and he broke that record twice more in the decade. To further illustrate the Bambino's dominance, there were fourteen 40+ homer seasons in the decade and Ruth had nine of them (as well as 7 of 8 of the 45+ homer seasons).  In 1920 and 1927, the Yankee slugger actually out-homered every other AL team.
Cardinals' second baseman Rogers Hornsby led the NL in homers twice in the decade (42 in 1922 and 39 in 1925), but is better known for his seven batting titles in the 1920s – and for topping .400 three times.  Only Ty Cobb, Ed Delahanty and Hornsby can boast three .400+ qualifying seasons.
Phillies' outfielder Cy Williams led the NL in home runs three times during the decade, with a career-best total of 41 in 1923.
1930-39
Jimmie Double XX Foxx       415  (534)
Lou Iron Horse Gehrig           347 (493)
Mel Ott                                   308 (511)
Jimmie Foxx manned first base, third base and catcher for the Philadelphia Athletics and Boston Red Sox during the '30s, and nabbed four HR titles in the decade, topping 50 homers twice. During his career, he hit at least thirty homers in 12 consecutive seasons.
Yankee first baseman Lou Gehrig grabbed three AL home run titles during the same span, and while he never hit 50 HRs in a season, he did reach 49 twice in the decade.
Over in the NL, Giants' outfielder Mel Ott captured five HR titles in the 1930s, despite never reaching forty homers in a season (he did park a career-high 42 long balls in 1929).
1940-49
Ted Williams                          234  (521)
Johnny Mize                           217  (359)
Bill Nicholson                           211  (235)
No, there wasn't a power outage in the 1940s, there was World War II and the decade's HR leader, Ted Williams, lost three years to military service.  In the seven seasons he did play, The Red Sox' Splendid Splinter won four HR titles and averaged just over 33 homers a campaign.  His .406 average in 1941 marks the last time an MLB batting champion finished at .400 or better.
Number-two on the decade's dinger list, Johnny Mize, also lost three years to military service. In the 1940s, he still managed three NL HR titles (for the Cardinals and the Giants) and hit a career-high 51 long balls in 1947.
Cubs' outfielder Bill Nicholson rounds out the top three. Nicholson played all ten seasons (1940-49) and led the NL in home runs and RBI in 1943 and 1944. Nicholson is officially listed as one of six major league hitter to draw an intentional walk with the bases loaded (1944).  The others are Abner Dalyrmple (1881), Napoleon Lajoie (1901), Barry Bonds (1998) and Josh Hamilton (2008).
1950-59
Edwin Duke Snider                 326  (407)
Gil Hodges                               310  (370)
Eddie Mathews                       299  (512)
Mickey Mantle                        280  (536)
A pair of Dodgers topped the decade of the 1950s – centerfielder Duke Snider and first baseman Gil Hodges were number one and two in home runs – despite winning only one HR title between them (Snider with 43 in 1956).  Snider did reach 40 homers five straight seasons, collecting 207 of his round trippers from 1953 to 1957.
The Brooklyn/LA pair were followed by a couple of power-hitting future Hall of Famers in Braves' third baseman Eddie Mathews and Yankees' centerfielder Mickey Mantle, who came up to the majors in 1952 and 1951, respectively. Mantle won three AL HR crowns in the decade, while Mathews led the NL twice.  A couple of notes of interest, Mathews is the only player to play for the same franchise in three cities (Boston, Atlanta, Milwaukee Braves) and was on the cover of the first issue of Sports Illustrated  (August 16, 1954);  in 1997, the Topps Baseball Card company retired Mantle's number seven from its base sets.  Topps brought number seven out of retirement in 2006, but reserves it for cards featuring Mantle.
1960-69
Harmon Killebrew                  393  (573)
Hank Aaron                            375  (755)
Willie Mays                            350  (660)
Washington Senator/Minnesota Twin Harmon Killebrew led all of MLB with 393 homers in the 1960s, topping 40 six times during the decade – in which he also led the AL in homers six times.  In 1965, Killebrew was elected to start at first base for AL All Star team, becoming the first player elected to an All Star Team at three positions (Killebrew had previously been elected to start at 3B and LF).
The number-two home run hitter of the decade was Milwaukee/Atlanta Braves' outfielder Hank Aaron, whose 375 HRs led the NL. Hank hit 40 or more five times during the decade, capturing three NL HR titles.
Third on the list for the '60s is Giants' centerfielder Willie Mays, who also took three HR titles and is the only one of the top three to reach the seats 50 times in a season (52 in 1965).
1970-79
Willie Stargell                        296  (475)
Reggie Jackson                     292  (563)
Johnny Bench                        290  (389)
Pirates' outfielder Willie Stargell won two league HR titles on his way to an MLB-tops 296 home runs in the 1970s.
Reggie Jackson, who spent time in the 1970s with the Athletics and the Yankees, finished second during the decade with 292 homers – despite never reaching forty in that ten-year span (he did top 40 twice in his career). During the decade, Jackson led the AL with 32 HRs in 1973 and 36 in 1975. On another career note, Jackson is the only member of the 500-HR club to never hit 30 or more homers in consecutive seasons.
Cincinnati catcher Johnny Bench captured two HR titles and two NL MVP awards, while hitting 290 long balls in the decade.
1980-89                      
Mike Schmidt                         313  (548)
Dale Murphy                             308  (398)
Eddie Murray                          274  (504)
Mike Schmidt was "winding down" his career in the 1980s (1989 was his last season) and would have gone well beyond his 313 HR total for the decade if it hadn't been for reduced playing time and only 18 home runs his final two seasons.  Still, the Phillies' third baseman did earn five of his eight home run titles and all three of his NL MVP Awards during the decade.
Braves' centerfielder Dale Murphy finished second to Schmidt in 1980s' long balls, with two HR titles and a high of 44 in 1987. Murphy also earned consecutive NL MVP Awards in 1982-83.
Eddie Murray won only one HR title in his career, with 22 homers for the Orioles' in the strike-shortened 1981 season.  The switch-hitting Murray's career high in homers in a season was 33 (in 1983), the lowest career-best for any member of the 500-HR club.
1990-99                      
Mark McGwire                          405  (583)
Ken Griffey, Jr.                         382  (630)
Barry Bonds                             361  (762)
Albert Belle                              351  (381)
The Athletics/Cardinals' Mark McGwire topped 400 homers for the decade, despite hitting a total of only 18 in the 1993-94 seasons (when he played only 74 games). He led the league in homers three times in the decade; and led all of baseball with 58 homers in 1997, but led neither league (he was traded at the end of July after hitting 34 homers for the AL Athletics, and went on to hit 24 for the NL Cardinals). McGwire is the only player to be traded in the midst of a 50-homer season. McGwire hit 245 homers in the last four seasons of the decade, including a high of 70 for the Cardinals in 1998.  During that stretch he homered a remarkable once in every 8.5 at bats.Ken Griffey, Jr. played the entire decade with the Seattle Mariners, leading the AL in homers four times. From July 20 to July 28, 1983 Griffey homered in eight straight games, tying a MLB record (Don Mattingly/1987 and Dale Long/1956).
All-time career and single-season home run leader Barry Bonds (who patrolled the outfield for the Pirates and Giants in the 1990s) surprisingly led the NL in homers only twice in his career and just once in the decade of the '90s (46 in 1993).  Of course, leading the NL in walks twelve times (five times in the 1990s) may have something to do with that. Notably, Bonds is the career leader in intentional walks (688).  As of 2013, Hank Aaron ranked second (293) and still active Albert Pujols third (275).
Albert Belle played outfield/DH for the Indians, White Sox and Orioles during the 1990s.  He led the AL in home runs in 1995 – also becoming the only player to hit 50 or more doubles and 50 or more homers in the same season.
2000-09
Alex Rodriguez                        435  (654)
Jim Thome                              368  (612)
Albert Pujols                            366  (492)
The 2000s' HR leader, Alex Rodriguez, played for three teams over the course of the decade: Seattle Mariners (2000), Texas Rangers (2001-03) and New York Yankees (2004-09). He led the AL in home runs five times in that span, topping 50 three times. In 2001, Rodriguez hit 52 home runs setting a new MLB single-season record for shortstops (the Cubs' Ernie Banks had the previous high at 47). Rodriguez broke his own record with 57 round trippers in 2002 and remains the only shortstop to hit 50 or more homers in a season.  (His third 50-homer season – 54 HRs – came in 2007 as a third baseman.)
First baseman/DH Jim Thome spent time with four teams during the decade: Cleveland Indians (2000-2002); Philadelphia Phillies (2003-05); Chicago White Sox (2006-09); LA Dodgers (late 2009).  He won his only home run crown with the Phillies (47 HRs in 2003) and hit 52 dingers for the Indians in 2002.
Then Cardinal, now Angel, Albert Pujols started his MLB career with a bang in 2001 – collecting 37 home runs, 130 RBI and a .329 average as a rookie. For the decade, he never hit fewer than 32 home runs, plated fewer than 116 RBIs or hit under .314 in any season. He won the NL home run crown in 2009.  Now primarily a first baseman, Pujols came up as a player without a position (other than a predominant spot in the batter's box).  In 2001, he played 39 games in left field, 39 in right field, 42 at first base and 55 at third base.  In 2002, he spent most of his time in left field, but also played first base, third base and even notched a few innings in right field and at shortstop.
Most Home Runs in Any Ten-Season Span
When you look at the most home runs in a decade from another angle (a decade being any ten-season period, regardless of dates), the results are dominated by two players from two different eras – Sammy Sosa and Babe Ruth.  The fact is, only three players have average 45 home runs a season over any ten-year span – Sosa, Ruth and Alex Rodriguez.
479 HRs       Sammy Sosa                1995-2004
469              Sammy Sosa                1994-2003
467              Babe Ruth                   1920-1929
462              Babe Ruth                   1921-1930
462              Sammy Sosa                1993-2002
457              Sammy Sosa                1996-2005
455              Babe Ruth                   1923-1932
454              Alex Rodriguez              1998-2007
450              Babe Ruth                   1919-1928
When you consider eras, Babe Ruth's appearances on this list reflect a far greater level of dominance than Sosa's.  In the fourteen seasons (1919-32) that make up Ruth's four appearances on the list, Ruth led his league in home runs eleven times.  Sosa's appearances on the list span thirteen seasons (1993-2005), during which he led his league in home runs only twice.  Sosa, in fact, is the only player to notch three seasons of 60 or more home runs – and he did not lead the league in any of those years.  Further evidence of Ruth's dominance is that, again for the period that makes up his appearances on this list, four players racked up a total of 13 seasons of 45 or more homers – and nine of those belong to Ruth. During the years that make up Sosa's appearances on the list, 29 players achieved a total of 58 45+-HR campaigns – and five of those belonged to Sosa.
Most Home Runs First Ten Seasons
Now let's look at players who got a fast start on the major league slugging careers – those who averaged at least 35 home runs a year over their FIRST ten seasons.
Albert Pujols                408      2001-10     (492)
Eddie Mathews          370      1952-61      (512)
Ralph Kiner                369      1946-55    (369)
Adam Dunn                  354      2001-10    (440)
Ken Griffey, Jr.             350      1989-98     (630)
Albert Pujols came up at age 21with the Cardinals and is the only player to achieve at least 30 homers, 100 RBI and a .300+ average in each of his first ten seasons. Pujols won two HR titles in those first ten seasons, and topped 40 home runs five times.
Eddie Mathews joined the Boston Braves at age 21, hitting 25 homers as a rookie and went on to win his first HR title the following year –with 47 for the transplanted Milwaukee Braves.  He won one more HR title in is first ten seasons, hit more than 30 for nine of the ten years and topped 40 homers four times.
Ralph Kiner deserves special mention.  Kiner won the NL home run crown as a 23 year-old Pirates' rookie in 1946 – and went on to capture the next six NL home run titles.   As the result of a back injury, Kiner retired at the age of 32 – after ten seasons split among the Pirates, Cubs and Indians.
Adam Dunn joined the Cincinnati Reds in 2001, and (at the age of 21) slugged 19 homers in just 66 games.  While Dunn has not yet won a home run title, he has been a paragon of power consistency – from 2004-2010, his yearly HR totals were 46-40-40-40-40-38-38.  In his first decade, Dunn patrolled the outfield and played some first base for the Reds, Diamondbacks and Nationals.
Ken Griffey, Jr. joined the Mariners at age 19, and didn't get off to as fast a start as some of the others on this list – averaging just under 22 home runs a season over his first four campaigns. Between 1994 and 1998, however, he turned on the after burners – winning three AL HR titles, and topping 50 home runs twice.  In addition, the power hitting centerfielder won nine Gold Gloves in his first ten seasons.
Hope you enjoyed this look at dingers by the decade.