Picking the greatest MLB game ever pitched is always sure to spur some debate.  You can make a case for such performances as:
The Pirates' Harvey Haddix' 12 perfect innings against the powerful Braves on May 26, 1959;
The Robins (Dodgers) versus Braves 1-1, 26-inning tie on May 1, 1920 – when both starting pitchers (Leon Cadore and Joe Oeschger) went the distance;
Max Scherzer's (Nationals) October 3, 2015, no-hitter (2-0 win over the Mets), when he fanned a no-hitter, record-tying 17 batters and walked none (only an error by third baseman Yunel Escobar stood in the way of a perfect game);
Given the pressure, Yankee Don Larsen's World Series perfect game (October 8, 1956);
The Cubs' Kerry Wood

's

 May 6, 1998, one-hitter (2-0 win over the Astros) –  in which he fanned a nine-inning, record-tying 20 batters (with zero walks); or even the
July 2, 1963 16-inning duel between 25-year-old Juan Marichal and 42-year-old Warren Spahn (won by Marichal's Giants 1-0 over teh Braves) – with both pitchers exceeding 200 pitches.
BBRT is sure readers can come up with even more candidates for the greatest MLB game ever pitched.  The list, however, is considerably smaller when you qualify the question, asking for the greatest MLB game ever pitched in relief.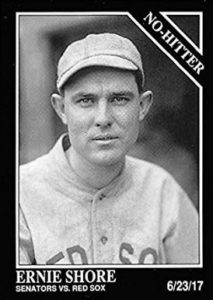 That honor, BBRT maintains, goes readily to Ernie Shore of the Boston Red Sox, who on this date (June 23) back in 1917 started the game on the bench as Red Sox "ace" southpaw Babe Ruth faced off against the Washington Senators. Ruth – a 23-game winner (with the AL's lowest ERA at 1.75) the year before – was going for his 13th win of the 2017 season (versus four losses) and had pitched 14 complete games in 16 starts (2.35 ERA). There would seem to have been little chance that Shore, who had started on the mound (a no decision in a 5-4 loss to the Yankees) on June 21, would be leaving the bench that day.
The baseball fates had other things in mind.  Ruth walked Senators'' second baseman and leadoff hitter Ray Morgan. Ruth was clearly and vocally upset with umpire Brick Owens' strike zone.   A confrontation followed the base on balls, heated words were exchanged, Ruth was ejected (as was Red Sox' catcher Pinch Thomas).  After the ejection, fists were thrown (Ruth reportedly striking Owens) and his Red Sox' teammates had to drag an irate Ruth from the field.  And thus began history. Note: Ruth paid a $100 fine and drew a ten-game suspension for his outburst.
Shore, on just one day of rest and allowed just five warm-up pitches, took the mound.  Morgan tried to steal on the very first Shore offering and was thrown out by new Red Sox catcher Sam Agnew.  Shore then went on to retire the next 26 senators (two strikeouts) for a 26-up/27 down outing.  Shore's performance did generate notable debate.  Some felt he should be credited with a perfect game, others a no-hitter.  The debate (kind of) came to an end in 1991, when an MLB committee dedicated to "statistical accuracy" deleted recognition of Shore's game as a perfect game or individual no-hitter – determining its status to be as a "combined no-hitter."  (Note: Among other actions taken by the Committee was the removal of the asterisk from Roger Maris' single-season home run record of 61 in 1961.)  The perfect game and individual no-hitter may have been erased, but for BBRT, Shore's performance on June 23, 2017 remains the greatest relief appearance ever.
Now, here are a few other Ernie Shore factoids:
Shore probably could have figured the odds of his coming off the bench that day in 1917. He was a college graduate who taught mathematics at Guilford College (Greensboro, NC) in the off season.
Shore pitched in the 1915 and 1916 World Series for the Red Sox – going 3-1 in four starts, with a 1.82 ERA.
Shore's best season was 1915 – 19-8, 1.64 ERA. His career record was 65-43 (seven seasons), 2.47 ERA.
Before being part of the Red Sox' rotation, Shore and Babe Ruth were teammates on the then minor league (International League) Baltimore Orioles. In 1914, Ruth and Shore were sold – together – to the Red Sox for $25,000.
Shore made only two relief appearances in 1917, the game in relief of Ruth and a May 26 game when he gave up one run over six innings as the Red Sox topped the Saint Louis Browns 11-7. (Shore earned a save in that game).
Shore served in the Naval Reserve in World War I (missing the 1918 season) and earned a Navy Commission. He attended Officer's School at Harvard University.
In 1936, Shore was elected Sherriff of Forsyth County in North Carolina – a position he held until 1970.
Reference sources:  Society for American Baseball Research; Baseball-reference.com; baseball-almanac.com.
I tweet baseball @DavidBBRT
Follow/Like Baseball Roundtable's Facebook Page – click here – for baseball commentary, blog post notifications and giveaways (Coming up: Killibrew and Sano bobbleheads).
Member: Society for American Baseball Research (SABR); The Baseball Reliquary; The Negro Leagues Baseball Museum; Baseball Bloggers Alliance.