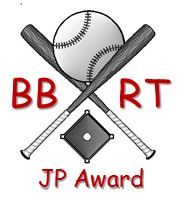 BBRT today launched its own baseball award – The John Paciorek Award – or JPA (which could stand, in this case for "Played Just Abit."  The JPA will recognize players who have had short, maybe very short, major league careers, but whose accomplishments, nonetheless, deserve recognition.  Just as the emergence of these  players on the MLB scene was often unexpected, the JPA will be awarded on no specific/expected timetable.  BBRT, in fact, most often uncovers these brief, but bright, stars when researching some unrelated baseball topic.  Spoiler Alert – the first JPA winner is San Francisco Giants' infielder Brian Dallimore, but first a bit about John Paciorek, whose MLB career is the inspiration for this recognition. (Note: Just as the Cy Young is the answer to the trivia question, "Who is the best pitcher to never win a Cy Young Award?", BBRT hopes John Paciorek will be the answer to: "Who is the most interesting MLBer to never be recognized with the John Paciorek Award?"
John Paciorek's baseball history and heritage is, indeed, interesting.  First, John Paciorek made it to the major leagues at a very young age.  Signed out of Saint Ladislaus High School in Hamtramck, Michigan (where he had starred in football, basketball and baseball), Paciorek appeared in his first major league game on the final day of the 1963 season (September 29) at the age of 18.  Second, Paciorek comes from a true baseball family.  He was the first born of eight siblings and was followed to the big leagues by younger brothers Jim and Tom Paciorek.  (Like John, Jim's MLB career was short – 48 games for the Brewers in 1987. Brother Tom, however, achieved a .282 average over an 18-season – 1,392 game – MLB career.)
But, back to John.  The 6' 1", 200-pound outfielder, had spent the 1963 season with Class A Modesto Colts, hitting just .219 in 78 games.  The parent club, the Houston Colt .45s (that was their name then), however, was suffering through a difficult season – they were 65-96 going into that final game.  The September 1963 Colt .45s were all about the future and, in fact, on September 27, had fielded an all-rookie lineup (average age 19). So, John Paciorek's spot in the season's final starting lineup was no surprise. What he did that day, however, was.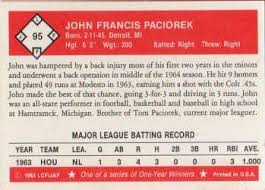 Playing right field and batting seventh in a 13-4 win over the NY Mets, Paciorek ended up with three hits and two walks in five plate appearances, with four runs scored and three runs batted in.  Perhaps equally surprising is that it marked Paciorek's only MLB appearance.  Back pain the following spring, followed by back surgery (he played 49 minor league games in 1964 and missed all of the 1965 season) put an end to his MLB playing days. (He did play in four more minor league seasons.)  Still, you will find John Paciorek in the Baseball Encyclopedia and his is arguably the greatest one-game MLB career ever.  Among one-gamers, he holds the record for times on base and runs scored, and shares the record for batting average, on base percentage and RBIs.  You can find more details on Paciorek's lone major league game here.
Paciorek, by the way, went on to become a high school teacher and multi-sport coach, and the author of two books (Plato and Socrates – Baseball's Wisest Fans and The Principles of Baseball, and all there is to know about hitting.) You can enjoy Paciorek's prose directly at his blog "Paciorek's Principles of Perfect Practice."
So much for the inspiration – now, on to the first JPA winner.
Brian Scott Dallimore did not, like John Paciorek, make it to the big leagues at a young age.  He was, in fact, a 30-year-old veteran of eight-plus minor league seasons when he finally got the call. He was, in baseball parlance, a true journeyman.  He had journeyed from minor league city to minor league city, seven teams in those eight years.  He had also journeyed from one parent team system to another (Astros, Diamondbacks and Giants).  And, he had traveled around the infield, playing third base, second base and shortstop. What he had never done was give up on the dream.  And, things were looking up.
From 1996-2000, Dallimore played in 468 minor league games (never above AA), compiling a .264 average (with a high of .275 in 2000).  Then, in 2001, things seemed to click, as Dallimore hit .327, with eight home runs, 67 RBI and 11 stolen bases for the Diamondbacks' AA affiliate El Paso Diablos.  He followed that up with a .294-6-50, 13 SB season at AAA Tucson.  He was, however, 28 and the Diamondbacks did not resign him.
Dallimore signed a minor league deal with the Giants and went on to hit .352 in 91 games with AAA Fresno in 2003. That performance didn't earn him a September call up, but it helped get him his first-ever invite to major league camp for  2004 Spring Training, where he hit .279 in 21 games.  While he started the 2004 season back at Fresno, the minor league veteran had been noticed.  The Giants' players selected Dallimore as the winner of the 2004 Harry S. Jordan Award, annually recognizing a player in his first Spring Training whose performance and dedication to the game best reflected the spirit of the San Francisco Giants.
Dallimore didn't know it then, but he was only a poor Giants' start and an injury to Ray Durham away from finally making his major league dream come true.  Dallimore was called up to the big club and made his debut as a pinch hitter (grounding out) on April 29th, 2004.  It was his performance on April 30th, however, that earns Dallimore the first-ever BBRT John Paciorek Award.  In fact, if it wasn't for that April 29th pinch hitting appearance, Dallimore would have recorded one of the best first games ever in the MLB history.  As it was, he still carries the honor of having his first major league hit be a grand slam home run.  In a game won by the Giants 12-9 (and in which the score stood at 9-9 after just two innings), Dallimore walked and scored in the first inning, crashed a grand slam home run for his first MLB hit in the second, singled in the third, singled and scored in the fifth, and was hit by a pitch in the sixth. So, for his first start, Dallimore was on base five times in five plate appearances, had two singles and a home run (grand slam) in three at bats, scored three runs and drove in four.
Dallimore ended up hitting .279 with one home run and seven RBI in 20 games for the Giants that year – he also went .324-8-65 in 111 games back at Fresno. He played seven more games at the major-league level in 2005, hitting a double in seven at bats (he also hit .302-8-45 in 100 games at Fresno that season.)
Dallimore signed as a free agent with the Brewers after the 2005 season, but retired before the 2006 season began.  Despite his short stint in the majors, on April 30, 2004, Brian Scott Dallimore truly had his day in the sun – or in this case under the lights. So, for that – and for his love of the game – BBRT selects him as the first JPA winner.
                                                   BRIAN DALLIMORE
BBRT invites your nominations for the JP Award – players with short, but notable, stays in the major leagues.
I tweet baseball @DavidBBRT.