Sunday morning, and the last day of our baseball extended weekend.  The bus was leaving the hotel at 8:30 a.m. and the early morning saw groups of happy Ballpark Tour-ers hitting local coffee shops for hot java, baked goods and the sharing of tales from the night before.  (Note:  Some of those memories were a little fuzzy, but all of them were quite enjoyable – fine dinners, music and dancing, rib-tickling comedy and ample libation.  You get the idea.
My Saturday night included a meal at a nearby true "family" Italian restaurant, where our small group met an octogenarian who overheard the baseball chatter and immediately issued us a baseball trivia challenge.  (His first words were, "I've got one for you gentlemen (didn't know us well), can you name – by position – all the players who have won consecutive Most Valuable Player Awards? "  With that the game was on and the challenges flew back and forth.
But, back to Sunday, we rolled into Appleton, Wisconsin and the Fox Cities Stadium lot about an hour before game time.  Good thing, too.  There was lots going on.  A parking lot full of tailgaters, grills smoking and beverages raised in toast as our bus cruised through the lot.  Inside, we found some great concessions, a Sunday Bloody Mary Bar, a poster give-away, free programs, baseball Bingo and even a visit by Curious George.
Free MRI's?

The full name of the ballpark in Appleton is "neuroscience group field at Fox Cities Stadium."  (Their lower case on the first letters of neuroscience group field.
Appleton's Wisconsin Timber Rattlers are in the same division in the same league (Class A – Midwest League) as the Beloit Snappers (who we visited on Day One), but there was no comparison. While Beloit drew a quiet crowd of just over 700 (and we all thought that was a generous accounting), the Timber Rattlers brought in close to 5,000 (4,844 announced) and they were into the action.  (For more on our Beloit experience, click here.). I thought it might be the quality of play, but I checked the standings once I got home and Beloit was one game over .500, while the Rattlers were 21-under.  I guess that Snappers really need that new stadium, they are raising money for.
Timber Rattlers' Sunday Bloody Mary Bar

Well, how can you not give five stars to a Bloody Mary you make yourself?  We were at Fox Cities Stadium (Appleton, WI) as the Wisconsin Timber Rattlers hosted the Cedar Rapids Kernels. We were also – through our good luck or, perhaps, great planning by our tour operator – there on a Sunday.  That means we were in the house for Bloody Mary Day.

At two locations in the stadium, the Timber Rattlers set up make-your-own Bloody Mary Bars.  For $9.25, you get a very generous pour of vodka in a Timber Rattlers souvenir mug.  Then, you slide to the left and get to work on your own creation. You have a lot of choices as you "Build Your Bloody":

Six mixes – from Classic to Super Spicy Jalapeño;
Bitters, Worcestershire, Tabasco;
Pepper and celery salt;
Cheese cubes, beef sticks, olives, marinated mushrooms, celery sticks, dill pickle spears.

I went with horseradish mix, bitters, Tabasco, cheese cubes (three), olives (two), mushrooms (two), a dill pickle spear and plenty of celery salt to top it off.  Pretty much everyone on the tour agrees – a solid, five-star, Bloody Mary experience. Many of our tourers left with the beginnings of a nice "set' of Timber Rattlers' mugs.
Now, to the game.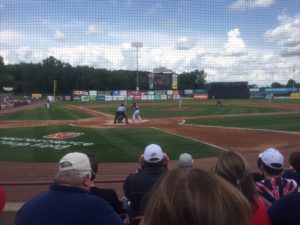 We had great seats, just behind home plate (and our tickets got us access to the bar and seating on the Fox Club Level).  The ballpark was beautiful (as MOST are) – bright green grass, sunshine, deep blue sky and a very informative scoreboard.  (If I had one complaint, it was a lack of vendors moving through the aisles, but the concessions stands were all very close.)
The game itself was crisply played – a 4-0 Cedar Rapids' win, with no errors, a total of only 11 hits, and three or four nice defensive plays. I had a bit of an "Is this what the game has come to?" feeling, as – just as in Saturday's Cubs/Nationals tilt – we saw too many strikeouts (23 in each contest).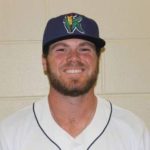 The star of the game – who was declared by our group as the King of the Cup Game (see the section of this post on The Cup Game) – was Cedar Rapids' right fielder Shane Carrier.  Carrier – a 2016 eighth-round Twins' draft pick – started the season with the Rookie Level Elizabethan Twins, where he hit .348, with five home runs and 32 RBI in 32 games.  (He went .275-6-29 at Elizabethan in 2016.) In the first 30 games since his promotion to Cedar Rapids, he had hit .214 with one home run.  He upped his game on Sunday.  In his first at bat, he pulled a home run to left field; in his second trip to the plate he launched a long home run to center; and in his third at bat, he banged a double off the wall in right.  He ended the day three-for-four with two runs scored, two RBI and ten total bases. Being from Minnesota, we will keep an eye on this 21-year-old.
Another Kernel who looked good was southpaw starting (and winning) pitcher Charlie Barnes – a fourth round Twins' pick in 2017.  Barnes went 2-1, with a 1.19 ERA and 23 strikeouts in 22 2/3 innings pitched at Elizabethan before his promotion to Cedar Rapids. Yesterday, he went five innings giving up no runs, two hits and one walk – while fanning seven.  In his first professional season (at Elizabeth and Cedar Rapids combined), Barnes is 3-1, with a 0.85 ERA and 34 strikeouts in 31 2/3 innings.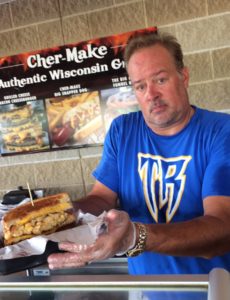 Side Note:  I earlier noted the solid concession offerings.  A trio recommended by Ballpark Tour trekkers who tried them: Cajun Chicken Mac & Cheese Sandwich; Mad Dog & Merrill Piggy Burger (Burger topped with pulled port, Merrill BBQ sauce and Onion Tanglers; and Mad Dog and Merrill Pulled pork and Slaw. They run between $7.50 and $10 – and bring a fresh taste to the ballpark experience.  You can see the Cajun Chicken Mac & Cheese to the left. 
The Cup Game

A Ballpark Tours' favorite pastime witthin the National Pastime is THE CUP GAME, which a group of eight of us played in Appleton.  Here's the idea.  First, you need an empty beer cup.  (You can either ask a vendor for one, or buy a full one and empty it. I suggest the latter). Then you pick a batting order of Cup Game players (this determines the order in which you will receive the Sacred Cup).  As each hitter comes to the plate, the Cup is passed to the next Cup Game participant. 

If your player makes an out, gets hit by a pitch, is safe on error or fielder's choice, you put a quarter in the Cup and pass it on to the next Cup Game participant. If your player gets a hit, you empty the Cup – you are an instant winner – and pass the empty Cup on.  If your player hits a home run, you empty the Cup, pass it on and get an extra quarter from each Cup Game participant.  Side note: The second time the cup came into my hands, the batter hit a home run – pretty much assuring me of a profitable outcome.
After the game, it was back on the bus, where the lively "Back of the Bus" crowd entertained with, literally, hours of group karaoke (think a flash mob singing 60's-70's-and 80's rock to a boom box) and the front the bus kept wondering when the group at the back would finally tire out.  The trip home, back in Saint Paul by about 9:30 p.m., included a couple of rest stops (one for a fast food meal) and the usual BPT Awards ceremony. Awards go to those who achieve veteran status (three trips), the best rookies on the trip and, when so deserved, to those credited with memorable "missteps."
So, that's it for Ballpark Tours Bleacher Bums XXXV.  You can check out Day One, here; Day Two, here; Day Three, here.  Or look at past tours, using the link ats the top of the Baseball Roundtable home page.  You can also visit the Ballpark Tours website, here.
So long, for now.  You normally scheduled blogging will resume shortly.
I tweet baseball @DavidBBRT
Follow/Like Baseball Roundtable's Facebook page, here.
Member: Society for American Baseball Research (SABR); The Baseball Reliquary; The Negro Leagues Baseball Museum; Baseball Bloggers Association.