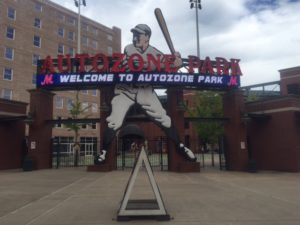 Day Three of Ballpark Tours XXXIV  sees us remaining in Memphis, with a second Tacoma Raniers/Memphis Redbirds game slated for 6:05 p.m.
As usual on BPT "free days," the group split up to pursue local history, culture and/or cuisine – and, thank you Julian, much of the travel was accomplished via hotel shuttle.  The most popular destinations seemed to be Graceland (It is Elvis Week here, after all); The National Civil Rights Museum; and the Sun (Records) Studio Tour.
Being as major fan of the blues, I headed toward the Beale Street Entertainment District, where the barbeque is sweet and the  live music starts at 11 a.m. and runs straight through to 3 a.m.  It's also where I saw quite a few of my fellow tour participants.  I stopped to take in a few tunes at a handful of clubs before heading for lunch at my previously selected destination – B.B. King's Blues Club.  I could not miss visiting the original B.B. King's location. I was not disappointed. The house band was great – back in Minnesota they'd be headliners – and so were the Memphis-style dry-rub ribs.  I hung out at B.B. King's for a couple of hours (or a couple of brews, depending on how you measure) before heading over to Autozone Park for the evening's ball game (6:05 p.m. start),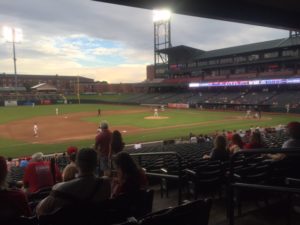 It was another heavy, humid day – with storms predicted –which may have contributed to the very small crowd (as might the Redbirds sub-.500 record). We did not, however, get rained on. The announced attendance was 3,517, but I'd be surprised if there were more than 2,500. – and they were a quiet bunch, despite Memphis' 6-2 win. We tried to get something going, but often all you heard was the "sound of one fan clapping."  Good seats again, by the way, third-base side this time.
It was a cleaner game than yesterday, eight hits apiece, only four walks, and just one error. Once again, however, the pitchers lacked "command." We saw six hurlers and every one had either a wild pitch (four in the game) or hit batter (two). Redbirds' starter Jeremy Hefner got off to a shaky starts (giving up a two-run homer in the first), but settled down and ended up giving up just the two runs over 6 2/3 innings – six hits, no walks, five strikeouts.)  Both cleanup hitters, as they are supposed to, did some damage. Tacoma catcher Rob Brantley poled a two-run home runs (his 13th of the season) in the first. (Brantly's line on the season is .244-13-38). The Redbirds' number-four hitter – CF David Washington – hit a three-run dinger (his 23rd of the season at Memphis and 28th overall) in the fifth. His 2016 line with Memphis (at the end of the game) stood at .245-23-52.,
The game's outcome really turned on the Redbirds' half of the fifth, when Raniers' starter Zach Lee's inning went:  3B Jacob Wilson, hit-by-pitch; SS Alex Mejia, strikeout; 2B Breyvic Valera, single (his third hit of the game); 1B Efren Navarro, run-scoring single; DH Jose Martinez, strikeout; LF David Washington, three-run homer;  C Mike Ohlman, flyout.
For those the like to know such things, Memphis is a home power – now having won 14 of their last 20 home games and boasting a 36-25 home record and a 22-37 mark on the road.
Once again, we received a free Redbirds hat, hot dog and beverage.  I decided to give my hat "to a kid" and, as luck would have it, shortly after I picked it up, a youngster (I'd say about 12-years-old) came up and asked me how much the hats cost.  He walked away with a free one – mission accomplished.
I've already commented on the ballpark and the Bloody Mary's, so this report from the road will be short.  (For Day One, click here.  For Day Two, here).  Next stop, Nashville for a pair of Nashville Sounds versus Reno Aces games – and more libation, laughter and music.
A Streak Ends

Yesterday (August 14), Francisco Mejia (switch-hitting catcher in the Indian's system) saw his 50-game hitting streak come to an end. He went zero-for-three with a walk for Lynchburg in his team's 6-0 loss to Winston Salem.  It was this season's longest streak in professional baseball, and the fourth-longest all-time. Joe Wilhoit holds the record at 69 games – you can read about that streak here.

Mejia's streak was split between two teams – Lynchburg (High A) – 26 games and Lake County (A) – 24 games.  During the streak, he hit  .386, with eight homers and 42 RBI.  Considered one of the Indians' top five prospects, Mejia is .345, with nine home runs and 73 RBI on the season – and is .290-24-186 over four minor league seasons.
Well that's it for Day Three – more reports from the road to come.
I tweet baseball @DavidBBRT
Member: Society for American Baseball Research (SABR); The Baseball Reliquary; Baseball Bloggers Alliance.