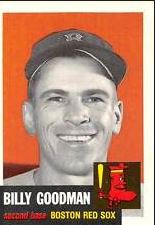 Throughout most of his MLB career, Billy Goodman was a player without a position.  In 1950, for example, Goodman (with the Red Sox) played 45 games in left field, 27 at third base, 21 at first base, five at second base and one at shortstop (12 as a pinch hitter). Okay, a good utility man is not that unusual.  In 1950, however, Goodman became the first (and still only) true utility player to capture a league batting title. Goodman played in 110 games and raked at a .354 pace (150 hits, 91 runs scored, four home runs, 68 RBI – second place in the AL MVP voting).  It didn't seem to matter where he played or where in the lineup he batted, Goodman just continued to hit. In fact, if you exclude positions on defense or in the lineup in which he played just one game, 1950 saw him hit .300 or better wherever he played and wherever he batted.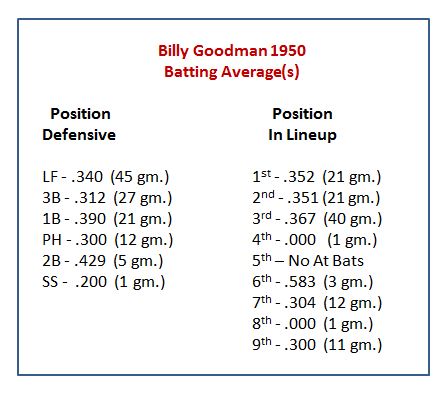 Billy Goodman set the stage for his major league utility role early in life – reportedly playing all nine positions over the course of his high school career.  (Note: I prefer to call it his MLB versatility role.) His versatility as an athlete went beyond the baseball field, as he was also top player on his high school basketball and football squads.
Billy Goodman averaged a nice, round .300 over a 16-season MLB career.
Once he began his professional career, there was little double that Goodman was going to hit for average. In 1944, as an 18-year-old – playing at High A for the Atlanta Crackers of the Southern Association, the 5'11', 165-pound (he wasn't going to be a power hitter) Goodman got into 137 games and hit a healthy .336 (the league batting average was .279). After a year off for military service, Goodman was back at Atlanta (now Double A) hitting .389 in 86 games.
Then, in 1947, he started slowly (as a part-timer with the Red Sox), before going down to Triple A Louisville, where he hit .340 in 89 games. He was back in Boston, full-time, in 1948 – where he eventually took over the first base position and hit .310 as a rookie.  Despite his steady bat, Goodman seem to be constantly challenged for playing time (usually by hitters with more power), but thanks to his versatility, he also seemed to consistently "work" his way into the lineup. One thing was for sure, with Goodman around the Red Sox had little to worry about when it came to slumps or injuries – they could just slot Goodman into the position of need and count on him to handle the glove and bat with high professional skill.
In his 16-season MLB career, Goodman played for the Red Sox (1947-57). Orioles (1957), White Sox (1958-61) and Astros (1962).  He appeared in 623 games at second base, 407 at first base, 330 at third base, 69 in left field, 42 in right field, seven at shortstop and 227 times as a pinch hitter. He hit over .300 five times and over .290 eleven times (ten times in the eleven seasons in which he played at least 100 games). He was a two-time All Star. His final line was 1,623 games played, 1,691 hits (.300 average), 807 runs scored, 591 RBI, 19 home runs and 37 stolen bases.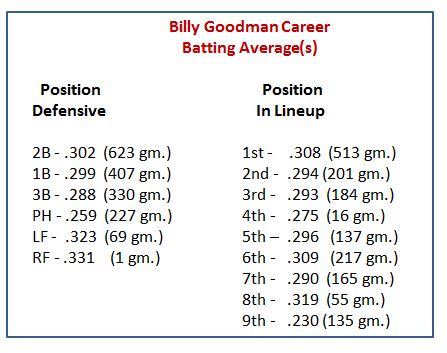 Following his 1962 season with the Astros, Goodman served as player-manager of the Class A Durham Bulls – where (in 1963-64) he managed/co-managed the team to second- and fifth-place finishes, while playing in 114 games and hitting .345.  After that he held a number of scouting, instructional and minor league managing roles (until retirement from baseball in 1977).  He passed away in 1984 (cancer) –  at the age of 58.
Primary Resources:  Society for American Baseball Research; Baseball-Refeence.com
I tweet baseball @DavidBBRT
Follow/Like the Baseball Roundtable Facebook page here.
Member: Society for American Baseball Research; The Baseball Reliquary; The Negro Leagues Baseball Museum.