THE BEST NCAA BASEBALL SINGLE-GAME PERFORMANCE EVER

It was May 9, 1999 and the Florida State Seminoles' baseball squad was facing the University of Maryland Terrapins at Shipley Field, College Park, Maryland.  The sun was shining, the wind was blowing in and college hardball history was about to be made.

Playing second base for the Seminoles that day was 6'1"/200-pound, right-handed hitting Marshall McDougall – who was in his first season at Florida State after playing two seasons for Santa Fe Community College.  McDougall's day started off innocently enough with a first-inning single- but things were about to change.  As the Seminoles charged off to a 26-2 win, McDougall's day looked like this:

1st Inning – Single

2nd Inning – Solo home run

4th Inning – Three-run homer

6th Inning – Two-run long ball

8th Inning – Grand Slam

9th Inning – Three-run home run

That's right, seven-for-seven with six home runs in a Division 1 contest.  In the process, McDougall set (and still holds) the NCAA records for home runs in a game (6); consecutive home runs (6); RBI in a game (16); and total bases in a game (25).  He also achieved a rare "home run cycle" (solo, two-run, three-run and Grand Slam HR in a game).  Side note: Only one HR Cycle has been achieved at the professional level – by Tyrone Horne.  For that story, click here.

McDougall finished the 1999 NCAA season with a .419 average, 28 home runs,  NCAA season-leading totals of 106 RBI and 104 runs, and 22 steals in 25 attempts (all in 71 games) – earning All American and Atlantic Coast Conference Player of the Year honors.   He followed that up with a .346-15-67 campaign in 2000.

McDougall was drafted by the Oakland A's in the ninth round of the 2000 MLB draft. He played professionally from 2000-2012, and appeared in 18 games for the Texas Rangers in 2005 – collecting a double and two singles in 18 MLB at bats.  
I started this post with the Marshall McDougall story because today's focus will be on Baseball Roundtable's selection for the  top three college baseball players of all time.  Clearly, there is plenty of  room for debate – "all time," after all, covers a lot of ground and leaves ample space for discussion. Still,  I think I've picked a trio of pretty darn good ones.  I'm also including side note on a couple of additional college players who were in the running.
Pete Incaviglia – Oklahoma State  University – 1983-84-85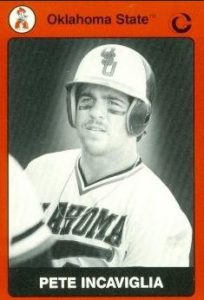 In 1985, Pete Incaviglia had what may be the best offensive season in Division 1 history, In 75 games, he hit .464, cranked 48 home runs, drove in 143 and even tossed in 14 stolen bases in 16 attempts.  In the process, he set several single-season NCAA Division 1 records that still stand: home runs (48); RBI (143); total bases (285); and slugging percentage (1.140).  It was the final season of a three-campaign college career that saw "Inky" play 215 games, hit .397, bash a Division 1 career record 100 home runs and drive in 324.
Picking the 6' 1", 230-pound outfielder/DH at number-one was not a difficult task.  In 1999, Incaviglia – a two-time first-team All-American and member of the College Baseball Hall of Fame –  was named the Baseball America Player of the Century.  Who knows, he might also have been the High School Baseball Player of the Century as well.  He was a three-time High School Player of the Year in California.
Incaviglia was selected in the first round of the 1985 MLB draft by the Montreal Expos, who traded him to the Texas Rangers (reportedly because Incaviglia wanted to jump directly to the major leagues). On Opening Day of the 1986 season (April 8), Incaviglia successfully completed the leap from college campus to major league stadium – starting in right field and batting cleanup for the Rangers in a 6-3 home win over the Blue Jays. He went on to play 153 games in his rookie season, hitting .250, with 30 home runs (his only 30-HR MLB season) and 88 RBI. In a 12-season MLB career, he hit .246, with 206 round trippers and 655 RBI.
JOHN OLERUD – A COLLEGE BABE RUTH?

John Olerud was one of the finalists as I pared my list down to three – largely because of his 1988 season for Washington State – when the 6'5" first baseman/pitcher dominated on the hill and in the batter's box.  As a hitter, Olerud went .464-23-81 that season.  On the mound he was 15-0 with a 2.49 era.  That performance makes him the only college player to hit 20 home runs and record 15 pitching victories in the same season.  For his college career, Olerud went .434-33-131 in the batter's box, and 26-4, 3.17 as a pitcher. He went on to a 17-season MLB career, during which he won a batting title (.363 for the Blue Jays in 1993), was a two-time All Star and three-time Gold Glover. He retired with a .294 MLB average, 255 home runs and 1,230 RBI.
2. Derek Tatsuno – University of Hawaii – 1977-78-79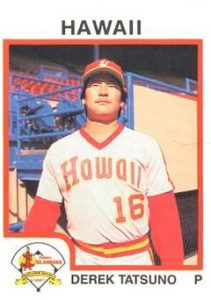 A 5'10", 175-pound southpaw hurler, Derek Tatsuno was the first college pitcher to achieve 20 victories in a single season. (There has been just one 20-win season since – by Mike Loynd 20-3 for Florida State in 1985.)  Tatsuno did it in 1979, when he went 20-1 (in 22 starts), with a 1.86 earned run average and an NCAA single-season strikeout record of 234 (in 174 1/3 innings pitched).
For his college career, Tassuno went 40-6, with a 2.04 earned run average and 541 strikeouts in 402 1/3 innings. He led NCAA Division 1 pitchers in strikeouts in each of his three college seasons.  The two-time All American was elected to the College Baseball Hall of Fame in 2007.
Tatsuno's college mound success was not really a surprise to those who knew him.  He went 27-1 as a high school pitcher – his only loss being a 1-0, 11-inning heartbreaker.
Tatsuno was drafted by the Padres in the second round of the 1979 MLB draft (with a $100,000 offer), but got a better offer to pitch in the Japanese amateur leagues. He continued to be drafted by MLB clubs and  and finally signed the sixth time he was drafted – when the Brewers selected him 25th overall in the January 1982 draft. Tatsuno never played in the major leagues. In four minor league seasons, he went 20-16, with a 4.59 earned run average. Note:  The card pictured is from hit timeeith the minor league Hawaii Islanders.
ROBIN VENTURA – MAKE ROOM JOE DIMAGGIO

The fight for the third spot on my list was a tough one – between the eventual winner (Rickie Weeks, discussed next) and 16-season MLB 3B/1B Robin Ventura. Ventura, who played Division 1 ball for Oklahoma State University for three seasons (1986-88) – hit .428 for his college career. He never hit under .391 for a season, never hit fewer than 21 home runs (68 over three seasons) and drove in 95 or more runs in each campaign.   In addition, in 1987, Ventura achieved what is still the NCAA's longest hitting streak – 58 games.  Ventura was a three-time All American and winner of both the Dick Howser Trophy and Golden Spikes Award. He was elected to the College Baseball Hall of Fame in 2006.
3. Rickie Weeks – Southern University – 2001-2003
I am putting Southern University second baseman Rickie Weeks at number-three on my All Time College Baseball Players list. Weeks played for Southern University in 2001-02-03. Over his three-season career, he hit at an NCAA Division 1 career record .465 pace (minimum 200 at bats), with 50 home runs, 233 RBI, 245 runs scored – and a remarkable 65 stolen bases in 66 attempts.  He won consecutive Division 1 batting titles (2002-2003), with averages of .495 and .479 and finished his college career with an NCAA Division 1 record .927 slugging percentage. Weeks was a two-time All American and winner of both the Golden Spikes Award and Dick Howser Award.
Weeks was selected second overall (by the Brewers) in the 2003 MLB draft – and made his MLB debut in September of 2003.  Still active in 2017, after 14-MLB campaigns, Weeks has a .246 MLB average, with 161 home runs, 474 RBI, 733 runs scored and 132 stolen bases His best MLB season was 2010, when he hit .269, with 29 home runs, 83 RBI and 112 runs scored.
I tweet baseball @DavidBBRT
Follow/like Baseball Roundtable's Facebook page here.
Member:  Society for American Baseball Research; the Baseball Reliquary; The Negro Leagues Baseball Museum