Follow on Twitter @DavidBBRT for notification of new posts.
Happy Holidays to all!  To kick of the season, BBRT is providing an alternative to the usual in-depth posts found here. Instead I am posting are a trio of stocking stuffers focusing on the most powerful one-inning display of batsmanship ever (Gene Rye); the Today's Game Era Hall of Fame ballot (John Schuerholz, Bud Selig); and my favorite comic book (Mickey Mantle).
ONE POWERFUL INNING
Boston Red Sox outfielder Gene Rye came by his nickname naturally – the 5' 6", 165-pounder was known around baseball as "Half Pint."  However, for one inning of one game, this small-of-stature ballplayer carried professional baseball's biggest and most powerful bat.  On August 6, 1930, playing for the Class A Texas League Waco Cubs (against the Beaumont Exporters), Rye became the first (and still only) professional ballplayer to hit three home runs in a single inning.
It came about in the bottom of the eighth inning – which opened with Waco trailing Beaumont 6-2 and Rye leading off.  The left-handed swinging Rye took Gerald Mallet deep to left for a solo round tripper.  That blast sparked the Waco offense and the team batted around – bringing Rye to the plate for a second time in the frame, now facing reliever Walter Newman with Waco up 9-6 and two men on base. Rye upped the lead to 12-6, this time pulling the ball over the right field fence.   Beaumont may have decided the game was out of reach because Newman was still on the mound when Rye came up for a third time in the inning – with the bases loaded. In his third at bat of the inning, Rye again pulled the ball over the right field wall for a Grand Slam. By the time the inning was over, Waco had scored 18 runs and held at 20-6 lead. (They would eventually win 20-7.)  Gene "Half Pint" Rye (whose real name was Eugene Mercantelli) had set the professional records for home runs (3), total bases (12) and RBI (8) in an inning.  Rye still holds all three records – although the RBI record for an inning has since been tied by:  Ken Myers of the Class C (Sunset League) Las Vegas Wranglers on May 2, 1947; Armando Flores of the 1952 Class B (Gulf Coast League) Laredo Apaches on June 25, 1953; Lance Junker of the Class A (California League) Redwood Pioneers on June 30, 1983; and, at the Major League level, Fernando Tatis of the Cardinals on April 23, 1999.  All four of these players tied the single-inning RBI mark by virtue of two Grand Slams in the inning.
Rye, who began his professional baseball career in 1925 (at age 18), had been on the rise when he fashioned his record-setting inning. In 1928, he hit .289 with 12 home runs for Winston-Salem in the Class C Piedmont League. In 1929, he moved up to the Class A Waco squad and  hit .284, with 19 round trippers.  In 1930 – the season of his three-homer inning – the 24-year-old Rye hit .367 with 26 home runs.
Not surprisingly, Rye's emerging power attracted interest at baseball's highest level.  In 1930, Half-Pint Rye found himself playing for the Boston Red Sox. However, a broken wrist in Spring Training limited his effectiveness and he played in only 17 games (.179 average with no home runs and one RBI) before being sent to the minors in June. He played in the minors until 1936, but never made it back to the major leagues.
BBRT note:  In his big inning, Rye nearly hit for the "Home Run Cycle" – a solo, two-run, three-run and Grand Slam homer.  Only once player – Tyrone Horne – had his for the Home Run cycle in a single game.  You can read that story here.
BBRT on the Today's Game Era Hall of Fame Ballot

BBRT was two-for-three in predicting electees on the Today's Game Era Hall of Fame ballot.  BBRT predicted three of the ten candidates would get the necessary 75 percent support: Executives John Schuerholz and Bud Selig, and manager Lou Piniella. Schuerholz and Selig made it. Piniella finished third in the voting, but received only seven of the 12 votes necessary. You can read BBRT's take on the entire list of candidates here. 

As far as the results. Schuerholz – with his fine work with the Royals and (especially) the Braves was an easy pick.  Like many "old-schoolers," I had reservations about Selig (especially given how his contraction talked affected Minnesota), but MLB did flourish (and work through some tough challenges) during his tenure as commissioner.  I also thought Piniella' 23 managerial seasons, 1,835 wins and three Manager of the Year Awards should have earned him at least 75 percent support. (Piniella has the 14th most managerial wins in MLB history. Thirteen of the 14 managers ahead of him are in the Hall of Fame – as well as a host of those who trail him.  Looking to recent history, for example, Piniella has 236 more wins than Tommy Lasorda, 264 more than Dick Williams, and 355 more than Earl Weaver.

Note: For BBRT's take on the traditional BBWAA player HOF ballot (results announced next month), click here.
My Favorite Comic Book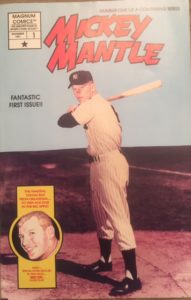 Twenty-five years ago this month (December 1991), Magnum Comics released the first issue of Mickey Mantle Comics – dedicated to exploring the life (in comic book form) of this Yankee icon. The comic book also included a section on the Boston Braves' "Super-Sub" Sibby Sisti, as well as Mantle and Sisti commemorative post cards. On its inside back cover, Magnum Comics previewed upcoming issues on Brooks Robinson and Duke Snider.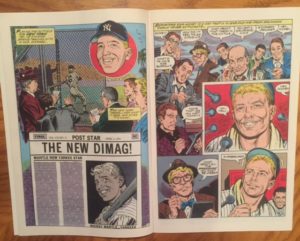 I tweet baseball @ DavidBBRT
Member: Society for American Baseball Research (SABR); The Baseball Reliquary; Baseball Bloggers Alliance.