Baseball Roundtable loves (and misses)  doubleheaders.  So, here is a doubleheader for readers – BBRT's 2017 All-Rookie Team and a "baker's dozen" of what BBRT sees as the best/most interesting rookie campaigns of all time.
The 2017 season was the Year of the Strikeout and the Year of the Home Run, with MLB setting new single-season records for both.  It was also the Year of the Rookie with both the American League and National League rookie home run records falling (and the new record holders both playing in the post season – which gives me a nice segue for this post, which focuses on rookies present and past.).
2017 saw a new MLB record for home runs in a season – 6,105 (topping the previous record of 5,693 set in 2000). MLB pitchers also fanned a record 40,105 batters (exceeding last season's 38,892).

The rookie-season (player) records for home runs and whiffs supported this increasingly free-swinging/hard-throwing trend. Yankees' rookie Aaron Judge set new MLB rookie records for both home runs (52) and strikeouts (208).
Yankees' 25-year-old right fielder Aaron Judge set the new American League and MLB rookie-season home run record at 52, breaking the A's Mark McGwire's record of 49 (set in 1987) and also set a new rookie strikeout record at 208 (erasing the Cubs' Kris Bryant's 2015 mark of 199).
Over in the National League, Dodgers' 22-year-old rookie 1B/OF Cody Bellinger set a new NL rookie home run record at 39 (besting the 38 hit by the Braves' Wally Berger in 1930 and the Reds' Frank Robinson in 1956).  In this post, BBRT will name its 2017 All-Rookie Team, and then touch on some of the greatest rookie season of all time.
—–GAME ONE … BASEBALL ROUNDTABLE'S 2017 ALL ROOKIE SQUAD—–
C – Manny Pina, Brewers … (107 games) .279-9-43
The oldest player on the 2017 All-Rookie Squad, the 30-year-old backstop saw MLB action in 2011, 2012 and 2016 (a total of 38 games), but retained his rookie status for 2017. The "journeyman" (793 games in 12 minor league seasons and 164 games in seven seasons in the Venezuelan Winter League) has been best known for his defensive skills. His career minor league average is .262, and he averaged .273 in his Venezuelan tenure). He did show some pop in 2016 (.329-5-43 in 63 games at Triple A Colorado Springs).
Pina saw the most action of any MLB rookie backstop (107 games), played plus defense and put up a solid .279-9-43 line in his first full season at the MLB level.
1B – Cody Bellinger, Dodgers … (132 games) .267-39-97
While the 21-year-old Bellinger hit only .267, he was second among rookies in both round trippers (39 – a new NL rookie record) and RBI (97).  He also tossed in ten steals, and played steady defense at both first base and in left field to earn his spot on the BBRT All-Rookie Team. After playing two seasons at the Rookie level (2013-14), Bellinger unleashed his power as a 19-year-old at High-A Rancho Cucamonga in 2015 – .264-30-103 in 128 games. He followed up with .271-26-71 at Double A/Triple A in 2016. When called up this season, Bellinger was hitting .343, with five home runs in 18 games at Oklahoma City.  Looks like that .267-39-97 line is one the Dodgers can count on long term.
By the way, on this team, if Bellinger was to be used in the outfield, 25-year-old Orioles' rookie first-sacker Trey Mancini would get the nod at first base. Mancini put up a .293 average, with 24 home runs and 78 RBI. Signed out of Notre Dame (eighth round of the 2013 MLB Draft), Mancini hit .306, with 54 home runs and 275 RBI in 483 games over four minor league campaigns.
2B – Ian Happ, Cubs … (115 games) .253-24-68
Okay, things were a little thin at the keystone sack, so I'm putting in a rookie who was truly a utility player in 2017.  The Cubs' 22-year-old Ian Happ started 41 games in center field; 28 games at second base; 11 games in left field; eight games in right field; and one at third base. Not only was he versatile in the field, he is also a switch hitter – with power. Happ put up a .253 average, with 24 home runs (eight steals) and 68 RBI in 115 games after being called up from Triple A in mid-May. At Triple A, Happ had a .298-9-25 line in 26 games. A first-round pick (ninth overall) in the 2015 MLB draft, Happ recorded a .275 average, with 33 homers and 28 stolen bases in 227 minor league games. Happ played college ball at the University of Cincinnati, where he was the 2015 American Athletic Conference Player of the Year.
3B – Rafael Devers, Red Sox … (58 games) .284-10-30
The 20-year-old Devers got a late start, making his MLB debut July 25, but he made up ground fast. In 58 games for Boston, Devers hit .284, with ten home runs, 30 RBI and 34 runs scored. Signed out of the Dominican Republic at age 16, Devers has four professional seasons under his belt. In 399 minor league games – most as a teenager – Devers hit .296 – with 49 home runs, 258 RBI and 26 stolen bases.  When called up, he had put up a ..311-20-60 line in 86 games at Double A/Triple A.
SS – Paul DeJong, Cardinals … (108 games) .285-25-65
The 24-year-old St. Louis rookie has moved around the infield in his career – spending time at 2B, 3B and SS – and, in fact, he initially seemed destined for the hot corner. DeJong may have settled in at SS with the Cardinals in 2017, starting 85 games at short and 19 at second base. Notably, despite the position carousel, his offense has never suffered. DeJong hit .316-9-41 in 66 games at Rookie and A-Level in 2015; .260-22-73 in 132 games at Double A in 2016; and was hitting .299, with 13 home runs and 34 RBI in 48 games at Triple A before making it to the big club in 2017. With the Cardinals, the 38th Round 2014 MLB Draft pick put together a solid .285-25-65 2017 season (108 games), continuing to show good power for a middle infielder. DeJong was the NL Rookie of the Month in July, when he hit .298, with eight home runs and 16 RBI in 26 games.
Outfield – Aaron Judge, Yankees … (155 games) .284-52-114
Easy call here, with the 25-year-old Judge blasting a new MLB rookie record 52 home runs.  Despite 208 strikeouts (another rookie record), Judge hit .284, with 52 home runs, 114 RBI's (tops among 2017 rookies), an AL-leading 128 runs (also tops among 2017 rookies).  Judge, a first–round selection in the 2013 MLB draft (number 32 overall), was selected AL Rookie of the month in April, May, June and September. Judge was drafted out of California State University Fresno, where he was All Conference in all three of his seasons. In three minor league campaigns, Judge hit .278-56-215 in 348 games.
Outfield – Andrew Benintendi, Red Sox … (151 games).271-20-90
The 22-year-old Benintendi did a little bit of everything for the Red Sox: steady .271 average, a touch of power (20 home runs and 90 RBI, both in the top four among rookies this season) and speed (leading all 2017 rookies with 20 stolen bases).  He also scored 84 runs and drew the second-most walks among rookies (70). He topped it off with solid defense, leading all AL left fielders in outfield assists with eleven.
Benintendi was a first-round (seventh overall) pick in the 2015 MLB Draft – out of the University of Arkansas.  At Arkansas, he was the 2015 SEC Player of the Year, Baseball America College Player of the Year and recipient of both the Dick Howser Trophy and Golden Spikes Award.  That season, he led the Southeast Conference in batting average (.380) and home runs (19). Benintendi saw his first major league action after an August 2016 call-up, hitting .295, with two home runs and 14 RBI in 34 games.
Outfield – Jose Martinez, Cardinals … (106 games) .309-14-46
Jose Martinez is the "feel good' story of this All-Rookie Team. The 29-year-old Martinez was signed out of Venezuela (as a teenager) in 2006. Before making his MLB debut in September of 2016, Martinez had played early 900 games with 11 different minor league teams (as well as more than 200 games in the Venezuelan Winter League). He played in the White Sox', Braves', Royals' and Cardinals' systems and, as recently as 2014, with the Frontier League (Independent) Rockford Aviators. Why his path to the major was such a long one is somewhat puzzling. In 2015, for example, he hit .384 in 98 games at Triple A Omaha and still didn't get the call. In fact, over those many minor league games, Martinez put up a .294 average.  Martinez finally got the call in September 2016 –and hit .438 in 12 late-season contests.  This past season, he hit .309, with 14 home runs and 46 RBI – making it a pleasure to add him to the BBRT All-Rookie Squad.
Starting Pitcher – German Marquez, Rockies … (29 starts) 11-7, 4.39
The 22-year-old Marquez led (tied) all rookies with 11 victories (seven losses) and, while the 4.39 ERA was a little high, he did pitch for the Rockies. Marquez started 29 games, threw a 162 innings and led all 2017 rookies with 147 strikeouts. In 2016, Marquez went a combined 11-6, 3.13 a Double A/Triple A. Marquez was signed out of Venezuela in 2011.
White Sox' 23-year-old righty Lucas Gioloto might have captured this spot with a few more starts.  He put up a nifty 2.38 ERA in seven starts (3-3 record), and fanned 34 batters in 45 1/3 innings.
Reliever – John Brebbia, Cardinals … (50 appearances) 0-0, 2.44
Tough call here, but I'm going with the bat-missing arm of 27-year-old Cardinals' right-hander John Brebbia,  Brebbia got into 50 games and fanned 51 batters (just 11 walks) in 51 2/3 innings, while  putting up a stingy 2.44 ERA. Like Jose Martinez, Brebbia's is a story of perseverance.
Selected in the 30th round of the 2011 MLB Draft by the Yankees,  he was released by New York in December of 2013 – after a season in which he went 0-5, 4.06 at A and High A.  Brebbia played the 2014-15 seasons in the American Association (Independent league), with the Sioux Falls Canaries and Laredo Lemur, respectively. In those two campaigns, he went 10-4. with a 2.15 ERA and 20 saves in 85 appearances. He fanned 155 batters in 129 2/3 innings.  That earned him a spot in the Diamondbacks' system. Arizona, however, gave Brebbia up in the Rule 5 Draft (Cardinals) before he pitched in the D-backs' system. In 2016, Brebbia went 5-5, 5.03 at Double A/Triple A before getting off to a solid start at Triple A in 2017 (1-1, 1.69 in fifteen appearance) and earning his call up.
So, there BBRT's picks for the 2017 All-Rookie Team.  Now how about some of the top rookie seasons of All Time.
—–GAME TWO … BBRT PICKS FOR BEST/MOST INTERESTING
ROOKIE SEASONS EVER … 
Here a baker's dozen of rookie seasons that BBRT finds either remarkable, interesting … or both.
Shoeless Joe Jackson – Indians, 1911 … .408-7-83
The 23-year-old Indians' outfielder had been called up for the proverbial MLB "cup of coffee" in 1908, 1909 and 1910, but had seen action in only 30 games – retaining his rookie status. After a 1910 season that saw Jackson hit .354 in 136 games for the Class A New Orleans Pelicans and then .387 in 20 contests for the Indians, Jackson had cemented a spot with the 1911 AL Indians' squad.
What did he do to earn the top spot on this BBRT list? In 147 games, he hit .408, with 233 hits, 126 runs scored, 45 doubles, 19 triples, seven home runs, 83 RBI and 41 stolen bases.   Jackson's .408 remains the 15th-highest average in any MLB season ever and the sixth-highest since 1900.  In 1911,  Jackson was second in MLB in batting average (to Ty Cobb's .420) and one of only two players to hit .400; first in on base percentage (.468); second (to Cobb) in slugging percentage at .590; second in runs scored (again to Cobb); second in hits (Cobb); second in doubles (Cobb); and second in total bases with 337 (Cobb, 367). He finished fourth in the MVP voting.
If it took Ty Cobb in his prime to outhit you in your rookie season, you've earned the top spot on this list.
Jackson – caught up in the Black Sox scandal of 1919 – went on to a 13-year career in which he  averaged .356, three times led the AL in triples, twice led the AL in hits, twice topped the league in total bases and racked up single seasons leading the AL in doubles, on-base percentage and slugging percentage. By the way, Jackson hit .375 in that infamous 1919 World Series.
Fred Lynn, Red Sox, 1975 … .331-21-105/ROY & MVP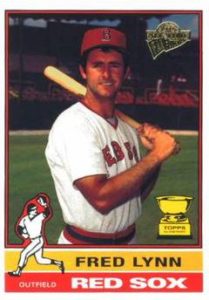 How can you not have Red Sox flycatcher Fred Lynn near the top of this list? He was the first player to win Rookie of the Year and a Most Valuable Player Award in the same season. It was 1975, but Lynn had shown his promise the season before. Called up from the Triple A Pawtucket Red Sox (where he hit .282-21-68 in 124 games), Lynn closed out the 1974 season hitting .419 in 15 games for Boston.  In 1975, he hit .331 (second in the AL), with 21 home runs, 105 RBI and an AL-leading 103 runs scored.  – and he won a Gold Glove for his defensive play in center field.
The first player to win Rookie of the Year and be his league's Most Valuable Player in the same season belongs in the top five. Some may argue this placing. But that MVP Award tells you just what a force Lynn was.
Lynn went on to a 17-season career with a stat line of .283-306-1,111 and four Gold Gloves.
Grover Cleveland Alexander, Phillies, 1911 … 28-13, 2.57
After going a combined 44-19, with a 1.66 ERA in two minor league seasons – D-Level Galesburg Boosters in 1909 and B-Level Syracuse Stars in 1910 (where he went 29-11) – Grover Cleveland "Pete" Alexander made the Phillies' major league squad in 1911. In his rookie season, Alexander went 28-11, with a 2.57 ERA and finished third in the National League MVP race. (The 28 wins are still the post-1900 record for a rookie.) Here's what the 24-year-old rookie right-hander accomplished: 28 wins (led NL, tied for MLB lead); 31 complete games (led NL, third in MLB); seven shutouts (led MLB); 227 strikeouts (second in NL, fourth in MLB); 37 games started (second in NL, third in MLB). 6.99 hits per nine innings (lowest in NL, second-lowest in MLB).
Twenty-eight wins as a rookie hurler (post-1900 rookie record) and a third-place finish in the MVP race – got to be in the top five on this list.
Alexander went on to a 20-season Hall of Fame career – 373 wins (208 losses); a 2.56 career ERA; 2,198 strikeouts.  He led the NL in wins six times; ERA five times; complete games six times; shutouts 7 times; and strikeouts six times.
Ted Williams, Red Sox, 1939 … .327-31-145
Teddy Ball game broke into the big leagues in 1939 – a 20-year-old rookie. It was his fourth professional season and, in three minor league campaigns, his average had gone from .271 to .291 to .366. In 1939, Williams hit .327, banged out 31 home runs, led all of MLB with 145 RBI and scored 131 times. He finished seventh in the AL in batting average; fifth in hits (185); first in total bases (344); second in doubles (44); fifth in triples (11); and third in home runs (31). The Splendid Splinter finished fourth in the MVP voting in his rookie campaign.
Pretty much everything Teddy Ballgame did was impressive. So, why not his rookie numbers and ranking on this list? Might have inched up a spot or two just for being Ted Williams. 
Williams went on to a Hall of Fame career that included: six batting titles; four home run crowns; six seasons leading the league in runs scored; and four seasons at the top of the RBI list. In 19 MLB seasons, Williams also put up an MLB career-best .482 on-base percentage – leading the AL in that category 12 times.
Fernando Valenzuela, Dodgers, 1981 … 13-7, 2.48/ROY & CYA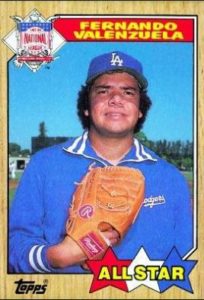 Valenzuela went just 13-7 in 1981 – but, remember that was a strike season and no pitcher won more than 14 games.  In fact, Valenzuela's 13-7, 2.48 ERA record earned him Rookie of the Year and Cy Young Award honors, as well as a top-five finish in the MVP voting. The 20-year-old rookie also led the league in starts (25), complete games (11), shutouts (8) innings pitched (192 1/3) and strikeouts (180).  Valenzuela went on to a 17-season career (173-153, 3.54).
Rookie of the Year and the Cy Young Award at age 20 is enough to place this high – and he gets extra points for the fervor that was Fernando-mania.
Albert Pujols, Cardinals, 2001 … .329-37-130/ROY
At the ripe young age of 21, Pujols put up the first in a string of remarkable seasons –  earning the 2001 Rookie of the Year Award and a fourth-place finish in the MVP balloting. Pujols hit .329, with 37 home runs, 130 RBI and 112 runs scored.  Over the first ten seasons of his career, he topped a .300 average, 30 home runs and 100 RBI every season.
Pujols scores points for making a .300-30-100 season seem a bit mundane – right from his rookie season.  He also gets extra credit for versatility. In his rookie season, Pujols started 53 games at 3B; 38 in LF; 33 in RF; 31 at 1B; and 2 at DH.
As of the end of the 2017 season, Pujols' stat line is .305-614-1,918.  He has led his league in runs scored five times, home runs twice, RBI once and average once. As a rookie, he got a Hall of Fame career off to a great start
Aaron Judge Yankees, 2017 … .284-52-114
We've already talked about the 25-year-old Judge and his.284-52-114 season (with a league-leading 128 runs and a surprising nine stolen bases). Who knows where "Da Judge" will go in the future.  A good sign is Judge's bounce back after a tough August this past season (.185 average with just three home runs) to hit .311, with 15 homers in September/October.
The all-time rookie record for home runs has got to earn a top-ten finish.
Mark McGwire, A's 1987 … .289-49-118/ROY
McGwire's original call up was not an eye-opener (18 games in 1986, with a .189-3-9 stat line.) But he made good on his promise in his first full season – going .289-49-118 for the A's as a 23-year-old in 1987; and setting a rookie HR record that stood for three decades.  McGwire went on to a 16-season MLB career in which he hit .263, with 583 long balls and 1,414 RBI. McGwire led his league in home runs four times (a high of 70 in 1998) and in RBI once (147 in 1999).
The rookie numbers of Mark McGwire and Aaron Judge look remarkably similar. They should be placed close together on this list.
Russ Ford, Yankees, 1910 … 26-6, 1.65
Unlike many of the players on this list, after a spectacular rookie season, right-handed hurler Russ Ford did not go on to a long and illustrious MLB career. Before making the New York Highlanders (Yankees) roster in 1910, Ford did get a somewhat disastrous "cup of major league coffee" in 1909 – one game, three innings pitched, four hits, four walks, three hit batsmen, three earned runs, two strikeouts.
Still a rookie in 1910, the 27-year-old righty went 26-6 with a 1.65 ERA. The 26 wins remains the American League rookie-season record. In his initial full campaign, Ford was second in the AL in wins (26); second in winning percentage (.813); seventh in ERA (1.65); fourth in strikeouts (209); fifth in games started (33); fourth in complete games (29); second in shutouts (8); allowed the fewest hits per nine innings (5.89), and had the second-lowest Walks and Hits per Innings Pitched (0.88).  On a Highlanders' team that finished second with an 88-63 record, Ford led the team in virtually every positive pitching category.
Have to give a solid spot to the holder of the AL victory record for rookie pitchers.
Ford followed that rookie season with a 22-11, 2.27 record in 1911, but then led the AL in losses (13-21, 3.55) in 1912 and lost 18 games (versus 12 wins) in 1913. He jumped to Buffalo of the Federal League in 1914, going 21-6, 1.82 … and 5-9, 4.52 in 1915. Historians report that Ford's career was cut short (he did not pitch in the majors after 1915) with the banning of his signature pitch – the well-scuffed "emery ball."  His final MLB line, over seven seasons, was 99-71, 2.59.
Dale Alexander, 1929, Tigers … .343-25-137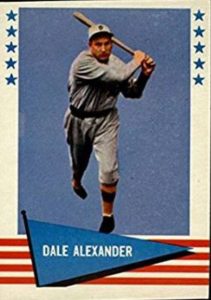 Dale Alexander is one of two "Oh my, what could have been!" stories on this list. Alexander broke in at first base with the Tigers in 1929 – after six minor league seasons in which he hit .333 (in 2,924 at bats). The year before he made the Tigers' squad, Alexander hit .380-31-144 with 15 stolen bases at Toronto of the Double A International League.  As an MLB rookie, Alexander played in all 155 Tigers' games, hitting .343 (tenth in the league), leading the league with 215 base hits, blasting 25 home runs (fifth in the AL) and driving in 137 runs (third).
A durable player, Alexander again played in every Tigers' game in 1930, this time hitting .326-20-135.  He went on to a .325 average (just three home runs) in 1931 and .367-8-60 (and an AL batting title) in 1932 (a season which included a trade to the Red Sox). Over his first four full seasons, Alexander averaged .338.
In a five-season MLB career – cut short by a truly unexpected injury/health catastrophe – Alexander hit .331, with 61 home runs, 459 RBI and 20 stolen bases.  His lost potential deserves recognition among the top ten rookie seasons.
In May of 1933, Alexander suffered a knee injury and was subjected to a new deep-heat treatment. Unfortunately, Alexander was left in the "diathermy" machine too long and suffered third-degree burns to his leg. Initially, there was concern that he might actually lose the leg, but amputation was avoided. However, the burned and scarred leg did not fully recover, limiting Alexander's mobility and marking 1933 as his final MLB season. (He did continue to play in the minor until 1942).
Mike Trout, Angels, 2012 … .326-30-83/ROY
Mike Trout joined the 30-30 club in his first full MLB season (at the age of 20) – going .326-30-83, with a league-leading 49 stolen bases. He also led the league in runs scored with 149. That performance earned him Rookie of the Year honors and a second-place finish in the AL MVP voting. (Note: Trout hit .220 in a 40-game call up in 2011.)
Mike Trout gets extra credit for consistency. In his first six full MLB seasons, he finished lower than second in the MVP voting only once (2017, when injuries limited him to 114 games) – capturing the award in 2014 and 2016.  I would certainly not argue with those who would place his rookie season a few spots higher on this list.  Trout's consistent performance may have me taking those rookie numbers for granted. 
In six full MLB seasons, Trout has led the AL in runs scored four times, RBI once, stolen bases once, walks twice, on base percentage twice, slugging percentage twice and total bases once.  His current career stat line: .306-201-569, with 165 stolen bases.
Tony Oliva, Twins 1964 … .323-32-94/ROY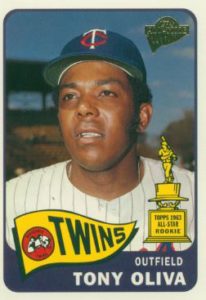 The 25-year-old Oliva won the AL batting crown in his rookie season with .323 average. He also led the AL in hits (217), runs scored (109), doubles (43) and total bases (374). Despite being hampered by knee injuries in the latter part of his career, Tonu-O went on to 15 MLB seasons that included three batting crowns, five seasons leading the league in hits and four seasons topping the AL in doubles.  Oliva's career stat line: .304-220-947.
Extra credit to Tony Oliva for following up his rookie batting title by becoming the only player to win a batting title in his first two full seasons (.323 in 1963, .321 in 1964). He also led the league in base hits his first three full seasons.
13.  Mark Fidrych, Tigers, 1976 …19-9, 2.34/ROY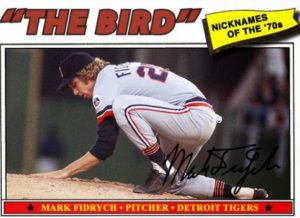 At 21, Mark "The Bird" Fidrych took baseball – and, in particular, Detroit baseball –  by storm. Statiscally, he went 19-9, with a league-low 2.34 ERA and a league-high 24 complete games.  His performance won him Rookie of the Year honors and second place in the Cy Young Award balloting. His 19 wins were third in the AL – keeping in mind that he opened the year in the bullpen and didn't get his first start until May 15.  He went on to throw complete games in his 11 of his first 12 starts.
Fidrych makes this list as much for his antics on the mound – and popularity with the fans – as for his stellar rookie numbers. How can you not recognize a season in which a team draws more than twice as many fans at home for a specific pitchers's starts?  In 1976, the Tigers' average home attendance on a non-Fidrych start days was 13,843; while the team averaged 33,649 when The Bird started on the Detroit home mound. Some might have put Dwight Gooden in this spot, but all those complete games outweighed the strikeouts for me. 
In Spring Training 1977, Fidrych injured his knee, but recovered and got off to a good start that season. Going into July, Fidrych was 6-2, with a 1.83 ERA and seven complete games in eight starts.  Then, in a July 4 start against the Orioles, he felt something wrong in that valuable right wing (giving up six runs in 5 2/3 innings). He tried a couple more outings (a total of seven runs in 6 1/3 innings) before shutting down. He really never was the same again – eventually having shoulder surgery – and won only four more MLB games after July 1977.  Some think the knee injury may have led him to alter his delivery, while others point to the workload of all those complete games.  Either way, like Dale Alexander's, this is an "Oh my, what might have been!" kind of story.   The Bird's final stat line: 29-19, 3.10.
VERY SPECIAL RECOGNITION

Ichiro Suzuki, Mariners, 2001 … .350-8-69/ROY & MVP

Okay, I know Ichiro Suzuki should probably be on this list – probably right up there around Ted Williams and Fred Lynn. After all, as a 27-year-old MLB rookie, he led the AL with a .350 average and 242 hits – and added a league-leading 56 stolen bases and a Gold Glove. It's just that those nine seasons in Japan (.353 average and seven batting championships) make it hard from me to figure out where to place him with more traditional rookies.

Still, like Elvis, Cher and Madonna, Ichiro is a star that needs only one name.  After a spectacular rookie season in MLB, Ichiro just kept on hitting.  He amassed  200+ hits in each of his first ten MLB seasons, leading the league in safeties seven times – and picked up a pair of batting titles along the way.  He was also a Gold Glover in each of his first ten seasons. To date, Ichiro has a .312 MLB average, 3,080 hits, 117 home runs, 780 RBI, 1,415 runs scored.  And let's not forget those 1,278 hits in Japan.  The man is a hitting machine – and earns special recognition for a spectacular MLB rookie season.
Primary sources: Society for American Baseball Research (SABR); Baseball-reference.com; MLB.com; Baseball-Almanac.com
I tweet baseball @DavidBBRT
LikeFollow the Baseball Roundtable Facebook page here.
Member: Society for American Baseball Research (SABR); The Baseball Reliquary; The Negro Leagues Baseball Museum.