With the Yankees recently retiring Derek Jeter's number, it seems a good time to launch Baseball Roundtable's bobblehead giveaways – an effort designed to:
1) Reward those who follow Baseball Roundtable;
2) Build the audience for Baseball Roundtable's new Facebook Page;
3) Clear out/downsize my bobblehead collection.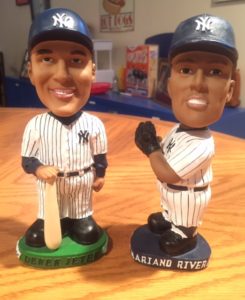 The first two bobblers to be given away are the pictured Yankees' bobbleheads – Mariano Rivera and Derek Jeter – promotions sponsored by Hormel and Land O Lakes.
On May 30, BBRT will randomly draw from among those who Like/Follow the Baseball Roundtable Facebook page. (Click here to go to the BBRT FB, but read on first.) Those who continue to Like/Follow will stay in the running for future bobble head giveaways.
Giveaway Round Two, slated for four-to-six weeks after the first giveaway, will feature the old and new of Minnesota Twins' power – Harmon Killebrew and Miguel Sano bobble heads.
Not only will you be in the running for ongoing giveaways, you will enjoy (I sincerely hope) the baseball news and views presented both on this page and on the Baseball Roundtable blog – baseballroundtable.com     Note: I do not sell items or ad space on by blog site; it is a labor of love (for the national pastime).
IMPORTANT DISCLAIMER: This promotion is in no way sponsored, endorsed or administered by, or associated with Facebook. If you win, you understand that you will be providing your information to the owner of this Facebook page and not to Facebook.
Winner must authorize announcing the win. No personal info, just a statement like "Baseball Roundtable follower NAME/OR FB HANDLE is the winner of the Jeter/Rivera Bobbleheads giveaway.
Now, for a bit of BASEBALL TRIVIA to accompany this announcement – perhaps you can fool your friends.

In 2008, C.C. Sabathia became the only MLB pitcher to lead both leagues (and all of MLB) in shutouts in the same season. He started the season with the Cleveland Indians of the AL, and was traded to the then Milwaukee Brewers on July 7. His two complete game shutouts with Cleveland tied (with seven others) for the AL lead, while his three CG shutouts tied Milwaukee teammate Ben Sheets for the top spot in the NL.

A little how the game has changed. In 1963,the Braves' Warren Spahn went 23-7, threw 22 complete games in 33 starts, averaged 7.86 innings pitched per start and had a game-high pitch count of 201. Oh yes, he was 42-years-old.

The last pitcher to top 300 innings pitched in a season was Steve Carlton of the Phillies in 1980 (304 innings pitched). From 1950 through 1959, another Phillie, Robin Roberts, AVERAGED 301 innings pitched per season.
I tweet baseball @DavidBBRT – give me a follow.
Member: Society for American Baseball Research (SABR); The Baseball Reliquary; The Negro Leagues Baseball Museum; Baseball Bloggers Alliance.