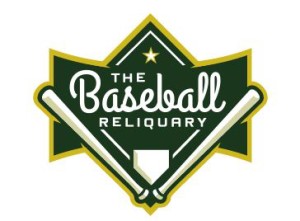 If you follow Baseball Roundtable, you are probably aware of the fact that BBRT is proud to be a member of The Baseball Reliquary – a free-spirited organization dedicated to celebrating the human side of baseball's history and heritage.  The Baseball Reliquary is truly a fans' organization, committed to recognizing baseball's place in American culture and to honoring the character and characters of the national pastime. The Reliquary pursues that mission through its collection of artifacts, traveling exhibitions, ties to the Whittier College Institute for Baseball Studies and (perhaps, most visibly) through its own version of the Baseball Hall of Fame – the Baseball Reliquary Shrine of the Eternals.  For more on the Baseball Reliquary, and why you should become a member, click here.
The Reliquary's Board of Directors recently (May 4) announced its 2015 Shrine of the Eternals electees – each year, the top three vote getters (all Baseball Reliquary members may cast votes) are honored.  The induction ceremony for this 17th Shrine "class" will take place beginning at 2:00 p.m., July 19 in the Pasadena (CA) Central Library's Donald R. Wright Auditorium.  Before we take a look at this year's electees,  BBRT would like to share what the Baseball Reliquary has to say about its highest honor.
Similar in concept to the National Baseball Hall of Fame, the Shrine of the Eternals differs philosophically in that statistical accomplishment is not the principal criterion for election. It is believed that the election of individuals on merits other than statistics and playing ability will offer the opportunity for a deeper understanding and appreciation of baseball than has heretofore been provided by "Halls of Fame" in the more traditional and conservative institutions.

Criteria for election shall be: the distinctiveness of play (good or bad); the uniqueness of character and personality; and the imprint that the individual has made on the baseball landscape. Electees, both on and off the diamond, shall have been responsible for developing baseball in one or more of the following ways: through athletic and/or business achievements; in terms of its larger cultural and sociological impact as a mass entertainment; and as an arena for the human imagination.
The diversity of past honorees is a clear indication that the Baseball Reliquary and its member-voters are living up to the stated criteria. Past inductees include (among others) a one-armed major league outfielder, a pitcher who once threw a no-hitter while high on LSD, a team owner who sent a midget to the plate, a man in a chicken suit, a member of Major League Baseball's 3,000-hit club, a manager who won eight World Championships, a surgeon, a labor leader, a statistical wizard and more than one best-selling author.
So, who are the Reliquary's 2015 electees?  Diversity rules again.  The 2015 Class of the Shrine of the Eternals includes a baseball card designer; a West Coast minor league legend; and an MLBer who faced prejudice with his own brand of courage.
For BBRT, this may go down as the Class of the Killer B's – (Sy) Berger; (Steve) Bilko; (Glenn) Burke. Here's a look at the three electees through excerpts (in italics) from the Baseball Reliquary's announcement.  For more detail, as well as a full listing of nominees and their vote totals, visit the post on the Baseball Reliquary's web site by clicking here.  At the end of this post, I'll also include a few comments on 2015 nominees that did not get elected, but did receive BBRT's vote. Note: BBRT did cast votes for Berger and Burke.
Sy Berger (1923-2014) – "Father of the Modern Day Baseball Card" – 31% of the vote.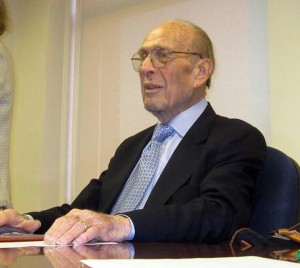 Born in the Bronx, just blocks from Yankee Stadium, Berger joined the Brooklyn-based Topps Chewing Gum Company as an assistant sales manager in 1947 and headed its sports department for half a century.  During his tenure, he designed and oversaw the production of some of the most innovative and revered baseball cards of all-time.  He is often called the "Father of the Modern Day Baseball Card" for his work on the 1952 Topps baseball set, which he designed (with help from Woody Gelman) on his kitchen table and which for the first time incorporated team logos along with facsimile signatures, statistics, and personal information on the players.  This same format continues to the present day. 
Berger would remain with Topps as an employee for fifty years (1947-1997), and would serve as vice-president, and then consultant and board member.  He was still working as the company's principle liaison between the players, teams, and leagues until his retirement in 2003.
Steve Bilko (1928-78) – West Coast Minor League Legend – 31% of the vote.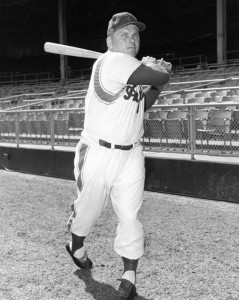 Bilko was not a star in the big leagues.  Over a peripatetic ten-year career, he was a regular for only one season (1953, with the Cardinals), and he appeared in more than 100 games only one other time (1961, with the expansion Angels).  He could hit for power, but struck out too often.  He had no speed.  To explain the lingering mystique of this moon-faced, lumbering first baseman, we must look at the Pacific Coast League, with franchises located along the West Coast and featuring a prolonged weather-friendly playing season, competitive pennant races and playoffs, and a rabidly partisan fan base. 
The PCL produced great baseball until the Dodgers and Giants relocated to Los Angeles and San Francisco, respectively, in 1958.
In those waning years of PCL supremacy, Bilko was the slugging star for the Los Angeles Angels, who wowed fans with mammoth home runs and exceptionally fierce strikeouts.  He led the PCL in home runs for three consecutive seasons from 1955 to 1957, winning the league Triple Crown in 1956 with a .360 average, 55 HRs, and 164 RBI.  He was by far the biggest sports star in Los Angeles history prior to the arrival of the Dodgers. 
Recognizing his popularity with local fans, the Dodgers added Bilko to their roster as a gate attraction for their inaugural campaign in Los Angeles.  The Angels (the American League expansion team) did likewise in 1961, providing Bilko with a final chance to awe the fans at his old haunt, Los Angeles's Wrigley Field.  For those who saw him play in the PCL, he will always be remembered as a superstar.  That his glory years coincided with the demise of a much-loved league adds a last wistful touch to his legend.
BBRT note: In ten MLB seasons, Bilko played in 600 games and put up a .249-76-276 stat line. In 13 minor league campaigns, he played in 1,533 games – hitting .312, with 313 home runs. As noted above, in 1956, with the Los Angeles Angels, he captured the Pacific Coast League Triple Crown with a .360 batting average, 55 home runs and 164 runs batted in. He followed that up, again for the Angels, with a .300-56-140 season in 1957.  Bilko was inducted into the PCL Hall of Fame in 2003.
Glenn Burke (1952-95) – Crossing the Barrier of Prejudice – 31% of the vote.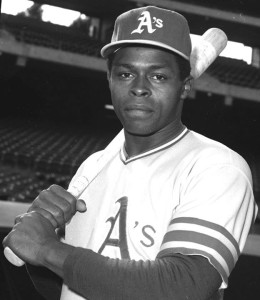 Burke was a fleet, capable outfielder for the Los Angeles Dodgers and Oakland Athletics during a four-year major league career from 1976 through 1979.  He was the first big league ballplayer to publicly acknowledge he was gay.  Although his public disclosure came after he had retired, Burke's sexual preference was well known during his playing days, and he encountered widespread homophobia from locker rooms to board rooms. 
While never given an everyday opportunity with the Dodgers to show his mettle, Burke did make one lasting contribution to popular culture while with the team.  After Dusty Baker's 30th home run at the end of the 1977 season — a feat which made the Dodgers the only team at that time to have four different players hit 30 or more taters — Burke raised his hands in celebration at home plate.  As Baker crossed the plate he reached up, slapped one, and the high-five was born.  
Having appeared in just over 100 games for Los Angeles during parts of three seasons, Burke was sent packing to Oakland.  Returning to his hometown didn't make Burke's life any easier.  A's manager Billy Martin made public statements about not wanting a homosexual in his clubhouse, a clear reference to Burke.  After just two years with the A's, Burke quit baseball in frustration.  He became active in amateur athletic competition after baseball, competing in the 1982 and 1986 Gay Games in basketball and track. Burke died of complications from AIDS-related illness in 1995.
A documentary, Out: The Glenn Burke Story, was released in 2010.  
BBRT note: In 2013, Burke was among the first group of inductees into the National Gay and Lesbian Sports Hall of Fame. Burke was also honored at a press conference prior to the 2014 MLB All Star game.  How good could Burke haven been? We'll never know, but in 600 minor league games, he hit .293, with 48 home runs and 214 stolen bases.
So there's the 2015 Shrine of the Eternals inductees.  Now here's a look at those who got BBRT's vote, but didn't make the final three.
_____________________________________________________________
Mamie "Peanut" Johnson (1935 – *)
Johnson was one of three females to play for the Indianapolis Clowns during the declining days of the Negro Leagues.  Johnson took the mound to the Clowns for three seasons (1953-55), running up a 33-8 record.  Her exploits are chronicled in the children's book A Strong Right Arm: The Story of Mamie "Peanut Johnson, by Michelle Y. Green.
Rube Waddell (1876-1914)
Rube Waddell is pretty much granted the title of the zaniest player in MLB history – but he was also one of the best (at least when he was focused on the game). Waddell was known to wrestle alligators, leave a ball game to chase a fire engine, miss a game he was scheduled to start because he was fishing or playing marbles with neighborhood kids, bring his outfielders in to sit on the grass and then proceed to fan the side – and frequently do battle with owners and managers.  Waddell was more interested in the freedom to enjoy life and do things his way than money.  But, when Waddell was on his game, he was arguably the best pitcher of his time. The 6'1", 195-lb. lefty led the AL in strikeouts six consecutive seasons (1902-1907) – by a wide margin.
How good was Waddell?  In 1902, he joined the Philadelphia Athletics in June – making his first start on June 26 (with just 86 games left in the season.) Waddell proceeded to win 24 games (the league's second-highest total) against seven losses, with a 2.05 ERA.  Perhaps more telling is that, despite his shortened season, he led the AL with 210 strikeouts, fifty more than the runner-up (none other than Cy Young, who had 16 more starts than Waddell).
In 1904, Waddell set a modern (post-1900) MLB record with 349 strikeouts that stood until 1965.  Waddell, elected to the National Baseball Hall of Fame in 1946, finished with a 193-143, 2.16 line – leading the AL in strikeouts six times, ERA twice, wins once and complete games once. For more on Waddell, BBRT suggests: Rube Waddell: The Zany, Brilliant Life of a Strikeout Artist, by Allan Howard Levy and Just a Big Kid: The Life and Times of Rube Waddell, by Paul Proia.
Pete Reiser (1919-81)
Combine Willie Mays' skill set (younger folks, think Mike Trout) with Pete Rose's hustle and Yasiel Puig's on-field abandon and you have Pete Reiser. In his first MLB full season (CF, Dodgers), a 22-year-old Reiser dazzled defensively and led the NL in runs scored (117), doubles (39), triples (17), batting average (.343), total bases (299) and hit by pitch (11) – tossing in 14 home runs and 76 RBI for good measure. Unfortunately, unpadded outfield walls, helmet-less at bats (the fiery Reiser was a frequent target) and aggressiveness on the base paths (Reiser twice led the NL in stolen bases) took their toll.
In his ten-season career, Reiser endured five skull fractures, a brain injury, a dislocated shoulder and a damaged knee.  He was carted off the field 11 times during his career (six times unconscious) and once actually given last rites at the stadium – and he played on. The three-time All Star retired as a player with a .295 career average, playing in 861 games over ten seasons. No telling what he might have done with padded outfield walls and batting helmets.  Pete Reiser was a true – and talented – gamer. For more on Reiser, try Pete Reiser: The Rough and Tumble Career of the Perfect Ballplayer, by Sidney Jacobson.
Denny McLain (1944- *)
MLB's last 30-game winner (31-6 for the Tigers in 1968), BBRT views McLain as the Pitcher of the Year in what baseball analysts often refer to as the Year of the Pitcher.  And, he wasn't a one- year wonder.  McLain won 20 or more games three times, captured two Cy Young Awards (1968-69) and one AL MVP Award (1968).  McLain, who ran up a 131-91, 3.39 record in ten MLB seasons, was a colorful and complex a character off the field and on.  His life experience provides a tale of ups and downs – from being selected the 1968 Associate Press Male Athlete of the Year and Sporting News Major League Player of the Year to a six-year prison stint.
McLain is likely the only former major leaguer whose bio includes such varied terminology as MVP, Cy Young Award, All Star game starting pitcher, World Series opening game starter – as well as pilot, Capitol Records recording artist, talk show host, author and ex-con.  McLain's story gives baseball fans plenty to talk about – and you can learn more by reading I Told You I Wasn't Perfect, by Denny McLain and Eli Zaret.
Oh, and just one more bit on Denny McLain.  He started the 1966 All Star game (vs. Sandy Koufax) and retired all nine batters he faced (Mays, Clemente, Aaron, McCovey, Santo, J. Torre, Lefebvre, Cardenas, Flood) on just 28 pitches –striking out Mays, Aaron and Torre.  That alone justifies consideration for the Shrine of the Eternals.
Effa Manley (1900-81)
The first woman enshrined in the National Baseball Hall of Fame, during the 1930s and 1940s, Manley ran the day-to-day operations of the Negro National League Newark Eagles (owned by her husband Abe Manley) – at a time when baseball, on the field and in the executive offices, was considered a "man's domain."  Effa, often thought of as a light-skinned black, was actually white.  She, however, grew up with a black stepfather and mixed-race siblings and was active in the New Jersey branch of the NAACP and Citizen's League for Fair Play.  Effa Manley deserves recognition for overcoming both racial and sexual barriers as she exercised leadership in the national pastime.
David Mullany (1908-90)
David Mullany was the inventor of the Wiffle® Ball (1953), which ultimately changed backyard baseball for millions of young (and old) players and fans. I know I loved my white perforated plastic ball and yellow plastic bat – and played more than one backyard World Series opener with them (without shattering a single window).  Today, there are Wiffle Ball fields, leagues and tournaments.  The company is still operated by the Mullany family and you can learn more by visiting their website (www.wiffle.com)
Charles M. Conlon (1868-1945)
One of the greatest baseball photographers ever, Conlon produced a tremendous library of portraits and action photos of baseball's greats, near greats and also-rans. Conlon's 1909 photograph of Ty Cobb sliding into third base with spikes flying and teeth clenched is considered by many to be the greatest baseball action picture ever taken. His photos appeared regularly in such publications as The Sporting News, Baseball Magazine, and the Spalding and Reach Base Ball Guides, but it was the 1993 book, Baseball's Golden Age: The Photographs of Charles M. Conlon that finally brought the full impact of his contributions to the fore.
Vic Power (1927-2005)
In 1963, baseball held it first and only Latino All Star Game – October 12 at New York City's Polo Grounds – featuring such Hispanic stars as Juan Marichal, Roberto Clemente, Louis Aparicio, Tony Oliva, Minnie Minoso, Felipe Alou, Orlando Cepeda and Vic Power.  In pre-game ceremonies, Vic Power was honored as the number-one Latino player – such was the power and popularity of Vic Power.
During his 12-year MLB career, Power proved a capable hitter (.284 lifetime average) and a flashy fielder, who won seven consecutive Gold Gloves at first base. Power's contribution to the game went much further, however, Power served as mentor to many of the Latino/Hispanic player entering major league baseball in the 1950s and 1960s. Power was a trailblazer for today's generation of Latino stars.
John Young (1949-*)
A 6'3", 210-pound, left-handed first baseman, John Young hit .325, with four home runs, 60 RBI and 26 stolen bases (in 29 attempts) in 99 games at Single A Lakeland (Tigers' farm team) as a twenty-year old (in 1969). The first-round draft choice (16th overall in the 1969 draft)  truly looked like a player with promise – and, in fact, enjoyed a big league cup of coffee with the Tigers in 1971 (two games, four at bats, two hits, one run, one RBI, one double). A wrist injury derailed his playing career, but didn't dampen his love for the game and he went on to a long career as a scout. It was during his scouting days that Young developed a concern for the decline of baseball among young people – particularly in the inner cities.  In response, Young came up with the concept for the RBI (Reviving Baseball in Inner Cities) program. Officially launched in 1989, the RBI program is now supported by all thirty MLB clubs and is active in more than 200 communities – annually providing more than 260,000 youngsters the opportunity to play baseball and softball. (The program also includes educational and life skills components.) A few RBI alumni in the major leagues include: Carl Crawford, Justin Upton, CC Sabathia, James Loney and Manny Machado.
So, there's my 2015 Baseball Reliquary Shrine of the Eternals ballot – and I'm already looking forward to next year.
I tweet baseball @DavidBBRT