I've asked this before, but it's clearly the best way to introduce the Baseball Reliquary and its Shrine of the Eternals.
What do the following have in common – a one-armed major league outfielder, a pitcher who once threw a no-hitter while high on LSD, a team owner who sent a midget to the plate, a man in a chicken suit, a member of Major League Baseball's 3,000-hit club, an MLB manager who won eight World Championships, a baseball card designer, a surgeon, a labor leader, a statistical wizard and more than one best-selling author?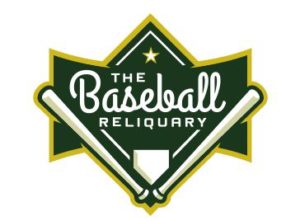 These diverse individuals are all past electees to The Baseball Reliquary's Shrine of the Eternals – an honor that recognizes individuals who have had impact on our national pastime that goes beyond statistics and touches upon the culture and character of the game.  In essence, the Shrine of the Eternals is our national pastime's fan-focused hall of fame. (And this year, you can add a broadcasting legend, a pop-culture icon and a cartoon character to the list. More on that in a bit.)
The Baseball Reliquary this week announced its latest (2017) Shrine of the Eternals electees, who will be enshrined during ceremonies slated for 2:00 p.m., Sunday July 16th, at the Donald R. Wright Auditorium, Pasadena Central Library, 285 E. Walnut Street, Pasadena, California. (For more information, call 626-791-7647.)  The honorees for this Shrine of the Eternals 19th indusction ceremony include:
Vin Scully, who spent 67 years as a Dodgers' broadcaster and whose voice became as much a sound of the game as the crack of the bat meeting the ball, the slap of the horsehide sphere into a leather mitt, the unique whirr of a good curveball and the shouts of beer and hot dog vendors.
Bob Uecker, former MLB player who translated his knowledge of the game, .200 career batting average and self-deprecrating sense of humor into an off-the-field career as a broadcaster, actor, comedian and (pun intended) pitchman.
Charlie Brown, a cartoon character whose love the game and enduring sense of optimism taught us some important life lessons from atop the pitcher's mound.
Before taking a closer look at this year's electees (and BBRT's ballot), I'd like to provide a brief overview of both the Baseball Reliquary and its Shrine of the Eternals. Let me begin by saying, if you are a baseball fan, I would highly recommend you consider membership in the Baseball Reliquary – a truly free-spirited (if somewhat eccentric) organization dedicated to celebrating the human side of baseball's history and heritage.  The Baseball Reliquary is an open and fan-focused organization, committed to recognizing baseball's place in American culture and to honoring the character and characters of the national pastime. It pursues that mission through its collection of artifacts, traveling exhibitions, ties to the Whittier College Institute for Baseball Studies and (perhaps, most visibly) through its own version of the Baseball Hall of Fame – the Baseball Reliquary Shrine of the Eternals.  For more on the Baseball Reliquary, and why you should become a member, click here.
Now, to the Shrine of the Eternals. Here's what the Reliquary has to say about this honor.
The Baseball Reliquary Shrine of the Eternals

Similar in concept to the National Baseball Hall of Fame, the Shrine of the Eternals differs philosophically in that statistical accomplishment is not the principal criterion for election. The Baseball Reliquary believes that the election of individuals on merits other than statistics and playing ability will offer the opportunity for a deeper understanding and appreciation of baseball than has heretofore been provided by "Halls of Fame" in the more traditional and conservative institutions.

Criteria for election shall be: the distinctiveness of play (good or bad); the uniqueness of character and personality; and the imprint that the individual has made on the baseball landscape. Electees, both on and off the diamond, shall have been responsible for developing baseball in one or more of the following ways: through athletic and/or business achievements; in terms of its larger cultural and sociological impact as a mass entertainment; and as an arena for the human imagination.
Each year, the Baseball Reliquary submits a list of candidates to its members and the top three vote-getters are honored.  With that background behind us, let's take a look at the 2017 honorees.   Note: voting percentages for all the candidates can be found at the end of this post.  For more on the Shrine of the Eternals, click here. 
_____________________________________________________________
2017 SHRINE OF THE ETERNALS HONOREES
Vin Scully (1927-  ) – 59.5%
If anyone's career is appropriate to a spot in the Shrine of the Eternals, its Vincent Edward "Vin" Scully – whose career as a baseball broadcaster was a close to eternal as anyone has ever come – 67 years behind the microphone. (Note: Scully's total of 59.5 percent of the vote is the highest figure since the annual Shrine of the Eternals election process was inaugurated in 1999, topping the 53 percent totals of Bill "Spaceman" Lee in 2000 and Buck O'Neil in 2008.)  Scully was the voice of the Dodgers from 1950 until his retirement after the 2016 season, as well as NBC's lead television broadcaster for much of the 1980s and the voice of the World Series for CBS radio in the 1990s.
"Let's all take a deep breath as we go to the most dramatic ninth inning in the history of baseball. I'm going to sit back, light up, and hope I don't chew the cigarette to pieces."
               Vin Scully calling the final inning of Don Larsen's 1956                   World Series perfect game.
I have never seen an exact count of the number of games Scully "called" during his career, but we do know he was on the broadcast team for 28 World Series, 21 no-hitters and three perfect games.  The fact is, the fluid sound of Scully's voice and his often poetic anecdotes, became as much the sound of major league baseball as the crack of the bat, the slap of leather ball into leather glove or the shouts of vendors eager to part with hot dogs or beer.
It may sound corny, but I enjoyed listening to Vin call a game almost more than playing in them.

                                                          Hall of Famer Sandy Koufax
How impressive are Vin Scully's credentials?  Here are just of few of the recognitions he has received: Baseball Hall of Fame Ford Frick Award (1982); Lifetime Achievement Emmy and induction into National Radio Hall of Fame (1995); three-time national Sportscaster of the Year (1965, 1978, 1982); American Sportscasters Association Hall of Fame (1992) and Sportscaster of the Century (2000) recognitions; MLB Commissioner's Historic Achievement Award (2014); and the Presidential Medal of Freedom (2016). Again these are just a few of his recognitions. (Scully, for example, was also named California Sportscaster of the Year 32 times, has a star on the Hollywood Walk of Fame and more than one street named after him.)  And now, he will take his place in the Shrine of the Eternals.  Can't wait for the speech.  For more on Scully, you might try The Vin Scully Story, by Carl Smith (2009).
Bob Uecker (1934- ) – 37%
Dubbed "Mr. Baseball" by TV talk show host Johnny Carson for his tongue-in-cheek approach to the national pastime, Bob Uecker will finally get his seat "in the front row" – at this year's Shrine of the Eternals induction ceremony.
Uecker has clearly made baseball his life and Milwaukee his hardball home.  Born and raised in Milwaukee, Uecker grew up watching the minor-league Milwaukee Brewers and signed his first professional contract with the major-league Milwaukee Braves (1956). Uecker – a catcher by trade – made his big league debut with the Braves in 1962 (after six minor league seasons, during which he played 557 games and hit .274, with 78 home runs and 254 RBI). In six major league seaons (Braves, Cardinals, Phillies), Uecker played in 297 games and hit an even .200, with 14 home runs and 74 RBI.
Anybody with ability can play in the big leagues. To last as long as I did with the skills I had, with the numbers I produced, was a triumph of the human spirit.

                                               Bob Uecker, reflecting on his MLB career
Uecker retired as a player after the 1967 season and began a full-time career as play-by-play announcer for Milwaukee Brewers in 1971 – a position he still holds. Over the years, he has also served as a baseball color commentator for ABC (1970s) and NBC (1990s); hosted a pair of syndicated sports television shows; appeared as broadcaster Harry Doyle in the "Major League" movies; and played a key character in the sitcom Mr. Belvedere. Uecker received the National Baseball Hall of Fame Ford C. Frick Award for his work as a baseball broadcaster in 2003.
What separates Uecker from many former players-turned-broadcasters is his dry and self-deprecating sense of humor. For example, of his original signing, he says "I signed with the Milwaukee Braves for three-thousand dollars. That bothered my dad at the time because he didn't have that kind of dough. But he eventually scrapped it up."   Or there's his comment on catching the knuckleball, "I found the easy way to catch a knuckleball, just wait until it stopped rolling and then pick it up."
Uecker's wit (and knowledge of and love for the game) not only earned him a spot in the broadcast booth, but also pop-culture stardom through dozens of appearances on the Tonight Show and a starring role in a series of Miller Lite commercials (as well as his movie and TV roles).
In addition the Ford Frick Award, Uecker was inducted into the National Radio Hall of Fame (2001); the Braves Wall of Honor (2009); and  on August 31, 2012, the Brewers erected the Uecker Monument outside Miller Park – alongside the statues of  such heroes as Hank Aaron and Robin Yount. The National Sportscasters and Sportswriters Association named Uecker as Wisconsin Sportscaster of the Year five times and inducted him into its Hall of Fame in 2011.  For more on Uecker, try his book "Catcher in the Wry."
Charlie Brown (1950-    ) – 25.5%
Charlie Brown – created ty the late Charles M. Schulz – takes the field (the mound actually) for the love of the game – and in the process teaches us a lot about humanity and grace (under pressure and in the face of disappointment).
Brown is both the manager of the Peanuts baseball team and, almost always, its pitcher. While he imagines himself as possessing a blazing fastball, sharp-breaking curve and devastating change up, he usually ends up literally being upended and undressed by line drives up the middle.  Still, he shows up and takes his turn on the mound – with optimism – game after game, loss after loss, come rain or shine.   Despite decades of disappointment, Charlie has never lost hope – nor waned in his love of the game.  There is always the next contest or the coming season.
Brown is truly the underdog's underdog – even his favorite player reflects his approach to the game (and life).  It's not Mantle, nor Mays, nor Trout, but rather little-known Joe Shlabotnik.  Yet, in his enduring passion for the game and his unbreakable spirit (in the face of what some say is close to 1,000 losses versus single-figure wins), we can all learn a lesson about the importance of optimism, perspective and  perseverance in the face adversity. Note:  At their peak, Charlie Brown and his team's exploits appeared in more than 2,500 newpapers in 75 countries.
There's somethng lonely about a ball field when it's raining.

                                                                                Charlie Brown
As is noted in the final line of Charlie Brown's Shrine of the Eternals nomination "Yes, Charlie Brown may be a blockhead, but in his unshakeable belief in himself and his imagination, he will always be a winner."  He clearly won enough hearts to take a place in the Shrine of the Eternals.
Scully, Ueker and Brown join 54 previous inductees to the Shrine of the Eternals. For the full list, click here.
___________________________________________
BBRT'S BALLOT
Now, here's a look at the candidates BBRT voted for who didn't make the final three.  Let me add here that one of my favorites – who garnered my vote in past elections – is (sadly) no longer on the ballot.  That would be David Mullany (1908), inventor of the Wiffle® Ball (1953). The basis for my support is that Mullany's Wiffle Ball changed backyard baseball for millions of young (and old) players and fans – including me. Here are the 2017 nominees that got my vote, but did not receive enough support for 2017 election.
Ted Kluszewski (1924-1988)
I love to recognize players who do something we are not likely to see again. Therefore, I again cast a ballot for Ted "Big Klu" Kluszewski – perhaps the last of the true power hitters who also practiced exceptional plate discipline.  In 1954, for example, Big Klu hit .326, with 49 home runs and 141 RBI – a season made even more remarkable by the fact the Kluszewski struck out only 35 times (versus 78 walks). I doubt if we'll ever see another player top 40 home runs without reaching 40 whiffs.  Kluszewski, in fact, had a streak of four seasons (1953-56) when he hit over .300, drove in 100+ runs, bashed 35+ home runs – and struck out no more than 40 times in any season.  In those four seasons, Kluszewski hit 171 home runs – and fanned 140 times (average 43 HR's and 35 whiffs a season). It should also be noted that Kluszewski led NL first baseman in fielding percentage every year from 1951 through 1955.  Unfortunately, a back injury in 1956 hampered his performance in th later years of his career (he played until 1961).
Kluszewski is also noted for adding a bit of flair to the game, making his own intimidating fashion statement. Klu complained that his uniform jersey was too tight for his large and powerful biceps. He went on to have the sleeves cut from his jersey – exposing his bare arms from the shoulder.  (This was considered a bold move at that very conforming time in the game's history.)
Kluszewski only appeared in one post-season – hitting .391, with three homers and ten RBI in the 1958 World Series (for the White Sox).  True to his form – Big Klu did not strike out even once (25 plate appearance) in the Series.  For trivia buffs, left unprotected in the 1960 expansion draft, Kluszewski hit the first-ever home run for the expansion Angels (a two-run shot in the first inning of the Angels' first game – April 11 versus the Orioles). He added a punctuation mark, by hitting the Angels' second–ever home run (a three-run shot) the very next inning. The Angels won 7-2, and (of course) Kluszewski did not strikeout.
Ultimately, however, Big Klu is best remembered for those sleeveless jerseys and muscular arms.  This four-time All Star – whose last name,like mine, ends with "ski" – got my vote for the Shrine.
Mike Marshall (1943-  ) 
I should probably say Doctor Mike Marshall, since this former major league reliever (14 seasons … 1967, 1969-81) earned three college degrees, including a Ph.D. in Kinesiology from Michigan State University. Kinesiology is the study of muscle movement and Marshall used his knowledge to develop his own exercise program focused on minimizing stress, reducing injury and accelerating recovery time.  While his unorthodox methods, advanced education and outspoken approach often had him at odds with baseball's traditionalists (and may be part of the reason he pitched for nine teams in 14 seasons), they did get the job done.
The fact is, we never saw a closer quite like Mike Marshall before he came along – and we're not likely to see one like him again. In 1974, as a Dodger, he put up the grand-daddy of all relief seasons – setting the record for appearances with 106 and innings pitched in a season in relief at 208 1/3. He finished the campaign 15-12, with a league-topping 21 saves and a 2.42 ERA.  That season, Marshall was called on to go more than one inning in 74 games (68.5 percent of the time); and he toiled three or more innings 22 times. He also relieved in 13 consecutive regular season games – an MLB record later tied (1986) by the Rangers' Dale Mohorcic. His efforts won him the 1974 Cy Young Award and Sporting News NL pitcher of the year.
Marshall holds the MLB and NL record for games pitched in relief in a season (106 – Dodgers, 1974), as well as the AL record (89 in relief – Twins, 1979 – he also had one start that year).  The Blue Jays' Mark Eichhorn tied Marshall's AL record in 1987. Marshall led his league in games pitched four times and saves three times – finishing 97-112, 3.14 with 188 saves.
Marshall currently teaches exercise physiology and operates pitching clinics in Florida. A true "fireman" from an era when closers came in to put out fires and stayed on the mound to ensure they were no flare ups, Marshall got my vote for the Shrine.
Rube Waddell (1876-1914)
Rube Waddell is almost universally recognized as the zaniest player in MLB history – but he also was one of the best (at least when he was focused on the game). Waddell was known t0: leave a ball game to chase fire engines; miss a game he was scheduled to start because he was fishing or playing marbles with neighborhood kids; bring his outfielders in to sit on the grass and then proceed to fan the side; wrestle alligators in the off-season; and (frequently) do battle with owners and managers.  Waddell simply was more interested in the freedom to enjoy life and do things his way than in money or professional stability.  But, when Waddell was on his game, he was arguably the best pitcher of his time. The 6'1", 195-lb. lefty led the AL in strikeouts six consecutive seasons (1902-1907) – by a wide margin.
How good was Waddell?  In 1902, he joined the Philadelphia Athletics in June – making his first start on June 26 (with just 86 games left in the season). Waddell proceeded to win 24 games (the league's second-highest total) against seven losses, with a 2.05 ERA.  Despite his shortened season, he led the AL with 210 strikeouts, fifty more than the runner-up (none other than Cy Young).
In 1904, Waddell set a modern (post-1900) MLB record with 349 strikeouts that stood until 1965.  Waddell, elected to the National Baseball Hall of Fame in 1946, finished with a 193-143, 2.16 stat line – leading the AL in strikeouts six times, ERA twice, wins once and complete games once. For more on Waddell, BBRT suggests: Rube Waddell: The Zany, Brilliant Life of a Strikeout Artist, by Allan Howard Levy and Just a Big Kid: The Life and Times of Rube Waddell, by Paul Proia.
Mamie "Peanut" Johnson (1935 –  )
Mamie Johnson was one of three females to play for the Indianapolis Clowns during the declining days of the Negro Leagues (and the only woman ever to pitch in the Negro Leagues).  Johnson took the mound to the Clowns for three seasons (1953-55), running up a 33-8 record.  Her exploits are chronicled in the children's book A Strong Right Arm: The Story of Mamie "Peanut" Johnson, by Michelle Y. Green.
Effa Manley (1900-81)
The first woman enshrined in the National Baseball Hall of Fame, Effa Manley – during the 1930s and 1940s –  ran the day-to-day operations of the Negro National League Newark Eagles (owned by her husband Abe Manley).  She took the reins at a time when baseball, on the field and in the executive offices, was considered a "man's domain."  Effa, often thought of as a light-skinned black, was actually white.  She, however, grew up with a black stepfather and mixed-race siblings and was active in the New Jersey branch of the NAACP and Citizen's League for Fair Play.  Effa Manley deserves recognition for overcoming both racial and sexual barriers as she exercised leadership in the national pastime. Multiple books have been written about Manley's accomplishments. BBRT recommends: Queen of the Negro Leagues: Effa Manley and the Newark Eagles, by James Overmyer
Pete Reiser (1919-81)
Combine Willie Mays' skill set (younger folks, think Mike Trout) with Pete Rose's hustle and Yasiel Puig's on-field abandon and you have Pete Reiser. In his first full MLB season (CF, Dodgers), a 22-year-old Reiser dazzled defensively and led the NL in runs scored (117), doubles (39), triples (17), batting average (.343), total bases (299) and hit by pitch (11) – tossing in 14 home runs and 76 RBI for good measure. Unfortunately, unpadded outfield walls, helmet-less at bats (the fiery Reiser was a frequent beanball target) and aggressiveness on the base paths (Reiser twice led the NL in stolen bases and holds the NL record for steals of home in a season at seven) took their toll.
In his ten-season career, the switch-hitting Reiser endured five skull fractures, a brain injury, a dislocated shoulder and a damaged knee.  He was carted off the field 11 times during his career (six times unconscious) and once actually given last rites at the stadium – and he played on. The three-time All Star retired as a player with a .295 career average, playing in 861 games over ten seasons. No telling what he might have done with padded outfield walls and batting helmets.  Pete Reiser was a true – and talented – gamer. For more on Reiser, try Pete Reiser: The Rough and Tumble Career of the Perfect Ballplayer, by Sidney Jacobson.
Reuben Berman (1890-1977)
On May 16, 1921, during a game between the Giants and Reds at New York City's Polo Grounds, Reuben Berman captured a foul ball that was hit into the stands. The custom at the time was to return the ball to the playing field.  Some teams even employed security guards to retrieve balls if the fans declined to return them. In extreme cases, arrests were made and charges (larceny) filed.  On that day in May of 1921, Berman, refused to return a foul ball – and, when confronted, tossed the ball deeper into the stands. After what some reported as an exchange of profanities and a minor scuffle, Berman was ejected from the Polo Grounds.  Berman, however, was not done with the Giants.  He filed a lawsuit against the club asserting he was illegally detained and had suffered mental anguish and a loss of reputation because of the incident.  The case went all the way to the New York Supreme Court, which found in Berman's favor, granting him the sum of $100 (he had asked for $20,000).
The $100 victory is not what got Berman my vote for the Shrine of the Eternals, it was the impact on fans of his stubbornness – and what became known as "Reuben's Rule" or "Berman's Law." Berman's case was the most important step in establishing the fans' right to that precious souvenir – an official, game-used baseball. Every time we see a scrum (for a baseball) in the stands, or a one-handed (beer or baby in the other hand) catch of a foul ball, or a smiling youngster showing off his white, red-stitched prize, we can thank Reuben Berman.
John Young (1949-2016)
A 6'3", 210-pound, left-handed first baseman, John Young hit .325, with four home runs, 60 RBI and 26 stolen bases (in 29 attempts) in 99 games at Single A Lakeland (Tigers' farm team) as a twenty-year-old (in 1969). The first-round draft choice (16th overall in the 1969 draft) looked like a player with great promise – and, in fact, enjoyed a big league cup of coffee with the Tigers in 1971 (two games, four at bats, two hits, one run, one RBI, one double). A wrist injury derailed his playing career, but didn't dampen his love for the game and he went on to a long career as a scout.
It was during his scouting days that Young developed a concern for the decline of baseball among young people – particularly in the inner cities.  In response, Young came up with the concept for the RBI (Reviving Baseball in Inner Cities) program. Officially launched in 1989, the RBI program is now supported by all thirty MLB clubs and is active in approximately 200 communities – with more than 250,000 participants annually.  Overall, MLB teams have donated more than $30 million to the program. (The program also includes educational and life skills components.) A few RBI alumni in the major leagues include: Carl Crawford, Justin Upton, CC Sabathia, James Loney, Manny Machado and Yovani Gallardo.  His good works on behalf of baseball's future earned my vote.
Bing Russell (1926-2003)
Okay, you are probably more aware of Bing Russell for his role as Deputy Clem Foster on Bonanza, as Robert in the original Magnificent Seven movie or for his volume of work on the big and small screen (including more than two dozen movies and even more television roles.) Or, maybe you are aware that his is actor Kurt Russell's father.
Bing Russell, however is here because his passion for acting was equaled (perhaps even surpassed) by his passion for our national pastime. He's also here because, as a baseball fan, he got to "live the dream" – owning his own baseball team. Russell's infatuation with baseball began as a young boy growing up in St. Petersburg, Florida – spring training home of the Yankees. He became the team's unofficial Florida mascot and errand runner – becoming friends with the likes of Joe DiMaggio, Lefty Gomez and Lou Gehrig.  With that friendship came a life-long passion for the national pastime.
Later in life – the early 1970s – Russell translated his acting success into ownership of the independent (Class A) Portland Mavericks – a team whose roster emerged from tryouts involving (as his Shrine of the Eternals nomination points out) "a collection of misfits, reprobates, hangers-on and washouts."
This collection of last-chance or only-chance players turned professional baseball on its ear, having fun while also taking the measure of its major league-affiliated Northwest League opponents.  The team lasted from 1973-77; never had a losing season; won their Division in 1973, 75, 76 and 77; developed a rabid, involved and fun-loving fan base; and set a short-season minor-league attendance record in 1977 (3,787 per game). Russell also is credited with hiring the first female General Manager – Lanny Moss – in professional baseball; which also turned some heads among baseball's conservative owners.
Side note: Russell's players with Portland included Jim Bouton and Russell's son Kurt Russell – who followed Bing's passion for baseball and acting.
MLB baseball regained its interest in the Portland area (the Mavericks were born after the Pacific Coast League Portland Beavers moved to Spokane in 1972) and worked to reclaim the territory – an effort that ultimately went to arbitration and earned Russell the highest payout ever (at the time) for minor league territorial rights.
For a great look at this remarkable and entertaining story – check out the 2014 documentary film The Battered Bastards of Baseball.
FOLLOW/LIKE Baseball Roundtable's Facebook page (click here). We'll soon be launching bobblehead give-aways, starting with Mariano Rivera and Derek Jeter.
_______________________________________________________
THE SHRINE OF THE ETERNALS:  2016 VOTING PERCENTAGES
Vin Scully … 59.5%
Bob  Uecker … 37.0
Charlie Brown … 25.5
Leo Durocher … 24.8
Bob Costas … 23.5
Octavius V. Cato … 23.o
Effa Manley … 23.0
Chet Brewer … 22.0
Charles M. Conlon … 22.0
Charlie Finley … 22.0
J.R. Richard … 22.0
John Young … 20.0
Rocky Colavito … 18.0
Luke Easter … 18.0
Lisa Fernandez … 18.0
Ernie Harwell … 18.0
Mamie Johnson … 18.0
Denny McLain … 18.0
Hideo Nomo … 18.0
Rube Foster … 17.0
Mike Marshall … 17.0
Fred Merkle … 17.0
Pete Reiser … 17.0
Bert Campaneris … 16.0
Ted Kluszewski … 16.0
Bing Russell … 15.0
Annie Savoy … 15.0
Rusty Staub … 15.0
Chris Von der Ahe … 15.0
Tug McGraw … 14.0
Phil Pote … 14.0
John Thorn … 14.0
Dave Parker … 13.0
Nancy Faust … 12.0
Oscar Gamble … 12.0
Dave Okrent .l. 12.0
Joe Pepitone … 12.0
Vic Power … 12.0
Charley Pride … 12.0
Rube Waddell … 12.0
Reuben Berman … 11.0
Jose Canseco … 10.0
Mo'ne Davis … 10.0
Mike Hessman … 10.0
Manuel Perez … 10.0
Margarets Donahue … 8.0
Manny Ramirez … 8.0
Sam Nahem … 7.0
Steve Wilstein … 7.0
Babe Dahlgren … 6.0
I tweet baseball @DavidBBRT
Member: Society for American Baseball Research (SABR); The Baseball Reliquary; The Negro Leagues Baseball Museum; Baseball Bloggers Alliance.