Thursday morning August 3, 2017 and Ballpark Tours is on the road again – and so am I.
Those who follow Baseball Roundtable may remember last year's Ballpark Tours (BPT) trek – ten days-ten ball games-seven cities; with Independent, A, AA, AAA and Major League ball and extra nights in Memphis, Nashville and Kansas City.
This year's trip is less ambitious as BPT is celebrating its 35th anniversary by revisiting its first trip.  So, it A-Ball in Beloit and Appleton, Wisconsin, sandwiched around a pair of games at Wrigley Field and three nights in Chicago. Topping it off for me is that I will celebrate my 70th birthday (August 4) at in Wrigleyville.
So, at about 9:30 a.m., 46 touring baseball fans – most friends from previous BPT trips (this is my 29th such adventure) – board our coach and headed for a Beloit Snappers/Peoria Chiefs game. Lots of smiles, hugs and baseball stories and we renew old frienships and begin new ones.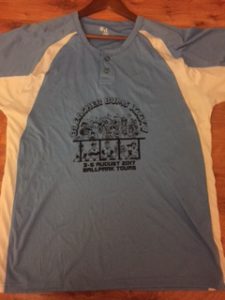 It started out like a typical BPT jaunt, plenty of music and noise at the back of the bus, a more subdued (almost studious) atmosphere at the front.  Then, of course, there was the usual BPT hoopla – some provided by the tour operator (Thanks, Julian), and even more by the paying customers (think Tom Sawyer and the fence whitewashing scheme.)  As we board, we received out upgraded tour T-shirts and the chance to purchase some ultra-fine BPT 35th Anniversary swag.
Then it was off to Beloit, with a stop at the Leinenkugel Brewery on the way. (Ballpark Tours in big on brewery stops.)  Even before we got to the brewery tours and ice cold beer samples, the festivities began on the bus.  First, complementary cognac shots – in honor of my birthday – then the (now traditional) mid-bus Bloody Mary Bar, which opened at 10.30 a.m. And, of course, the walking-down-the-aisle proof that tequila is not just for breakfast any more.  As we rolled, on travelers shared check mix, chocolate chip cookies, cherries, donuts, chips and more.  Then to top it off, the associate pope (who often appears on these trips) shared crackers, cheese, "mystery meats" and even pickled herring.  (And, we haven't even had a lunch stop, yet.)
There was also a baseball book exchange, the announcement of the "Guess How Many Runs are scored in MLB this Weekend?" contest and distribution of the baseball trivia "K-Kwiz."  By this time, the tunes being played at the back of the bus were being joined by on-the-bus voices.  We were clearly on an early roll.
First stop, the Lienie's Brewery (tours and tastings), where we were quickly informed to "Form a single file line" … "Listen up, I'm only gonna say this once" … and a number of tour-specific rules (from wearing safety glass to no photos to don't step across the yellow lines). A little stern, but remember, the ultimate goal was free beer.  After (and during) the tours/tastings, we gathered for a covered (Oh yes, it was raining) picnic lunch (bring your own) on the brewery patio.  (Like we all needed even more to eat.)
Then back on the bus to Beloit (arrival about 6 p.m.), where we were served a pre-game tailgate dinner (hot dogs, brats, potato salad, chips, fruit, water, soda and up to three beers each).
Now to the game. Rain was still threatening and (in a less than wise decision), the Beloit Snappers front office choose to move the 7:00 p.m. start to 7:40.  (During the interim only a few drizzling drops fell.)
Once the game was ready to start, two youngsters from our group were called upon to throw a pair of "first" pitches.  A thrill for the kids and kudos to the tourmaster. Still, my question remains, how "first" pitches can you have? Last night, there were five.
The game?  The unusual Class A fare.  The Peoria Chiefs jumped out to a 6-0 lead in the first five innings, and then the Beloit Snappers (snapping turtle mascot) stormed back to win it 7-6 in ten innings. (Weather delay, extra innings and a couple hundred miles to Chicago post-game … not the ideal combination.)
I might add that the Snappers walked their way to victory, Chiefs' reliever Dewin Perez walked the bases full in the bottom of the tenth (around one out) and then gave up a walk-off sacrifice fly to Snappers' CF/Leadoff Mike Martin.  In fact, during the contest, Peoria pitchers walked nine batters – four of whom scored.  (And, the tying run scored in the eighth on a wild pitch.)
A few other highlights:
An announced crowd of 715 – which looked like about 300 fewer and sounded like 700 fewer. (It was disturbingly quiet when the stadium music wasn't blasting. Except, perhaps in our section.)
Home runs by Peoria 1B Juan Yepez (his seventh) and Beloit 1B Miguel Mercedes (his 14th).
A couple very nifty backhand plays for Peoria 3B Danny Hudzina. (In fact, there were a half dozen fine fielding plays, sprinkled among a pair of errors by Beloit SS Eric Marinez.
A four-for-four night by Snappers' number-nine hitter SS Kramer Robertson (makes up for those two errors), who came into the game hitting about .220 and left hitting .248.
Several "final calls" on the 50-50 Raffle (the team's 50 percent was earmarked for new ballpark – which by all "appearances" would be a good idea.
Some snapping-turtle-based heckling. (For example, as the Snapper fell behind, "It a turtle disaster" and, as they made their comeback "You've got 'em shell-shocked now."
Being from Minnesota, our group cheered loudest for Peoria RF Matt Fiedler, an Eagan, Minnesota native, who also played for the University of Minnesota – where he was the team's ace pitcher and one of its top hitters. As a Junior, in 2016, Fiedler was named Big Ten Player of the Year and was Academic All Big Ten.  on the mound, he went 7-4, 4.32 in 16 starts (4-0, 3.33 in the Big Ten). At the plate, he hit .366 with eight home runs.

In 28 games for Peoria, Fiedler has hit .273-2-7 … but he's been hot as of late, hitting .389 over his past ten games. 
After Beloit, it was back on the bus for the run to Chicago – lights were outs and, thankfully, the eating had ceased.  We checked into the Hotel Indigo in Chicago's Gold Coast at about 12:30 a.m. (I had aged a year during the day).  Great hotel as always – thanks Ballpark Tours.  Today – Wrigley and the World Champion Cubs.
More to come.
I tweet baseball @DavidBBRT
Follow/Like Baseball Roundtable's Facebook page, here.
Member: Society for American Baseball Research (SABR); The Baseball Reliquary; The Negro League's Baseball Museum. Baseball Bloggers Alliance.