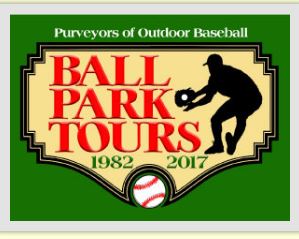 Ballpark Tours (BPT) based out of Saint Paul, Minnesota, has been offering baseball fans busloads of hardball fun since 1982.  The tour group, which grew out of the "Save the Met" (outdoor stadium) organization, has taken groups of fans on baseball "treks" of three-to-ten days, ranging as far north as Duluth, as far south as Chattanooga, as far west as Colorado,  as far east as New York City – and simply "as far away" as Cuba. More details later in this  post, but for 2018,  BRT is offering a pair excursions:
A six-day trip (June 28-July 2) that includes a trio of games at Chicago's Wrigley Field, as well as minor league tilts in Davenport, Iowa and Geneva, Illinois.
A ten-day trip that includes three games at Denver's Coors Field, two games at Kansas City's Kauffman Stadium and a pair of minor league contests in Omaha, Nebraska.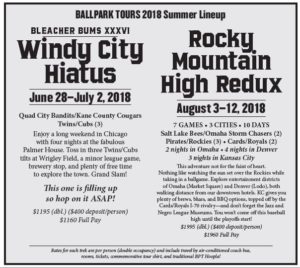 A Ballpark Tours trip (I've been on 29 of them) is the perfect way to enjoy the national pastime – good times with good friends (old and new) who share a passion for baseball, fun and adventure.  Note:  this is an unsolicited endorsement. As Baseball Roundtable has noted in the past "Once you get on the Ballpark Tours bus, every mile is a memory."   You also get a chance to create new memories inside and outside the ballpark – great baseball and, as always, Ballpark Tours stays in equally great downtown hotels – close to the action and attractions – and schedules time to enjoy the  local food, arts and entertainment.  To get the flavor of a BPT trek, you can browse reports from past trips by clicking here.
Now, here's a brief rundown of the 2018 Ballpark Tours offerings, for more info and sign-up, click – link.
ROCKY MOUNTAIN HIGH REDUX – AUGUST 3-12.
My personal choice … seven games in three cities in ten days – and the opportunity to enjoy plenty of blues, brews and baseball with a typical Ballpark Tours crew.  I was on the original Denver BPT trek and, let me assure you, Coors Field and downtown Denver are well worth the trip.  (Lower Downtown is 28 square blocks of restaurants, clubs, bars and brew pubs.) And, you'll get to see the Pirates and Rockies in the launching pad that is Coors Field. Free-time in Denver? Choose from among the likes of the Denver Botanic Gardens, Denver Art Museum, as well as – more to my taste – a variety of brewery and distillery tours.
In Kansas City, there is the Cards/Royals I-70 rivalry. And, what's your free-time pleasure?  The Negro Leagues Baseball Museum is a must-see if you haven't already been there – and there's a great blues and barbeque place practically across the street.  In addition, you can choose from among the likes of the Nelson-Atkins Museum of Art, the Arabia Steamboat Museum or the Airline History Museum. More sedentary?  How about the Boulevard Brewing Company?  More adventurous?  Kansas City has the Swope Park Zip Line and (this is not a misprint) indoor sky-diving.
And, of course, there is Omaha – featuring the Salt Lake Bees and Omaha Storm Chasers.  From my last BPT trip to Omaha, I fondly remember the foods, fun and shopping in the Old Market area. (Spent a great deal of time, a bit of change, there.)
Time to explore all this? Four nights in Denver, three in Kansas City and two in Omaha.
All in all, a great trip.  A chance to create some unique memories that stretch from the bus to the ballpark and from the Negro Leagues Baseball Museum to Omaha's Old Market.  And, I understand, the tour master is exploring the opportunities for some adventures as we cross Nebraska.
I am not gonna miss this one.
___________________________________________________
WINDY CITY HIATUS … BLEACHER BUMS XXXVI … JUNE 28 – JULY 2
The Kane County Cougars and Quad City Bandits, as well as three Twins/Cubs tilts in Wrigley Field – AND four nights at Chicago's fabulous Palmer House Hilton.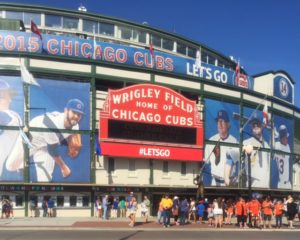 This a bit like the Cadillac – or probably Tesla – of baseball tours. Great baseball wrapped up in a package that includes: Wrigleyville; Chicago's diverse opportunities for dining; the chance to take in lots of live music (with an emphasis on blues), comedy and theater; museums ranging from The Art Institute of Chicago to the Shedd Aquarium to the Museum of Science and Industry (my personal favorite).  Plus, of course, the usual BPT comradery and hoopla.  Do the Windy City and Twins/Cubs baseball in style!
Again here's a link to your opportunity (to sign up) for a great baseball excursion – click here. 
More photos from past trips: