Day Two of Bleacher Bums XXXV (Ballpark Tours 35th Anniversary Trek) started with a rather overcast Chicago sky. Still, it looked pretty good to our hardy group of trekkers. After all, we were going to a ballgame. For a look at Day 1 – Beloit Snapper, click here.
 From about 11:00 a.m. to noon, small groups gathered in the Hotel Indigo lobby and began to make their way to the EL for the short ($3) ride to Wrigleyville. As always, the EL ride was filled with fans decked out in Cubs (and, in this case, Nationals) gear – and the conversations focused on beer and baseball (as in "Where should we go for a beer before the baseball game?").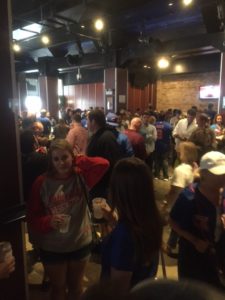 Our group answered that question with "The Cubby Bear" – one of the many sports-themed bars near Wrigley Field.  No surprise, it was packed.  We spent some time there – think loud music, laughter and lots of appetizers flying out of the kitchen – before heading to the ballpark.  If you are going to Wrigley, you also have to go to Wrigleyville (pre- and post-game.)
Our seats for the Friday afternoon game where on the upper deck, right-field corner.  While it may sound like a long ways from home plate, the site lines were fine.  The wind chill, however was another story.  It was darn cold – 63 degrees, overcast and windy – and I was in a short-sleeve pullover shirt.  (By the fifth inning, I actually made my way to the gift shop to look over the Cubs' sweatshirts and hoodies.  I discovered, however, that I was not $75 cold yet.  Fortunately, in the sixth, a fellow BPT trekker, who had and extra Ball Perk Tours 30th Anniversary windbreaker, made me a much welcomed loan.
The Bloody Mary – from the Jim Beam Patio (below and behind the Press Box) – was solid. A generous pour, just the right amount of celery salt and you could order it spicy or mild (go for spicy). My only recommendation would be that the Cubbies go beyond the slice of lime in terms of condiments.  A couple of olives or a dill pickle spear would add just the right touch of flavor.  Still, worth the $10.50 – especially considering the Cubs are World Champions.  (I, however, am looking forward to the Timber Rattlers Sunday Bloody Mary Bar – reviewed on these pages before – a true Baseball and Bloody Mary Bargain.)
It was a good ball game (although we didn't get to hear the Go, Cubs, Go victory song), won by the Nationals 4-2.  With these two clubs, there were plenty of All Stars in the lineups and Nationals' 2B Daniel Murphy's star shone the brightest. Murphy bashed his 18th and 19th home runs of the season – going three-for-four with two runs and three RBI. We also got to see the Nationals' revamped bullpen at work.  In July, the Nats (who, at the time, had a bullpen ERA north of 5.00) acquired Brandon Kintzler from the Twins and two A's with closing experience in Ryan Madson and Sean Doolittle. All three pitched (seventh, eighth and ninth) giving Washington 2 2/3 innings of one-hit, three-strikeout  ball, For a look at the major July moves by contenders, click here.
The Cubs also benefitted from the long ball, a seventh-inning, two-run shot by SS Javier Baez, but it wasn't enough. From BBRT's point of view, I was pleased to see lots of infield work – and a pair of groundball double plays.
The most unique play of the day came in the bottom of the second.  Cubs' second baseman Ben Zobrist led off with a walk (Tanner Roark pitching for the Nationals). LF Kyle Schwarber then fanned, bringing up RF Jason Heyward, who lifted a soft fly to medium center field – a can of corn for CF Brian Goodwin.  Oops! Goodwin totally whiffed on the fly ball – don't know if it even got near his glove. RF Bryce Harper was there to field it on a bounce and fire the ball to Roark (covering second because 2B Daniel Murphy had also given chase).  Zobrist, who had help up (like all of us, expecting the fly to be caught), was forced at second (right field-to-pitcher); the first time I can recall writing 9-1 on my scorecard. (Probably would have been a TWIN-GO winner.)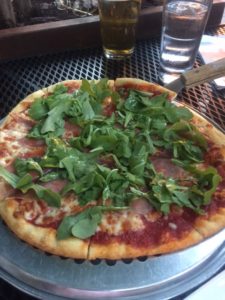 After the game, small groups from the tour headed out for a post-contest libation – while we waited for the EL lines to dwindle a bit.  Our group chose the nearby Raw Bar – the three-block walk just far enough to thin the crowds some.  Later, it was back to the Lodge, which has become a sort of gathering place for BPTers, meeting to discuss what type of cuisine and atmosphere to pursue for the evening meal.
I ended up with a group of four at Eduardo's (half block from the hotel), where we dined on a four-cheese appetizer, seared-tuna salad, Spaghetti Boulegnese, prosciutto and arugula pizza, pepperoni pizza and a nice Chianti.  Another Ballpark Tours group semi-anonymously picked up the tab on the wine (for my 70th birthday, now a day behind me) and the restaurant gave us a free round of Lemoncello for dessert.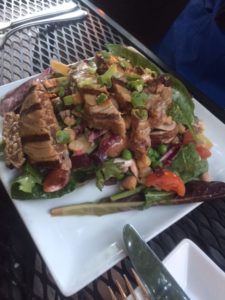 All in all a great day.  And for Saturday – another Cubs/Nationals tilt.
More to come.
I tweet baseball @DavidBBRT
Like/Follow Baseball Roundtable's Facebook page, here.
Member: Society for American Baseball Research (SABR); The Baseball Reliquary; The Negro Leagues Baseball Museum; Baseball Bloggers Alliance