Day Three of Ballpark Tours Bleacher Bums XXXV – saw our group headed back to Wrigley to watch a pair of division leaders (Nationals and Cubs) face off.  We were a bit luckier with the weather – 79 degrees and sunny. Today, we also got to see the home town Cubs bring home a victory (7-4) – which also meant we got to hear the crowd belt out the "Go, Cubs Go" victory song. Note: For the post on Day One, click here.  Day Two, here.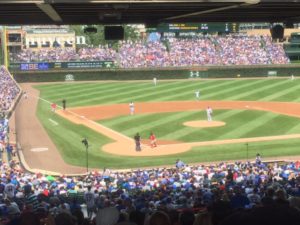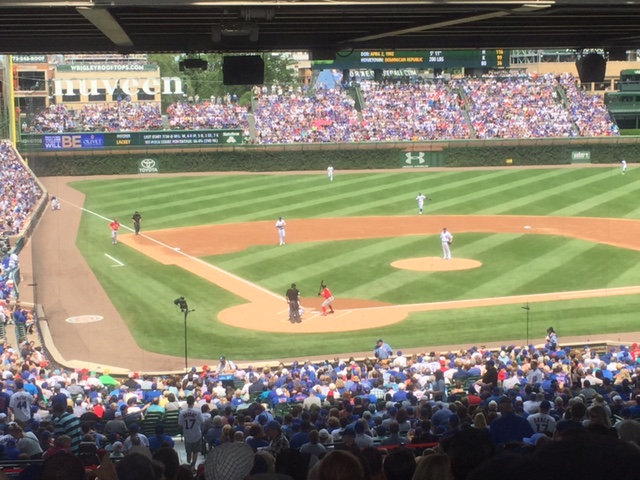 Our seats were on the lower deck just to the right of first base.  The overhanging deck did not turn out to be a problem in tracking game action, although we did have a restricted view of the video board. The Cubs get kudos for: 1) Not calling the multiple ceremonial pitches "first pitches," but rather simply ceremonial pitches; and 2) Having only two ceremonial pitches.  However, it was perhaps the slowest version of the National Anthem I've heard at a ballpark (it is supposed to be sung/played at a brisk pace.). To be fair, the crowd loved it, so maybe I need to quite griping.
MORNING GLORY

In the morning, a number of BPT trekkers took in the multi-block Farmers' Market on Division Street, just a half block from our hotel. Flowers, vegetables, great baked (read breakfast) treats, live music, arts and more.  A great way to start a Saturday.
Today's ball game "seemed" to be pretty much decided early, as Nationals' starter Edwin Jackson gave up hits to five of the first six batters he faced (two doubles, two singles and a home run). Ultimately, the Cubs scored four runs in the first – and it could have been worse. Nationals' right fielder Bryce Harper, who had homered in the top of the first  (his 28th of the season) to give Washington a short-lived 1-0 lead, made a great one-hop throw to third base – cutting down Cubs' LF Willson Contreras (yes, there are two L's), who was attempting to go from first to third on a single by 2B Ben Zobrist. Remarkably,  starting with the final out of the first inning, Jackson righted the ship, retiring 12 of the next 13 batters (giving up just an infield single) – striking out eight. When he left (for a pinch hitter) after five innings the Nationals had closed to 4-3, and Cubs' fans were getting nervous.
The Cubs tacked on some insurance with a two-run home run by Contreras (his 19th) in the sixth (newcomer Alex Avila hit a two-run shot in that disastrous first inning – his first hit as a Cub) and another run in the seventh.  Those were charged to a pair of relievers named Matt – Matt Grace for two tallies and Matt Albers for the other.  The Nationals scored once in the top of the eighth to keep it interesting and had Bryce Harper at the plate (as the tying run) with two out in the ninth. Cubs' closer Wade Davis (who walked two and fanned two) struck out Harper swinging (with the crowd standing and cheering) for the final out and his 23rd save.
As with almost all games, there was plenty to see: a few sparkling defensive plays, three home runs, a couple of stolen bases – as well as three errors and too many walks (seven) and strikeouts (23). We saw a total of nine pitchers (five Cubs/four Nationals), the most effective of whom might have been Washington's Sam Solis, whose 2017 ERA is 11.81, but who (in this contest) pitched 1 2/3 innings, facing six batters and striking out four.  Stars of the tilt: Cubs' Willson Contreras (catcher turned left fielder) with a home run and a single in four at bats, a run scored and three RBI; Cubs' catcher Alex Avila with a two-run homer in four at bats; Nationals' RF Bryce Harper with a home run and a single in four at bats, two runs scored and an RBI; Cubs' pitchers who gave up just two earned runs.
All in all, another pleasant and interesting afternoon at the ballpark.
BREAKFAST/BRUNCH

I should note that I joined with a group of trekkers that headed to the The Scout Waterhouse + Kitchen in the South Loop (1301 South Wabash Avenue) before the game.  The Scout is known as a friendly sports bar, with great pub food.  It did not disappoint – in terms of atmosphere, friendliness, service or food.

Our choices were Scout's signature Foot-Long Triple Cheese Grilled Cheese (with tomato-basil dip); Fried Egg and Ham Foot-Long Grilled Cheese; Breakfast Burrito (pulled chicken, chorizo, multiple cheeses, scrambled eggs, black beans, corn, cholula sour cream – in a whole wheat tortilla), Pot Roast Benny (English muffin, Black Angus pot roast and poached eggs topped with chipotle hollandaise); and the more traditional scrambled eggs and smoked bacon.

The food was great, the service friendly and exceptional and – to top it off – the guys told our server I was celebrating my 70th birthday on the trip and she soon arrived with a birthday cake to share around the table. No wonder this place is so popular.
THE NIGHT LIFE
Tonight, groups are heading out to a variety of ethnic restaurants, blues bars and comedy clubs. (Ballpark Tours always leaves ample unstructured time to enjoy local arts, food and culture.) Not sure where I'll end up yet, but I am reporting on the day now (rather than tomorrow morning as is my custom on these tour diaries) because our bus leaves at 8:30 a.m. for a Wisconsin Timber Rattlers game, so I won't have time to blog tomorrow.
At any rate – more to come.
I tweet baseball @DavidBBRT
Follow/Like the Baseball Roundtable Facbook page, here.
Member: Society for American Baseball Research (SABR); The Baseball Reliquary; The Negro Leagues Baseball Museum; Baseball Bloggers Alliance.