We had a "chance-to-sleep-in" 10:30 a.m. departure from Nashville, which got us into Chattanooga a bit early for check-in.  Fortunately, our illustrious tour operator is always prepared – and we were booked into the Big River Grille and Brewing Works (just a few blocks from the hotel) for pre-check-in lunch and beverages.
It was a welcome and satisfying stop.  Plenty of handcrafted brews, oven-fired pizzas and sandwiches and entrees made from scratch – plus a nice selection of wines and cocktails.  The oldest brew pub  in Chattanooga, Big River Grille and Brewing Works offered an extensive line of hand-crafted beers – from Southern Flyer Light Lager to Iron Horse Stout – as well as a nice selection of wines, and cocktails ranging from classic martinis to pomegranate peach punch.
In addition, the lunch menu covered everything from Lobster and Shrimp Enchiladas to a BBQ Brisket Stuffed Burger to a wide selection of oven-fired pizzas (on beer-infused, rustic-ale pizza dough.)  Needless to say, a good time was had by all – and, from comments I heard, everyone loved the food.
T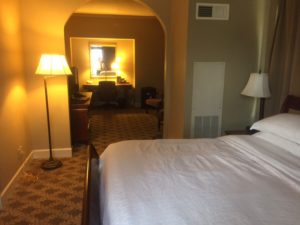 hen it was on to check-in at the Read House Historic Inn – originally opened in 1872 and rebuilt in 1926.  It boasted beautiful (and historic) rooms, complemented by the most up-to-date amenities.  Sitting in the elegant, high-ceilinged, chandeliered lobby, you half expected Winston Churchill of Al Capone – both previous guests – to come strolling in.
After check-in and a little down time, it was off to AT&T Field (not to be confused with AT&T Park in San Francisco)  for the Montgomery Biscuits versus the Chattanooga Lookouts contest. Opened in 2000 (as BellSouth Park), AT&T Field's placement at the top of "Hawk Hill" offers some nice views of surrounding hills.  It was about an eight-block walk from the hotel to the part – on a humid, 90+ degree evening – so we were pleased to see the outdoor escalator which carries fans the last, steep 100-feet or so.
This really is a "blue collar ball park." The only bells and whistles are on the Chattanoogo Choo-Choo, which (we were told) emerges from behind the right field wall for every Lookouts' home run.  There were no long balls in our game, so the train remained unseen.  I'd suggest they run it either at the start or end of each game, so fans are guaranteed at least one view per contest.  Concession offerings were limited, but our group agreed the prices were right and the serving generous.
Now, to the game.
Starting for the Lookouts was 22-year-old southpaw Stephen Gonsalves – considered (by MLB.com) the number-four prospect in the Twins' system (behind only Jose Berrios, Tyler Jay and Nick Gordon). Gonsalves didn't disappoint, but Lookouts' manager Doug Mientkiewicz did.
The 6' 5", 213-pound Gonsalves threw six strong innings, walking two and fanning nine – giving up no runs and NO HITS.  He was a pleasure to watch; mixing a solid fastball and effective slider. (I couldn't get a line on his speed, a malfunctioning stadium  system consistently logged his fastball at 44-to-55 miles per hour. Gonsalves, however, is said to have a mid-90s heater.)  Mientkiewicz pulled the youngster (after 105 pitches) and brought in reliever Alan Busenitz to open the seventh.  Busenitz hit the first batter he faced (1B Jake Bauers) and walked the second (3B Patrick Leonard), before getting RF Justin Williams on a fly out.  The next batter, CF Cade Gotta, singled in Bauer to put an end to the shutout and the no-hitter. Busenitz gave up one more hit and two more runs – and the top of the seventh ended with The Lookouts up 5-3. Needless to say, there was a range of opinions about the appropriateness of pulling the starter with a no-hitter still in progress.
The Lookouts, by the way, got out of the gate fast – and never looked back. In the bottom of the first, after leadoff  hitter CF Zack Granite was retired on a great play on a grounder up the middle (by Montgomery 2B Juniel Querecuto), DH Ryan Walker doubled, 3B Niko Goodrum doubled Walker home, LF Travis Harrison singled home Goodrum, RF Edgar Corcino walked, and C Stuart Turner grounded into a double play.  First inning: two runs on three hits and a walk.
Chattanooga tacked on two more runs on four hits in the fourth; one run on two hits in the sixth; and one on two hits and a walk in the seventh. The final:  Chattanooga six runs on 11 hits and one error. Montgomery: three runs on two hits and no errors.
A few highlights:
Chattanooga pitchers were dominant – giving up just the two hits (and three runs) in the seventh and striking out 14 Montgomery hitters (versus four walks).
Lookouts' lefty Mason Melotakis, who has had injury problems in the past (Tommy John surgery in 2014), came out to start the seventh, but threw only one pitch before being replaced by Zack Jones – as the game ended, we had not heard an update.
Zack Jones picked up his first save for the Lookouts, going two innings, giving up no hits, walking one and fanning four – and showing a glove-popping fastball.
The offensive star of the game was Lookouts' 1B T.J. White, who went two-for-three, with a walk, a run scored and two RBI.
Gonsalves ran his record with Chattanooga to 6-1, with a 1.81 ERA in 10 starts. The lefty has fanned 72 hitters in 59.2 innings at AA.
There was a 44-minute rain delay in the top of the eighth – and when play resumed probably less than 100 of the announced attendance of 1,765 were still in the park.  The gift shop did a brisk business in $5 Lookouts ponchos.
After the hot walk to the ball park, we found the free shuttle on the late night trek back to the hotel.
There were no Bloody Mary's
In the Majors

Yesterday (August 18), the Blue Jays' A.J. Happ became the major league's first 2016 17-game winner, as the Jays topped the Yankees 7-4 in New York. Happ went 7 1/3 innings, giving up seven hits, four runs, one walk and fanning nine.  His record now stands at 17-3, 3.05.  The 33-year-old Happ, in his tenth MLB season, came into 2016 with a 62-61 record and a career-high 12 wins in 2009
The Fried Moon Pie

For those not familiar with it, a Moon Pie is a confection – popular in the southern states – that is basically a portable "s'more." The traditional Moon Pie consists of two round graham crackers, with marshmallow filling in-between, dipped in chocolate.  The dessert has been around since 1917 and, for reasons unknown, there is a southern tradition of washing them down with RC Cola.  In fact, at least two musical groups have had minor hits with songs based on the RC Cola/Moon Pie combination.  Moon Pies, by the way were born and are still produced by The Chattanooga Bakery.  They now come in Chocolate, Caramel, Banana, Vanilla and Strawberry.

Why are Moon Pies in this baseball blog? It's because the Chattanooga Lookouts honor the community's Moon Pie heritage with a Deep Fried (chocolate) Moon Pie – the popular dessert dipped in corn dog batter, deep fried and sprinkled with powdered sugar.  This specialty concession item is a recommended bargain at just $3.00. Warm, sweet and gooey – I'd rate this offering a home run.  But be ready for the post-Moon Pie sugar rush.  
For more on Ballpark Tours 2016, click here for Day One; here for Day Two; here for Day Three; here for Day Four; here for day five.
I tweet baseball @DavidBBRT
Member: Society for American Baseball Research; The Baseball Reliquary; Baseball Bloggers Alliance.